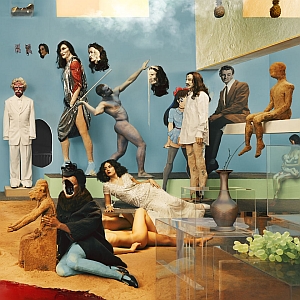 Artist: Yeasayer
Title: Amen And Goodbye
Genre: Alt-Rock
Release Date: 1st April 2016
Label: Mute Records
Album Review

Genre-busting Alt-Rock US trio YEASAYER make light work of creating complex music that sounds simple, often based initially solely around harmonies between the two lead singers and songwriters, Chris Keating and Anand Wilder. Leaping giddily from psychedelia and experimental rock to pure pop, 2016's release 'Amen And Goodbye' happily continues to jump about like a sugar-guzzling child that's never going to sleep.
'Daughters Of Caine' is a quick sweet starter, more just an intro than a song, before lead single 'I Am Chemistry' barrels up and demands your attention. Its disarming melody and weird wonky instrumentation manages to cross late period THE BEATLES with RADIOHEAD, which surely is a first. 'Silly Me' goes off on a completely different course, it's pure pop and totally mad, and 'Half Asleep' is equally out-there, a hundred ideas all somehow woven together to make a convincing and charming whole. 'Dead Sea' takes the zaniness to new heights and just about gets away with it, but who can resist those cute handclaps and the flitty brass. It's childlike without being childish, managing that playfulness THE CURE have periodically mastered over the years.
'Prophecy Gun' goes for the hippy jugular, albeit in slow, druggy motion, and 'Computer Canticle' arses about with percussion before morphing into 'Divine Simalacrum', which lopes about like a scene from one of those dreams you can never remember. Chamber music instrumental over polite applause? Try 'Child prodigy'. Kazoo-sounding intro? 'Gerson's Whistle' will keep you happy. Ballad? 'Uma' is beautiful in every way. Which leaves the skippy pop of 'Cold Night' and a short kiss-off in 'Amen And goodbye' to finish off an extraordinarily diverse album, which showcases some wonderful song-writing, wit and inventiveness. Not quite something for everyone here, but if you like your music to twist and turn and surprise you, then YEASAYER are just the band, and 'Amen And Goodbye' will keep you entertained for at least the rest of the year.
Tracklist

01. Daughters Of Caine
02. I Am Chemistry
03. Silly Me
04. Half Asleep
05. Dead Sea
06. Prophecy Gun
07. Computer Canticle
08. Divine Simulacrum
09. Child prodigy
10. Gerson's Whistle
11. Uma
12. Cold Night
13. Amen And Goodbye
Line-up

Chris Keating
Ira Wolf Tuton
Anand Wilder
Website

http://www.yeasayer.xyz
/
https://www.facebook.com/yeasayer
Cover Picture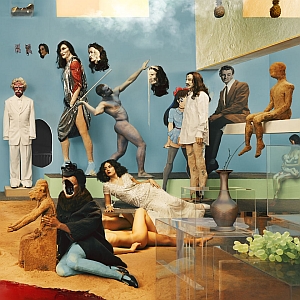 Rating

Music: 8
Sound: 8
Total: 8 / 10