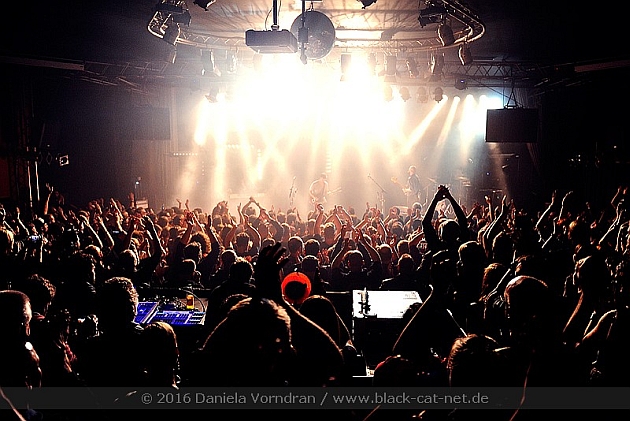 Rosenhof, Osnabrück, Germany
22nd October 2016
White Lies & The Ramona Flowers

WHITE LIES return on a European tour to present their fourth album 'Friends', their first new material since 2013's 'Big TV' album. If you wondered if the fast moving music world would welcomed them back into the fold: Of course! WHITE LIES may have received mixed reviews from critics since the beginning but their following is big enough to send the new album up the charts and to sell out another club tour after a few years of absence. We checked them out at the Rosenhof in Osnabrück, one of the new places WHITE LIES give a visit on their current tour.
The Ramona Flowers
With THE RAMONA FLOWERS, comprised of Steve Bird (vocals), Sam James (guitar), Wayne Jones (bass), Dave Betts (keyboards, guitar), Ed Gallmore (drums), the tour management picked the right support act to go on the road with WHITE LIES on their "Friends" tour. Hitting a similar nerve with a blend of big 80s-loaded melodies and stadium-worthy Rock, THE RAMONA FLOWERS from Bristol, UK, didn't need much time to win over the WHITE LIES audience, at least not at the near sold-out Rosenhof in the German provincial town Osnabrück.
http://www.theramonaflowersmusic.com
/
http://www.facebook.com/theramonaflowersmusic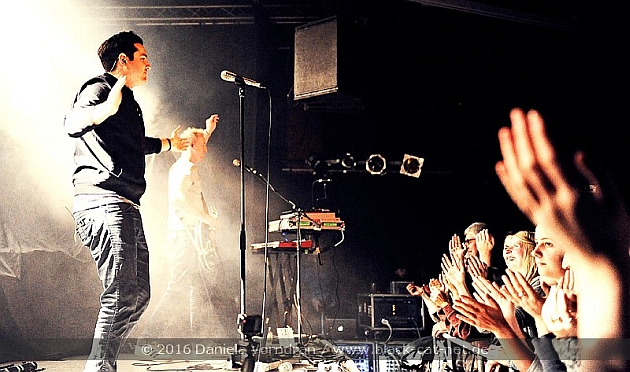 Music & Performance

For me it took a few songs to get into them, though, but I couldn't deny their highly professional attitude and vibrant, vivid stage present from the start. It was when THE RAMONA FLOWERS performed a few of their more mellow, melancholic songs mid-set when it clicked for me. Sometimes they might be a bit too much on the Pop side of things for my own tastes but their qualities are undeniable. And to the pleasure of the female attendees they are a bunch of good-looking guys, too! They might become big and in a few years probably WHITE LIES support them instead of the other way round, who knows? However, almost everyone at the show seemed to agree that RAMONA FLOWERS were a great match with WHITE LIES and the band thanked the crowd for their warm and considerate welcome. Surely not the kind of support band which half of the audience prefers to ignore but rather one that set the mood perfectly for the following act.
Setlist

01. Hurricane
02. Dirty World
03. Skies Turn Gold
04. Start To Rust
05. Sharks
06. Tokyo
07. Run Like Lola
Rating

Music: 8
Performance: 8
Sound: 8
Light: 7
Total: 7.8 / 10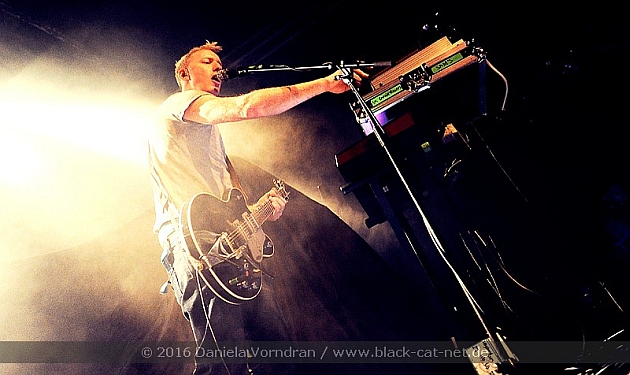 White Lies
WHITE LIES are some sort of love or hate thing, at least to the press in their home country. Either the band, comprised of founding members Harry McVeigh, Charles Cav and Jack Lawrence-Brown, receive rave reviews for their Goth-infected Indie Rock or they have to endure dry comments for, allegedly, being too posh and uncharismatic, or for their sometimes morbid teenage angst lyrics or for the "larger than life" attitude in the songwriting of their otherwise rather pretty straight-forward, somewhat simplistic Post-Punk Rock. The UK press simply loves to bash their native bands, this is nothing new. At least all this didn't harm the career of the London band. Often they are mentioned in the same vein as EDITORS, INTERPOL, JOY DIVISION, and THE KILLERS. Their 2009 debut 'To Lose My Life' debuted at no. 1 in the UK album charts and their fourth album 'Friends', released this October, is already a top 20 hit in several countries.
http://whitelies.com
/
https://www.facebook.com/WhiteLies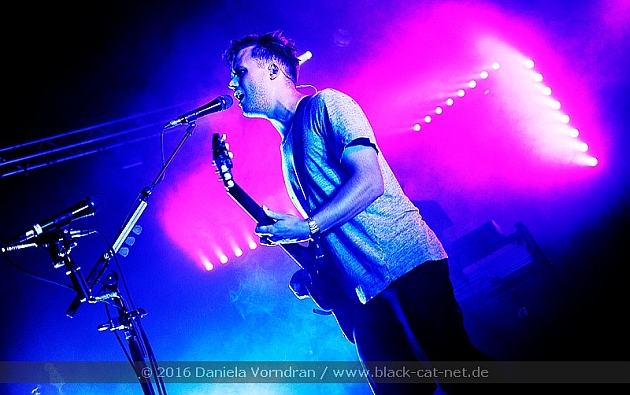 Music & Performance

One thing is clear: The fans love WHITE LIES! Osnabrück isn't exactly a city known for its wild and loud audiences but anyway, when the band entered the stage they were welcomed by a loud roar from the crowd - in particular from all the girls! WHITE LIES wasted no time and went in medias res with 'Take It Out on Me', also the opener of their most recent album 'Friends'. Backed up by extra-musicians Tommy Bowen (keyboards) and Rob Lee (guitar), making WHITE LIES a quintet on stage usually (though rob was missing in Osnabrück), the London-based band relied on the impact of their dark yet uplifting music instead of fancy stage designs or big poses. In their career they have played huge crowds already but Rock star antics are not their kind of thing. They just focus on the music and that's it! Surprisingly, 'To Lose My Life', the title track of their debut album and arguably one of their most popular tracks, came on pretty early and caused screams of euphoria among the fans.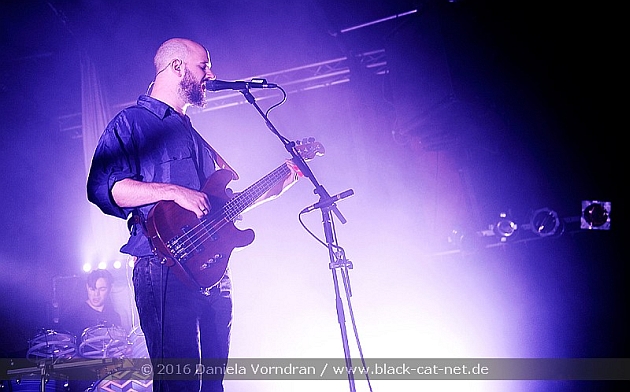 Throughout the gig you get a feeling that the debut album is still the most loved one among WHITE LIES' followers, at least songs as 'Farewell to the Fairground' or 'Death' seem to get the loudest reception. No surprise that their newest album returns to the 80s-contaminated mix of catchy New Wave hooks and gnarly Indie Rock, while the two albums in-between had a more cinematic feel. If you see this as a retreat into the comfort zone of a tried and tested sound or as return to form it's up to the single listener. However, the crowd at the Rosenhof in Osnabrück seemingly enjoyed the just released songs as much as the old ones. WHITE LIES might be not the kind of band for great gestures and poses but their songs surely aim for big emotions. Their hymn-like choruses, soaring melodies, booming vocals and a solid Rock foundation are enough to lure the listener and to give you end-to-end a pretty enjoyable concert experience.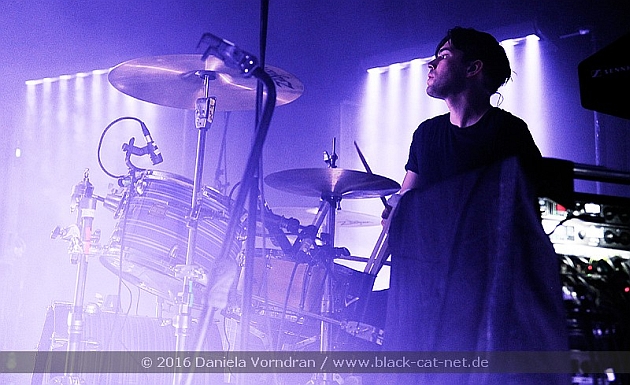 Fittingly the final encore song, 'Bigger Than Us', summed up the overall impression of the night both musically and lyrically. If WHITE LIES return to my area I'd certainly go to see them again - that says it all!
Setlist
01. Take It Out on Me
02. There Goes Our Love Again
03. To Lose My Life
04. Hold Back Your Love
05. Getting Even
06. Unfinished Business
07. The Price of Love
08. Farewell to the Fairground
09. Morning in LA
10. Is My Love Enough
11. E.S.T.
12. Summer Didn't Change a Thing
13. From the Stars
14. Don't Want to Feel It All
15. Death
---
16. Big TV
17. Come On
18. Bigger Than Us
Rating

Music: 9
Performance: 8
Sound: 8
Light: 8
Total: 8.3 / 10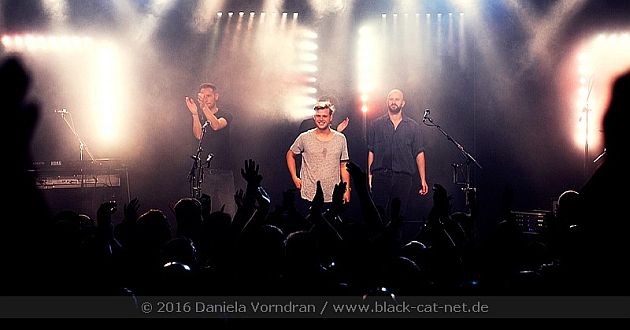 All pictures by Daniela Vorndran (
http://www.vorndranphotography.com
/
http://www.facebook.com/blackcatnet
)