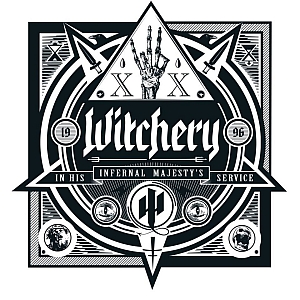 Artist: Witchery
Title: In His Infernal Majesty's Service
Genre: Thrash Metal
Release Date: 25th November 2016
Label: Century Media Records / Sony Music Entertainment
Album Review

It is most definitely time for a new WITCHERY album. Six long years have passed since the last release. Now comes 'In His Infernal Majesty's Service' and it kicks our behinds and makes our blood rush instantly. It is a frenzy, raging blackened thrash metal from Sweden that will surely heat you up on a cold winter night.
In the year 1998, WITCHERY release their first album 'Restless & Dead', which is still much fun to listen to. More albums follow but after the somewhat weaker 'Witchkrieg', it stays quiet for a while. Now the band has risen again and with an amount of energy and dynamics that makes us grin and turn up the volume at once. Yes, there have been changes in the line-up and they contribute to the pleasure that is 'In His Infernal Majesty's Service'. There is still Jensen on guitar, Rikard Rimfält on lead guitar and Sharlee D'Angelo on bass. Drummer Chris Barkensjö replaces Martin Axenrot while Angus Norder from Nekrokraft has picked up the microphone. Wise decisions, we think right after playing the first track, 'Lavey-Athan' that starts with heavy guitars and fantastic drums. This opener is overall driving, fast, and rough but varies in speed and rhythm and sports twanging harsh bass lines to match the poisonous vocals. We strongly advise you to let loose and drop into the pit. This album is going to be one rough ride.
And it is. After all these years, WITCHERY still know how to entertain. They bring myth and mystery, death and destruction, and it is a spectacle we imagine enjoying behind the wheel, driving fast. It seems almost impossible to sit still while listening to 'In His Infernal Majesty's Service'. There are anthems like 'Zoroast' and the first single 'Nosferatu' with catchy but harsh melodies, violent guitars, and a voice that ranges from casually bold to infectious to threatening. The drums are on point and the bass adds up to the forceful performance WITCHERY portray on this album. They can be fast and relentless, for example on 'The Burning of Salem' or 'Feed the Gun', the latter also spoiling us with a strong guitar riff that burns through every nerve. The best thing about this album yet is its dynamic range. Listening to it, we can thrash around, bang our heads, go berserk. At times, we can at least try to sit back for a second and take a deep breath before the next angry verse, the next grinding riff slays us and drags us right back into the black. Songs like the very versatile 'Netherworld Emperor' that has the potential to paralyze and destroy us, or the wonderfully heavy "In Warm Blood" demonstrate that the sixth WITCHERY album has a lot more to offer than its predecessor.
'In His Infernal Majesty's Service' is an album to listen through from first to last track. Eleven songs and a runtime of thirty-seven minutes pull us into a world full of darkness, doubt, and dubious spirits. Technically, it is well-produced and composed, the sound distinct and clear. And if you get past the whipping rhythms and the brutal riffs and if your blood pressure returns to normal, WITCHERY have some stories to tell and critical views to share. It is up to you how you approach 'In His Infernal Majesty's Service' but be sure of one thing: WITCHERY grant us no moment of rest. Or if so, we may rest in pieces.
Tracklist

01. Lavey-Athan
02. Zoroast
03. Netherworld Emperor
04. Nosferatu
05. The Burning of Salem
06. Gilded Fang
07. Empty Tombs
08. In Warm Blood
09. Escape from Dunwich Valley
10. Feed the Gun
11. Oath Breaker
Line-up

Angus Norder – Vocals
Jensen – Guitar
Rikard Rimfält – Lead guitar
Sharlee D'Angelo – Bass
Chris Barkensjö – Drums
Websites

http://www.centurymedia.com/artist.aspx?IdArtist=153
/
https://www.facebook.com/officialwitchery
Cover Picture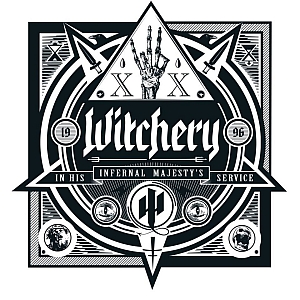 Rating

Sound: 9
Music: 8
Total: 8.5 / 10