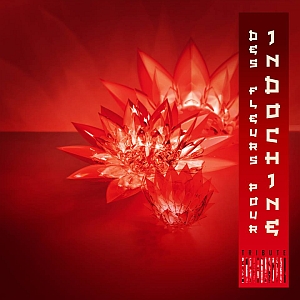 Artist: Various Artists
Title: Des Fleurs Pour Indochine - A Tribute to Indochine
Genre: Synth Pop / Electronic / Indie
Release Date: 14th October 2016
Label: Foundry Records
Album Review

INDOCHINE, for those who don't know, is THE biggest French New Wave band. With more than 30 years of carrier, this band has managed to survive line-up changes, medias and public Love'n'Hate and major success, even on the international scene (they were big in Canada, South America, Belgium and Northern Europe). INDOCHINE is at the top of their carrier in France since 15 years, selling millions, filling huge arenas and stadiums. Strangely, there never was any tribute to this band. It took almost two years for the British label Foundry Records and the band WAITING FOR WORDS to set up this project and gather 13 acts from Europe. And the result is excellent.
For those who are familiar to INDOCHINE, most of the covers will come certainly as surprises as each act took ownership of the songs covered… and for those who are not, this is an excellent opportunity to discover all those talented artists and Foundry Records, a label that grows on the scene year after year without big publicity. There are of course some of the label acts (WAITING FOR WORDS, SHINY DARKNESS, PEOPLE THEATRE or ARACHNOPHOBIAS) but also some other acts such as MADMOIZEL, NAVEED or DESTILLAT. The result is a variety of styles and very coherent at the same times. No surprise that Nicola Sirkis (the leader of INDOCHINE) congratulated WAITING FOR WORDS for their cover of 'Le Baiser' (in a very KRAFTWERK style) and that the management of the band had promoted the tribute on their official sites and social networks
In conclusion, this is a very interesting tribute album and most of all, a great collection of synth/ electro songs that can be discovered and appreciated even if you don't know about INDOCHINE. The album is available only at foundryrecords.bandcamp.com (free download).
Tracklist

01. Destillat - A l'Est de Java
02. Waiting For Words - Savoure Le Rouge
03. Shiny Darkness - Satellite
04. Naveed (feat Marie K) - Marylin
05. People Theatre - 3ème Sexe
06. Arachnophobias - La Sécheresse Du Mékong
07. Madmoizel - Kao Bang
08. Waiting For Words - Le Lac
09. HeartH (feat S-Tel & P-Ter) - J'ai Demandé A La Lune
10. Modular Kids - Des Fleurs Pour Salinger
11. Vuduvox - Memoria
12. Original Band - Venus
13. Lixiviath - Dancetaria
14. Lifen - Canary Bay
15. Waiting For Words - Le Baiser
Website

https://www.facebook.com/tribute2indochine/
Cover Picture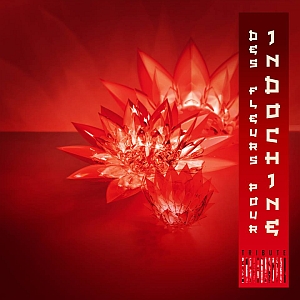 Rating

Music: 9
Sound: 9
Total: 9 / 10