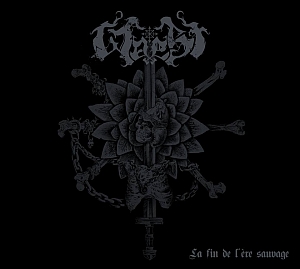 Artist: Woest
Title: La fin de l'ère sauvage
Genre: Black / Industrial / Doom Metal
Release Date: 21st January 2017
Label: Independent
Album Review

It's black and brutal, doomy and also industrial - what a wild combination of sounds and atmospheres. This is WOEST! If you like your Metal this way you'll welcome this new, versatile band from Marseille, France. They formed in 2015 to create
"something dark, a reflection of our environment, [...] our sick society"
as guitarist Dave Malemort explains. Their intriguing demo 'La fin de l'ère sauvage' is the result and clearly a success: six sinister songs with harsh Death Metal vocals in French. `La fin de l'ère sauvage´, released this January, is a conceptual work inspired by the fictional world of the Cimmerian people brought to life by the American author Robert Ervin Howard. Is there anyone who hasn't heard of the infamous Cimmerian hero Conan the Barbarian? Vocalist Torve summarizes the songs in the following way:
"Most tracks present a barbarian lost in modernity and his values. He will finally get lost in the tundra to die alone."
A downtempo intro with gritty guitar chords introduces 'Le froid efface' before WOEST speed it up and Torve's Black Metal vocals set it. We're getting an atmospheric and powerful opener! The sound of 'Tout s'écroule' may not be the clearest in the beginning, but improves towards the end of the song when the vocals get more prominent. A rather melancholic riff leads through the apocalyptic song and there are eerie, high-pitched synths followed by a doomy part featuring slower vocals. WOEST growl about
"songs to the glory of bodies lying in the battle field"
and fittingly we're caught in riffle fire towards the end of the track. The sombre outro of 'Tout s'écroule' is stunning and the same is true of the following intro leading us to the title track 'La fin de l'ère sauvage'.
The title track kicks off with a dark bass line and convinces the listener as a composition full of changes. The great, chant-like chorus somehow reminds one of CRADLE OF FILTH and later, the vocalist also recites a quote by Howard, words that the author wrote in a letter to H. P. Lovecraft in 1935, in an angry manner:
"... Les hommes "civilises" essaient toujours de justifier leurs exactions, pillages et massacres en déclarant qu'ils agissent dans l'intérêt de l'art, du progrès et de la culture. Que ce simple constat vous surprenne m'étonne et me surprend. Ceux qui se targuent d'appartenir à une civilisation supérieure ont toujours déguisé leur rapacité avec de tels arguments..."
(Transl.:""Civilized" men try to justify their looting, butchering and plundering by claiming that these things are done in the interests of art, progress and culture. That this simple statement of fact should cause surprise, amazes me in return. People claiming to possess superior civilization have always veneered their rapaciousness by such claims.") - A statement of fact indeed, sad but true.
With its in-your-face guitar riff and keyboards on top of the drum machine, 'Noir' spreads some Gothic vibes and is one of my favourite tunes on the debut convincing with a great interplay between snarling vocals and the repetitive guitar in the verses and a great change between clear and harsh vocals in the "Black Lotus" chorus. 'Moelleuse et tiède' means "soft and warm" and that's how a redeeming death after a battle is described in this track. The tune blows you away with an amazing intro, another killer chorus, some wonderful bass in the background, and a swift guitar solo in its outro. The sound of gusty winds introduce and also end the epic closing track 'Toundra'. The eight-minute-long is simply mesmerizing and kind of hauntingly soothing with its gripping doom and mourning "La-la-la sing-song". What is more, WOEST sound the death knell by building in some gloomy church bells. Bravo!
On the whole, every single track on the demo manages to grab your attention immediately. The about 40-minute-long 'La fin de l'ère sauvage' easily grows on you and makes you crave for more WOEST! It is an interesting first opus and the French (rather than English) lyrics are wonderful for a change fitting the tunes perfectly. Some clear vocals here and there are also very welcome. Everyone who is into dark sounds that are brutal and atmospheric at the same time should check out the creative and capturing work of this band, which deals intelligently with the theme of barbarism. WOEST present unique music while exploring the duality between the wild, ancient world and our modern civilization. In their shady artwork, created by Torve himself, they present another French translation of Robert E. Howard's words on savagery and mankind:
"Barbarism is the natural state of mankind. Civilization is unnatural. It is the whim of circumstance. And barbarianism must ultimately triumph."
Listen to WOEST's demo and you'll know exactly how all this sounds like!
Tracklist

01. Le froid efface
02. Tout s'écroule
03. La fin de l'ère sauvage
04. Noir
05. Moelleuse et tiède
06. Toundra
Line-up

Torve – vocals
Dave Malemort – guitar, drum machine
Dismas – bass
Website

https://www.facebook.com/woestband
/
https://woest.bandcamp.com/releases
Cover Picture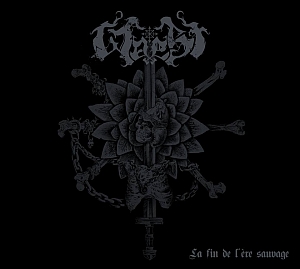 Rating

Music: 8
Sound: 8
Total: 8 / 10