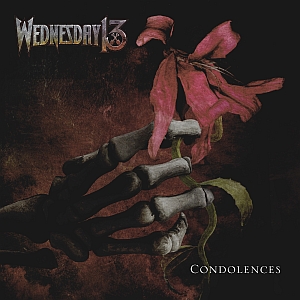 Artist: Wednesday 13
Title: Condolences
Genre: Horror Punk
Release Date: 2nd of June 2017
Label: Nuclear Blast
Album Review

Mr. Wednesday 13 and his crazy friends in the WEDNESDAY 13 project released a new album called 'Condolences'. The passionate, dark and inspirational material of 'Condolences' is the real gift for all fans of W13. In the new album, the band discovers death from all sides: the thoughts of the murderer, the role of the victim and the afterlife. If you want to hear eerie stories with a good suggestion of sarcasm, you should have 'Condolences' in your CD collection.
The first song after intro, 'What the Night Brings', is heavy, mysterious with a bit of theatrical mood: the curtain goes up, keep your eyes open. This song has a stylish and memorable sound and the guitar play is especially expressive. The gloomy party's atmosphere continues with 'Cadaverous', a fast song with gloomy lyrics. W13 are always philosophical and have a good sense of humour related to horror, to all the children of darkness and to death, but on this new album, the musicians try to reach the new level of it. The great example of this transformation can be found especially in the next three songs: 'Blood Sick', 'Good Riddance' and 'You Breathe, I Kill'. The whole album is characterized by unique style and every song is an interesting and creepy story, but 'Condolences', the title track, is really epic, long and seriously dark. It reminds of slow doom metal ballads of sadness. The last one, 'Death Infinity', is the perfect for end the album.
WEDNESDAY 13 did a good job. 'Condolences' sounds beautiful and strong, it has the special vibes of humorous but deep glory. It scares, admires and unobtrusively makes wonder if our life lasts forever and how should we spend it: in fear or with joy and Rock'n'Roll mood. Actually, you know how to choose.
Tracklist

01. Last Rites
02. What The Night Brings
03. Cadaverous
04. Blood Sick
05. Good Riddance
06. You Breathe, I Kill
07. Omen Amen
08. Cruel To You
09. Eulogy XIII
10. Prey For Me
11. Lonesome Road To Hell
12. Condolences
13. Death Infinity
Line-up

Wednesday 13
Roman Surman
Jack Tankersley
Troy Doebbler
Kyle Castronovo
Website

www.officialwednesday13.com / www.facebook.com/officialwednesday13
Cover Picture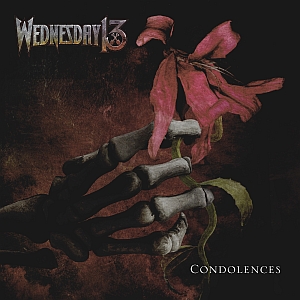 Rating

Music: 8.5
Sound: 9
Total: 8.8 / 10