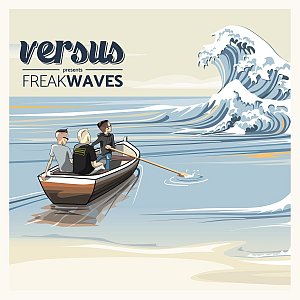 Artist: Versus
Title: FreakWaves
Genre: Synth Pop
Release Date: 7th April 2017
Label: Dark Tunes Music Group
Album Review

Where do they drag Steve Naghavi? - You might ask looking at the cover of this record. Well, these three guys from Monestirean will lead Naghavi and all the similar bands to the future with new fresh tunes, new level of passion to music and where the well-known bands finally meet the decent rivals. VERSUS became popular long before their debut release. 2004 they won the third prize at Europe-wide band contest "Battle Of The Bands" hosted by Sonic Seducer. Their first studio album 'Different Twilight Places' was released in 2010. Those, who heard it couldn't wait for the next release. Those, who first got familiar with the newest single, are looking for the previous record. And this all has got a reason: VERSUS are obviously that good.
On the current album 'FreakWaves' there is something for everybody: English and German texts, danceable and slow tracks, electro marches, statements and love songs. 'Wir sind anders' ('We are different') is a cheerful energetic and optimistic anthem for the lovers of everything alternative, first of all - alternative music. A typical, but quite necessary song, which will surely find a lot of grateful listeners. Right after the opening track the pace slows down and the more gloomy and melancholic songs follow. 'Lies', 'A Memory In Frames', 'Freakwaves', 'Sorry' - each of them is a good example of a new coil of the synth pop. On the one hand it's easy to identify, what scene they belong to. On the other hand, these melodies are not clichéd, but fresh and interesting. The real Easter-eggs on this record are beautiful acoustic ballads 'My Friend' and 'Welle Sieben'. As for the dance-tracks, each has a different tone. There is the romantic 'Schenk Mir Zeit', the rough and political old-school 'Gloaming', the social criticizing 'Love2Go', the heart-breaking 'Immer dann' and 'We Were Lovers'. Weather dance or melancholic, one thing is common - the lyrics are totally worth to be heard. VERSUS uses words not only to compliment their tunes, but they really have something to say. Even if it is something, we've heard already - there are things which will always be of current interest.
The motto of the VERSUS is a quote by one of the members: "Love and music are the most important things in the world. However, I believe that music can create deeper feelings than love will ever be able to." Probably at the current stage of the VERSUS it's quite a bold statement. But if it is a promise - then the following records are more than welcome. As for the 'FreakWaves' - it's a brilliant record, well thought through. While it represents a wide diversity from track to track, there is an idea, a leitmotif, which ties the album together.
VIDEO: https://youtu.be/olOMRcNck-M
Tracklist

01. Wir Sind Anders
02. Lies
03. A Memory In Frames
04. Freakwaves
05. Schenk Mir Zeit
06. My Friend
07. Gloaming
08. Love2Go (Versus / Beyond Obsession / Vasi Vallis)
09. Immer Dann
10. Into The Galaxy
11. We Were Lovers
12. Sorry (Versus / Hartwig, Toby)
13. Welle Sieben
Line-up

André - Vocals, music, words, arrangements
Excess d - Music, arrangements, backing-vocals, synths
Roman - Music, backing-vocals, synths
Guess.sine - Guest-vocals
Website

http://versus-music.2hw.de / https://www.facebook.com/Versus2
Cover Picture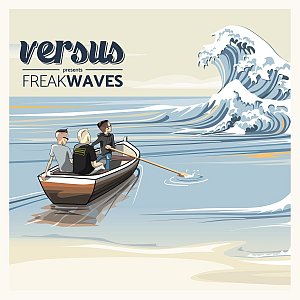 Rating

Music: 9
Sound: 9
Total: 9 / 10