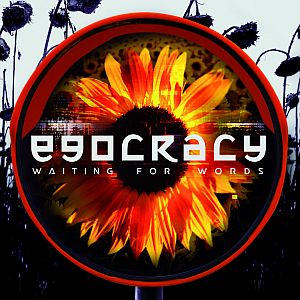 Artist: Waiting For Words
Title: Egocracy
Genre: New Wave / Synth Pop
Release Date: 25th September 2018
Label: Foundry Records / GoM Production
Album Review

Reviewing the new album of one of your favourite acts is far from being an easy task. Especially when you're about to publish a good review. "Am I liking this album just because I love the band?" To cut the story short... the answer is rather "I really love that band because this album is fucking brilliant".
'Egocracy', the 8th studio album of the French act, once again mixed by one of the New Wave masters, Steve Prestage (JAPAN, XTC, ECHO & THE BUNNYMEN, PETER GABRIEL to name a few), comes after a three years cycle of working essentially on covers and six years after the worldwide critically acclaimed 'Follow The Signs'. Postponed many times, it was even questioned if it would even see the light of day. Fortunately, some impressive singles and videos were released those past months, raising the pressure. The album title leaves no much rooms for interpretation to the theme of this new collection. We are leaving in a world where the Ego rules everything.
'Think', the opener track, is an instrumental full of nostalgia, not to say sadness, on top of an industrial rhythm. Set the picture. As soon as ZeN's vocal arrives on 'Until The End Of Time', you know this album is going to a different place than previous ones. The voice is powerful as never before. Just like having open one of your best French wine bottles at the exact perfect moment, ZeN's vocals reaches a high point on this album. The song in itself is a pure New Wave anthem, while stamped with modernity and almost EBM sounding. A song that deals with innocence and temptation, where the light glows in the dark. The final vocals harmonies between Peter and ZeN are surprising.
'Great New World', the new and smashing new video (https://youtu.be/CMm7VMNJGfA) that created the surprise a couple of weeks back, is probably the most reflective song of the album theme. ZeN's throws, in a very syncopated way, all the new vocabulary that drives our lives and brains, denouncing smartly some sides of the music industry like Crowd Funding ('Pitty, Beg'), streaming and social networks as well as our behaviours on those platforms (Judges, Juries, Insults, Hurts...). Musically, this song is a real progressive industrial anthem, taking us through various soundscapes. Hypnotizing and certainly one of the key moments of the live tour.
The JAMES' cover of 'Curse CurseÄ (one of my fav band covering another one of my fav bands!), comes right on time to bring the light on. And what a light. 'Curse Curse' was a kind of tribute from JAMES to the Electronic scene... the electronic scene returns the favour and it's a real smash. This song is clearly aimed to have all dance-floors jumping around. The harmonies between the three voices are perfectly tuned and ZeN is at the top of his game. Another live key moment to come.
After the re-recorded version of the band's anthem, 'Cause I Do Believe' (rejuvenated, modernised and more relevant than ever), it's time for Soe to take the lead with a French tune, the album title track 'Egocracy'. And it seems ZeN has not been the only one polishing his vocals. Even without getting the French meaning of words, Soe's voice will just take you in a gaze of sensuality while she impersonates a smartphone talking to its owner and how slaved to it he is.... Gosh I'd loved my smartphone's Siri singing to me like that... This electro dark up tempo could be a great single.
'Then You're Gone' slows the tempo for a melancholic duet. To illustrate how it sounds musically, imagine a Vince Clarke song produced by Alan Wilder. Just like if 'Any Second Now' would have been treated the 'Higher Love / In Your Room' way. As the press release states, this album has been conceived the old fashion way with an A-Side and a B-Side... and it's quite clear 'Love Me Forever' is the B-Side opener. This one goes straight into the COVENANT / AND ONE area. But it's far from being a copycat. The lyrics are real fun, ZeN taking the role of a real ego driven artist singing to his fans ('You Will Love Me Forever') and afraid of losing the success ("Now that I got all of it I fear losing it all"). Once again, harmonies with Soe and Peter's (Peter sounding very powerful) backing vocals is perfect.
'Only Time Will Tell' that was the first new original material released two years ago has been fully re-recorded, this time with Soe in the backing vocals, and the output is brilliant. More powerful than the first version, new synths and a new ending with a strong Bass line parts clearly reminding of both NEW ORDER and... INXS. If the influence of the Aussie cult act was subtle in the original version (smart reference to 'Mediate'), the production and the bass riff is clearer towards 'Need You Tonight'. Soe is then back on the lead with the electro dark minimal 'Away' that I strongly recommend not listening while driving unless you want to explode speed limits LOL. The track ends up with Peter duetting with Soe, and the alchemy works really well.
'(Have We) Lost It All', the latest and smashing single released last years is here to remind the Pop side and strength of WAITING FOR WORDS. When a band places one of his biggest hits at the 10th place of the album track list, this show the level of confidence of the artists in their new material... and there's more to come. 'Believe in Me' is the 3rd song lead by Soe - she is THE revelation of this album, let's be clear. Multiple vocal harmonies, hypnotic synth line, progressive rhythm that could be a great single... another one. Guitar and bass fit in the analogic soundscape perfectly.
'Lament' closes the album - let's be honest - on a not very optimistic note. You'll find out that the opener instrumental, 'Think', was a variation of this last song. This song sees Soe duetting with Peter, some French and English verses. This is probably one of the most beautiful and saddest song of the band. It's MOBY crashing up with LIZ FRAZIER on top of a JEAN-MICHEL JARRE industrialized instrumental.
I read on Facebook a fan (a "Wordy") stated that "It sounds like nothing before in WFW's discography while being a pure WFW's DNA album"... and I couldn't find another way to describe this album. The band realize the tour de force to release an album that can only please their fans and seduce people who were not into their music before. They explore various style with consistency. While every WFW' past albums could be argued between pro's and con's regarding production, vocal performances or sounding... this one is a damn smash. Sleeve design, mixing, production, performances and song writing are just perfect. Some would say the album of maturity. As a long time distant follower of the band, all I can say is that long-time work has paid off.
The Fan Edition comes with two additional CDs: 'Lost In Time' that compiles all the EP's with their B-Sides and remixes released recently and another one that will be available around Christmas with some covers, including a Trip-Hop industrial version of IGGY POP's 'The Passenger', U2's 'Unforgettable Fire' or PRINCE's 'Gold'. The CD is available at https://waitingforwords.bandcamp.com, and digitally at iTunes, Amazon...
Tracklist

CD1: 'Egocracy'

01. Think
02. Until The End Of Time
03. Great New World
04. Curse Curse
05. Cause I Do Believe (Re Recorded Version)
06. Egocracy
07. Then You're Gone
08. Love Me Forever
09. Only Time Will Tell (Re Recorded Version)
10. Away
11. (Have We) Lost It All
12. Believe In Me
13. Lament
CD2: 'Lost In Time', EP's collected

01. (Have We) Lost It All
02. Cause I Do Believe (Re Recorded Version)
03. Only Time Will Tell
04. Requiem for a C. (feat Mc Jesse)
05. The Future (Extended Version)
06. Pictures Of You (Radio Edit)
07. Father Figure (feat Pian O'Sam - Live Rehearsal)
08. Lovesong (Version # 1)
09. (Have We) Lost It All (Remixed by Shiny Darkness)
10. Cause I Do Believe (2017 Club Mix Edit)
CD3: Covers (available around Christmas) of U2, Prince, Iggy Pop, Noir Désir…

Line-up

ZeN - Lead Vocals, Synths, Guitars and programming
Soe V - Vocals and keyboards
Peter Rainman - Backing Vocals, Keyboards and programming
Website

https://www.waitingforwords.com / https://www.facebook.com/Waiting.for.Words
Cover Picture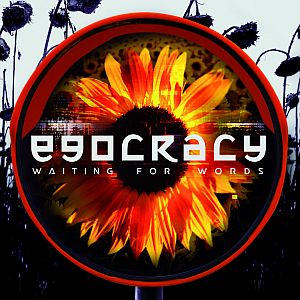 Rating

Music: 10
Sound: 10
Bonus: 10
Total: 10 / 10