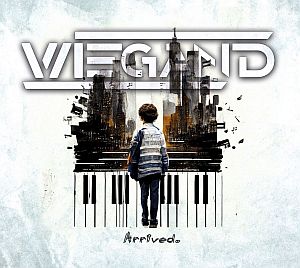 Artist: Wiegand
Title: Arrived.
Genre: Synth Pop / Darkwave
Release Date: 27th May 2023
Label: self-released
Album Review

WIEGAND's second full-length studio album 'Arrived.' will be released this Friday. In addition to the single 'Pied Pipers' (released in April) and 'Get informed', which was released in June 2020, it contains seven brand-new songs and a piano edition. 'Pied Pipers' has just entered the top five of the GEWC singles charts (second highest entry after VNV NATION) and the album should also make its way to the top spots of various scene charts. Helge Wiegand actually seems to have "arrived", at least musically. The new album is characterized by excellent song writing, an excellent production, catchy melodies with complex soundscapes and intelligent lyrics. Helge does not shy away from dealing with difficult topics. He also takes a clear and refreshingly honest stance on social and political issues. A strong character trait that I often miss elsewhere. The album is also extremely refreshing from a musical point of view. Listened to it again and again and am still discovering new things I hadn't heard before in every song. Helge's voice and singing performance has also developed significantly over the past twelve years, which is particularly evident in the quieter passages, when the music fades into the background.
Helge Wiegand is already known as a member of T.O.Y. as well as a keyboardist of DIORAMA. The influence that DIORAMA in particular has on his music and song writing can be clearly heard in WIEGAND's songs, which isn't exactly a disadvantage. Jens Domgörgen has been known for many years as a presenter at major festivals in the black scene, such as the Amphi Festival. That the man is not only a chatterbox, but also a good musician, he proved as a keyboardist and second voice at X-DIVIDE. Helge first appeared under the WIEGAND label with the EP 'Between the worlds', which was released in 2011. It then took a whole five years until the next release, 'The Little Man', and then another two years until 'Floating Away' - the first single from the first full-lengh album.
'Released.' came out in December 2018. Quality instead of quantity seems to be the motto of WIEGAND! In 'Get informed' 2020, Helge dealt intensively with the topic of conspiracy theories. A song that (unfortunately) is still extremely up-to-date and therefore rightly finds its place on the current album. Started as a solo project, WIEGAND appeared as a duo for the first time at the Indarkness Festival 2022 in Duisburg. Further live performances followed in 2023 as support at the RROYCE anniversary show and at the sold-out "Für die besten Gäste der Welt" Festival in the Kulttempel Oberhausen, where Jens not only supported as a live keyboardist, but also provided the background vocals.
But back to 'Arrived.' In terms of content, we're not looking at a simple or even superficial album here. The record comes up with intelligent and very profound lyrics that don't necessarily fully reveal themselves on the first listen. Sometimes very direct and open, sometimes rather subtle and complex, various topics are discussed. One topic that Helge has obviously been dealing with more often since 'Released.' are the things what we encounter every day on the internet. With 'Get informed', 'Pied pipers' and 'Filter', three of the nine songs deal with various internet and social media phenomena. We've discussed 'Pied Pipers' extensively elsewhere, please read
HERE
. I don't seem to have been entirely wrong in my assessment of the MENTAL DISCIPLINE remix. At the after-show party of the Synth-Pop Festival in the Kulttempel Oberhausen last Wednesday, the song at least ensured a full dance floor and a crowd shaking a leg and singing loudly.
'Get informed' is not an unknown song as well. With driving beats and angry articulated vocals, it is one of the most powerful and most energetic songs on the album. The intelligent reckoning with conspiracy theories and enraged citizens, which were booming in the pandemic year 2020, is literally being punched upon our ears, as if Helge wanted to shake us up. "We are sowing the seeds of doubt, we are questioning everything, twisting the obvious, scientific evidence, we don't give a shit, they will never compete with YouTube university." By the way, the single released in 2020 also features a sad and very haunting piano version. "With sadness in my eyes, finally I see, there might be no solution for conspiracy theories." That's why the song had to be on the album. It is not surprising that with 'Filter' directly follows a song that deals with another very serious topic related to social media. Here, however, Helge changes the point of view and deals with Instagram and Co. from the perspective of an "influencer".
The first-person narrator creates himself in an online reality as a "perfect" illusion and lets his followers participate in his embellished illusory life. "I'm modelling myself until I shine... make me real, leave a like, follow me." As a "prostitute of this content war" there is no privacy, the camera is always there, face and life beautified with filters, non-stop smiling, no boredom, no everyday life, life is a series of highlights and experiences... "I'm getting lost in the update loop, despite having a million friends, I'm all alone." The musical interpretation changes with the perspective. The song starts off almost minimalistic with an almost hypnotic drum line that runs through the whole song. The vocal line is rather calm and unexcited and supports the hypnotic effect. And then comes the chorus, which hooks you straight away, screwing itself directly into your auditory canal and which you simply have to sing along to, at least at the second listening.
Then Helge makes a cut and lets Prisca Olivia Schumacher speak: "facetune, X-Pro 2, slim challenge - tears of you / snapchat dysmorphia, hashtag - notreallyme". This seems almost like a counting rhyme before Helge performs the second strophe - more driving and powerful than the first one. And also, in the refrain more synth lines are added. The song changes again and builds up itself until the grand finale. A wonderful example of the great song writing skills by Helge Wiegand. It gets even more haunting in the piano edit that closes the album. In this version, Helge is supported by an old friend from his home Wilhelmshaven. Michael Freimuth starts with his acoustic guitar during the refrain and complements Helge's piano playing and vocals. And while we're on the subject of vocals... The vocal qualities of Helge Wiegand are particularly evident in this version. The song gives me goosebumps even on the album version. The piano edit easily puts a shovel on it.
And because it's so beautifully emotional right now, we'll continue with 'Connected'. A song with a story and probably the most personal song on the album. When at "Pause the game! Stop the play!" the voice of Helge's son Noah is heard, that probably says more than I could write here. And the melancholic and wistful mood of the song also speaks volumes. So, I'm not going to make a lot of words. Just make your own thoughts on it. There is also a story behind 'Then came you'. I don't want to waste a lot of words on that either. Those who have already pre-ordered the album can make up their own minds anyway. The song is already available as a download. And anyone who saw Helge and Jens live at one of the shows in Oberhausen this year, already knows the track. For my taste the poppiest and catchiest track on the album. That doesn't mean that the song is boring or simple. Broad synth lines, sound effects and a terrific hook line get into your legs as well as your ears.
Let's go back to the album's start. In the opener 'The quiet thief' Helge also addresses a very serious topic. Again, I do not want to go into detail about the text. For "the thief behind your eye whose name is just another word, for a long goodbye." I'd have a name or two in stock. The title starts correspondingly dark and oppressive and develops almost threateningly. The distorted and slightly crooked synth lines reflect the lyrics perfectly. Despite all the gloom, however, this song also changes at the refrain, offering us some light and comfort and a wonderful hook that grips and won't let go. Just great. Let´s go to the first song that Helge started with after 'Released.', namely in 2019. 'Choices' is also the last song for 'Arrived.', which was completed in 2023. Quite a lot has happened in the meantime and each of us must have made some decisions in our lives.
After all, life itself is made up of choices and we make them every day. Our choices, our mistakes and how we deal with them ultimately make us who we are. They have brought us to where we stand today. "Every day that we´re alive we wither or we thrive depending on our choices... Don´t ever let life pass you by, just because it is too precious to just standby... let´s take fate into - our own hands." Here again, a certain amount of melancholy resonates in the music. A somewhat calmer track with a wonderful melody and a powerful, very catchy chorus. With 'Alive' the influence of DIORAMA can hardly be denied. Darkwave at the greatest, which in turn changes into a first-class Synth-Pop anthem during the chorus. And 'City of a thousand lies' also comes up with a variety, depth and intensity that leaves nothing to be desired. Great song that builds up itself piece by piece and screws itself into your ear canal. Wonderful.
"Welcome home! I've arrived!" It could hardly be expressed more aptly than in this line from 'Then came you'. WIEGAND has definitely arrived in its musical niche and seems to feel really comfortable there. At the latest with 'Arrived.' WIEGAND sheds its "insider tip" image and sets out to climb the stairs all the way to the top. Maybe it's (still) too early to put WIEGAND on a par with grandeurs like DIORAMA or DIARY OF DREAMS. Or maybe not. In terms of song writing, production, attention to detail, perfection and deep, intelligent lyrics, WIEGAND doesn't need to hide behind the bands mentioned. A thoroughly convincing album on which one Synth-Pop/ Darkwave pearl follows the other. Complex, intelligent, catchy and varied. Played once, you just want to listen to it over and over again. Earworms guaranteed!
The album will be available as digital download. A 4-panel digipak audio CD (limited to 300 copies) will be available on 2nd June 2023 at Bandcamp (merch) or just send a message via WIEGAND's websites. WIEGAND will be special guest for Peter Heppner on 21st July in Dresden. And of course, Helge and Jens will appear on this year's Amphi Festival, Helge on keys for DIORAMA and Jens once more as a presenter.
Tracklist


01. The quiet thief
02. Get informed
03. Filter
04. Alive
05. Connected
06. Then came you
07. Choices
08. Pied Pipers
09. City of a thousand lies
10. Filter (Piano edit)
Line-up


Helge Wiegand - Songwriting, production, vocals
Jens Domgörgen - Live support, social media, booking
Website


http://www.wiegand-music.com / https://www.facebook.com/wiegandmusic
Cover Picture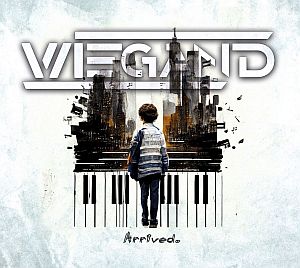 Rating


Music: 10
Sound: 10
Total: 10 / 10