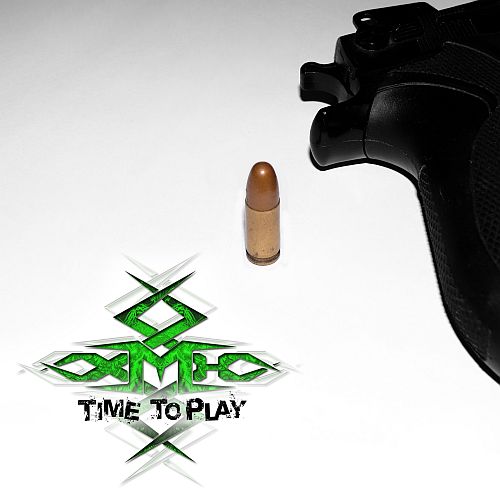 Title: Time To Play
Artist: XmH
Genre: EBM / dark electro / techno
Release Date: 19th July 2007
Label: own label
Introduction
XmH is a Dutch band, founded by Benjamin Samson. Actually XmH is a one-man-band, but during the liveshows he is supported by two other members. I've seen band play live several times and was very impressed by the energy of Benjamin. Now I was curious if the album would summon the same feeling. This dark electro band has a sound that can be compared with bands like Suicide Commando, Angels & Agony, Hocico and Combichrist, but with the absence of distorted vocals. Their debut album "Time To Play" has been out for a while now and has already proved its qualities. In November 2007 it reached the 2nd place in the Dutch Underground Charts.

Members
Benjamin Samson - Vocals & programming

Website

Track Review
01. I Found Her - 5:21
This track starts with a melody followed by a pounding bass and a drumbeat. Shortly after that Benjamin joins in with his voice. What distincts his voice from most other EBM acts is that his voice is not distorted, so you can hear his "clean" screams. This song seems to be about necrophilia. Some people may find these lyrics controversial because it implies that dead women are very willing to have sex withor even to be raped. But this shouldn't be taken too seriously. Fact is that this track will do good on the dancefloor.
02. Global Killer - 4:11
A slight faster track than the previous one. It starts with a computer sound, followed by a sample "This is what we call Global Killer, the end of mankind, doesn't matter where it hits, nothing will survive, not even bacteria", which is repeated regularly throughout the song. These words could be interprated as a look at the deterioration of the world. Some sarcasm is lying within the lines "Push your button, drop the bomb, let's get it on, everything is wrong" , as if there is nothing to do about it anyway to make the world better.
03. Human - 4:23
A track full of poumding bass and beats. In this song the lyrics are dull and monotonous, but maybe they can make people a little more confident about themselves. But as in most songs, it has never been the meaning of Benjamin to add messages to his songs.
04. Life Is Futile - 4:51
This song has a slight dramatic impact, starting with a melodic intro with a heavy bass. It's about stepping out of this futile life together with your lover. An echoing woman's voice gives this song a little more drama. With a fading outro it's like the song is slowly dying as well.
05. Rape Your God V.2 - 4:36
In spite of the similarities between the song "Raise Your God" from the band Suicide Commando, a band which must surely have inspired XmH, in my opinion this is one of the strongest tracks of the album. It kicks in because of the strong rhythm combined with the screams from Benjamin. When he shouts "Rape Your God", you automatically raise your fist and shout along. It contains various spoken and sound samples and a female's voice. The previous version of this song (on their EP "Life") had already reached a high position in the Dutch Underground Chart and now the same has happened to this new version which reached the number 1 position in these charts.
06. Loser - 5:23
Another successful track! A dark synth intro is followed by a spoken sample. Pounding beats combined with a dark synthesizer sound, with the aggression in Benjamin's vocals and in the lyrics ( "You're a loser, you're a freak. Here's a gun. Go have some fun!") will make people whip up each other on the dancefloor.
07. Private Cowboy - 4:55
This track has a slightly uptempo beat, starting with a spoken sample. This is the first track on the album on which Benjamin doesn't use his voice. Private Cowboy contains samples only, but maybe a little too many for the good.
08. Obsolete - 5:33
Computer bleeps followed by a melody and dark pounding beats. Benjamin's vocals kick in right.
09. The Game - 4:47
Uptempo track, starting with a sample containing the name of the titletrack, followed by female screams which are altered with spoken samples.
10. Broken Images - 6:00
A dark melodic intro, followed by a sample of gunshots and screams from a female victim. Combined with Benjamin's screams "This life is messed up! This life is fucked up!" it gives a little agressive twist to the overall dark electro sounding track.
11. Wet - 4:53
The last official track of the album is in my opinion totally beside the mark. An anticlimax in which the listener is "treated" with samples from porn movies in which a woman is gasping in excitement and telling us how horny she is. This is a track that is merely suitable to be played in a sexclub, not on a cybergothic party.
12. Global Killer (RX-78 remix by NG-Pro) - 6:18
This very strong remix starts with a mysterious, breathtaking cello intro. The added instruments give this track a more dramatic touch than the original version. Heavier chords, combined with a steady single-tone pounding beat. The big difference is that Benjamin's vocals are left out.
13. Wet (Fetish club mix by XP8) - 4:48
In this remix the BPM's are pitched to a higher rate. In combination with harder pounding beats and deformed samples it gives this track a more EBM/noise-like character. There is not much variation, which makes this track boring.
14. Rape Your God (remix by Jesus Complex) - 3:43
This track starts with a pounding, spooky sound, which is preserved throughout the song. Benjamin's vocals are distorted here. Just one melodyline is used, but the track is over before that starts to get boring.
15. Rape Your God (remix by The People's Republic Of Europe) - 4:05
Starting with a sample from a screaming woman who has been driven to madness for some reason, this is a foreboding of how the rest of this remix will sound. It could actually drive the listener to madness indeed. TPROE has turned this version into a harsh EBM/noise track, using an excessive amount of distortion. In some parts samples of guitars scratching the speakers are used. These samples are also used in the outro. The whole gives this track this aggressive but strong character.

Cover Picture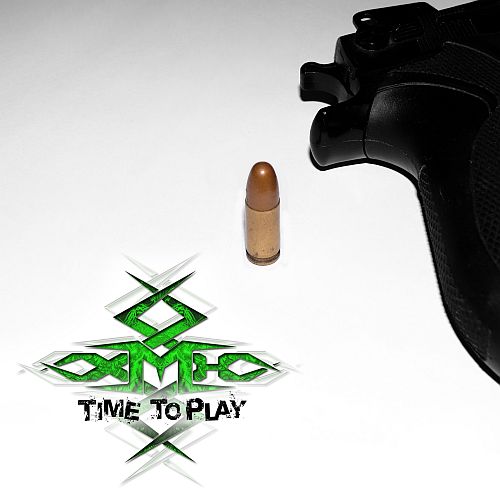 Rating

Music: 7
Sound: 7
Extras: -
Total: 7
Conclusion
As said "Time To Play" has already reached a high position in the Dutch Underground Charts. Although this album doesn't really stand out for it's originality, a little more varation wouldn't hurt. But it's a strong album for a debut and when listening to it you can hear that this new band XmH has potential to grow. What distincts XmH from most other EBM bands is that Benjamin's screams are not or a just a little distorted. My favourites are "Rape Your God", "Loser" and "Life Is Futile". The only track I'm really disappointed about is "Wet", which sounds cheap because of the excessive amount of porn movie material. Concerning the lyrics: they're not very original, but Benjamin just uses them as an instrument for the music, which he does well to give the tracks a more aggressive character. It's not his intention to carry out any messages. In my opinion it's been a good choice to add remixes on the album to give it the necessary variation. Maybe this will be a "lesson" for Benjamin to have the guts to start experimenting more. But for now XmH is a band worth to keep an eye on, so dark-electro lovers: get your copy of "Time To Play", put your furniture aside and turn your room into a huge dancefloor! Personally I prefer to be with their live performance to hearing their CD because Benjamin is like a real maniac on stage and it's just nice to enjoy their music with a large bunch of people on the dancefloor.

{jos_sb_discuss:19}