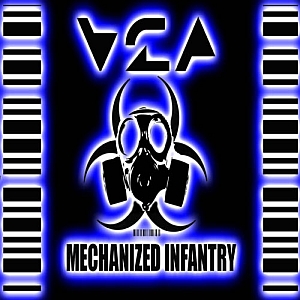 Title: Mechanized Infantry
Artist: V2A
Genre: Electro
Release Date: 27th March 2009
Label: Biohazzard Records
Album Review

The German / American duo V2a started its career back in 2002 which was also the year when they debuted with the album 'EBM' with which they started to conquer the hearts of thousands of thousands electro fans and will probably continue to do so with their second instalment 'Mechanized Infantry'.
I could say now that they just copy a formula that's already existing for a long, long time and which brought bands of the likes of AGONOIZE to success yet I doubt that anyone would listen (That's actually the problem, the people who really listen get fewer and fewer) so I will stop ranting about this now and go into medias res with the music. 'DK' is the introduction to the album and is a collage of robotic sounds and noises before 'Stahl-Tanz' lets fall on us hard beats and deep basses decorated with distorted vocal samples and noises. Now let's see what happens in 'Zero', well the beats stepped up a notch, there's definitely more melody contained within. Vocals are diversely distorted and while we're at it, the vocals on the following track provided by Ines if I'm not mistaken, sound extremely evil and with their commanding overtones they should make the crowd drain their last reserves to follow their urge to move. 'Electro Whore' is as I see it the fasted track featured on 'Mechanized Infantry'. 'Mercy is for the Weak' is the only real slow track you'll find on here yet it retains all the power and aggression you have come to love from V2A and it incorporates some harsh industrial riffs.
I think I made my opinion about this music pretty much clear at the beginning and I know very well that it's not a popular one these days but even though I personally don't like it at all I can accept it if other people dig this style and dance their brains out to it. That's the sole purpose of this music anyway.
Tracklist

01. DK - 1:17
02. Stahl-Tanz - 4:10
03. Jesus loves you - 4:12
04. Zero - 3:55
05. Mechanizm - 3:34
06. Contagen - 4:13
07. Demons - 5:00
08. Kill-9 - 3:13
09. Electro Whore - 4:19
10. Body Hammer - 4:13
11. Judda - 3:24
12. Body Machine Body - 3:08
13. Mercy is for the weak - 3:55
14. Deliver us from Evil - 3:43
Line-up

304 (Kevin Stewart)
316 (Ines Lehmann)
654SMO (Matt Hawkes)
Website

http://www.v2a.co.uk/
/
http://www.myspace.com/v2a
Cover Picture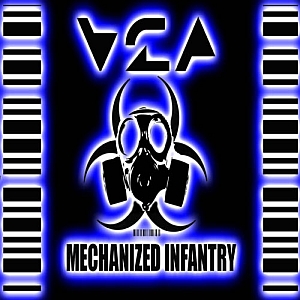 Rating
Music: 4
Sound: 4
Extras: -
Total: 4 / 10