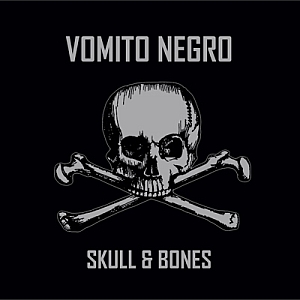 Title: Skull & Bones
Artist: Vomito Negro

Genre: EBM
Release Date: 22nd January 2010
Label: Out Of Line
Album Review

Belgium strikes back! After SIGNAL AOUT 42 another Belgian EBM legend from the 1980s released a brand new album in early 2010: VOMITO NEGRO! We took our time to dive into the dark world of Gin Devo's long-lasting musical venture. It's well worth it!
VOMITO NEGRO was founded back in 1983 by Gin Devo and Guy van Mieghem to explore the, back then, new world of synthesizers and electronic music devices. The band's name - Latin for "black vomit", name for the last stage of yellow fever - already implies that Devo and van Mieghem did not intend to produce happy-go-lucky synth pop tunes of their New Romantics contemporaries. VOMITO NEGRO was (and is) all about the dark side of humanity, knowing no compromise neither lyrically nor musically. After some experimentation a first, self-titled EP was released in 1985, followed by the 'Stay Alive' 12" in 1987. By that time VOMITO NEGRO had become one of the figureheads of the European EBM movement, along with fellow countrymen like FRONT 242, THE KLINIK, SIGNAL AOUT 42 or A SPLIT SECOND
The 1989 album 'Shock' reinforced the duo's reputation and featured underground hits like 'No Hope No Fear' or 'Baby Needs Crack'. A couple of equally successful releases followed until 1992's 'Wake Up' album, which marked a sad turning point for VOMITO NEGRO. Shortly after the release, Guy van Mieghem was involved in a terrible car accident where he suffered several severe fractures. The tragic result was that van Mieghem did not just need considerable time to recover but also that the permanent effect of his injuries meant that he was no longer able to perform as a musician. VOMITO NEGRO ceased to exist. 2002 saw an unexpected return of VOMITO NEGRO with the album 'Fireball' but the band's new full-length after a ten-year break was far from being a raving success, and fans and critics - as well as the band, in the end - were not happy with the outcome. Guy van Mieghem gave up and decided to stop making music altogether, while Gin Devo concentrated on his new project PRESSURE CONTROL. VOMITO NEGRO was put on a hold for years once more.
Six years later Gin Devo teamed up Borg, his collaborator in PRESSURE CONTROL, to bring VOMITO NEGRO back to the concert stages. Soon the two began also to record new VOMITO NEGRO material and signed a contract with German label Out Of Line. Not the only commonness of the two Belgian Electro acts, who have already shared a similar history since the 1980s. The new albums of the two pioneering EBM bands have both a strong retro feel to them which makes them stick out in today's scene. But while SIGNAL AOUT 42 delivered a solid and very good work, VOMITO NEGRO offers the more challenging and uncompromising effort (Editor's note: as this isn't a competition we advise you to get simply both albums, they are both worth it). The first good news about 'Skull & Bones' is that it is quality-wise miles above VOMITO NEGRO's 2002 album 'Fireball'. Gin Devo discovers old virtues with his new companion Borg, and thus 'Skull & Bones' sounds as raw, intense and energetic as you want a VOMITO NEGRO record to sound! The album shows no mercy at all, so it's better to give in to the album's pitch-black darkness.
'Skull & Bones' starts with the instrumental 'Chateau des Amerois' - often used as the intro for VOMITO NEGRO's recent live gigs - and while being a dark atmospheric piece of music without beats, the track sets the tone for the rest of the album. The Chateau des Amerois is a castle in Bouillon, Belgium, and legend has it that this castle was once used extensively by Satanists and paedophiles for child sex orgies. Although being an instrumental track without words, the track already indicates that VOMITO NEGRO are still more interested in the darkest sides of mankind. In this case we can assume that the track title and the (alleged) history behind it is also a reference to more recent tragic incidents in the band's home country Belgium… 'Dance With Death' is the second track, and as the word 'dance' indicates it introduces beats and rhythm to the album. Just like SIGNAL AOUT 42 with their new album, VOMITO NEGRO refrains from aggressive high-speed beat attacks which so many young EBM bands apparently love so much, and which are often pigeonholed as Hellectro these days.
VOMITO NEGRO are not pale kids with fancy hairdos sitting at laptops in their sleeping room to produce some distorted Techno beats to release the result as the dernier cri of the "Industrial" scene. The band itself states on their site that VOMITO NEGRO is "the result of intensive analogue synth manipulation & step sequencing" and "not a mainstream preset, 'instant out of the box' electro band". VOMITO NEGRO has every right to be so self-confident about their art, and in the end there's no denying that this statement is nothing but true. 'Blood, Sweat & Tears' - track number three - seems to define somehow what VOMITO NEGRO is all about. See blood, sweat and tears as a symbol for the passion with which Gin Devo spurs his musical brainchild. Blood, sweat and tears may also emblematise the bleakness of the lyrical subjects of VOMITO NEGRO. And musically, 'Blood, Sweat & Tears' is a song that outlines VOMITO NEGRO's sonic trademarks. Raw but straight beats, pulsating analogue sequencers, Gin Devo's distinctive rough voice, melancholic keyboard layers and melodies, dark atmospheres, and a pretty rough approach. VOMITO NEGRO deliberately decides against polishing sounds - it has to hurt!
All these qualities dominate the entire album. 'Dark Moon', 'United Fake' and 'Mongoloid' speed up the tempo a little, although VOMITO NEGRO's tracks are essentially rather mid-tempo compared to the 20-years younger Hellectro acts. 'On Demand' captivates with distorted tribal drums and might sound-wise be seen as a nod to another fellow Belgian, Dirk Ivens aka DIVE. 'Black Tie White Shirt', already an established killer at the band's live shows, is another standout track of 'Skull & Bones'. Lyrically apparently a cynical take on capitalism and unprincipled modern-day businessmen and bankers (see "white-collar crime" and the recent economic crisis), it is musically simply one of the best compositions of the album. Another instrumental piece of dark ambient music finishes the album, 'Bohemian Grove'. I assume that the title refers to a certain secret circle of influential US-American men. The Californian Bohemian Grove society, whose membership list has included every Republican U.S. president since 1923, is particularly famous for a secret meeting in September 1942, which subsequently led to the development - and use! - of the atomic bomb.
So there are lots of interesting things to discover in VOMITO NEGR's new work 'Skull & Bones', both musically and lyrically. But everyone who is bound to rush to buy this album should make sure to purchase the limited edition! Because this edition features a 2nd disc which does not simply include remixes or take-outs but a total of 10 VOMITO NEGRO classics as re-recorded remakes! This bonus disc alone would deserve a full review on its own but let's be content with the note that all the new versions are indeed really good! The label Out Of Line offers the double CD package for the ridiculous price of 13.99 Euros, so unless you hate good music there is no reason on earth to refrain from buying the package in a hurry.
Tracklist

CD 1: Skull & Bones

01 Chateau des Amerois
02 Dance With Death
03 Blood, Sweat & Tears
04 Dark Moon
05 On Demand
06 Burning Man
07 Black Tie White Shirt
08 Mongoloid
09 American Dream
10 United Fake
11 Bohemian Grove
CD 2: The 2k10 Remakes

01 Feel the Heat
02 Jhaza
03 Stay Alive
04 Baby Needs Crack
05 Shock
06 The Needle
07 Black Power
08 No Hope No Fear
09 Move your body
10 Save the World
Line-up

Gin Devo (analogue sound-constructions, modular synth set up, arrangements, vocals)
Borg (synth arrangements, steel percussion, video-art, backing shouts)
Website

http://www.vomitonegro.com/
/
http://www.myspace.com/vomitonegro1
Cover Picture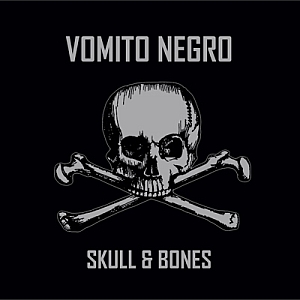 Rating

Music: 9
Sound: 9
Extras: 9 (bonus disc with remakes)
Total: 9 / 10
{jos_sb_discuss:19}