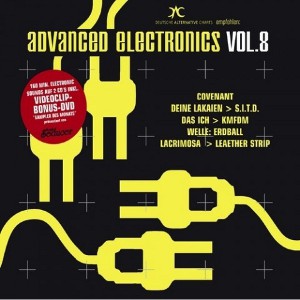 Title: Advanced Electronics Vol.8
Artist: Various Artists
Genre: Electronic
Release Date: 3rd December 2010
Label: SPV
Album Review

Following a longer release pause, volume 8 of the compilation series finally appears after two years since the seventh installment. Also the eighth part features a mixed bag of styles and artists, part unknown; part established and successful representatives in their respective genre. The first of two CDs is opened by COVENANT's 'Lightbringer' as 'Speedrun II Remix' which offers a more danceable variation of the original. Next up is a track, already extensively tested by its creator FADERHEAD in the clubs 'Destroy Improve Rebuild'. The third one marks the return of a long gone project with AMGOD, the project of former YELOWORC member Dominik Van Reich with a rather classically instrumented track 'Pain & Desire'. Throbbing beats and distorted vocals are its trademarks! AGGREZIOR calls out the little EBM guy in you and even those not into the genre normally should risk an ear on 'Strong we stand'. Polish CLICKS make an appearance with 'TV', a darkly pulsating cut that calls for dancing to it.

My highlight of the first disc, however, is 'Daylight' by Canadian ENNCEPHALON whose name popped up here and there but who, in my opinion, haven't got the attention they deserve this far. Anyway, 'Daylight' is a perfect example of a sophisticated electro track with good, lyrics and vocals while retaining a danceable theme throughout. Let's hope the guys finally get their debut out. Can't wait for it. FUNKER VOGT opens the second CD with a special version of 'White Trash', having in stock distortion-drenched beats and classic EBM influences under melodic leads. Noise Electro project NOISUF-X has enlisted the help of Johan van Roy on vocals for 'Jaws' and lends it an additional aggressive note by doing so. FRACTURED come along with a new life sign as well in the form of 'Save Me', a track I hope will be included on the band's forthcoming new album', finally slated for early 2011. The rhythm's not consistent in the way that it goes in a straight line. It somewhat stutters, laden with glitches and hard guitars alongside softer melodies! Really love that track. The comp is given a proper ending with DECODED FEEDBACK's 'Strangeland', getting introduced with a whistling melody and overall keeping a mystic atmosphere while screams, noises and guitars make deep cuts.


There's always ups and downs to a compilation, yet in my eyes this one has more ups than downs to offer. Some tracks you might have heard already on albums released; and then again some exciting unknown material. Volume 8 won't get you a raw deal.
Tracklist
CD1
01. Covenant / Lightbringer (Speedrun II remix) - 4:30
02. Faderhead / Destroy Improve Rebuild - 4:29
03. Amgod / Pain & Desire - 5:23
04. Das Ich / Die Hand an der Wiege (AE8 remix) - 4:04
05. Destroid / Silent World (S.I.T.D. mix) - 6:26
06. Aggrezior / Strong we stand - 3:42
07. Supershirt / Keine Jugend - 4:25
08. Armageddon Dildos / Blut - 3:23
09. Clicks / TV - 4:14
10. The Wars / Succubus - 3:04
11. KMFDM / Bait & Switch - 5:15
12. S.I.T.D. / Frontal (AE8 edit) - 4:07
13. Detroid Diesel / Lost Signal (Freakangel remix) - 4:34
14. Die Krupps / Chameleon Man (Vigilante remix) - 3:39
15. Encephalon / Daylight - 5:40
16. Lacrimosa / Sellador (remix) - 4:28
17. I:Scintilla / Prey On You (Sebastian Komor remix) - 5:56
CD2
01. Funker Fogt / White Trash (AE8 remix) - 3:40
02. Edge Of Dawn / Stage Fright (Splitter mix) - 4:48
03. Noisuf-X / Jaws - 4:27
04. Welle: Erdball / Die Zauberfee - 4:1005. Fractured / Save me - 4:18
06. Iris / Panic Rev - 4:13
07. Heimataerde / Malitia Angelica (Aura Lusus) - 3:43
08. Komor Kommando / Slaves of Machines - 5:22
09. Leather Strip / Dark Passages (extended) - 7:57
10. Homo Futura / Klaustrophobie - 3:22
11. Shiv-R / Open My Vein (Detroit Diesel remix) - 3:44
12. Straftanz / Turbo - 4:43
13. Skold vs. KMFDM / Error 405 - 4:01
14. PsyÁviah feat. Ayria / Into the Game (Signal Âout 42 mix) - 6:06

15. Pouppee Fabrikk / Symptom [Hard Cut mix) - 2:24
16. Alien Vampires / Evil bloody Music (Freakangel mix) - 4:16
17. Decoded Feedback / Strangeland - 5:41
Website

http://www.myspace.com/advancedelectronics
Cover Picture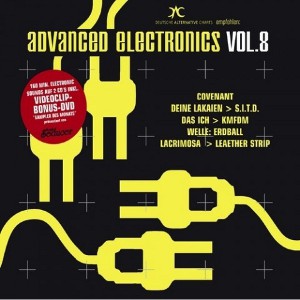 Rating
Music: 7
Sound: 9
Extras: -
Total: 8 / 10
{jos_sb_discuss:19}