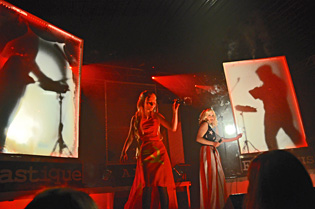 Backstage Halle, Munich, Germany
3rd November 2011
Welle:Erdball - 'Der Kalte Krieg' Tour 2011

This evening promised to become once more quite a special experience: WELLE: ERDBALL came to Munich. The band was founded already in 1990 and is assigned to the Minimum-Electro and Electro-Pop sphere. The name originated from the German radio play "Hallo! Hier Welle Erdball!" from 1928 and should make clear that the band wants to be understood as an imaginary radio station. From the beginning, the band also proclaims the love to the 50s aesthetics, using of pseudonyms and carrying of black suits, white shirts, sunglasses and black leather gloves. This year, their new album 'Der Kalte Krieg' was released. www.welle-erdball.de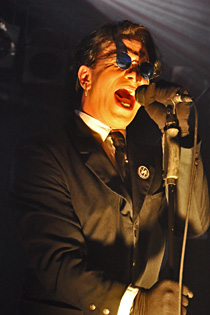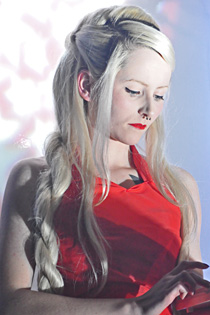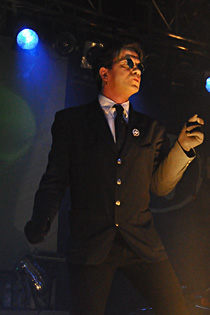 Music & Performance
"Es ist 18 Uhr. Guten Abend meine Damen und Herren, hier spricht Welle: Erdball…" (It is 18pm now. Good evening madams and sirs, this is Welle: Erdball speaking). Well, in reality it was already 8:10 pm as Hannes 'Honey' Maleski (vocals), Alf 'A.L.F.' Behnsen (programming), Plastique (voice) and Frl. Venus (voice), appeared on stage, of course with the C64. The Backstage Halle was attended extremely well this evening and from the beginning the mood was very good within the audience. On the stage, three platforms with transparent discs coated with foil were built up, which were intended for A.L.F., Plastique and Frl. Venus. At the beginning, 'Honey' told that the concert would consist of two parts.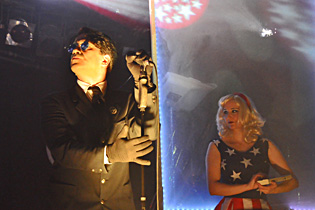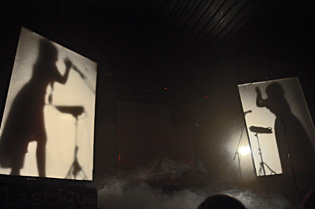 The first part of the evening completely consisted of songs of their new album 'Der Kalte Krieg'. From the 'James Bond theme' to the party-suited 'Feuerwerk' and the cover versions from 'Hab' ich Dir heute schon gesagt, daß ich Dich liebe?' and finally 'Ein bißchen Frieden' was everything present. The listeners clapped, sang and danced together playfully, until the band went into break at 9:00pm. After a break, which took a little too long in my opinion with half an hour, the band started with the second part, the request programme. WELLE: ERDBALL played the most often desired songs out off distributed votes being delivered before the concert. The mood reached one climax after the other.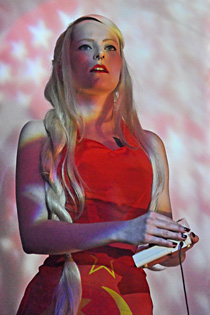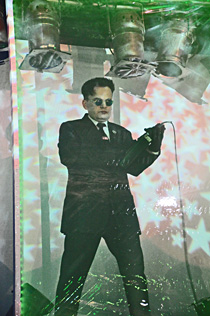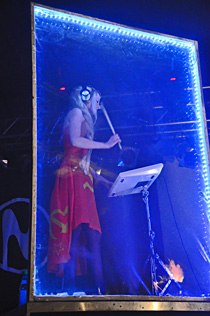 To 'Schweben, Fliegen, Fallen', Plastique and Frl. Venus threw gigantic balloons into the audience which found their way through the whole hall, until they all had burst. Most often voted song and with it place one of the request programme was 'Fred vom Jupiter' that was marking a very atmospheric end of the concert evening at about 11pm. All in all, it was an extremely successful, atmospheric concert with a nearly perfect show and a great audience. The occasional restlessness ruling on the stage may have been a little annoying, but otherwise the evening was really perfect - also without any support band.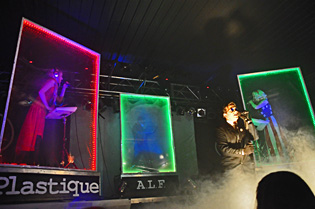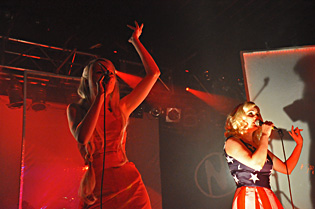 Setlist
01. Welle: Erdball (Intro)
02. James Bond Theme
03. Deutsche Liebe (C=64)
04. Feuerwerk
05. Eine neue Zeit
06. Amerika
07. Kabinett
08. If you want to sing out…
09. Vor all den Jahren
10. Starfighter F-104G
11. Der Kalte Krieg
12. Hab ich Dir heute schon gesagt, daß ich Dich liebe?
13. Ein bißchen Frieden (Nicole cover)
---
14. Tanzpalast 2000
15. Wo kommen all die Geister her
16. Schweben, Fliegen, Fallen
17. Deine Augen
18. Arbeit Adelt!
19. Wir wollen keine Menschen sein
20. 23 (C=64)
21. Contergan
22. 8-Bit-Märchenland (C=64)
23. Das Alpha-Tier (C=64)
24. Nur tote Frauen sind schön
25. Der Telegraph
26. Graf Krolok
27. Ich bin aus Plastik
28. Und es geht ab (C=64)
29. Fred vom Jupiter (Andreas Dorau cover)
---
30. Monoton und Minimal (C=64)
31. Es geht voran

Rating
Music: 8
Performance: 8
Sound: 8
Light: 7
Total: 7.8 / 10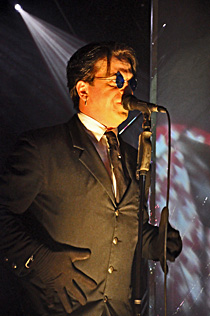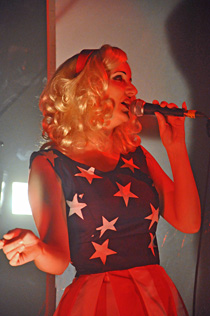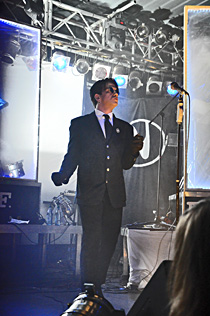 All pictures by Erika Knepper (This email address is being protected from spambots. You need JavaScript enabled to view it., www.facebook.com/erikaknepper)