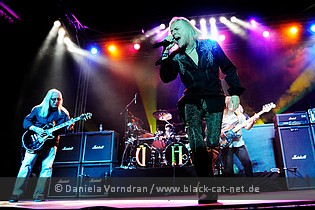 Jovel, Münster, Germany
19th April 2012
Rocklegends in Concert: Uriah Heep, Nazareth

Both URIAH HEEP & NAZARETH need no too detailed introduction to rock fans. Both bands are icons in their own right and their respective genre. Seeing this combination on stage already one year ago, I was curious if there was any difference now for the show in my home town…



Nazareth

Founded in 1968, the Scottish Hard Rock band NAZARETH celebrated the first successes in the 1970s even though the breakthrough came with the EVERLY BROTHERS cover version 'Love hurts'. In the 1980s, NAZARETH's career reached a low due to a stylistic change that led to a kind of softer Hair Metal and many ballads. Furthermore, there were several line-up changes. By releasing the album `No Jive´ (1991) that showed a return to straight Hard Rock, the Scots could replicate their former successes. However, NAZARETH was struck by disaster in 1999. The drummer Darrell Sweet, who was one of the founding members, died from a heart attack just before a concert. In 2008, they released their comeback album 'The Newz' followed up by 'Big Dogz' in April 2011. NAZARETH today is Dan McCafferty (Lead Vocals), Jimmy Murrison (Guitar), Pete Agnew (Bass) and Lee Agnew (Drums). http://www.nazarethdirect.co.uk / http://www.myspace.com/nazarethdirect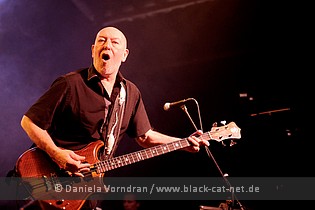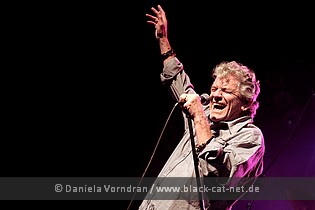 Music & Performance
Now it was time to compare shows. The beginning was alike the show one year ago. Bagpipe sounds floated through the hall and it was time for Scottish band NAZARETH to appear on stage. Illuminated by pink lights, the band around singer Dan McCafferty entered the stage starting with 'Silver Dollar Forger' followed by 'Big Dog's gonna howl' from the current album 'Big Dogz'. The band has grown old and especially Pete Agnew on bass and singer Dan are not the youngest anymore, already are past their 60s, but they still radiate pure Rock'n'Roll feeling, even though Dan was not very vivid anymore. But it was a pleasure to watch Pete, making a lot of faces and posing then playing his dominant bass lines. Dan's hoarse voice on the other side, being one of the band's trademarks, convinced the audience while Jimmy on guitar impressed with several longer or shorter soli. Still in the same order like last year, the show went on with 'This Month's Messiah' before one of the really big NAZARETH hits (besides 'Love Hurts the only one in the set), 'Dream on', followed accompanied by a big audience choir. Then, things changed a bit, when the band asked if the audience wants to boogie-woogie and played 'Turn On Your Receiver' followed by JONI MITCHELL cover 'This Flight Tonight', surely being also one of the old fan favourites. Then, a longer guitar solo introduced next song, 'Whiskey Drinkin' Woman' where Dan started animating the audience. He said "Whiskey" and the fans answered with "yeah!".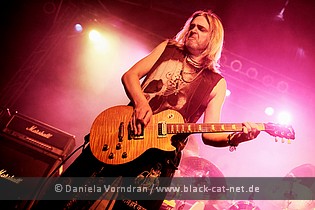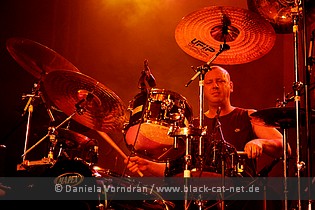 Something more from the latest album was up next with 'Radio' followed after only 55 minutes already by the last song, 'Hair of the Dog'. During this one, Dan git handed a bagpipe and with it, he was creating really strange sounds. This song also was a great audience magnet, Dan was singing "Now you're messin' with a" and the audience answered with "son of a bitch". Sure the set so far was way too short and so, the band was back for three more songs. Starting with a little drum solo, soon the band joined in starting with 'Night Woman' followed by 'Razamanaz' and at the very end by THE EVERLY BROTHERS cover 'Love Hurts', one of the biggest hits of the band. All in all, really nice show, just a little too static.

Setlist
01. Intro
02. Silver Dollar Forger
03. Big Dog's gonna howl
04. This Month's Messiah
05. Dream On
06. Turn On Your Receiver
07. This Flight Tonight (Joni Mitchell cover)
08. Whiskey Drinkin' Woman
09. Radio
10. Hair of the Dog
---
11. Night Woman
12. Razamanaz
13. Love Hurts (The Everly Brothers cover)

Rating
Music: 7
Performance: 7
Sound: 6
Light: 8
Total: 7 / 10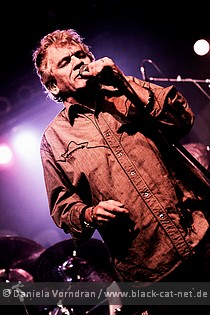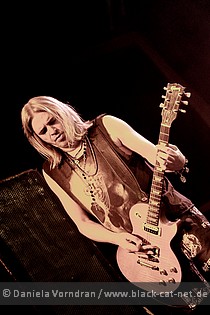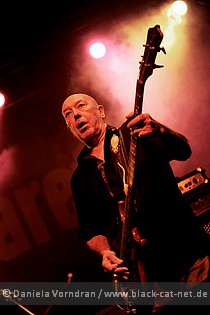 Uriah Heep

As one of the first bands to fuse progressive with metal, URIAH HEEP - formed in 1969 - are a precursor to the progressive metal genre, but they also draw influence from progressive rock, hard rock, heavy metal, jazz, and sometimes even country. The first album 'Very 'eavy, very 'umble' from 1970 already featured a Top 30 hit with 'Gypsy'. The second instalment 'Salisbury' (1971) included the band's most famous song to date 'Lady In Black'. Subsequent releases would find the group's ever-shifting line-up (between 1969 and 1980, the band changed drummers five times, bassists four times, and lead singers twice). Throughout their log career the band released more than 20 studio albums, but for the 2008 album 'Wake The Sleeper' the fans had to wait 10 long years. For the new album 'Into the Wild', waiting time was much shorter since the album was released in April 2011. URIAH HEEP is Bernie Shaw (vocals), Mick Box (lead guitar, vocals), Trevor Bolder (bass, vocals), Phil Lanzon (keys, vocals) and Russel Gilbrook (drums, vocals). http://www.uriah-heep.com / http://www.myspace.com/uheep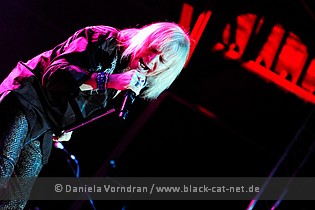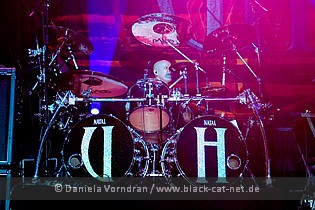 Music & Performance
After about 30 minutes, the stage was free for URIAH HEEP. Already playing a few shows in Netherlands, this one was the first in Germany. And for the current tour, the band changed a little, and so, the set was different to the show one year ago, starting with 'Against the Odds'. Monitor speakers in the middle were removed to offer enough room for Bernie to move around and being close to the audience. And he really moved a lot. Was the show of NAZARETH too static, you had a lot of energy and movement during URIAH HEEP's show. Bernie was surely the most vivid man on stage, but also drummer Russel was really expressive. Mick and Trevor compared to them, were only moving slowly, showing a lot of coolness. URIAH HEEP were up to finish a great evening of Rock music! There was a lot of action and movement on stage and singer Bernie was constantly animating the audience to scream, join in the singing or simply to clap along. The show offered a good mix of old and new songs. Having a new album, 'Into the Wild' out in 2011, the set offered a few songs out of it, the title song, 'I'm Ready' and 'Nail on the Head'. The rest of the set was reserved for a lot of classics.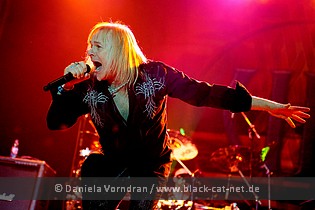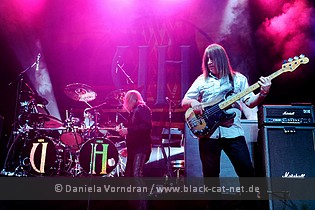 The whole band had a lot of fun on stage as well, which was perfectly transported to the audience. The temper on stage was really infecting! After opening with a view classics, like 'Traveller in Time' an 'Sunrise', Bernie asked the audience if they wanna have more classics. And so, they went a few albums back presenting 'All my Life'. 'Between the Worlds' started with a fantastic guitar solo. Following up was an "Anti-War-Song", 'Come Away Melinda' out off the first album 'Very 'eavy...Very 'umble' which was already back than in 1970 a top 30 hit in Germany. From that album, the set later on also offered 'Gipsy'. At the end of the main set, we got also presented 'July Morning' and of course the band's biggest hit, 'Lady In Black' (from 1971). It was fantastic to hear all those fans singing that song together. When the band left, loud clapping and screaming for encores arose and as you might have guessed, the band came back to present some two more songs. First encore to please the fans was 'Free 'n' Easy'. 'Easy Livin' from the mid 70s ended the show finally. Underlined with good sound and a fantastic light show, this show was another great moment in rock history and it was pure pleasure to be part of it.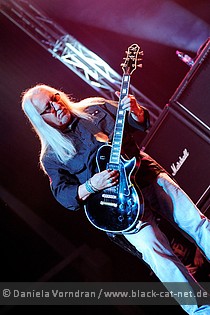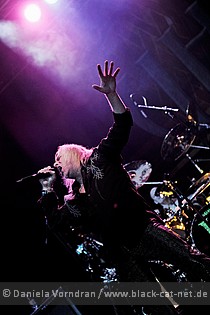 Setlist
01. Against the Odds
02. Overload
03. Traveller in Time
04. Sunrise
05. All My Life
06. I'm Ready
07. Between Two Worlds
08. Come Away Melinda
09. Too Scared to Run
10. Nail on the Head
11. Into the Wild
12. Gypsy
13. July Morning
14. Lady in Black
---
15. Free'n'Easy
16. Easy Livin'

Rating
Music: 9
Performance: 9
Sound: 8
Light: 10
Total: 9 / 10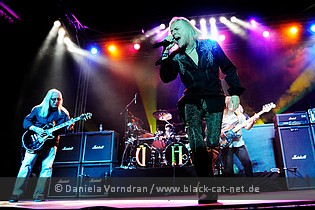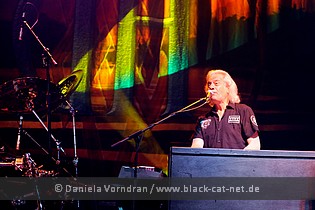 All pictures by Daniela Vorndran (http://www.vorndranphotography.com / http://www.black-cat-net.de/ / http://www.myspace.com/vorndranphotography / http://www.uriah-heep.com)



See also (all categories):