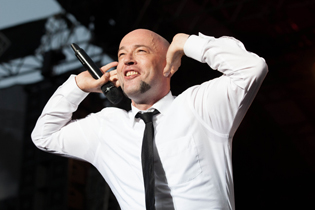 Messe, Saarbrücken, Germany
10th August 2012
Unheilig, Andreas Bourani & Staubkind

Now concerts of UNHEILIG aren´t a really grateful thing to review, as the reputation of a "commercial whore" some people have in mind for Der Graf is easily transferred to the persons who visit the concert, regardless of how things turn out there really, especially if one dares to comment the event as "good job" - whereas the newer generation of fans often watches the black-clad, more "oldschool" fans somewhat distrustful and doesn´t understand why Der Graf is criticized for what he is doing. Nonetheless, I took the voyage to Messe Saarbrücken to see with my own eyes if the harsh critic Der Graf is confronted with is over exaggerated or justified.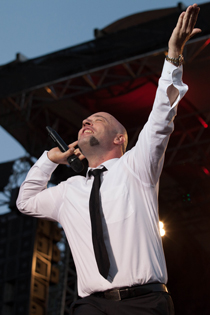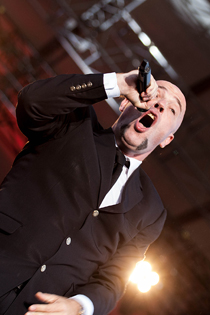 Arriving on Messe Saarbrücken - or more exactly, the parking lot - I was first surprised that very, very many people had already gathered there - although it was 30 minutes to doors open and even about 2.5 hours before the first band would be on stage. After having finally entered the area where the concert would take place (and after having signed one of the contracts that are so "popular" among photographers…) the first thing that sprang to the eye was the insane amount of merchandise that was offered. Shirts, pillows, cups - god help me - even plush versions of Der Graf (and everything packed into original UNHEILIG plastic bags). But OK, why not, it comes with the fame, and maybe there would be even plushies of bands like, let´s say BEHEMOTH, if they got famous enough. So, off to direction of the stage - "nothing to do here".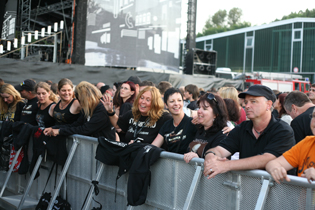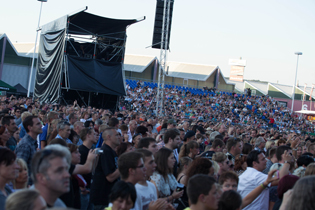 Next fact on the way to the stage which was inevitable to notice: As one could expect, the audience. OK, the tales that one "only" meets people over 30, which have nothing to do with so-called dark culture, are over exaggerated, indeed. Instead, the crowd presented itself as incredibly mixed: You could see entire families with young children, many elderly people, a surprising lot of black-clad Goth folks, the notorious lot of housewives, I even spotted surprisingly many metal-shirts and some bunches of Emos. Yes, the "non-Goths" were in the superior numbers, but not at a degree that would make fans from subcultures feel completely foreign there. What also created a somewhat strange feeling was the sheer size of the area: having seen UNHEILIG last time about three years ago in a club and comparing it to Messe Saarbrücken which could easily house about 15,000 persons and featured a stage of about 2.5 meters height and an at least 30m long catwalk in direction of the audience, line-arrays of an insane size and huge LED-walls left and right of the stage (and I do not even dare to estimate the complete dimensions)… well, it was a little overwhelming, but appropriate, looking back at the number of visitors.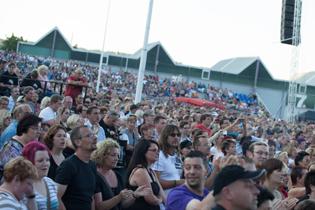 But enough about the circumstances. At 18:30, when the compound, including the rows of seats in the back, started to get slightly more crowded, the first band was finally announced (by an announcer in a pink shirt. Let´s not comment on that). And, to my surprise, the opener was not ANDREAS BOURANI, but STAUBKIND. For all those who are not familiar with them, STAUBKIND are the project of Louis Manke from TERMINAL CHOICE. The band, which can look back to 9 years of performing, plays mostly slow and classy Gothic Metal, maybe best compared to, let´s say, Zeraphine.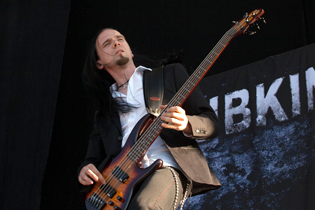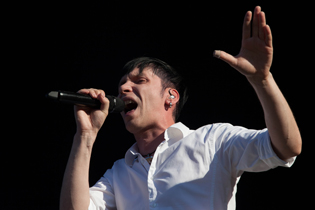 Must say, their songs about love and loss and the style of their music did not blend in really well, neither to the sunny weather, nor to the music of ANDREAS BOURANI and the newer songs of UNHEILIG. Nevertheless, the reactions of the audience were mostly positive and the band was cheered happily in the course of their about 45 minutes lasting performance which included popular songs like 'So nah bei mir' and 'Nur ein Tag'. Rating the performance is not easy, STAUBKIND did their job well, yes, but in the bright sunlight it was impossible to create an adequate atmosphere and Louis is not what you´d call "Rampensau" in German. So let´s rate them 6 / 10.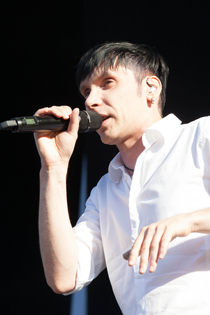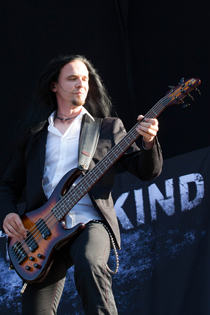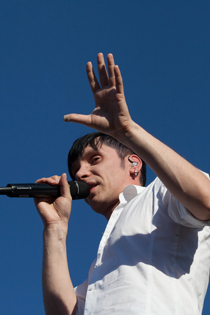 After a short break, the next act was announced - ANDREAS BOURANI. The singer and piano player, who already performed together with acts like PHILIPP POISEL or CULCHA CANDELA and participated at Bundesvision Song Contest 2011, was the act which was by far the furthest away in style from what UNHEILIG once stood for… maybe his music could be compared to singers like, let´s say Xavier Naidoo and similar performers. Fans of both might disagree, but I excuse with the facts that it is not my kind of music and I am too ignorant to really seriously bother with it… however, BOURANI slipped into the line-up of this tour by the fact that he contributed the guest vocals in the song 'Wie wir waren' by UNHEILIG, and being somewhat compatible to the more moderate newer songs of UNHEILIG, Der Graf took BOURANI with him on tour.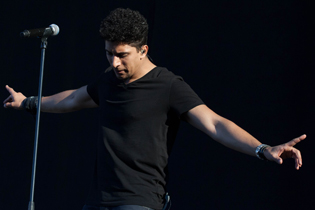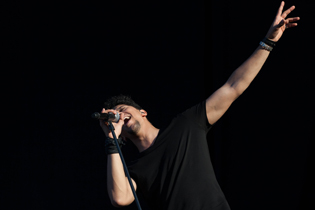 After a short Intro, a slightly good-tempered BOURANI jumped on stage, under applause of the still and quickly growing crowd. As one may expect because of the overlap of his music style and that of UNHEILIG, the people could identify more with his style of music than with that of STAUBKIND, and he also presented himself as somewhat more agile and brisk than Louis Manke on stage. Although you got the impression that this harmed his vocal performance and he struck a false note now and then. Among the seven songs his performance lasted there was also the song 'Nur in meinem Kopf', which marked the height of the audience´s cheerfulness so far, and after 'Wunder' he bid the people good-bye and wished them much fun with UNHEILIG. Now, how do you rate a band whose style of music collides with all of your preferences? Being fair, and according to how the people applauded ANDREAS BOURANI, the fact that made quite a likeable appearance on stage and that he blended in better than STAUBKIND concerning the songs he played, I shall rate him 7 / 10.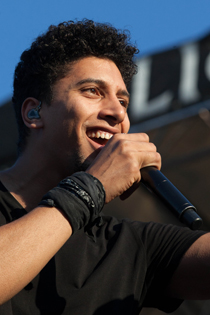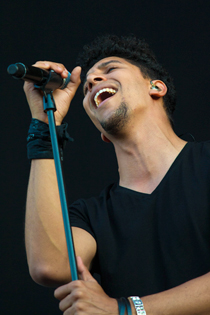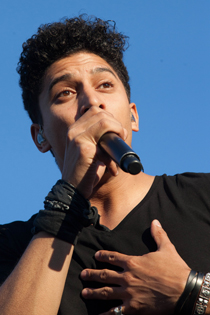 And so, the clock marched on towards 20:35 and UNHEILIG was announced. By this time, the area was really crowded, and even the rows of seats in the back of the compound were almost full (despite the fact you had to pay about 80€ for them – whew). According to official numbers, the insane number of 11,500 persons had gathered. A truly overwhelming sight, overlooking Messe Saarbrücken from a raised position, and almost everybody in this vast bulk of people raised their hands and cheered frenetically at the announcement of the band.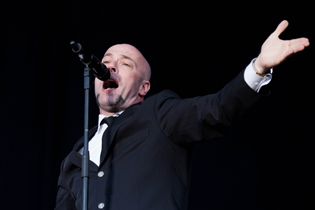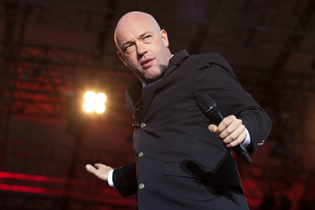 Then, the first tunes of 'Singing In The Rain' (Yep. Don´t wonder if UNHEILIG have such a song, it was the Gene Kelly one…) could be heard and put a smile onto the face of the people, while the cloth in the stage´s background made way for a new, black background, fitting to the 'Lichter der Stadt' motif of the CD cover. Must say that this joke (?) was somewhat overacted, as 'Singing In The Rain' was followed by 'New York, New York', stretching the pause unnecessarily… however, soon the LED walls on the sides of the stages were activated and a video started. Der Graf, sitting in a room, writing down (switch to close up) "Ich freue mich auf euch!" (I am looking forward to you), and commenting the upcoming acclaim of his fans by "Ich kann euch nicht hören!" (I cannot hear you). A very atmospherically dense and stylish start for a concert. Then, Der Graf could be seen standing up, walking out of the room, and 20-second-countdown started on video and Der Graf came storming onto the stage, to the first sounds of 'Das Licht'.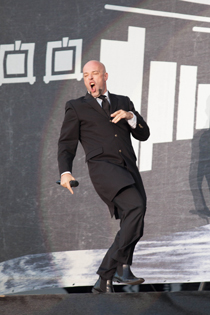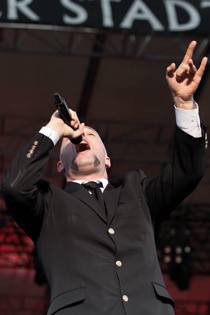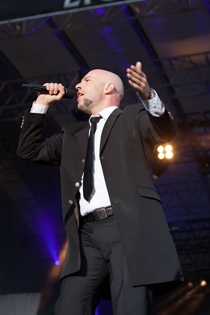 And yes, he goddamn still has it! Everyone who awaited a somewhat tranquil or static show, with Der Graf just standing behind his mike or walking around gesturing and peering dramatically should be utterly deluded – not that Der Graf relinquished these two elements of his stage acting he is notorious for, but his show still has this certain something of power and pressure, running around on stage from left to right to the front of the catwalk, waving to the crowd and taking on eye contact with his fans in the first rows – who went insane, cheering, applauding and screaming to this energetic performance. Exactly the powerful start for a show people who know UNHEILIG for some years hoped for.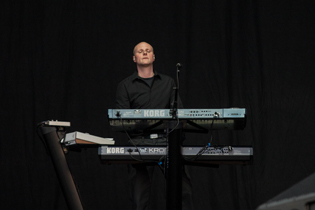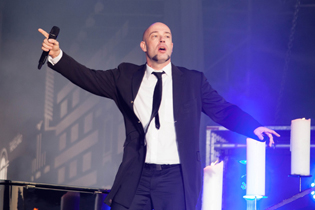 In other cities, the next song that followed up was 'Herzwerk', another one of the faster and more powerful songs on the new CD. Sadly, this one was not played in Saarbrücken. Too bad, as this is one of the songs also long-time fans of UNHEILIG could identify with. Instead, Der Graf continued with 'Lichter der Stadt', while the video to the song was played on the LED walls. The mid temposong was also cheered by the audience, but the speed of the performance was slowed a little down with it. Nevertheless, Der Graf was still far away from stage acting statically and danced and moved much on stage. Next song was 'Unter deiner Flagge', one of those slow, balladic songs the band has lately been criticized for, accompanied by a slower, more deliberate and emotional stage acting, gesture and countenance - a mood which transferred to the audience, too.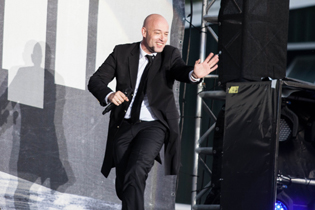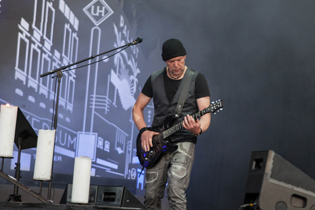 The end of this third song also marked the point when the photographers had to leave the area instantly (if they did not want to put down their equipment unsupervised backstage – not cool, but hey, we all knew that it was in the contract we signed…), so I have to rely on what my charming sidekick Sarah wrote down for me and what I caught from outside the concert area. Anyway, the show continued with 'Große Freiheit', the title track of the last CD, and Der Graf, running around and waving on stage, initiating a Mexican wave in the audience. Der Graf then paused and told the audience of the last tour and announces with 'Auf Ewig' an yet unreleased song. 'Auf Ewig' is also a mid-tempo song which Der Graf uses to dance and initiate a monumental light-show (which was not tuned down for the rest of the show. Thanks for not being able to take pictures of that…).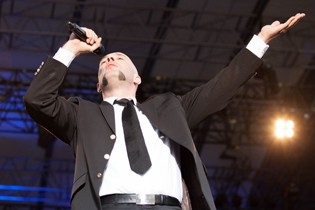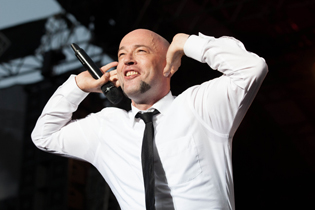 The next song 'Unsterblich' is one of those slower numbers UNHEILIG found so many new fans. It scored with a video of Der Graf, attaching a lock at the fence on the bridge at Dom-Deutz in Cologne and noting something in a book, while the audience waves with glow sticks and sparklers – afterwards, Der Graf went emotional when leaving the stage for a moment, a white curtain being closed behind him. Time to speed the music up a little, once again with the next song, 'Nachtschicht' (complete with a video of a man in a factory, obviously on nightshift – Nachtschicht. This one was a little difficult to recognize). After that, Der Graf presented with 'Ein großes Leben' the epitome of everything his long-year-fans despise in his new style: It´s a very, very slow number with lyrics gone quite "kitschy". The first row, of course, had no issues with that and swayed with the music… whereas I´d prefer to lose no more words about this song…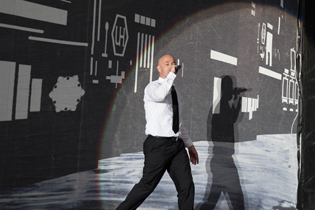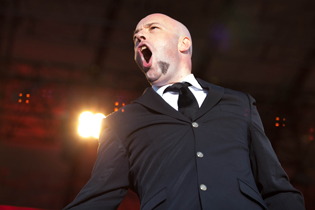 After this point, the performance could only win power, as it was hardly possible to get slower. And so, 'Feuerland' followed. Also a mid-tempo song, but with harder guitars, the people bid it a warm welcome and started to dance and clap hands, while Der Graf continued his dancing and running performance on stage. Afterwards, he paused to announce an "really nice person" who would enter stage and sing together with him: This, of course, was ANDREAS BURANI, and so the song 'Wie wir waren' followed, singing the lyrics by turns before ending the song together at the end of the catwalk a capella. Der Graf now told the audience about the "Unheilig Kinderland", the festival area where parents can take their children to play, paint and so on… in Saarbrücken, 500 children were there, and seven or eight were brought to stage with some "drum cubes", which they were allowed to beat during 'Ein guter Weg'. This one was very similar to 'Ein großes Leben', so let´s not lose many words about it… well, OK, except for the fact that none of the children on stage are aspiring drummers.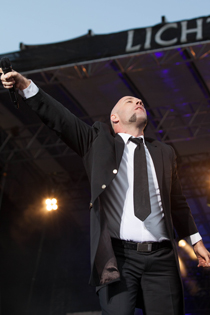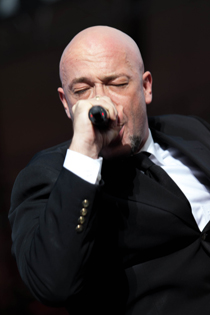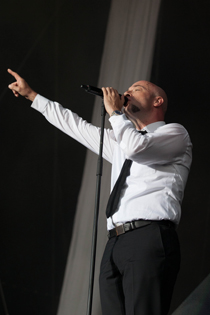 After having the children and their instruments of ear bleeding doom… erm, the drum cubes were brought of stage under loud clapping (happy they are gone, eh?), another somewhat harder song was about to be played, 'Eisenmann'. Unluckily not a very catchy song, Der Graf uses the song to bang his head at the front of the catwalk and the general mood is quite good but… no discrimination of hairless people intended, but "bald banging" does not look advantageous… After those, the songs 'Das Leben ist schön', 'Tage wie Gold', 'Abwärts', 'Geboren um zu leben', 'So wie du warst', 'Für immer', 'Maschine' and 'Stark' followed, a more or less balanced mixture of ballads and faster numbers, with a slight preference towards the balladic part, before UNHEILIG left stage on 22:40.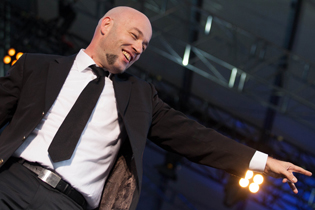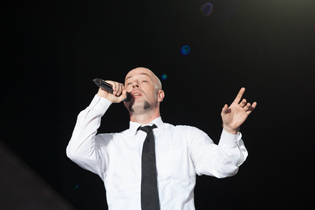 And that was it! The concert was not the wholly kitschy event the critics of UNHEILIG always claim it would be, but it´s clear that the more moderate songs are preferred meanwhile – whereas Der Graf proved that he is indeed able to deliver a energetic show and rock the crowd. The performance itself did not really change, oh… and I must say I was surprised in a positive way, having in mind how much negative response from the first generation of fans one gets to hear. Also, Der Graf stays the polarizing person with the same stage acting he always had: Like it or hate it: Looking dramatically, waving hands and running around. Quite exhausting and nice to watch, but lacking variety. Concerning light and sound, the aforementioned huge stage made itself paid: The lightshow was great (although it not from beginning of the performance on) and the sound clear and forceful.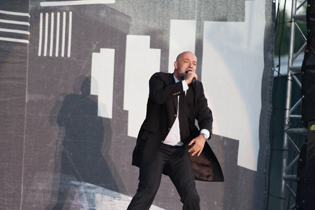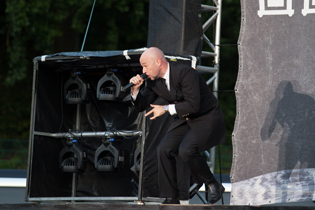 Setlist
01. Das Licht
02. Lichter der Stadt
03. Unter deiner Flagge
04. Große Freiheit
05. Auf Ewig
06. Unsterblich
07. Nachtschicht
08. Ein großes Leben
09. Feuerland
10. Wie wir waren
11. Ein guter Weg
12. Eisenmann
13. Das Leben ist schön
14. Tage wie Gold
15. Abwärts
16. Geboren um zu leben
---
17. So wie du warst
18. Für immer
19. Maschine
20. Stark

Rating
Music: First generation fans 6 / 10, second generation fans 8 / 10
Performance: 7 / 10
Light: 9 / 10
Sound: 8 / 10
Total: 7.5 / 10, respectively 8 / 10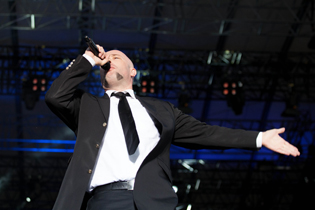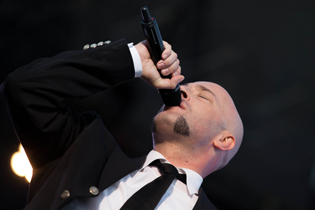 All pictures by Kai Bimber