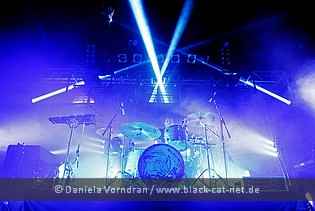 Live-Music-Hall, Cologne, Germany
8th November 2013
White Lies & In The Valley Below

Since the release of their debut album in 2009, British press calls this band the "successor of JOY DIVISION or THE JESUS & MARY CHAIN" and puts them on the same level as EDITORS or INTERPOL. Also the band's international success was steadily growing. Having a new album, 'Big TV', released in summer, WHITE LIES are now on a tour to present it to their fans. And many fans followed the call. The Live-Music-Hall in Cologne was packed. But before the evening's headliner entered the stage, IN THE VALLEY BELOW were warming up the audience.



In The Valley Below

Jeffrey Jacob and Angela Gail were already playing in various bands before, but in 2011 they decided to make music together and founded IN THE VALLEY BELOW. They call their style Indie Dusk, Post Ghost, Sex Prog, Dark Duet. Sounds strange? But is gives a rough impression about the dark poppy tunes they deliver. As their description on Facebook says, IN THE VALLEY BELOW is "hushed swirls of male and female vocals forged with dark stories of brooding riddles and romance." The band is based in Echo Park, California, where Angela Gail and Jeffrey Jacob "have crafted a sultry collection of melodic duets in a bed of rumbling drums, synth machines, gritty, wailing guitars, and layers of strange and dreamy keys." The band's first album, 'The Belt', was released in August 2013. The full line-up is Jeffrey Jacob, Angela Gail, Jeremy Grant (keyboards) and Joshua Clair (drums). http://www.inthevalleybelow.com / https://www.facebook.com/inthevalleybelow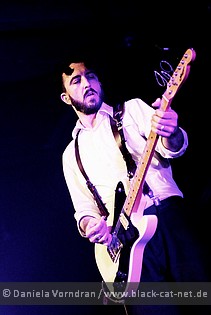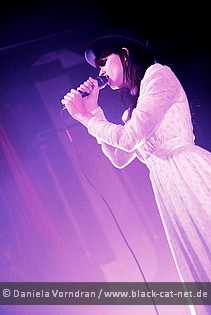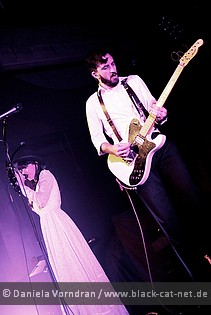 Music & Performance
I must admit that I had never heard of the band before and even their song 'Peaches' was unknown to me. And I must say I really missed something. IN THE VALLEY BELOW mage a very good impression to me. The calm and gloomy tunes where male and female chant were perfectly merging together and the mix of dreamy electronica, pop and indie caused goose bumps. Having only one album released so far, the band presented six songs out of this album, six songs that fitted perfectly to the style WHITE LIES would present later. Especially the drum lines were quite similar. Also the lyrics are worth to be mentioned. They create a world of psychedelic lyric, vague thoughts and dark romantic making you dream, feel and let go. Very well fitting to these dark romantics was also the old time aesthetic of the band's clothes with suspender, button-downs, and boots and the lady wearing a long white floral dress. To say at last, anything was melting together… sounds, lyrics, vocals and the visual appearance. Really good!

Setlist
01. Stand up
02. Dove Season
03. Searching for a Devil
04. Lover
05. Peaches
06. Neverminders

Rating
Music: 8
Performance: 8
Sound: 8
Light: 6
Total: 7.8 / 10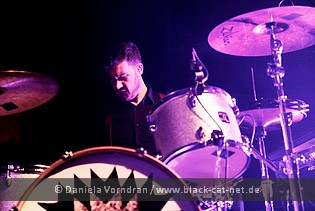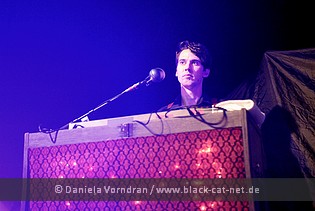 White Lies

WHITE LIES came into being in 2007. On their first live appearance in 2008, they immediately attracted the attention of a record label, going on to sign them eventually. In 2009 the young trio WHITE LIES landed one of THE album hits with their debut 'To Lose My Life', rewarded with favourable reviews all over the place. With the release of this album, not a little amount of people predicted it would be Britain's next big thing. Actually, the success spread way across its borders and would continue to do so with their second offering 'Ritual' which in the books of one or the other critic had a little too much of everything. As usual you can't please everyone. Here we are back again with the third full-length 'Big TV'. The band's new album was released in August via Polydor. WHITE LIES is Harry McVeigh (lead vocals, guitar), Charles Cave (bass guitar, backing vocals) and Jack Lawrence-Brown (drums). For their live shows, the band enhanced the line-up by an additional guitar player and a keyboarder. http://www.whitelies.com / http://www.facebook.com/WhiteLies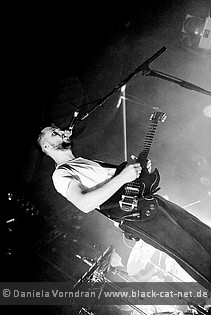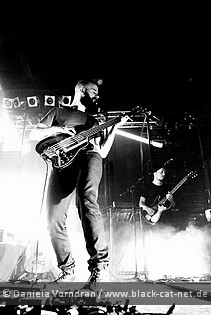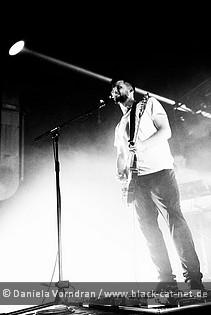 Music & Performance
WHITE LIES are going bigger! At least when it comes to stage design. For their current tour, they brought a big LED background with movable elements as well as lasers with them. And they used it very well during the set later. When waiting time was over and the band entered the stage, tension broke away and exciting screams welcomed the band. As first songs, they chose on of their best known songs from the debut album, 'Lose my Life', a kick-start with a classic much for the excitement of the die-hard and long-time fans. A huge choir was singing the chorus with the band. It caused goose bumps when hundreds of voices sang the lines "Let's grow old together and die at the same time…" Yes, this song is also one of my all-time WHITE LIES favourites and has a special meaning for me. So I was really touched by the performance and besides that, Harry's voice sounded amazing, really powerful and clear. Fantastic! From this first song on, there was a special connection between band and audience that should last for the whole concert.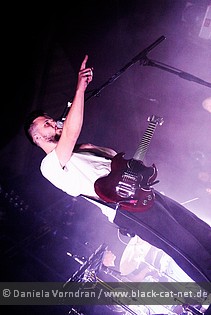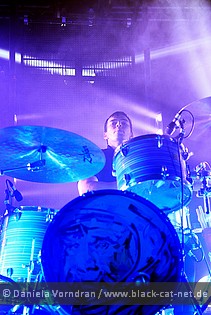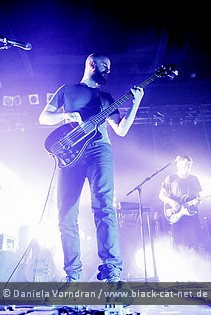 When WHITE LIES are playing live on stage, their sound comes over much more earthly, rocking and unfolds greater dynamics than played of a CD. Having said that, you can imagine that people moved and danced during the whole at, a set that presented of course several songs from the new album. But it were the songs from the first album that were celebrated most. For example there was 'Unfinished Business', a song that was created more than five years ago, as singer Harry told us, and means something very special for the band. When presenting this song live, you felt the emotions that were put into this performance. Underlined by the use on lasers and a great light show, a special mood in the hall was created. Another special moment came when WHITE LIES announced a cover version they would play, a stripped down version of PRINCE's 'I Would Die 4 U'. PRINCE is surely not an easy task, but WHITE LIES did it well! When the band announced their last song with 'Death', a big celebration followed and then it was already time for the guys to leave the stage after not much more than one hour.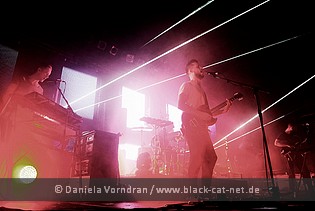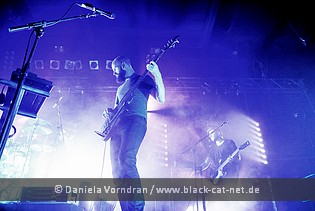 Two more songs were played as addition, the last song 'Bigger Than Us' was sung by hundreds of voices. Under huge applause and loud cheers, the band thanked the audience. Yes, this concert was quite short, but it was intense and wonderful! Excellent music and the extraordinary connection to the audience made it special. Thundering applause proved how excited the audience was. I only can recommend to see a show of this band! You won't regret it!

Setlist
01. To Lose My Life
02. There Goes Our Love Again
03. A Place to Hide
04. Mother Tongue
05. Streetlights
06. Farewell to the Fairground
07. Be Your Man
08. E.S.T.
09. The Power & the Glory
10. Getting Even
11. Unfinished Business
12. I Would Die 4 U (Prince cover)
13. First Time Caller
14. Death
---
15. Big TV
16. Bigger Than Us

Rating
Music: 10
Performance: 10
Sound: 8
Light: 9
Total: 9.5 / 10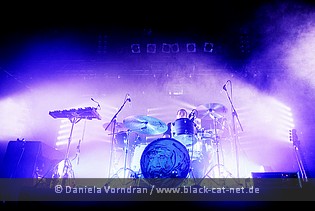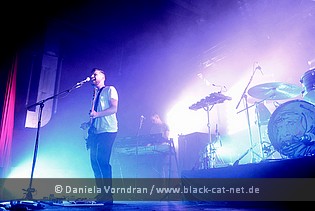 All pictures by Daniela Vorndran (http://www.vorndranphotography.com / http://www.black-cat-net.de/ / http://www.facebook.com/blackcatnet)