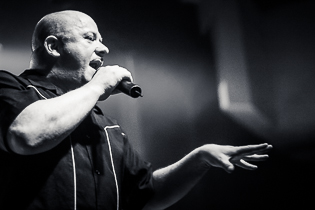 Festhalle Durlach, Karlsruhe, Germany
11th January 2014
VNV Nation – Transnational Tour

Due to illness in October 2013, VNV Nation had to interrupt their Transnational Tour. Also the concert in Karlsruhe moved to January. The tour has been a huge success so far. Many venues were sold-out and the band posted many thanks to their fans on Facebook.


VNV Nation were founded in the early 1990ies by Ronan Harris and Mark Jackson. They were basically based in England and Ireland. Ronan Harris is now living in Hamburg, Germany. During the years, they became an important base in the electronic alternative music and what some magazine named of "Future Pop". Until now they released nine studio albums. The latest album 'Transnational' came out in October 2013. http://www.vnvnation.com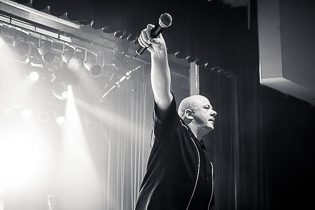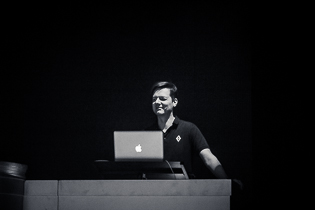 Music & Performance
At first we had to wait because there was no supporting act. As it was mentioned before they did a DJ set with electronic music. Then the whole room was darkened and the band entered the stage. As usual there were two additional keyboarders (this time André Winter and Lennart A. Salomon). During the first song the room was nearly kept covered in darkness, but later there was a lightshow supporting the different songs. Right from the start Ronan Harris was in a really good mood. He talked a lot in German and English, made jokes, was shaking hands and talked to people he seemed to know in front of the stage. Between the songs he asked the audience to take off their lights on smartphones, because the band is doing the lightshow and the pictures are going to be much better without flash (which is quite right). Also Ronan didn´t want to fell off the stage because of getting blinded by the lights.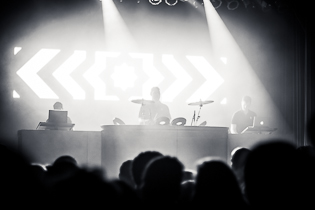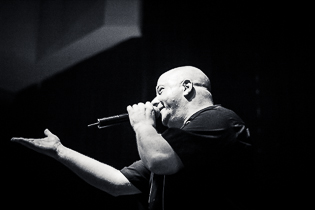 During the whole concert the audience was really enthusiastic, the floor was shaking and the band was very happy about that. It didn´t make a difference whether they performed an old song like 'Standing', 'Illusion' or 'Chrome' or one of the fresh songs like 'Off Screen' or 'Retaliate'. Of course the hall was really freaking out during 'Gratitude' and 'Control' as they are fantastic songs for dancing and singing. Introducing the first encore, Ronan asked the fans to be very, very quiet because he wanted to do something special. Than followed the most sensitive version of 'Further' we had ever heard. It was a pleasure and such the special moment he wanted it to be. It was seen that he was really impressed.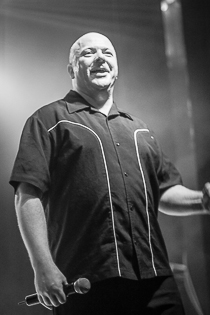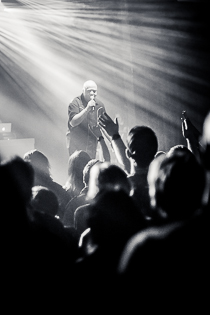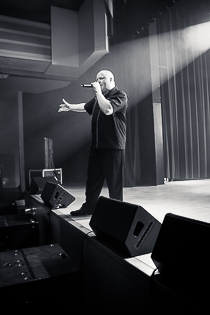 There are not many electronic bands with such as long lyrics as VNV NATION. At this evening Ronan did a very good job as an entertainer and singer. The audience reflected it and so there was even space and time for an unplanned encore, which is really special.

Setlist
01. Retaliate
02. Sentinel
03. Chrome
04. Primary
05. Illusion
06. Everything
07. Space & Time
08. Tomorrow never Comes
09. Nemesis
10. Standing
11. Homeward
12. Off Screen
13. Farthest Star
14. Resolution
---
15. Further (Piano Version)
16. Gratitude
17. Control
---
18. Nova
19. If I Was
20. Perpetual
---
21. Electronaut

Rating
Music: 9
Performance: 9
Sound: 9
Light: 7
Total: 8.5 / 10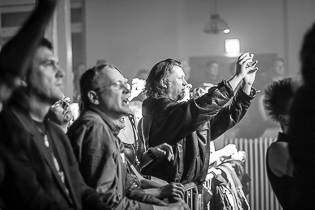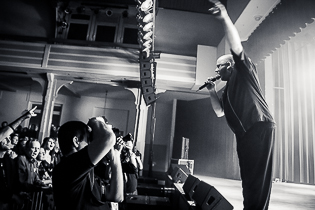 All pictures by Daniel Hamann (http://www.daniel-hamann.org)