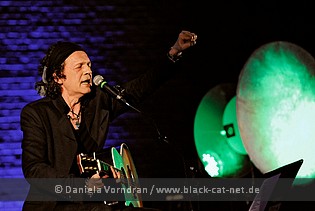 Christuskirche, Bochum, Germany
28th March 2014
Wolf Maahn

At short notice I filled in as writer for a member of our team as he couldn't come to the concert due to sickness. Speedy recovery at this point! As my son worked there as light engineer on this evening, too, and he was not sure what kind of concert it will be, I could assure him that it is no Schlager but WOLF MAAHN is known to be a good one of the German singer songwriter. The concert took place at the Christuskirche (Christ church) in Bochum. So we could also expect an excellent acoustic.
Grown up in Munich he visited a concert of THE BEATLES which impressed him deeply. With his friends, Helmut Zerlett amongst them and his brother Hans he formed the band FOOD BAND in the seventies. Until 1981 they released two albums with English lyrics. Their song 'Send me up to Mona' was broadcasted in the WDR (West German Radio station) region. Both albums were at first only released in the UK, where they had some concerts, too, and were invited for a radio session at the BBC.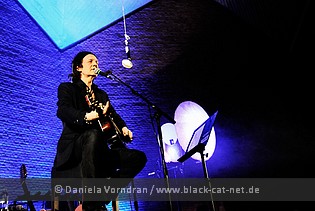 When their albums were released in Germany as well, they had the chance to be supporting act for BOB MARLEY and FLEETWOOD MAC. In early 1982 WOLF MAAHN released his first solo single, an interpretation of the song 'Sag mir wo die Blumen sind?' ('Where have all the flowers gone' originally written by the US songwriter PETE SEEGER). His first solo album 'Deserteure' (deserter) was released in autumn of the same year. He named his backing group, consisting of former members of FOOD BAND, after this title. Critically acclaimed this album was nominated in 1983 for the Deutscher Schallplattenpreis (German Record award). Besides his own headlining concerts he was also supporting act for ROXY MUSIC and BOB DYLAN. Though he is singing in German language he gathered such a positive reputation for his socially critical lyrics and amazing music that the live recordings were broadcasted worldwide. After the termination of contract with his former record company in 2007, he established his own label. WOLF MAAHN is also working as a producer and songwriter for other musicians like WOLFGANG NIEDECKEN, KLAUS LAGE, PURPLE SCHULZ, ANNE HAIGIS, MARIANNE ROSENBERG and many more. He also composes film music. Furthermore he is working as an actor as well. Up to now he has released 23 albums.
http://www.wolfmaahn.de
/
https://www.facebook.com/wolfmaahn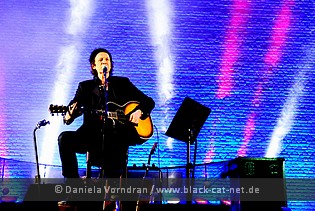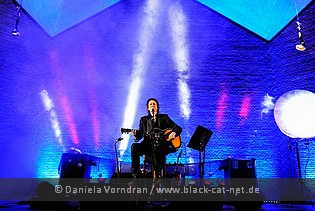 Music & Performance

Usually I am listening to a different kind of music but knowing that WOLF MAAHN is a very well-known German singer songwriter and an old stager, I was nevertheless keen to see a concert of him. As the concert took place in a church, it was seated with the church benches. The concert was not sold out, which was really a pity. Roughly 250 enthusiastic fans showed up. The audience was predominately age 45+ and thus I enjoyed the rare pleasure not to be the oldest person. WOLF MAAHN entered the stage and sat on a barstool with one foot on a wooden box which served as percussion instrument. Right after the first tunes on the guitar he had to exchange it for it didn't sound right but with the other guitar everything went fine. The second song was from the, just in November 2013 released, double album 'Zauberstrassen- Revisited' (Magic streets – revisited). We learnt that he was really happy that it was made possible for him to perform in a church, as he already had good experiences with concerts in churches for the extraordinary acoustic. Every now and then he invited the audience to interact with him but as the people obviously knew the songs and lyrics by heart, there was not much invitation needed as they started to sing the refrain at the third song and clapped their hands to it. The chemistry between the charismatic singer and the audience was just right. And each song was rewarded with lots of applause.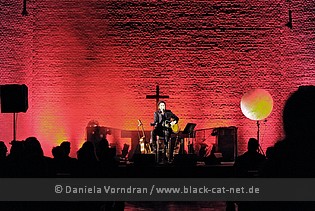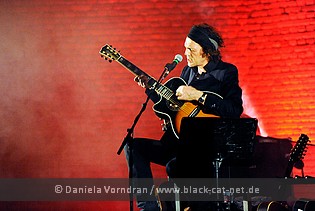 Besides WOLF MAAHN showed up with really good vocal quality and of course the acoustic was amazing. Quite interesting is that he is playing the guitar left handed but I read that the strings are in the sequence of a guitar played by right handed people. After a break of about 15 Minutes WOLF MAAHN returned on stage. Between the songs he talked in a very cheerful and relaxed mood that he enjoys it very much to perform here on this evening. And for me it was quite obvious that the people loved every minute of this concert, too, as they were singing and clapping their hands to the songs or listened very attentively. Although WOLF MAAHN played already a quite long set, his fans couldn't get enough and thus they were shouting for an encore when he left the stage, which they got. But still they asked for more with standing ovations. When WOLF MAAHN returned once again and saw the people standing, he invited them now to dance and party and so it happened. When the concert finally ended lots of happy and cheerful people left the venue. It was a good entertaining concert indeed. And sometimes you don't need much for a concert of high quality: just a man with a good voice, great songs, a guitar and eventually a wooden box.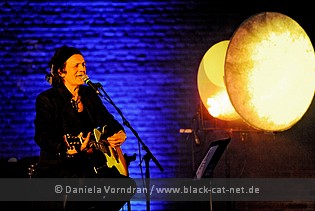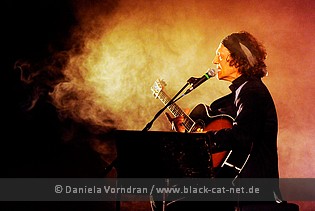 Setlist

01. Treibsand
02. Schlüssel
03. Rosen im Asphalt
04. Vereinigte Staaten
05. Am heutigen Morgen
06. Durch alle Zeiten
07. Kind der Sterne
08. Nothing but a Heartache
09. Total verliebt in dich
10. Unter einem großen Himmel
---20 minutes break---
11. Selbstrespekt
12. Irgendwo in Deutschland
13. Gut gut gut
14. Ich wart auf dich
15. Kathedralen von Zahlen
16. Freie Welt
17. Blinder Passagier
---
18. Küsse
19. Träumer
20. Wenn der Regen kommt
21. Sterne in meinen Schuhen
---
22. Der Clown hat den Blues
23. Stunde um Stunde
24. Fieber
25. Kleine Helden
Rating

Music: 9
Performance: 9
Sound: 10
Light: 7
Total: 8.9 / 10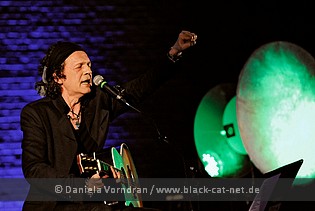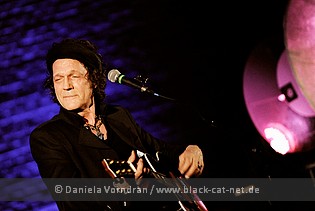 All pictures by Daniela Vorndran (
http://www.black-cat-net.de
/
http://www.facebook.com/blackcatnet
)