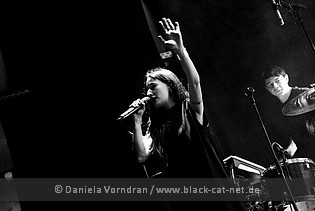 Gebäude 9, Cologne, Germany
10th November 2014
Zola Jesus & Black Asteroid

After her celebrated debut 'Versions', ZOLA JESUS is back on tour to present her new album 'Taiga'. Also after her change from Sacred Bones to Mute Records, the US-American singer sticks to her Goth-Pop sound. The venue in Cologne was rather small, but a good crowd gathered to see the artist. The evening was opened by DJ act BLACK ASTEROID.
Black Asteroid

Was it a good idea to add a DJ act as support for ZOLA JESUS? There were not many people in the venue who thought so. And neither was I. BLACK ASTEROID is the artist name of Bryan Black, former engineer for PRINCE and half of critically acclaimed band MOTOR. He is DJ, producer ,and live performer. As BLACK ASTEROID, he has released 'The Engine EP' (2011), 'Black Acid EP' (2012) and remixed such artists as DEPECHE MODE. Big names and reputations you think. But with his technoid DJ set, based on hard beats, he did not really meet the taste of the audience, even though, in the right surrounding, also his DJ sets are highly acclaimed. 2014 sees the release of his first full-length album.
http://www.blackasteroid.com
/
https://www.facebook.com/blackasteroid
Rating

Music: 6
Performance: 4
Sound: 7
Light: 5
Total: 5.5 / 10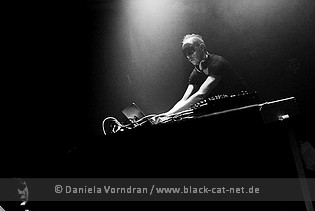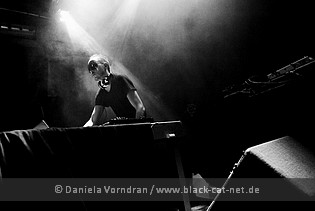 Zola Jesus

ZOLA JESUS, aka Nika Roza Danilova, started recording her first own songs when she was 16. Two years later, she started performing under the moniker ZOLA JESUS. Her voice is opera trained and combines Pop music with elements of Goth Rock and Dark Wave. So far, she has released four albums. Her latest one, 'Taiga', was out on 6th October 2014 via Mute Records. Following select US performances, she heads to the UK and Europe for a series of dates starting on 29th October in Bristol and including a London show at KOKO on 18th November. But also some German shows are on the schedule. Nika is the 25-year-old behind ZOLA JESUS' creative incarnations as sole singer and songwriter. Influenced by her time in Iceland, Vermont, and British Columbia, 'Taiga' was written on Vashon Island, WA and conjures all these places while creating a sonic space of its own that each listener can travel to, explore, hide in, and celebrate. Nika tracked and mixed the album in Los Angeles with co-producer Dean Hurley (David Lynch, Danger Mouse, Sparklehorse). At once challenging and accessible, 'Taiga' is a transition for ZOLA JESUS.
http://zolajesus.com
/
https://www.facebook.com/zolajesusofficial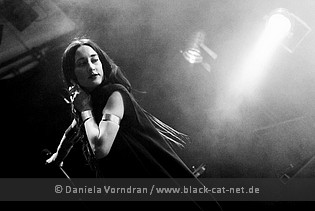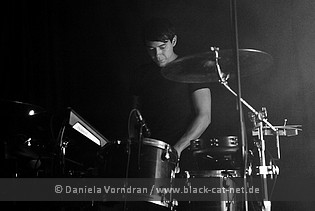 Music & Performance

First I thought that not really many people were interested in the show of ZOLA JESUS. But luckily, when the artist and her accompanying band entered the stage, the room was really well filled. When the artist entered the stage to the title song of her current album 'Taiga', I first though "Wow, she is really small". And then "erm, that dress is not really nice" since it was really wide. But soon, when she spastically danced – I read a good comparison before: "like LYKKE LI on meth" – I saw that it was well planned to wear something that wide… giving her the chance to move like this. Though it was sometimes hard to see her since the lights were so low and there was nearly no front light at all. But that paper "tepee" built up in the back of stage was illuminated at least in different colours. The music itself is not purely electronic. There are of course percussions / drums and there is a horn section creating different undertones to the music. Pop, Avant-garde, Dark Wave… when you are going to a ZOLA JESUS show, you get a bit of anything. 'Dangerous Days' is already the second song of the evening, presenting pounding toms.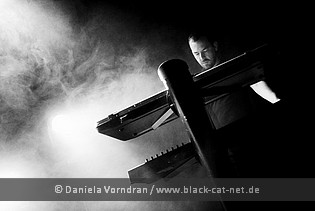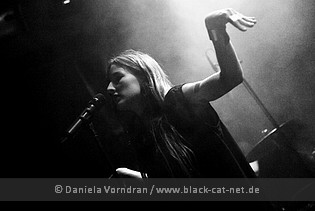 'Dust' presents her a little calmer, sticking more to the microphone while the back is the stage is mysteriously illuminated, especially that paper construction. Following 'Hunger' is louder, it is now time to move a little. All songs so far and those still to come present her with a very powerful clear voice. And she is not afraid of using it in full. Really convincing! The sound is good (even though not perfect) and supports her vocal performance really well. 'Hollow' saw her jumping down from stage for a walk through the audience. Final song of the main set is poppy 'It's Not Over'. The following encore consists of two songs. First of them is 'Night' from 2010, just to the joy of her long-time fans. Second one, 'Vessel', once more presents her special dancing style and releases a happy crowd into the night. I really must say, ZOLA JESUS no only impresses me on CD, she also does live. What a great voice, perfectly delivered!
Setlist

01. Taiga
02. Dangerous Days
03. Dust
04. Hunger
05. Go (Blank Sea)
06. Ego
07. Clay Bodies
08. Sea Talk
09. Lawless
10. Nail
11. Long Way Down
12. Hollow
13. It's Not Over
---
14. Night
15. Vessel
Rating

Music: 9
Performance: 10
Sound: 7
Light: 7
Total: 8.3 / 10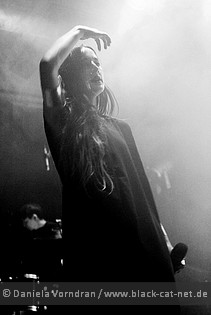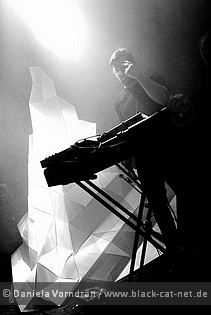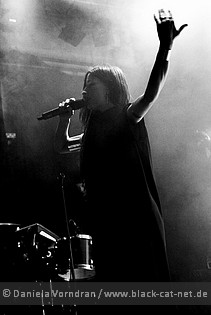 All pictures by Daniela Vorndran (
http://www.vorndranphotography.com
/
http://www.facebook.com/blackcatnet
)