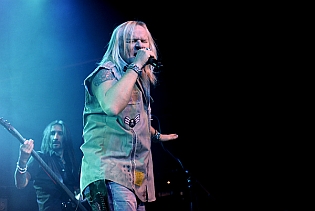 Zeche, Bochum, Germany
9th December 2014
Uriah Heep, Voodoo Circle & 21 Octayne

The German "Outsider" tour started on 20th November 2014 and was taking the band to 17 cities to present classics as well as new songs. On 9th December, URIAH HEEP stopped in Bochum, where a packed venue was awaiting the Hard Rock veterans. As support, the brought Hard Rock super group VOODOO CIRCLE and local matadors 21 OCTAYNE with them.
21 Octayne

21OCTAYNE is new Rock act feat. members of Joe Perry band, Rhapsody, Axxis and Paul Gilbert. The debut album 'Into The Open' was out in May 2014 via AFM Records. 21OCTAYNE is the epitome of soulful, honest, ass-kicking Rock with a slight modern touch. First concerts were played in Europe, supporting PINK CREAM69 and Germany chart band OHRENFEINDT, with offer now coming in from big festivals. 2014 will be a great year for Rock fans and there's no hiding from this awesome new band 21OCTAYNE! A new name, a new band, but no unknowns here: the band consists of vocalist Hagen Grohe (The Joe Perry Project), guitarist Marco Wriedt (Axxis), Andrew "The Bullet" Lauer (Paul Gilbert)on bass and drummer Alex Landenburg (Rhapsody).
http://www.21octayne.com
/
https://www.facebook.com/21OCTAYNE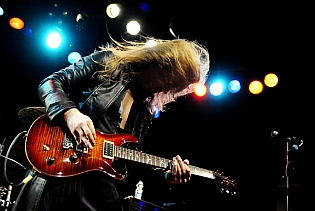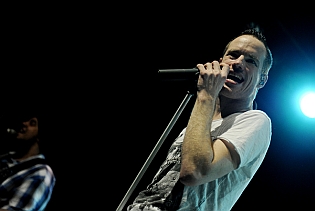 Music & Performance

It was 19:30, very early on that evening, when 21 OCTAYNE entered the stage to start their quite short set of six songs. But as singer Hagen mentioned during the set, the band was very happy that already so many people gathered in front of the stage to enjoy the show. The band offers a modern sound that can touch nearly a mainstream audience as well. Their songs are very varied and so, the band not only touches the hearts of a rock audience but also fans of pop sounds and ballads. On first sight, the music of 21 OCTAYNE might look simple, but there are a lot of virtuous details. And of course, there are several guitar solos in the set. All songs of the set were taken from the 'Into the Open' album and offered a good overview what to expect on the band's debut release. The track 'Into the Open' for example is a very epic piece of music while 'Me myself & I' has a very strong chorus. The band really presented perfect Rock music and you can be curious what comes up in the next years.
Setlist

01. Me myself & I
02. The Heart (save me)
03. Don't turn away
04. Turn The World
05. Into The Open
06. Come Alive
Rating

Music: 8
Performance: 8
Sound: 7
Light: 8
Total: 7.8 / 10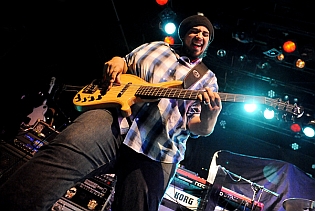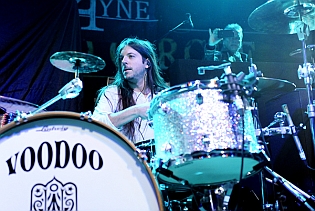 Voodoo Circle

VOODOO CIRCLE was releasing their second album 'Broken Heart Syndrome' in February 2011, following on their self-titled debut of 2008. However this band has a long-time experience preceding its inception - to name a few of the previous bands of VOODOO CIRCLE'S musicians - SINNER, PRIMAL FEAR and DEZPERADOZ. With this experience behind them they combine blues, funk rock, Prog rock, hard rock with even some epic metal elements, an amalgamation of styles and sounds that feel quite retro, but weirdly enough it works well enough to sound modern at the same time. The latest release is 'More Than One Way Home' and was out in 2013. VOODOO CIRCLE is Alex Beyrodt (guitars), David Readman (lead vocals), Tim Husung (drums), Alessandro Del Vecchio (keyboards & vocals) and Mat Sinner (bass & vocals).
http://www.voodoocircle.de
/
https://www.facebook.com/voodoocircle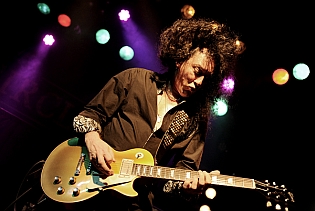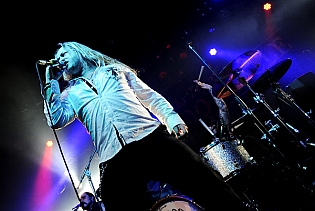 Music & Performance

It took not very long until the second band of the evening, VOODOO CIRCLE, entered the stage to open up their set with 'Heart of Babylon' from their 'More Than One Way Home' album. The audience exactly knew what great musicians were up on stage and screamed along from the very start. No doubt that all band members understood their craft. Readman's voice was in perfect shape and also the rest of the band showed their abilities. Eye catcher of the band for me was Alex Beyrodt on guitar who offered perfect Rock star posing, of course also playing the instrument behind his head. Especially he convinced during his many shorter or longer solo parts. Besides, Matt Sinner is surely a genius on bass, playing passionately during the whole show. There was no doubt that he and the rest of the band enjoyed being up on stage. The set was not very long either. About 40 minutes were given and just enough for seven songs. But even this short time was enough to convince the audience who released the band with big applause.
Setlist

01. Heart of Babylon
02. No Solution Blues
03. Tears in the Rain
04. King of our Dreams
05. Blind Man
06. Cry for Love
07. Graveyard City
Rating

Music: 8
Performance: 8
Sound: 7
Light: 8
Total: 7.8 / 10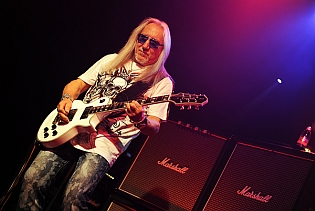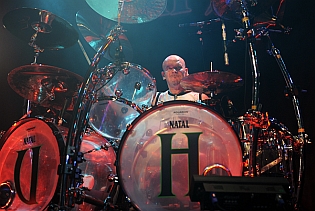 Uriah Heep

As one of the first bands to fuse progressive with metal, URIAH HEEP - formed in 1969 - are a precursor to the progressive metal genre, but they also draw influence from progressive rock, hard rock, heavy metal, jazz, and sometimes even country. The first album 'Very 'eavy, very 'umble' from 1970 already featured a Top 30 hit with 'Gypsy'. The second installment 'Salisbury' (1971) included the band's most famous song to date 'Lady In Black'. Subsequent releases would find the group's ever-shifting line-up (between 1969 and 1980, the band changed drummers five times, bassists four times, and lead singers twice). Throughout their log career the band released more than 20 studio albums, but for the 2008 album 'Wake The Sleeper' the fans had to wait 10 long years. For the new album 'Into the Wild', waiting time was much shorter since the album was released in April 2011. The newest album 'Outsider' was released in 2014. URIAH HEEP is Bernie Shaw (vocals), Mick Box (lead guitar, vocals), Davey Rimmer (bass), Phil Lanzon (keys, vocals) and Russel Gilbrook (drums, vocals).
http://www.uriah-heep.com
/
https://www.facebook.com/pages/Uriah-Heep-Band/638202709583674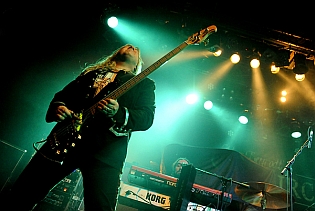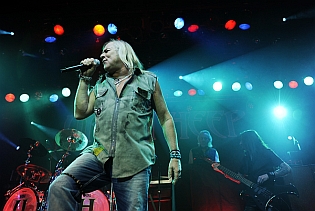 Music & Performance

It took about 30 minutes until the stage was ready for the main act. URIAH HEEP were already playing several shows of the tour before and were in really good mood when they entered the stage. Compared to the last time I saw the band, the setlist of course has changed since the Hard Rock veterans have a new album out. First song of the evening, 'Speed of Sound', is also the first song of the new album 'Outsider'. Monitor speakers on stage were removed before to offer enough room for Bernie to move around and being close to the audience. And he really moved a lot. Right from the start, you had a lot of energy and movement during URIAH HEEP's show. Bernie was surely the most vivid man on stage, but also drummer Russel was really expressive. Mick and Davey compared to them, were only moving slowly, showing a lot of coolness. There was a lot of action and movement on stage and singer Bernie was constantly animating the audience to scream, join in the singing or simply to clap along. The show offered a good mix of old and new songs. Other new songs being played were for example 'The Outsider' or 'The Law'. Besides, the set was reserved for a lot of classics.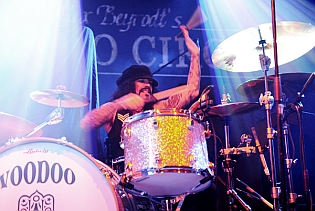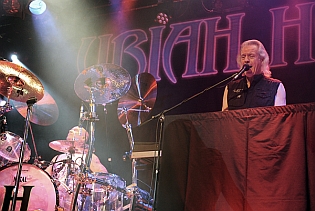 As I know it from previous concerts, the whole band had a lot of fun on stage as well, which was perfectly transported to the audience. The temper on stage was really infecting! There was quite some time for good ol' classics. Ending the main set were 'July Morning' and of course the band's biggest hit, 'Lady In Black' (from 1971). It was fantastic to hear all those fans singing that song together. When the band left, loud clapping and screaming for encores arose and as you might have guessed, the band came back to present some two more songs. First encore to please the fans was 'Gypsy' from the first album 'Very 'eavy...Very 'umble' which was already back than in 1970 a top 30 hit in Germany. 'Easy Livin' from the mid-70s ended the show finally. Underlined with good sound and a fantastic light show, this show was another great moment in rock history and it was pure pleasure to be part of it.
Setlist

01. Speed of Sound
02. The Hanging Tree
03. Too Scared to Run
04. The Law
05. The Outsider
06. Sunrise
07. The Magician's Birthday
08. What Kind of God
09. One Minute
10. Can't Take That Away
11. July Morning
12. Lady in Black
---
13. Gypsy
14. Easy Livin'
Rating

Music: 9
Performance: 9
Sound: 8
Light: 10
Total: 9 / 10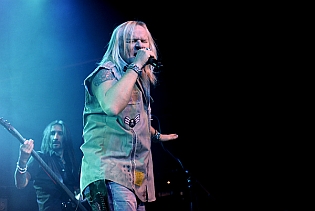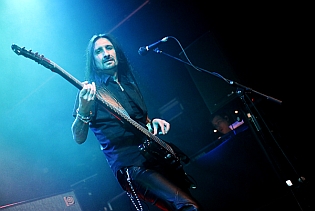 All pictures by Daniela Vorndran (
http://www.vorndranphotography.com
/
http://www.facebook.com/blackcatnet
)
See also (all categories):