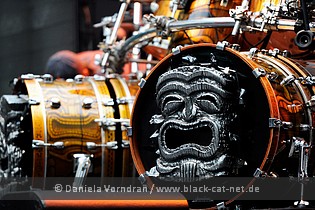 Gerry Weber Stadion, Halle (Westf.), Germany
28th June 2015
ZZ Top & Siggi Schwarz

Beards, blues and boogie are their trademarks, Texas their home. ZZ TOP, the world's smallest big band, presented their show with all hits and bestsellers of their fourteen gold records and songs of their current album 'Futura'. Around 5,900 people came to Halle to see them live on stage. The evening was opened by SIGGI SCHWARZ and his band.
Siggi Schwarz

Opening act was SIGGI SCHWARZ with his band, who already opened for ZZ TOP in the past. The South German guitarist, composer and producer stands for emotional and virtuous guitar play since the mid-seventies. In the 70s and 80s, he played in several bands with whom he released many records and he played hundreds of concerts. As guitarist and producer, he played with well-known artists, such as Michael Schenker, Chris Norman, TOTO's Steve Lukather and many, many more. In 1989, the SIGGI SCHWARZ BAND was founded, playing live in various line-ups. With his band, he opened the evening in Halle. Forty minutes of Rock music warmed the audience up for ZZ TOP.
http://www.siggi-schwarz.de
/
https://www.facebook.com/pages/Siggi-Schwarz/368701033334145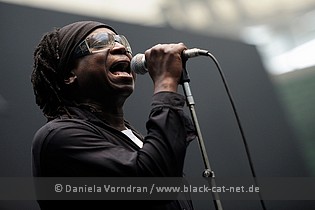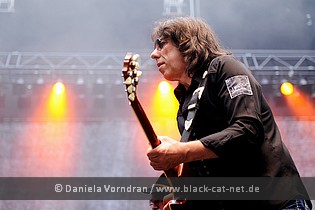 ZZ Top

Ten guitar strings and a drum set. Billy Gibbons, Dusty Hill and Frank Beard only need a minimum in order to pit themselves against the general rock giantomania. ZZ TOP are always a class on their won which both guitarists Gibbons and Hill and their drummer Bears have been proving sufficiently in front of enthusiastic crowds since 1970. The only band in the rock circus of wordly reputation which still consists of its original formation after more than four decades approaches things with an undiminished energy these days which no one can withdraw from – especially during live performances. ZZ TOP's music is still immediately recognizable, incredibly forceful and permeated by soul. The performances of the Rock'n'Roll' minimalists are considered musical delicacies which are enhances by humour and situational comedy. Hereby, legendary hymns like 'Cheap Sunglasses', 'Sharp Dressed Man', 'Legs' and 'Helpless' are as much part of the programme as hits like 'Rough Boy', 'I Thank You' or 'Pin Cushion'. ZZ TOP have established themselves as a classic with their simplistic style which goes beyond all trends. The three Texans fascinate with their true, unmistakeable sound: raw, dirty and infiltrated by the greatest blues which have ever been delivered by a rock band.
http://www.zztop.com
/
https://www.facebook.com/ZZTop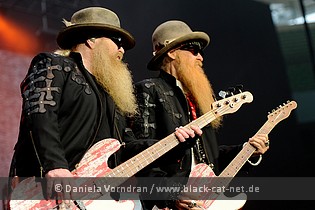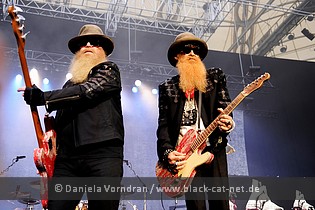 Music & Performance
When I entered the hall, first thing I recognized was the sparse stage design. There was only a white backdrop and in front, there was the drum set in the middle, two amps right and left and besides them, two relatively small LED screens, at least compared to the overall stage size. Seems, ZZ TOP rely on their own stage presence instead of extravagant stage setting. When short past eight the cult trio entered the stage, the Gerry-Weber stadium was quite well-filled with nearly 6,000 fans. The show is sparse as the stage design, no pyro or extensive light effect distract from the musicians and their music. Still I found the show overall a little bit boring, even though the musicians delivered top quality when it comes to their musical abilities and the sound was top. The mood in the arena was quite reserved as well; mainly the audience applauded after the songs – hits like 'Under pressure', 'Waiting for the bus', 'Jesus just left Chicago' or 'Gimme all your loving'. Towards the middle of the set, the audience and also the band seemed to lose its restraint. Billy Gibbons was joking with the audience and presented some pieces of skill with his guitar. The JIMI HENDRIX song 'Foxy Lady' and some songs from the band's latest album were following and finally at the end, the inevitable white plush guitars found their use.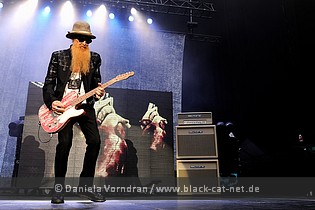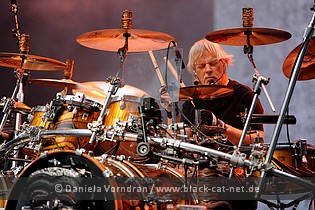 Already after short 75 minutes, ZZ TOP left the stage. But with some worldwide hits, the trio came back, much to the excitement of the audience. ZZ TOP also seemed to like the evening in Halle since they played an unplanned encore, the 'Jailhouse Rock', at the end.
Setlist

01. Got Me Under Pressure
02. Waitin' for the Bus
03. Jesus Just Left Chicago
04. Gimme All Your Lovin'
05. I'm Bad, I'm Nationwide
06. Pincushion
07. I Gotsta Get Paid (New version of DJ DMD classic "25 Lighters")
08. Flyin' High
09. Foxy Lady (The Jimi Hendrix Experience cover)
10. Catfish Blues (Robert Petway cover)
11. Cheap Sunglasses
12. My Head's in Mississippi
13. Chartreuse
14. Sharp Dressed Man
15. Legs
---
16. La Grange / Sloppy Drunk Jam
17. Tush
18. Jailhouse Rock
Rating

Music: 8
Performance: 7
Sound: 9
Light: 8
Total: 8 / 10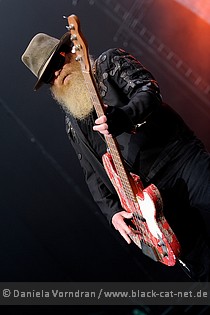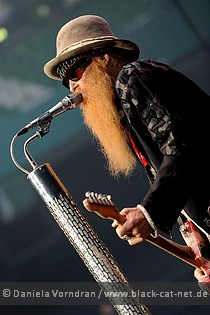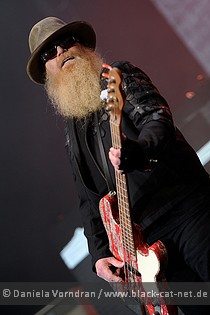 All pictures by Daniela Vorndran (
http://www.vorndranphotography.com
/
http://www.facebook.com/blackcatnet
)