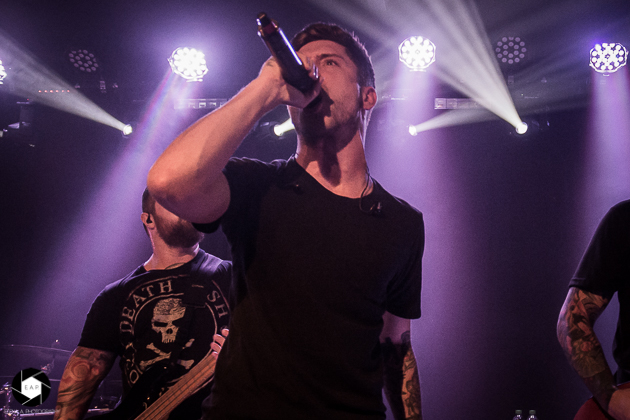 Kleiner Klub, Saarbrücken, Germany
23rd August 2017
Whitechapel, Aversions Crown, Within the Ruins

Currently, WHITECHAPEL play at many European festivals. Also last weekend on the Summer Breeze Festival, which was noticeable because the technicians have worn the actual festival shirt. WITHIN THE RUINS and AVERSIONS CROWN also played at these festivals but the bands didn't refuse to play at small locations with less of audience. Two club shows were planned in Germany: in Saarbrücken and in Oberhausen. Although the concert in Saarbrücken was planned in the Garage, it was moved to the Kleiner Klub next door. Reason for this probably was the too few visitors for the great hall. So the whole evening was much more intimate and personal.
Within the Ruins

WITHIN THE RUINS
started the evening. The Deathcore band from the States already released five studio albums and shared the stage with bands like CARNIFEX, SUICIDE SILENCE and THE BLACK DAHLIA MURDER. The quartet generally delivered a great show. Although the members didn't have much of space on stage because there were standing two drums, they didn't mind and despite the circumstances the performance was energetic and sovereign. They animated the few people who have arrived that early to the Kleiner Klub and they're also taking part.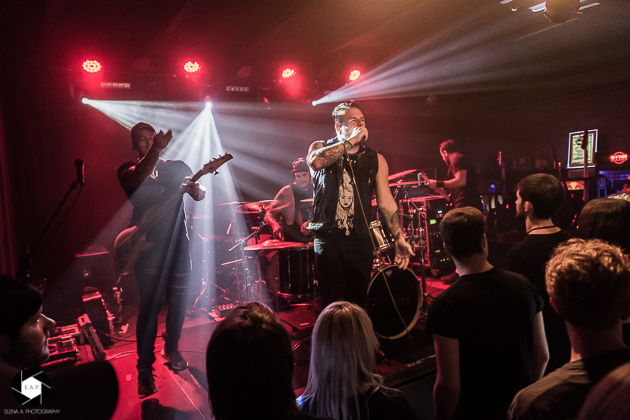 Setlist

01. Gods Amongst Men
02. Beautiful Agony
03. I, Blaspheme
04. Feeding Frenzy
05. Invade
06. Death Of The Rockstar
07. The Other
08. Calling Card
Rating
Music: 7
Performance: 8
Sound: 7
Light: 7
Total: 7 / 10
Aversions Crown

After a short break,
AVERSIONS CROWN
from Australia were standing on the still a bit filled stage. AVERSIONS CROWN was founded in 2010 and released in 2011 their first record 'Servitude'. Later on they released two more albums: 'Tyrant' (2014) and 'Xenocide' (2017). They've already hit the stage with 'Thy Art Is Murder', 'Oceano' and 'All Shall Perish'. Despite the two drums on stage and a band member more, the performance was ok. It was noticeable that they haven't much of space so the performance suffered a little under the circumstances but the entertainment of the crowd compensated that fact.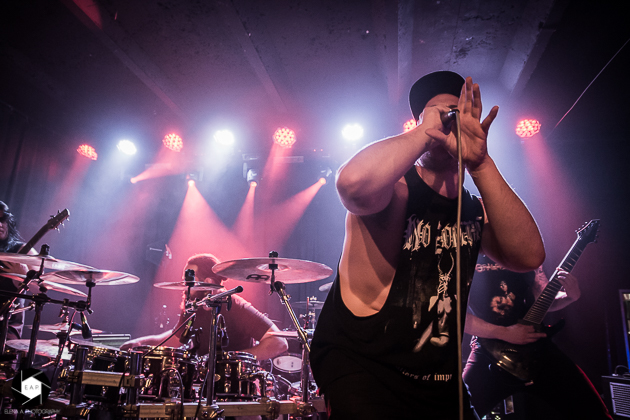 Setlist

01. Ophiophagy
02. The Soulless Acolyte
03. The Glass Sentient
04. Prismatic Abyss
05. The Oracles of Existence
06. Erebus
07. Hollow Planet
08. Odium
Rating

Music: 8
Performance: 6
Sound: 7
Light: 7
Total: 7 / 10
Whitechapel

The fans have been impatient though many of them sang along to Rick Astley's 'Never Gonna Give You Up'. After a short sound check,
WHITECHAPEL
came on stage and immediately made their point clear: loud, quick and brutal. The crowd was out of control and everybody jumped and shouted the vocals with Phil Bozeman. With the first song 'The Saw Is The Law', people instantly got the right power and mood for the rest of the concert. Since I saw the band already on the Summer Breeze Festival, I noticed that the sound in the 'Kleiner Klub' was much better. The show and the performance itself were quite identical like the one on Summer Breeze.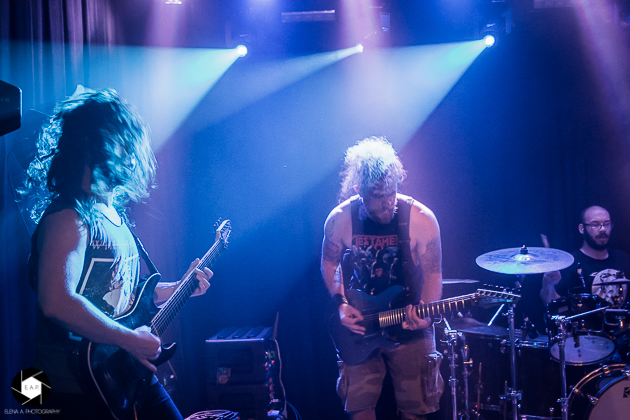 Setlist

01. The Saw Is The Law
02. Faces
03. I, Dementia
04. Our Endless War
05. Mark of the Blade
06. Elitist Ones
07. Prostatic Fluid Asphyxiation
08. Vicer Exciser
09. Let Me Burn
10. Possibilites of an Impossible Existence
11. Tremors
12. Diggs Road
---
13. This Is Exile
Rating
Music: 9
Performance: 8
Sound: 9
Light: 7
Total: 8.3 / 10
All pictures by Elena Arens (https://www.facebook.com/ElenaA.Photography/)