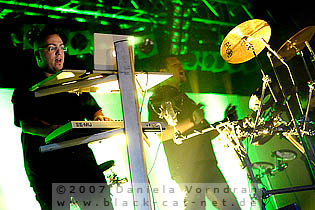 Live-Music-Hall, Cologne, Germany
26th March 2007
VNV Nation "Judgement Tour": VNV Nation, Imperative Reaction, Modulate


VNV NATION have a habit to tour before the release of a new album to present the material to their fans before they can buy the new material at their favorite record dealer. With the brand new album 'Judgement' it was not different, a few weeks prior its release VNV NATION did a complete tour and presented a lot of the new material.
Modulate


As usual, VNV NATION invited young, upcoming artists for the opening slot of their shows. For the first leg of the 'Judgement Tour' US-American Electro act IMPERATIVE REACTION and MODULATE from Manchester, UK, were the lucky ones who got the job. And the latter opened the night…
http://www.modulateonline.com/
/
http://www.myspace.com/modulate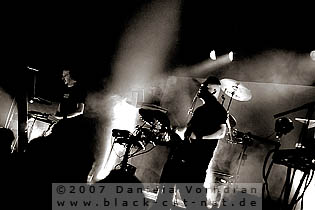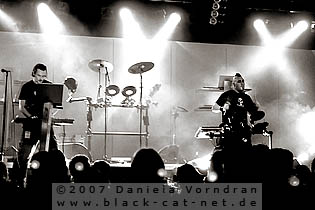 Music

MODULATE, who just released their debut EP 'Skullfuck' on Infacted Records this March, is the project by Geoff Lee aka DJ Echo. The project made its live debut only in November 2006, so getting the support slot for such a renowned act like VNV NATION must be quite spectacular for such a young band - and it should tell something about their quality, especially as support acts for VNV NATION tours are usually handpicked. MODULATE call their purely instrumental music hard Industrial but actually they are more on the Techno side of things, as so often with UK acts. Those who know VNV NATION's instrumentals like 'Epicentre' or 'Structure' (that is, everybody ;-)) have an idea what the sound of MODULATE is like.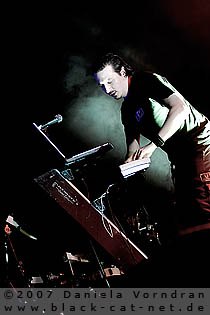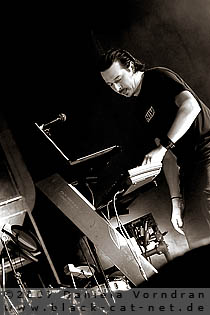 Performance

On stage MODULATE is duo as DJ Echo is assisted by a drummer who, as so often with electronic live acts, stands behind a small drum kit with a few e-pads to add a few percussive sounds to the overall sound. As mentioned above, MODULATE is purely instrumental, and the lack of a vocalist didn't exactly improve the performance. It's great music to dance to but without vocals a bit tedious to watch, especially as at this point people were still arriving in the venue and first headed to the bar to have a beer and a chat with old friends. Still there were quite a few people in front of stage who listened to MODULATE closely or even already started to dance. So MODULATE got a strange mixed reaction - some enjoyed the music, some others enjoyed their beers and didn't mind the music too much. ;-)
Setlist

01. Bunker
02. Kommune 1
03. Skullfuck
04. Electronic Battle Weapon
05. Revolution
Rating
Music 6
Performance 4
Light 7
Sound 8
Total 5.9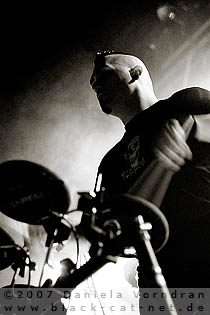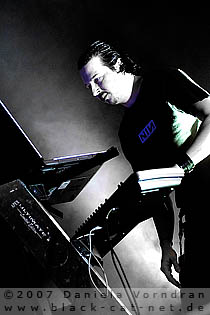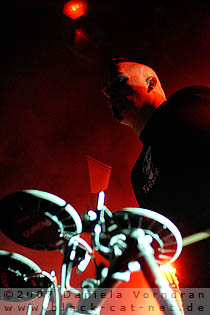 Imperative Reaction


In contrast to MODULATE this band already has a longer history, and the members of IMPERATIVE REACTION are quite canny as musicians both in studio and on stage. The California-based Industrial-Electro group is comprised of former members of the US-bands D.N.A. and PULSE LEGION. Founded as far back as 1996 in Los Angeles by David Andrecht and Ted Phelps, IMPERATIVE REACTION has released four full-time albums and many contributions to compilations plus a few remixes for other artists.
http://www.imperativereaction.net/
/
http://www.myspace.com/imperativereaction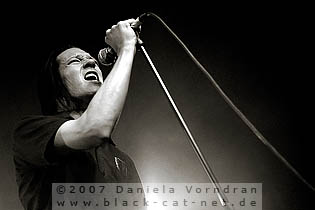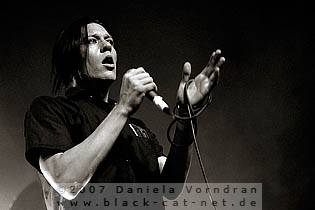 Music
Apparently enjoying quite some success in the North-American scene, IMPERATIVE REACTION are still some kind of insiders' tip in Europe although their albums got raving reviews in European magazines and generated a few underground club hits like 'Scorpio'. The band itself cites bands like NINE INCH NAILS, the especially in the USA enormously successful AFI, legends NITZER EBB and SKINNY PUPPY, the fantastic but underrated BABYLAND and the gloomy Pop bands THE CURE and DEPECHE MODE as their influences. This gives you a good idea what IMPERATIVE REACTION sounds like - though they are a little more danceable and heavier than this name-dropping might tell you, notably on their last album 'As We Fall'. With this album, released in late 2006, IMPERATIVE REACTION achieved a new level in their art. More aggressive and direct than before, with emotional vocals and deep lyrics as usual; punchy bass lines and driving synths make 'As We Fall' a great album from start to finish, while their earlier outputs had some fillers next to excellent stuff.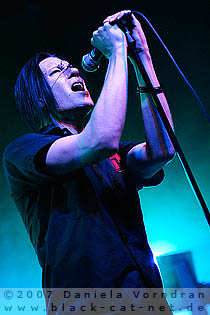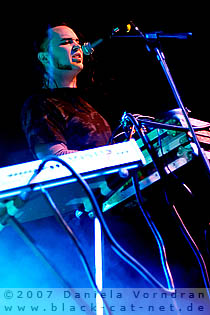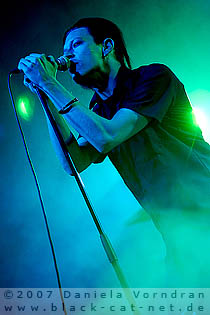 Performance

This was already IMPERATIVE REACTION's second tour with VNV NATION, and a good chance for their European fans to catch them live as the US band hasn't done many gigs abroad before. And in contrast to MODULATE we got now the full-band treatment which bettered the live experience a lot, especially with an agile front man like Ted Phelps. IMPERATIVE REACTION live are usually also Clint Carney, Sam P., and Gabriel Opruta – but shrunk to a trio for the performance in Cologne - and they gave their best to make an impression on the audience. And they succeeded! Apart from the fact that they draw some own fans to the show, they also enthused many people among the VNV NATION crowd who were probably not familiar with IMPERATIVE REACTION's sound before. At least those who were *not* still hanging out at the bar to have even more beers but now this was the majority and the club finally pretty packed.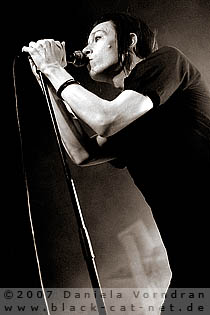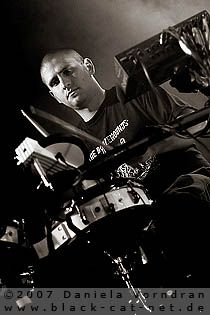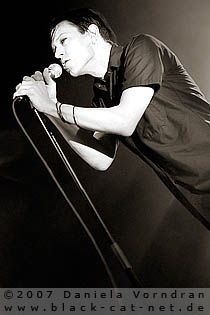 Setlist

01. Arrogance
02. Something I Left Behind
03. Collapse
04. Severed
05. As we fall
06. Giving Into the Change
Rating
Music 7
Performance 8
Light 7
Sound 8
Total 7.5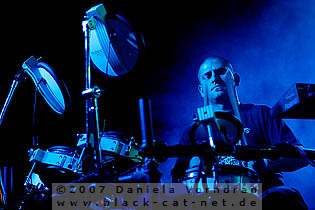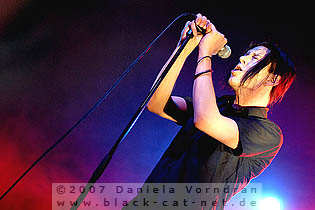 VNV Nation

Founded in 1990 as Ronan Harris' solo project and debuting with the album 'Advance & Follow' on Discordia Records in 1995, VNV NATION made eventually their breakthrough in 1998 with a support tour for Swedish Electro heroes COVENANT and with the release of the second album 'Praise The Fallen' on the German label Off Beat.
http://www.vnvnation.com/
/
http://www.myspace.com/vnvnation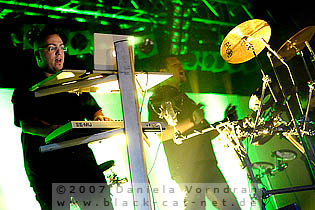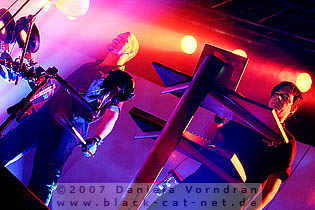 Music
The song 'Honour' in particular became a massive hit in the underground clubs of the world. After this starting shot VNV NATION's career found its first outstanding climax with the album 'Empires' (1999) and its two hit-singles 'Darkangel' and 'Standing', which stayed at the pole position of the German alternative chart DAC for a total of 8 weeks. The follow-up 'Future Perfect' (2002) topped the success but also divided the fan base. For many of the old "EBM people" the Trance and Pop elements became too dominant on this album. Nonetheless 'Future Perfect' was the biggest success of VNV NATION so far, the album track 'Epicentre' soon become a massive club hit (which it is still today!) and the album contained the touching anthem 'Beloved', which is still a fan favorite. In 2005 the album 'Matter & Form' followed, an album where VNV NATION opened their music to other influences, leaving all the predominant Trance elements of earlier days behind, and which had again a huge club hit with the single 'Chrome'. And in 2007 it is time for "Judgement"…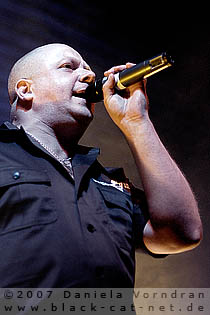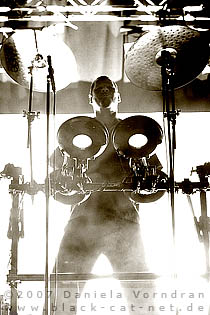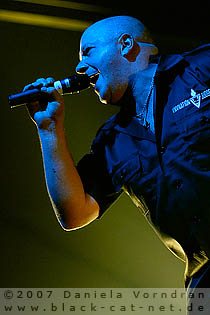 Performance

As usual, VNV NATION deliver a great stage setup with an excellent light show, impressive videos (this time on two screens) and like on their "Formation Tour" in 2005/2006 the duo Mark Jackson and Ronan Harris were backed up by two additional live keyboarders. After short break after IMPERATIVE REACTION's set to re-arrange the stage all of a sudden Mark Jackson and the two live keyboarders (Andreas Winter and Marco Visconti) appeared on stage to the first bars of the opening track 'The Farthest Star' from the yet to be released new album. Ronan Harris entered the stage and from the first second it was clear that the charismatic Irishman is a born entertainer. His welcome to the fans was responded with roaring applause and cheering and within one second the sold-out venue was in party mood.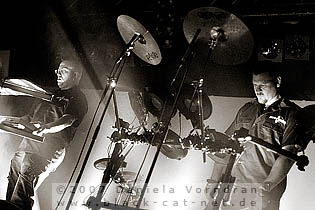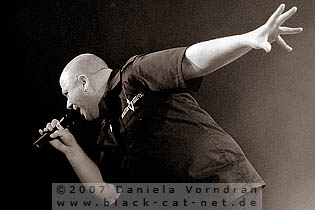 It is somehow tricky when a band presents new material at a concert as no-one is familiar with the new stuff, and the result is very often that the atmosphere isn't as cheerful as it should be because people tend to react more reserved to stuff they are not familiar with. Not in this case! Surely it helped a lot that snippets of the new songs were available on VNV NATION's website, but also the Pop appeal and directness of their music helped a lot to create the usual VNV NATION concert atmosphere. This also owes a big deal to the personage of Mr. Harris himself, he was entertaining and talkative between songs as usual and was always looking to get a connection to his audience, sometimes addressing fans in the first rows directly.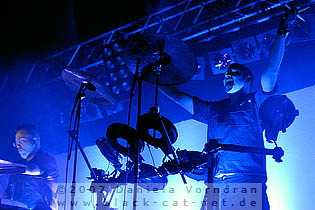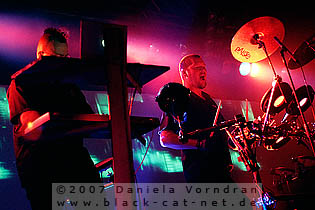 Placing the classic 'Darkangel' after the opener was a clever move, as far as I know it hadn't been played for a while but still is a fan favorite. Two more new songs from 'Judgement' followed, and this pattern of alternating classic and brand new material persisted throughout the whole set. 'Testament' and 'Nemesis' applied for the next big club ht, while 'Descent' set a much darker tone. 'Chrome' from the 'Matter+Form' album was what it is - one of VNV NATION's finest and most massive crowd pleasers. To my surprise and joy the band also played 'Procession' from 1998's 'Praise the Fallen' album, a goody for all old-school fans like me. Something for "the EBM people" as Mr. Harris put it in his typical jesting, ironic way. He also commented on the people who were *still* at the bar having their beers. "We play some more if you don't mind. If you do we could have a few drinks ourselves instead", he said, "and for your information: You had a VNV NATION Concert tonight". That's what you get at a VNV NATION show: Some dark music, and some jokes in-between. ;-)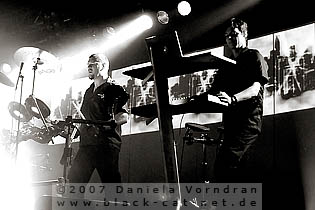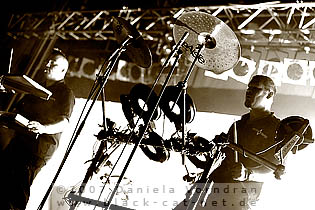 The 80-minute set was finished with a three-song encore, including the new track 'Carry You' (which shamelessly borrows the hook from 'Honour') and the indispensable 'Beloved', which sent shivers down the spine. It is always a special moment. And somehow you know what to expect from VNV NATION concert, even when 50% of the set are yet unheard, new songs. But it's still damn entertaining!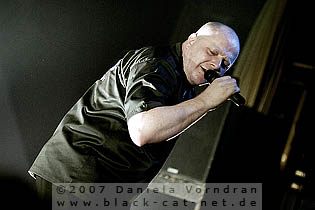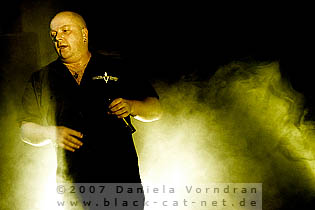 Setlist
01. The Farthest Star
02. Darkangel
03. Testament
04. Descent
05. Chrome
06. Procession
07. Nemesis
08. Legion
09. Honour 2003
10. Illusion
11. Standing
12. Perpetual
---
13. Homeward
14. Carry You
---
15. Beloved
Rating
Music 8
Performance 9
Light 9
Sound 9
Total 8.6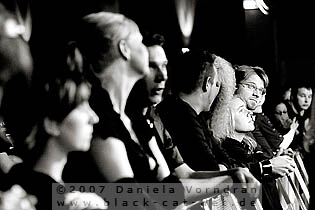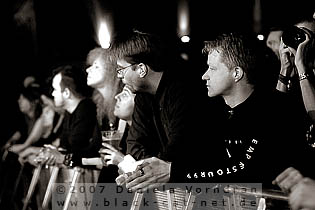 All pictures by Daniela Vorndran (
http://www.vorndranphotography.com/
/
http://www.black-cat-net.de/
)
{jos_sb_discuss:17}