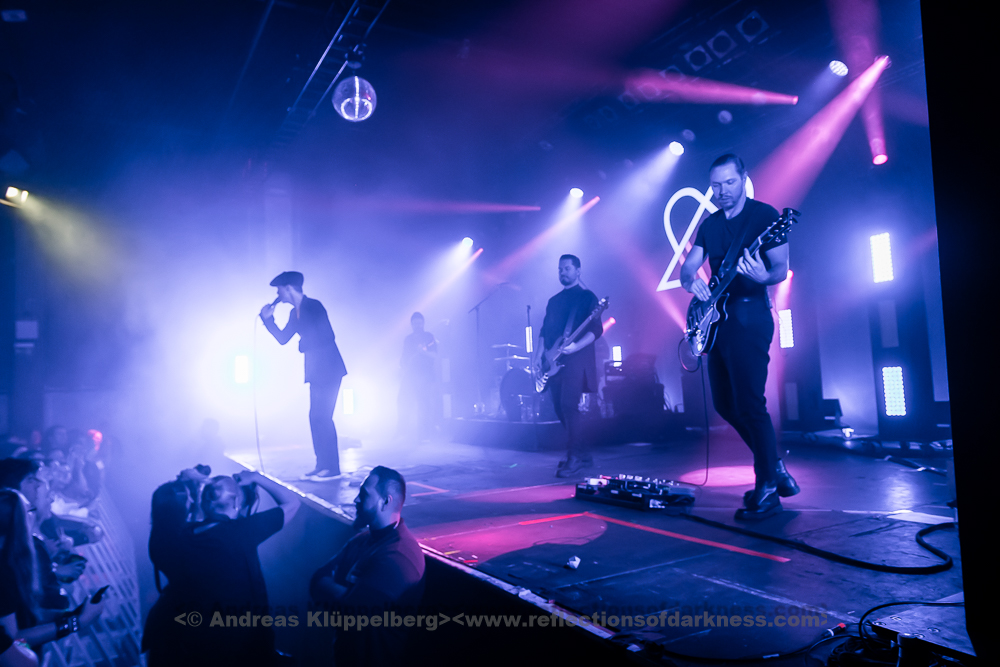 Live Music Hall, Cologne, Germany
8th March 2023
VV (Ville Valo) - "Neon Noir Tour" 2023 - Support: Kaelan Mikla

The (ex-)front man of the Finnish band HIM visited the Cologne Live Music Hall this evening with his new solo tour. With the synonym VV he is currently touring across Europe and presenting his first solo album 'Neon Noir'. The Trio KAELAN MIKLA was also on site in Cologne. The three young ladies from Iceland took over the opening programme.



Kaelan Mikla

After the hall had filled to capacity, the lights in the hall went out and three shadows could be seen entering the stage. When a little more lights fell on the stage, one could see Laufey Soffía, Margrét Rósa Dóru-Harrýsdóttir and Sólveig Matthildur Kristjánsdóttir in front of a large black wall that covered the back of the stage. In their long dresses, they looked like black angels. Fittingly, the girls from Reykjavík/ Iceland enchanted the audience with their Cold Wave music. KAELAN MIKLA singer Laufey Soffía complemented her dynamic voice with gestures with her hands. https://www.kaelanmikla.com /
https://www.facebook.com/Kaelanmikla

Setlist
01. Kælan Mikla (poem)
02. Stormurinn
03. Kalt
04. Sírenur
05. Næturblóm
06. Andvaka
07. Sólstöður
08. Hvítir Sandar

Rating
Music: 9
Performance: 8
Light: 8
Sound: 8.5
Total: 8.4 / 10


VV (Ville Valo)

After the black backdrop from KAELAN MIKLA's performance was taken down and the stage was prepared for VILLE VALO, the Heartagram known from HIM could already be seen in the background. Heartagram symbol is a mixture of a pentagram and a heart, which was modified for VILLE VALO's solo tour with VV. With slow steps, Ville then stepped in front of the audience. In his black suit, his Converse shoes and a cap, he first looked through the audience with a smile. The song selection was not limited to the songs from the solo album, but VILLE VALO also played songs from HIM in turn. But no matter which song VILLE VALO sang, the audience celebrated the singer and sang along with almost every line of the lyrics. For the well-known song 'Join Me in Death', a HIM song, the fans went berserk and sang along here as well.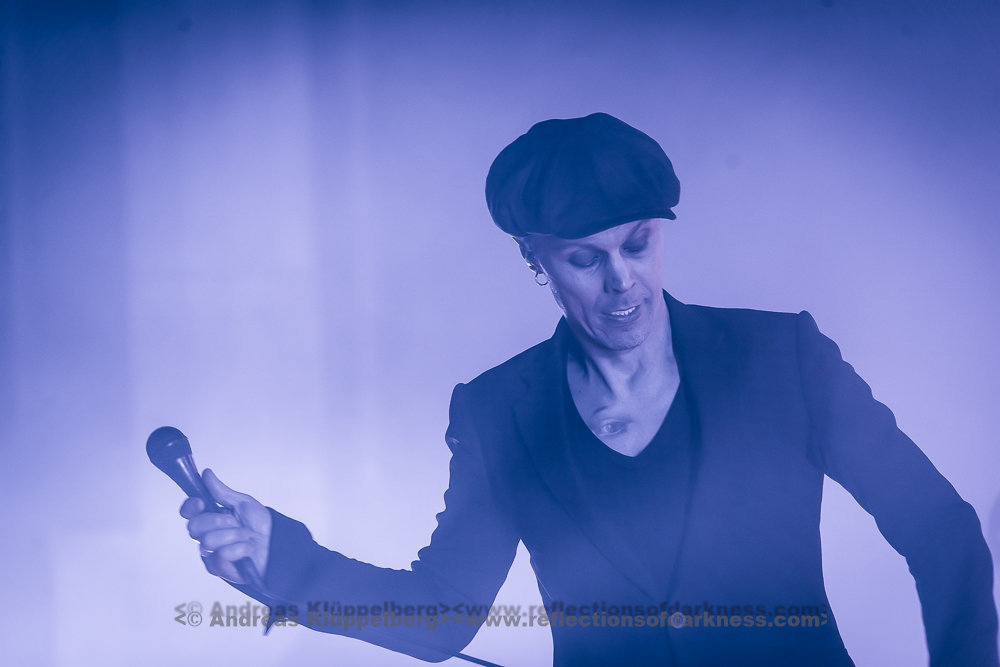 While VILLE VALO in his way rather quietly flirted and performed with the audience at the front of the stage, his band was much more agile. All in all, it was a great evening and the fans were visibly thrilled to have seen their star live again. https://eu.heartagram.com / https://www.facebook.com/villevalovirallinen
Setlist

01. Echolocate Your Love
02. The Funeral of Hearts (HIM cover)
03. Neon Noir
04. Right Here in My Arms (HIM cover)
05. Loveletting
06. Buried Alive by Love (HIM cover)
07. In Trenodia
08. Wings of a Butterfly (HIM cover)
09. Heartful of Ghosts
10. Join Me in Death (HIM cover)
11. The Foreverlost
12. The Kiss of Dawn (HIM cover)
13. Run Away From the Sun
14. When Love and Death Embrace (HIM cover)
---
15. Soul on Fire (HIM cover)
16. Salute the Sanguine
17. Poison Girl (HIM cover)
18. Saturnine Saturnalia
Rating

Music: 8.5
Performance: 8
Light: 9
Sound: 9
Total: 8.4 / 10
All Pictures by Andreas Klüppelberg