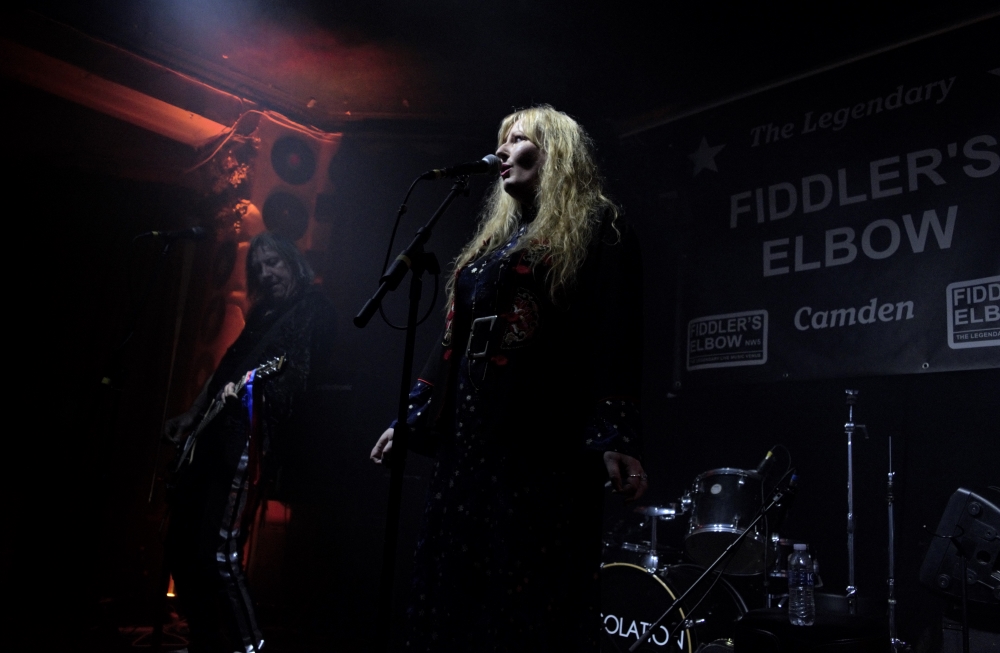 The Fiddlers Elbow Camden, London, UK
30th March 2023
X Superstar & Support: In Isolation, Gothzilla and Feather Trade

Tonight's entertainment comes from a quartet of bands being promoted by the Yorkshire-based promotions company Velvet Sheep. The venue where all this musical entertainment and edification was to be had is the Fiddlers Elbow just off Chalk Farm Road. One band I've seen before, the others not so let's crack on and see what the fuss is all about.
Feather Trade

FEATHER TRADE hail from Athens, Georgia but are currently based in Manchester. They toured with SPEAR OF DESTINY way back in 2019 before the Plague and it's BS locked us all down. In that time they performed a live set via projections that traversed continents, this spawned a DVD called 'Live & Transatlantic'. Before that they played with the likes of THE SOFT MOON, FLORENCE & THE MACHINE and THE MACCABEES before finding themselves in demand to play Leeds Futurama Festival. The single 'Dead Boys' was released a few years back but it has been re-released and given a new lease of life for the post-Covid audience and up to now the future looks bright. https://feathertrade.bandcamp.com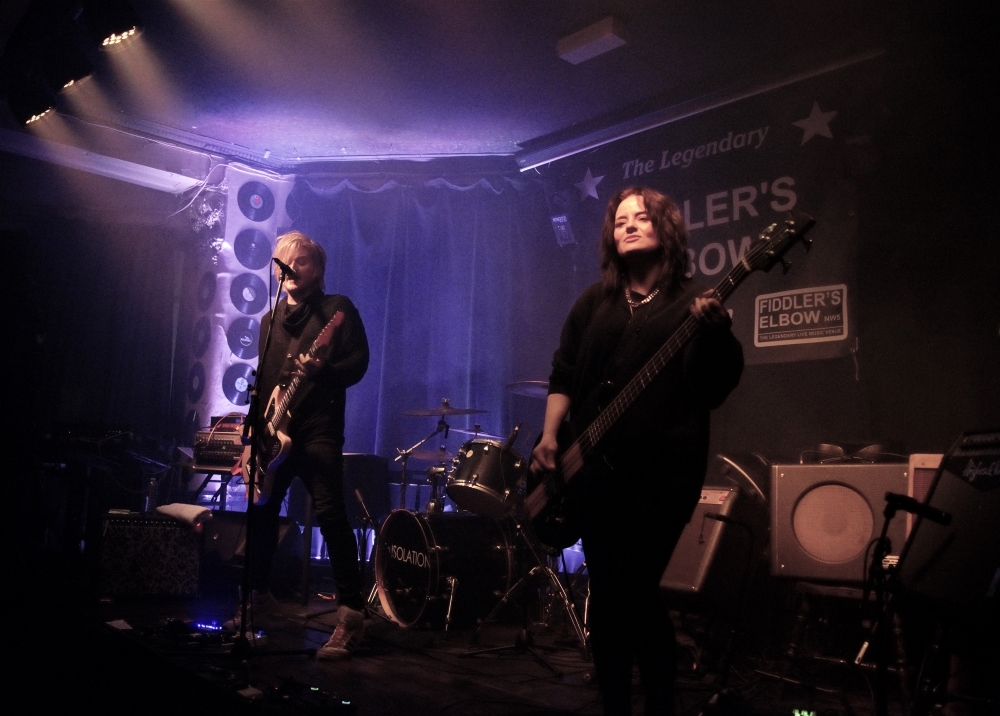 Music & Performance

Their set was a short one which started straight after the sound check had concluded. It was concise like nice gravy boiled down to the right consistency and the lighting was perfect. Well done for having spotlights early on instead of just low reds and blues which don't do much for decent photos. The sound was groovy too and was as near as possible to be right on the money. And the single 'Deadboy' was here too, if you've not heard it I'd recommend you do cos it has this groovy Daniel Ash / Kevin Haskins with Kurt Cobain vibe to it! Like their set, my review is boiled down gravy to the right consistency.
Rating

Music: 8
Performance: 8
Light: 8
Sound: 8
Total: 8 / 10
Gothzilla

GOTHZILLA are from Dollar in Clackmannanshire, Scotland which is to the left of Dunfermline if you look on the map and they have been in existence for at least seven years and consist of Tim Jarvis on guitars and some other chap on another guitar whilst a sequencer / computer / drum machine contraption completes the line-up. I've not had the pleasure of listening to their output before so I came to them blind. https://gothzilla.bandcamp.com
Music & Performance

I don't know what to make of them, to be honest, they sound like, erm well, you've heard of the slogan "Death By Chocolate"? Well this is "Death by Goth"! The band incorporates all the sounds of old Goth bands into the mix, I won't name them, you know who and then adds more Goth to the mixing bowl.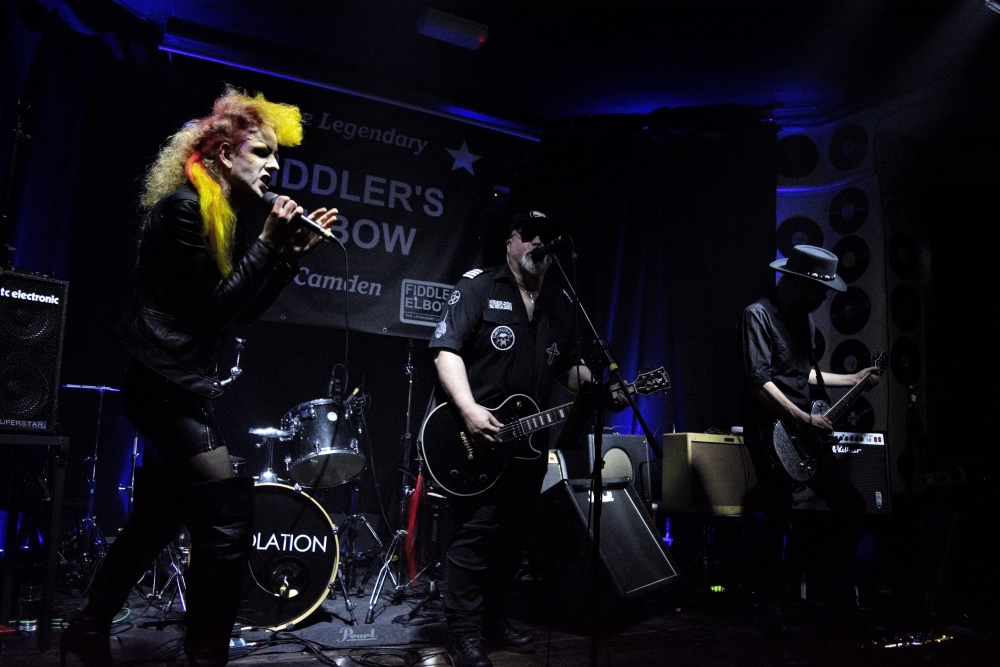 With the name GOTHZILLA I think that's a clue to the output, monster Goth rampage, unashamedly Goth, Goth, and Goth. The sound was too loud for my liking and a bit intense, my ears ringing for a while afterward and causing a headache. The album 'Gothzilla' is more palatable though, the rendition of the David Bowie track 'Cat People' from the movie of the same name is a blinder. No, it wasn't part of the set in case you're asking! You know what, I think it's fair to say that a GOTHZILLA CD would be good to have on the rack for one of those "I think I'm in the mood for this!" moments.
Rating

Music: 7
Performance: 7
Light: 8
Sound: 6
Total: 7 / 10
In Isolation

IN ISOLATION are next up. I've seen them before a long time ago in their home city of Nottingham, I think it was at the Chameleon Arts Cafe. If you're not familiar with this band's output, think CHAMELEONS crossed with THE CURE before being cross-pollinated with TALK TALK and JAPAN. https://inisolation.bandcamp.com/
Music & Performance

The set tonight is workmanlike, the sound is good and not as jarring as GOTHZILLA's. They played 'Parlance' and 'Not Noticing' which I like and a good rendition of 'She's In Parties' by BAUHAUS.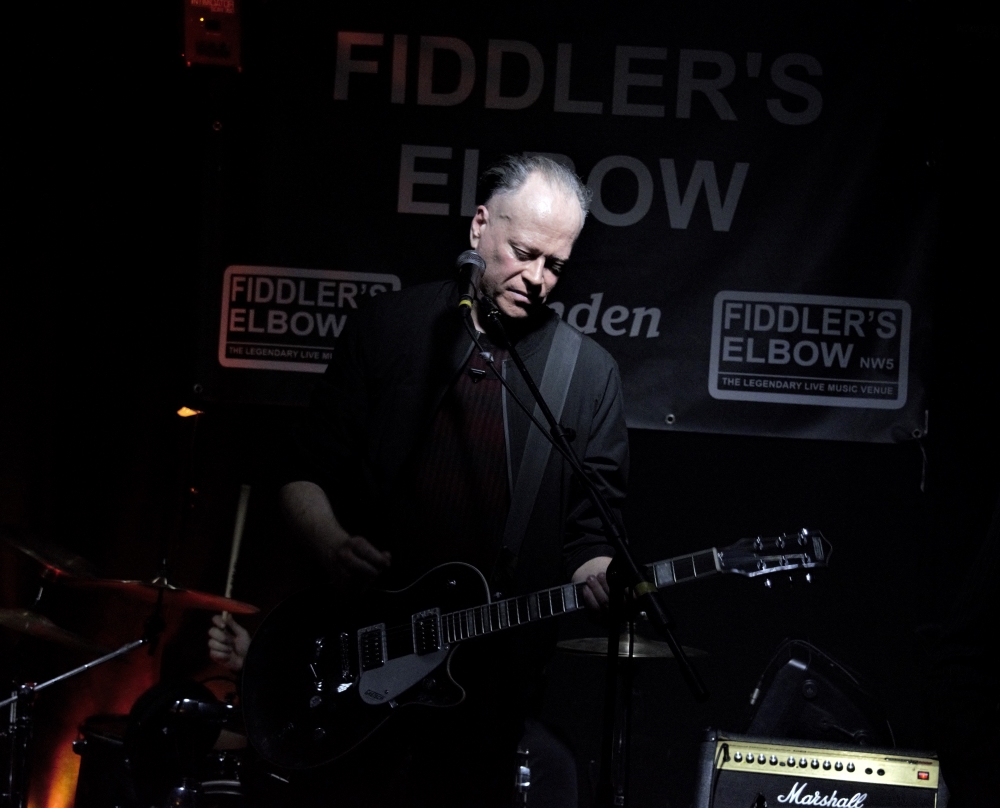 There's not a lot to add really other than the fact that the set was tight and on the money, not a lot of chat between songs and the audience which was not sparse were for the most part silently appreciative and enjoying it. It was like a lot of shows I go to in the UK these days, the crowd quiet and glued to their spots with no unguarded ebullient enthusiasm. Just polite foot taps and head bobs. And the fact that the crowd was not congregating around the lip of the stage certainly made the job of photographing easier. But a good show nonetheless.
Rating

Music: 7
Performance: 8
Light: 8
Sound: 7
Total: 8 / 10
X Superstar

X SUPERSTAR is the final band onstage. Consisting of ALL ABOUT EVE bassist and Huddersfield native Andy Cousins who tonight was on guitar instead of the usual bass. ALL ABOUT EVE's last guitarist, Toni Haimi was also present along with Rachael Dunn on vocals. https://x-superstar.bandcamp.com/
Music & Performance

The sound was like a flat ALL ABOUT EVE with no bubbles, especially on the recently released single 'Violet Forest'. Apart from the fact it was very reminiscent of 'Our Summer' it has the potential to be a damn good track.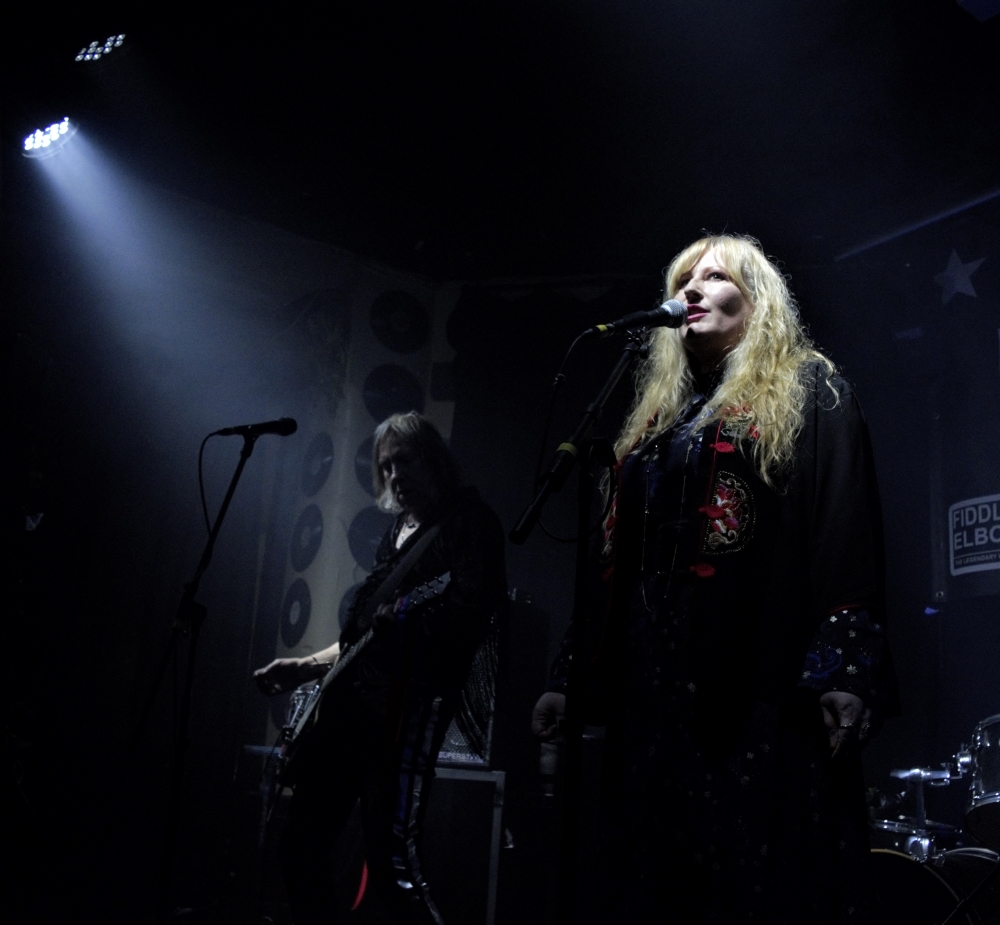 But I felt it lacked some effervescence. The vocalist sounds like she has trouble lifting the right note to follow the guitars which I found slightly irksome. I think the other track was called ''Old Town'' which had the flatness ironed out by this point but I had to leave to drive to Yorkshire so did not see the rest of the set. So all I can say is that what I saw was so, so.
Rating

Music: 7
Performance: 6
Light: 8
Sound: 7
Total: 7 / 10
In summary, I really got into FEATHER TRADE, they are an act that deserve more attention and In Isolation perked my musical juices also. GOTHZILLA, good at what they do but not something that really got me going and X SUPERSTAR, well, I need to see them a few more times. In fact I think GOTHZILLA needs a few more live listens too.
All Pictures by Claudia Black