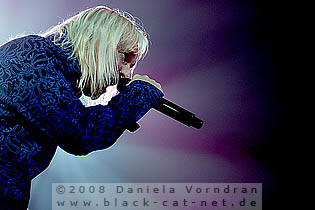 Halle Gartlage, Osnabrück, Germany
24th October 2008
Uriah Heep, Thin Lizzy, Andrew Paul Woodworth


URIAH HEEP and THIN LIZZY, both being heroes of the rock music genre for decades invited to a rocking evening and as we thought we couldn't miss such an opportunity we followed their call to Osnabrück and it was definitely worth it….



Andrew Paul Woodworth

Andrew, who's also member of the band VIRGIL started recording his first solo songs back in 2005 an done of the first tracks 'Fight For YOUR Right' came to the attention of the producers of the TV series 'One Tree Hill' who featured them in the series and as the overall feedback was great too, he completed the 'I Hate Music' EP in 2005 which was only available in a very limited edition and which promptly became an indie hit and 3 years later he presents his first full-length solo album 'Eddy Ate Dynamite'.
http://www.andrewpaulwoodworth.com/
/
http://www.myspace.com/andrewpaulwoodworth
Music & Performance

I had never heard the name ANDREW PAUL WOODWORTH anywhere before this day, but his small and impressing performance as warm-up for the anticipated two bands to follow he'd stay in my mind from now on - Andrew came on stage only with his guitar and played some songs entirely acoustic and it was not so much his guitar play that was so captivating, but his vocal bandwidth deserves credit. He's plying with its possibilities going through different moods and pitches never loosing the melodiosity and I think I was not the only one who never heard an acoustic version of the BEASTIE BOYS song 'Fight for your Right to Party' and I never thought it would sound so good.
Rating

Music: 8
Performance: 8
Sound: 8
Light: 7
Total: 7.8 / 10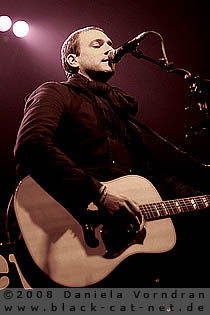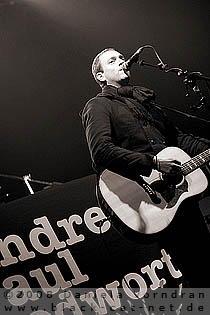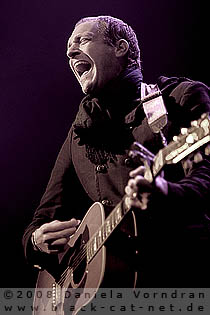 Thin Lizzy

This band needs no introduction. But some words must be said. THIN LIZZY are an Irish hard rock band that formed in Dublin, Ireland in 1969. The band was originally led by bassist, songwriter and singer Phil Lynott. They are best known for their songs 'Whiskey in the Jar', 'Jailbreak', 'The Boys Are Back in Town' and 'Bad Reputation', all major international hits still played regularly on hard rock and classic rock radio stations or heavy metal. History has but two ways to define a band: Through their body of work, or via the legacy they leave. The legendary THIN LIZZY are distinguished on both accounts. Phil Lynott died on January 4, 1986 due to heart failure, kidney failure and heroin addiction. Later, John Sykes decided to try and re-assemble THIN LIZZY, presenting the band as a tribute to Phil Lynott's life and work. He decided to take on the role of lead vocals himself in the absence of Lynott. There are however, no plans for a new album though the band continues to tour. The current line up is John Sykes (vocals, guitar), Scott Gorham (guitar), Tommy Aldridge (drums) and Francesco Di Cosmo (bass).
http://www.thinlizzyonline.com/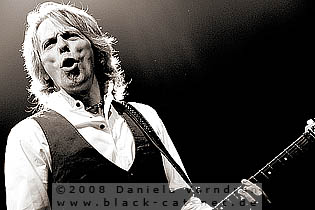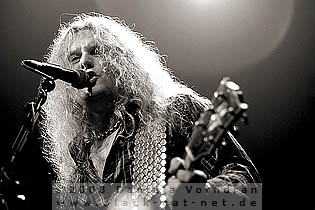 Music & Performance

Even though I've heard of THIN LIZZY before of course, I never attended one of their concerts before so it was my premier and I felt very young there considering an average age of at least 40 amongst the people. Luckily younger people showed up as well. To the mission: Guided by cheering shouts and a great light show the guys came on stage and right away they rocked off the hall with such stirring tracks like 'Don't Believe A Word' or 'Dancing In The Moonlight'. John mentioned that every note and melody was dedicated to founding member and singer Phil Lynott. THIN LIZZY on stage are no posers, no men of big gestures. They do move to the rhythm, but rather let their instruments speak and they did it with passion and verve. Man and guitar united without exaggeration. I've seen quite a few rock bands before and I really did enjoy it when they played their solos, but what John and Scott did up there filled me with utmost respect.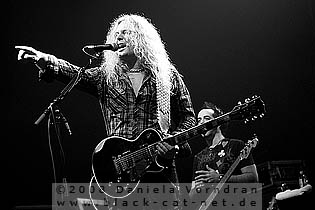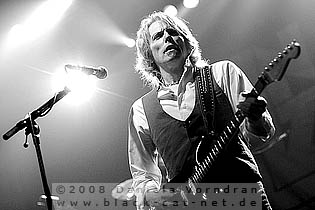 Like it was nothing, they knocked out one great solo after another and it became clear to me that I was watching two real masters at work, no matter if it was a fast pushing song or a calming ballad like 'Still in Love with you'. This wasn't the end of the flagpole yet. At one point during 'Sha La La', the band left the stage and all attention focussed on drummer Tommy Aldridge shrouded by a spotlight storm and I really thought that guy must've had 8 limbs or more, he really is a frickin' beast on his drums and after he threw his sticks into the crowd I thought it was over, but he continued the solo with his bare hands and sometimes with his fists, wrapped up inside a multi-coloured light inferno. Absolutely incredible and the only thing I could say after was "What the fuck was that?" After the end of the main set the audience was so excited about the band, they "encored" them back for some more songs
Rating

Music: 9
Performance: 9
Sound: 9
Light: 9
Total: 9 / 10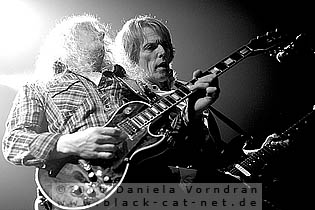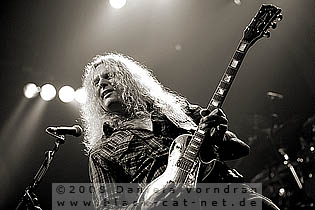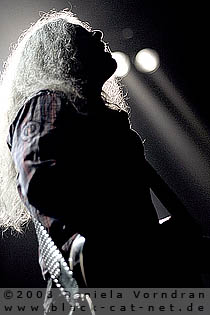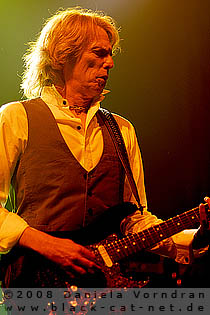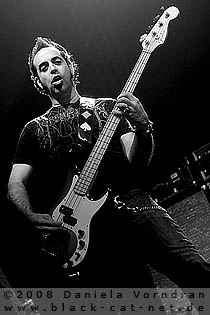 Uriah Heep

As one of the first bands to fuse progressive with metal URIAH HEEP, formed in 1969 are a precursor to the progressive metal genre, but they also draw influence from progressive rock, hard rock, heavy metal, jazz, and sometimes even country. The first album 'Very 'eavy, very 'umble' from 1970 already featured a Top 30 hit with 'Gypsy'. The second instalment 'Salisbury' (1971) included the band's most famous song to date 'Lady In Black'. Subsequent releases would find the group's ever-shifting line-up (between 1969 and 1980, the band changed drummers five times, bassists four times, and lead singers twice).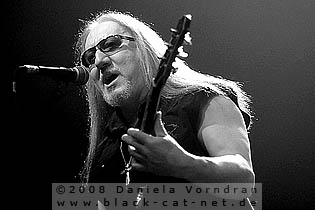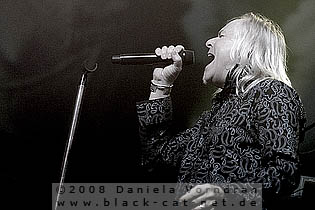 In 1986, Canadian singer Bernie Shaw joined the line-up as lead vocalist and has this position ever since. The line-up then remained unchanged until drummer Lee Kerslake had to leave the group due to ill health in early 2007. Throughout their log career the band released incredible 21 studio albums, but for the latest album 'Wake The Sleeper' (2008) the fans had to wait 10 long years. URIAH HEEP is Bernie Shaw (vocals), Mick Box (lead guitar, vocals), Trevor Bolder (bass, vocals), Phil Lanzon (keys, vocals) and Russel Gilbrook (drums, vocals).
http://www.uriah-heep.com/
/
http://www.myspace.com/uheep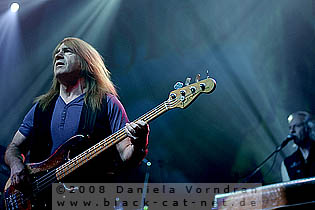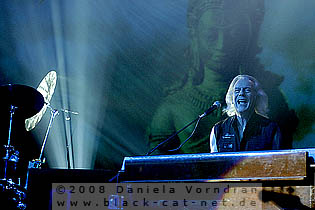 Music & Performance

The big question hanging in the air was if there was still some energy left in the crowd after the THIN LIZZY show and the answer only could be a big YES. It even seemed like some only attended the URIAH HEEP gig and skipped the other two performances completely and so they're all flocking into the room now until it was quite packed, even the seats and what can you say. That obviously was the moment everyone was waiting for and the crowd raptures when Bernie Shaw appeared on stage, followed by all other members to finally start the performance and the audience was with the band right from the start with clapping hands, head banging and dancing, but it wasn't enough for Shaw yet and so he constantly encouraged everyone, also the people on the seats and it made an impact. But the man really had such fun on stage and was in such good temper, it was really infecting.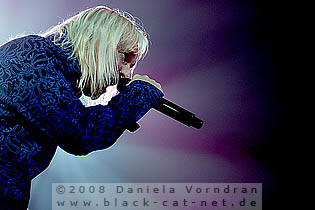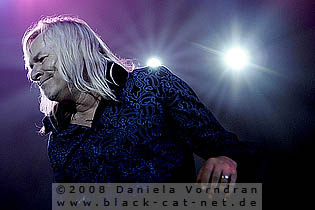 That said, he's an excellent singer with a powerful timbre. The band played ALL tunes from their most recent album 'Wake The Sleeper' like the shredding and fast 'Overload', 'Tears of The World' or the wonderfully hymnal 'What Kind of God' with marching drum accentuation. Of course they would play some classics too of which I unfortunately don't know the names (I know I'm a cultural low-brow) but 'Lady in Black' still hadn't been played when we had to leave. Bernie always countered "We have lots of time left". Too bad, we didn't. One word about the light show which was one of the best I've seen so far. Everything on stage was filled with light in various colours and adjusted to the mood of the corresponding song. But as good as the band was, in my opinion they couldn't catch up with THIN LIZZY that night.
Rating

Music: 8
Performance: 8
Sound: 9
Light: 9
Total: 8.5 / 10