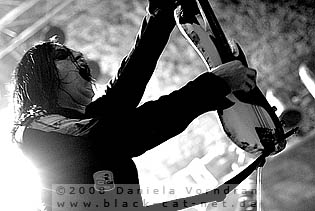 Matrix, Bochum, Germany
4th November 2008
Wednesday 13, Big Boy


In this year's April, WEDNESDAY 13 returned from their graves with their third album 'Skeletons', of course a tour had to follow and on the current leg leads them through Germany as well. On 4th November, they stopped at Bochum's Matrix to cover it with their horror.



Big Boy

What really led to the foundation of BIG BOY is as unknown as any other background information, but the story we know is as follows. The man named BIG BOY is said to be born in Sweden, served in the foreign legions for a couple of years before he was discharged (dishonourably). He spent a few weeks in a sanatorium (To visit a friend) until Freddy Mercury manifested and told him to found the greatest Rock'n'Roll band the world has ever seen. Actually we only know a few things for sure. They enjoy a great popularity on MySpace and they've release done album so far, called 'Hail the Big Boy' in 2007. The line-up is as follows: Big Boy (vocals), Gabor (guitar), A.K (bass) and Happy (drums).
http://www.myspace.com/hailthebigboy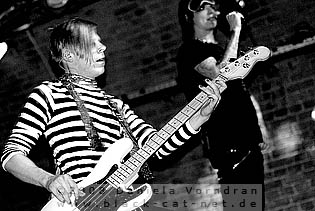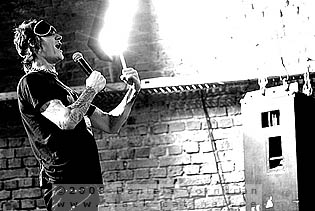 Music & Performance

"Idleness is Death". That was the motto BIG BOY lived by on stage the other day, whereas it was less about progress but standing still on stage in their case. All the three main actors drew energy from a seemingly limitless power source and the word "actors" from earlier has to be taken literally here. These guys are posers in the true sense of the word and used every mean from mimic and partly exaggerated seeming gestures and singer BIG BOY threw a few patters into the room and was kind enough to leave a beer to some thirsty girls in the audience; and they know how to throw a party up there on stage and regardless of whether you like that posing attitude or not it's safe to say they did a great show this night and I think many of the attendees will agree with me on that matter.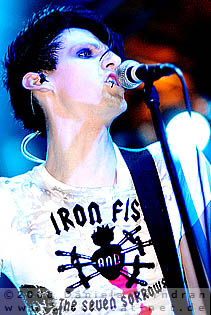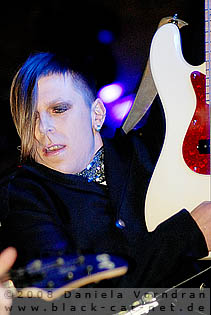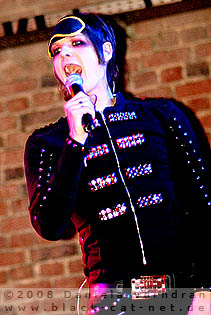 Setlist

01. Intro
02. Ponygirl
03. Terror Era
04. One good Reason
05. Love is almost perfect
06. I hate myself
07. Heroine Heroine
08. Gestasi Baby
09. Get over it
10. Hail the Big Boy
Rating

Music: 7
Performance: 8
Sound: 7
Light: 6
Total: 7 / 10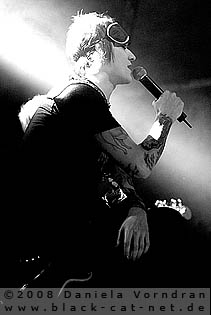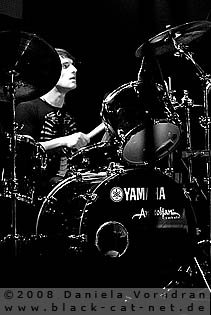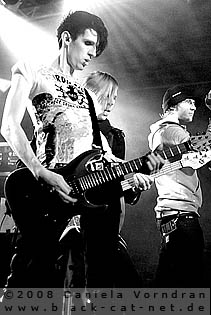 Wednesday 13

The band, named after their front man formed in 2004 and even before an album was released hit the road for a tour through Europe. The first album 'Transylvania 90210: Songs of Death, Dying and the Dead' was released in April 2005 on Roadrunner Records. A video clip was shot to the track 'I walked with a Zombie' and another to 'Bad Things'. Prior to the recordings of their second album, WEDNESDAY 13 left Roadrunner Records and signed with Rykodisk. The second album, entitled 'Fang Bang' was released in September 2006. Subsequently the band toured again with a new line-up which would change several times until 2007. Preceded by a big promotional campaign, the third album 'Skeletons' was released in the US in April, exclusively in "Hot Topic" stores and without a label and a EP 'Bloodwork' followed right behind in May. The line-up is: Wednesday 13 (vocals), J-Sin Trioxin (guitar), Nate Manor (bass) and Johnny Chops (drums).
http://www.wednesday13.com/
/
http://www.myspace.com/officialwednesday13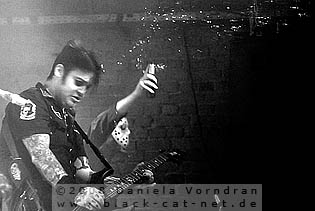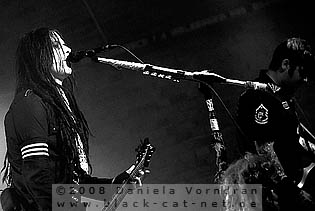 Music & Performance

The name WEDNESDAY 13 was hardly more than a name for me before this gig, but I heard they would be interesting to watch so I was curious about what would happen, but this gig already had one specialty up its sleeves beforehand. The band obviously has a chiefly young audience; at least it was like this in Bochum. I felt a little old this time, really. First a few details on the stage decoration: A few red-white streaked displays with the band logo on it whose upper halves were hidden under a cloth and later revealed the demonic face of a clown. The special microphone stand had a hairy monster thingy toed to it. I couldn't clearly recognize what it was in particular; some kind of werewolf I guess. Soon the lights went down for a short while, the band ran on stage and the party was on.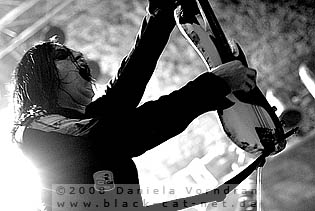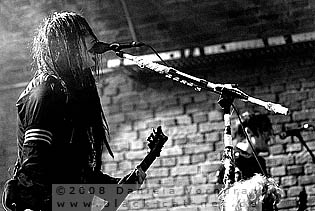 And the black clothed band members with the pale faces didn't have much work encouraging the audience. Jumping, clapping and dancing people all around and in the middle a mosh pit. On stage it was pure energy as well and WEDNESDAY 13 continued where BIG BOY left off however with a little less posing. The songs mostly had been trimmed on speed. They pressed forward very much, exceptions included. Regularly after two or three songs the lights went down again and you could here small creepy instrumental intermezzos. FRANKENSTEIN paid us a visit too, staggered over the stage and supported the lads for a little while on the guitar. Relatively early the band left the stage, but an encore followed hard on it and accompanied by Darth Vader's theme they returned again. . Both for the audience and the band this was a great concert and even I had my fun there before it was time for me to leave.
Rating

Music: 8
Performance: 8
Sound: 8
Light: 8
Total: 8 / 10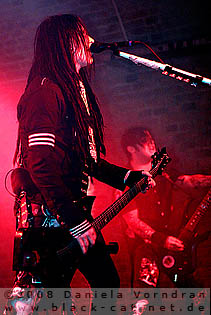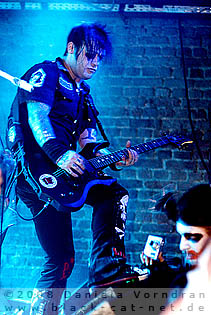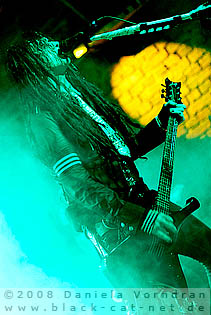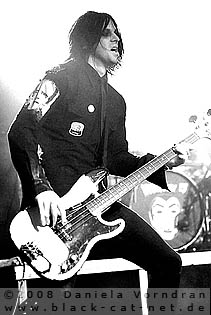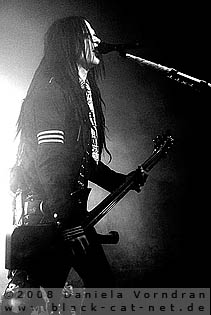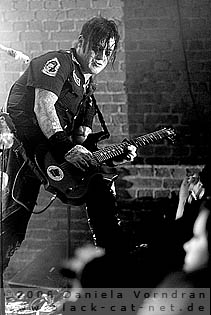 All pictures by Daniela Vorndran (
http://www.vorndranphotography.com/
/
http://www.black-cat-net.de/
/
www.myspace.com/vorndranphotography
)
{jos_sb_discuss:17}