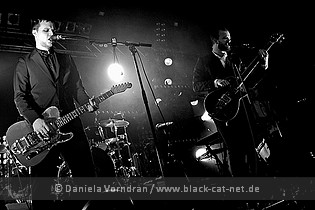 Live-Music-Hall, Cologne, Germany
21st March 2011
White Lies, Crocodiles, Transfer

In January, WHITE LIES unleashed their sophomore 'Ritual' and it became one of success. That and the anticipation of getting to hear plenty of songs from the debut might have contributed to the queue reaching half across the street and making the Cologne show being a sold-out one.



Transfer

The four-piece composing Matthew Molarius (vocals/guitar/bass), Jason Cardenas (lead guitar/vocals), Shaun Cornell (bass/keyboard/vocals), and Michael Cooper (drums) drew attention to themselves first with the release of their 2008 'Sunken Eyes' EP combined with a series of acclaimed live shows expanding their audience even more. With 'Future Selves'; they've released their first album recently. https://www.facebook.com/transferband / http://www.transferband.com/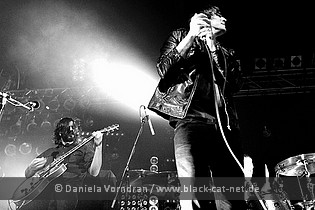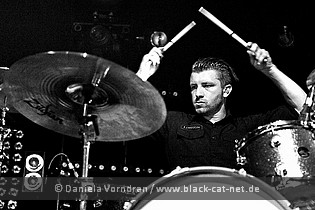 Music & Performance
With TRANSFER one band was opening the show I'd never heard of before the concert's date and this simple fact bears one advantage: You're completely unbiased regarding a band's performance. They started it at a fair pace the drums kicking clearly and strong vocals with a blues appeal resonating within. They were accompanied by a sheer joy of playing and also the audience were having fun watching them performing and expressed the same by sending loud applauses up to the stage after a song and fair head nodding. Also there was an audible psychedelic influence in their music giving it another intriguing overtone. Following a six song set, ending with the protean 'White Horse'. A band to look out for!

Rating
Music: 7
Performance: 7
Sound: 7
Light: 7
Total: 7 / 10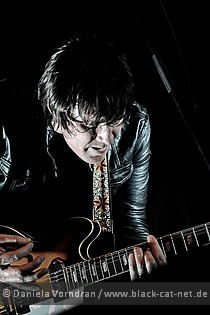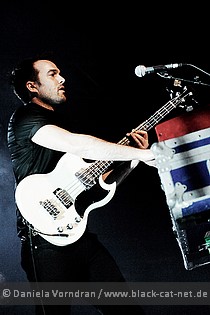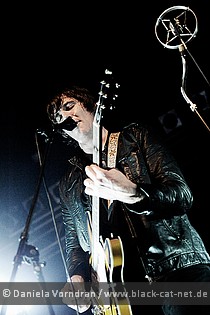 Crocodiles

The band was formed in 2008 after the core members' former bands had broken up. Their single 'Neon Jesus' led to the band getting wide exposure and a label signing. The band released their self-recorded debut album 'Summer Of Hate' in 2009, followed by a tour to support the album. Subsequently, they entered the studio to start working on their second album 'Sleep Forever', released in 2010. http://www.facebook.com/killcrocodiles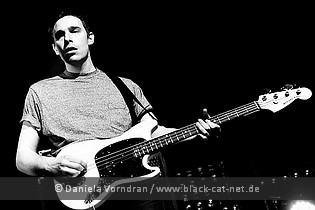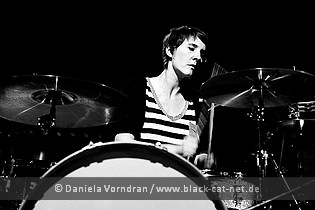 Music & Performance
The organ opening the show of this evening's second band reminded me very strongly of opening a sermon. Somehow that sustained sound is connected to the church in my mind, but the connection was bound to dissipate within the course of the band's performance. In parts looking like a 1980s beach boys the sound of the CROCODILES itself followed a trajectory leading into something of a cleaner garage sound. It's been void of most of the dirty elements that define this style of music while fully embracing its kick-ass, adrenaline drenched character and adding a slice of folk music. So now that we're done with this lengthy description of a style we can start talking about how it all hit with the audience and the answer is: More than well! In fact, some were going as far as to say they were ready to leave afterwards! I'm just kidding but with that mixture and a huge stage presence the mood was excited to say the least, despite the band encountering a few technical problems that caused the speakers to opt out several times.

Rating
Music: 7
Performance: 8
Sound: 7
Light: 7
Total: 7.3 / 10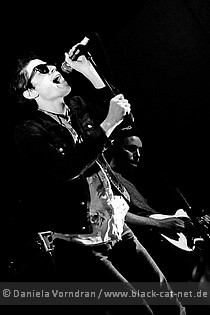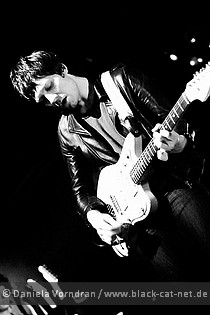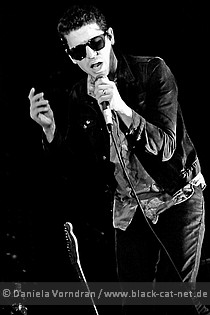 White Lies

WHITE LIES came into being in 2007. On their first live appearance in 2008, they immediately attracted the attention of a record label, going on to sign them eventually. In 2009 the young trio WHITE LIES landed one of THE album hits with their debut 'To Lose My Life', rewarded with favourable reviews all over the place. Now it's 2011 and the three-piece has just released their sophomore 'Ritual' which proved it's able to fill the footsteps of its predecessor. http://www.whitelies.com / http://www.facebook.com/WhiteLies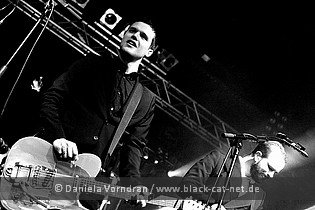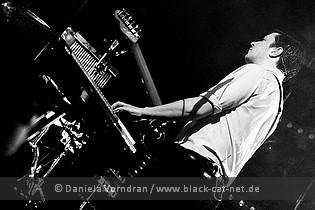 Music & Performance
As soon as that waiting time was over, the tension broke way in exciting screams once the band members appeared on stage. The fans immediately hooked up with the first song played, which was 'A Place To Hide', and thus kicked off the evening with something classic for the die-hards, present in abundance at the gig it seemed. The next song came straight off the 'Ritual' album with 'Holy Ghost' and "Whoever told you to move your body like that" as well could've been addressed to fans dancing wildly at the time. When playing live the WHITE LIES sound becomes much more earthly, rocking and unfolds greater dynamics than played of a CD. The anthemic part came up next with 'To Lose My Life', a song wherein Harry McVeighs big gestures had greatest impact on the people's behaviour. On 'Strangers' it had one on mine, since I was highly impressed by the vocal delivery on that one, even though in higher pitches it got a bit thin to be honest.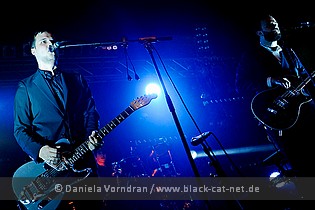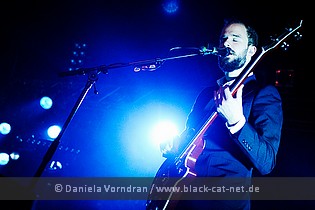 'E.S.T.' opened spherical realms to the audience and here McVeigh's vocal could really score. Where he couldn't score all the time was with 'Is Love' where he didn't quite hit the notes at any time. The annunciation of 'Farewell To The Fairground' was like him saying "Could you please cheer as loud as you can people?" and the reaction was accordingly. But it's a hymn and how else could the reaction be?! 'Piece & Quiet' brought a little of the synthetic shine of early synth pop coupled with the band's own sound and indeed catered for a series of tranquil moments. As a "Song you might know" it was described and it was safe to say they all did judging from the rapture the word 'Death' put them in and a big celebration followed after which it was already time for the guys to leave the stage…for now, because here was still some work to be done, let's call it wrapping up some 'Unfinished Business' with 'The Power & The Glory' of their music bringing us a wonderful evening, leaving just happy people in its wake.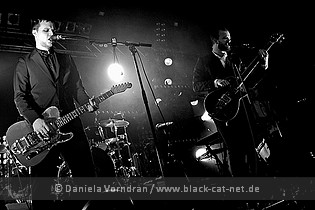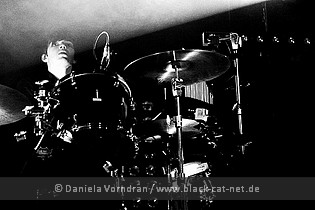 Setlist
01. A Place To Hide
02. Holy Ghost
03. To Lose My Life
04. Strangers
05. E.S.T.
06. Is Love
07. Streetlights
08. Farewell To The Fairground
09. Peace & Quiet
10. The Price Of Love
11. Bad Love
12. Death
---
13. Unfinished Business
14. The Power & The Glory

Rating
Music: 9
Performance: 8
Sound: 8
Light: 7
Total: 8.3 / 10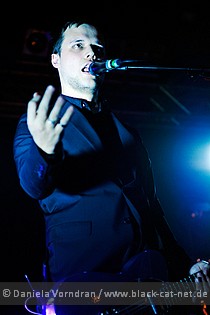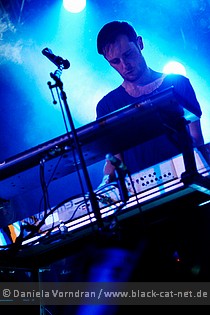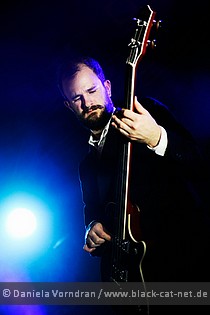 All pictures by Daniela Vorndran (http://www.vorndranphotography.com / http://www.black-cat-net.de/ / www.myspace.com/vorndranphotography / www.facebook.com/blackcatnet)