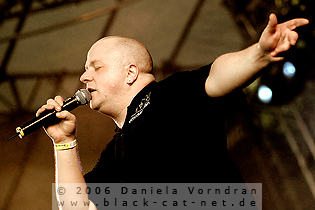 Interview with
Ronan Harris of VNV Nation


New studio, new album, new tour – VNV NATION are back, stronger than ever, trying to show us what they can do. I talked to a really happy and funny Ronan Harris about the new CD, the upcoming tour and their fans.
In April 2007, you are set to release your next album 'Judgement'. It's promised to be your most powerful and unique album ever. What can you tell us about it?
I just love the album! With the last one we didn't achieve everything we wanted but now the CD has such a strong concept. We had about a 1000 ideas we recorded. Putting all of that together was really stressful but we're proud of it. Every song is an interpretation of the title 'Judgement'. We tried to make it as interesting as possible. We put all of our heart and soul in it and yes, you can say, we were possessed with the album! [laughs]


You just moved to a new studio. What is different about it?
I actually already moved after the 'Matter + Form'-Tour. Our old producer just wasn't the best one, so we felt it was time for a change. And we also wanted something for a longer time, not just for a couple of weeks. The studio now is in an old complex. It is really professional and we record just about everything in here. An advantage is definitely that we have all of the equipment in one room. And in addition to that: the people here are so nice. You have a "family feeling". Everybody loves to hear each others music and that's a great help to have them listening to our stuff.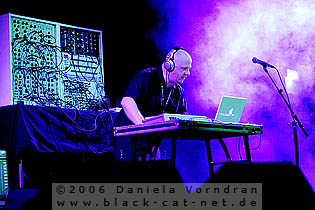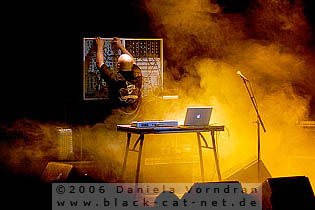 Your tour will start March 21st. Are you excited about it? And what surprises will this tour hold for the fans?
Of course, we're always excited. As I just heard, the tickets are selling really well.
[RoD remark: some of the shows are already sold out!]
That makes me even more excited. And another thing is that we didn't really put any big adverts up, maybe on the internet and in some mags but not that much. So it's even more surprising for us that the tickets are selling that good. I think it's gonna be our best tour yet. The design of the stage is very minimal but at the same time it's theatrical. We concentrate on getting our fans a good show. We want them to be part of the show, that's our main goal. We have some really good songs and we're finally wanna get going! [laughs]


You will be performing at this year's "Coachella Festival" in Indio, California. Something no band whose origins are in the post 80´s industrial scene has ever managed. Are you proud of that? What does it give to you?
Yes, we are extremely proud of it. There is no festival like it in Germany. You know, we have the feeling "to be accepted" by the other artists. The "who is who" of the alternative music "scene" will be there. Actually, calling it a "scene" is wrong. We don't think we're part of a "scene". We just do what we can do best and try to create something people like. We don't care about how they are dressed; it's the character that counts.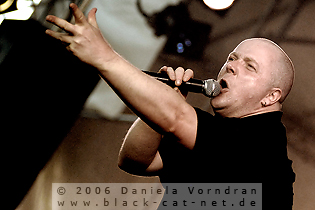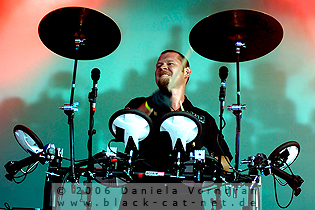 You have a big range of fans all over the world. What do they mean to you?
They are just everything. We try to spend as much time as possible with them. We always try to talk and meet with them after the shows or in between. They are very important to us. We love to get together with anybody who has to say something. Our music is the easiest way for us to express what we feel. And getting that back from the fans is a feeling you can't really describe. That's what we make music for!

What do you think, how big is your connection to the "Gothic Scene"? And what does it mean to you?
Shall I tell you something really shocking? I have never been a "Goth". That term didn't exist until the last 80s. I'd always call myself an "Electro". Actually, the term "Goth" just doesn't cover it. It's more an "alternative melancholic scene" and that has different aspects to it. But as I said before, the word "scene" means nothing to me. For example: I also listen to classical music. Does that mean I come from the classical scene? No. So, we don't really see us as a part of a special "scene". And to be honest, we don't want to neither.


Recently, I turned on the TV and saw one of your videos on one of the music channels like MTV or VIVA. What do you think of them playing your music?
Oh, they do? I didn't know. They really do? [laughs] Well, maybe your music will stand out. We are not trying to be commercial at all, so we didn't want them to do it. Actually that's not bad. We are happy about it but we'd rather have them playing our music than the shit that is being played at the moment! [laughs] Maybe one person will watch the program and see our video and he'll say "Well, hey, that's not bad!" and that's all we want to achieve with that. Even if it's only one person seeing it and noticing that our music has more substance and sense than all the other crap there.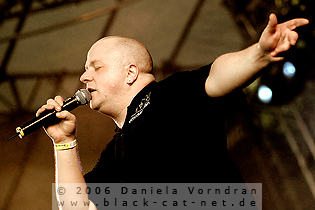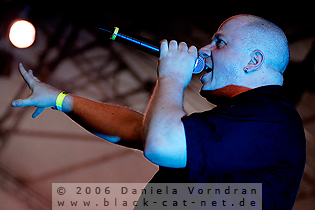 Ronan, you have a new project called MODCOM which had its debut at the WGT in Leipzig. Is this the project going to be a major thing for you for the next time or is VNV NATION still going to be the main point to set your focus on?
Well, MODCOM actually was a hobby that became a CD that became shows. I still love working for it but VNV NATION is my passion, it's my life. And that's what it's always gonna be! I also put all my effort in MODCOM, no question, but VNV NATION is my main focus at the moment.

There used to be the rumor you had a project with the lead singer of the band DIMMU BORGIR. What's true about that?
[laughs] No. [laughs again] You know, there was an interview I did with Sven and we do like each other as people but no, there is no project going on whatsoever. They are friends of mine and I really do appreciate them for being themselves and for being the good friends they are. Thinking about that, it probably would sound weird, but I'm not against it in general. [laughs again]


You will be writing the soundtrack for the movie "Gene Generation". What information can you give us about this upcoming project?
It's going to be a sci-fi film and it's kind of a Manga / Blade Runner mix. I was complimented by them to ask me to do the soundtrack and I'm really looking forward to it. It was really special for me to transform the feeling of the scene into a sound. It's not a big budget movie but I did the job for love and not for money. We hope it will be released before the end of the year.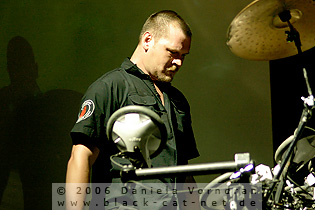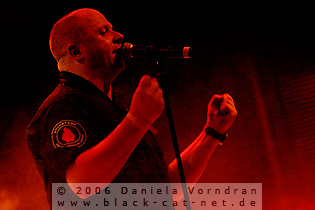 Last question: Is there anything else coming up we can look forward to?
Yes, there is. Some singles are going to be released and of course, the tour is coming up. We are also finally releasing our last album 'Reformation'. It's late because of legal reason. We want it to be 50% studio tracks and 50% live. We had some problems with it but now, we can finally say "Yes, we are going to release it!" We didn't want to put it on the market with 'Judgement'. It's crap to release them at the same time. They would just "fight" against each other. So, the fans can look forward to a lot of music and an awesome tour coming up!


Thank you so much for this really nice and funny interview, Ronan! I'm looking forward to the show!
{jos_sb_discuss:21}