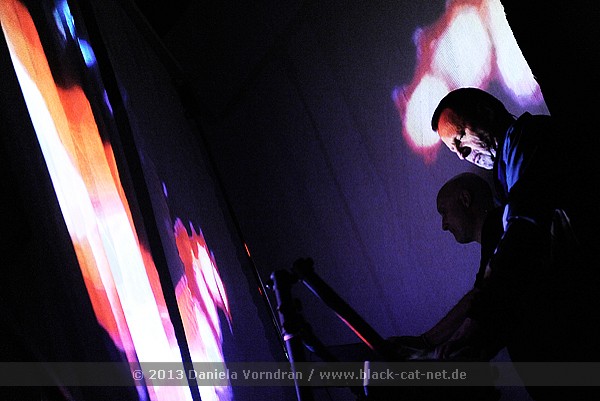 Interview with
Jean-Luc De Meyer (vocals) and Patrick Codenys (keyboards, programming) from UnderViewer

UNDERVIEWER, the "proto-Front 242" duo, releases a first album - exclusive interview and premiere!
UNDERVIEWER is the duo formed in 1979 by Patrick Codenys and Jean-Luc De Meyer before they joined FRONT 242. In its brief existence, UNDERVIEWER had not issued any single or album under its own name. Only some tracks were offered as bonus tracks on the 2004 reissue of Front 242's 'Geography' and on an Alfa Matrix compilation.
Today, 35 years later, the duo has reworked the songs using modern production tools and is about to release an album entitled 'Wonders & Monsters,' which is a total success. Their minimalist synth-pop music is transcended by a new, powerful sound, while keeping its experimental spirit. Our journalist Phil Blackmarquis had an interview with the duo in Brussels for the WAVES radio show and they agreed to give Reflections of Darkness the exclusivity of the album announcement for the English speaking online press. Let's join Jean-Luc, Patrick and Phil as they talk about the new album, the start of UNDERVIEWER and the FRONT 242 career.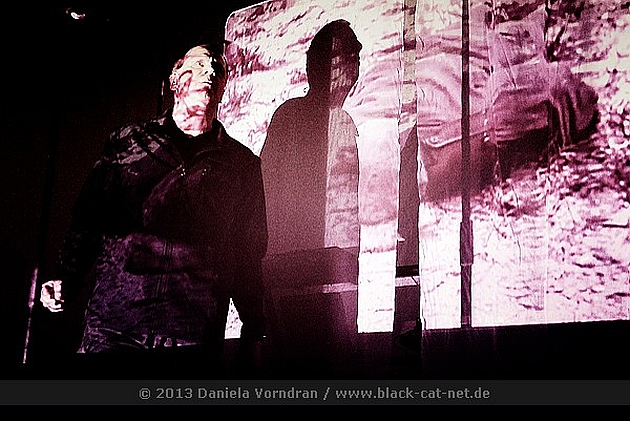 Reflections of Darkness [RoD]
: Let's start with the beginnings of UNDERVIEWER and FRONT 242: we are in 1979-80?
Patrick Codenys [PC]:
Yes, it's then that we started working together, Jean-Luc and me. Then, the boss of the New Dance label, who had produced FRONT 242's first single (Editor's note: 'Principles / Body To Body'), was interested in releasing a single of UNDERVIEWER. The music was ready, including Jean-Luc's voice. But as we did not have much experience in recording, mastering, etc., we needed help for technical and professional aspects. He advised us to work with Daniel (Bressanutti), who had already produced FRONT's first single. We knew Daniel: we used to see him in the Hill's Music store in Brussels, where he used to work. So, we ended up in Daniel's small studio and laid down the foundation of UNDERVIEWER's first single. Meanwhile, Daniel offered us to work with him and Dirk Bergen on the FRONT 242 project and we did 'U-Men' together. 'U-Men' was released and met with great success in the alternative music scene. Because of this, UNDERVIEWER was somewhat swept under the carpet and we developed our collaboration around the FRONT 242 project.
RoD
: And so the UNDERVIEWER album contains songs from this period?
Jean-Luc De Meyer [JL DM]:
Yes. Everything has been redone in the spirit of the time. With the same instruments but with current production methods.
RoD
: Did you re-record everything or re-use existing tracks?
JL DM
:
It was a bit of both. The tapes have over 30 years of existence; some sounds were damaged, so we took what could be recovered and re-built the rest identically.
RoD
: And the vocals?
JL DM
:
The vocals were re-recorded with the original melodies and some slightly adapted lyrics. But in keeping with the spirit of the compositions. We wanted to preserve the spirit rather than the form, but we managed to preserve, say, 50% of the form.
PC
:
Originally, it was recorded on a 4-track...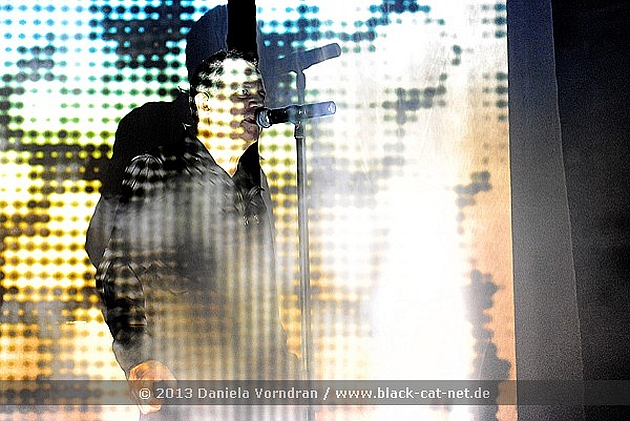 RoD
: A TEAC, I believe?
PC
:
A TEAC, indeed! We transferred the analogue tracks on computer. In some cases, we also took sequences or even individual sounds. But what is important is that we kept the original working method of the time. We voluntarily limited ourselves in the type of instruments, respecting the simplicity and also the difficulties involved by "primitive" synth technology...
RoD
: So no automatic synchronization via MIDI?
PC
:
Yes, there is MIDI, but in an analogue environment. So, no opportunity to do gates via MIDI or to work on velocity: we used a very "basic" technology.
RoD
: The title track of the album, 'Wonders and Monsters', had already been published in 2004 on the Alfa-Matrix 'Re: Connected [1.0]' compilation, which allowed me to make the comparison. I found that the new version offers a much wider, more powerful, much clearer sound. There is also another difference: the ambient introduction, which was not on the original.
PC
:
Right. At the time, we were doing a lot of research. I was a big fan of Brian Eno and of German krautrock, which includes a significant ambient catalogue. And given the complexity of sequencers and machines, it was not always easy to create "songs", I mean tracks with a "song" format. Our tracks were usually 8 to 10 minutes long. So we had a dozen UNDERVIEWER ambient tracks, which we didn't put on the album for obvious reasons of space and of concept. This intro is therefore a kind of relic, like the remains of these "ancient" ambient tracks.
RoD
: On the album, there are other tracks which had already been published before: more precisely those that were offered as "bonus tracks" on the 2004 reissue of 'Geography': 'Syncussion', 'I Remember', and 'Trouble'. Which means that all the other tracks were completely unreleased to this day?
JL DM
:
Indeed.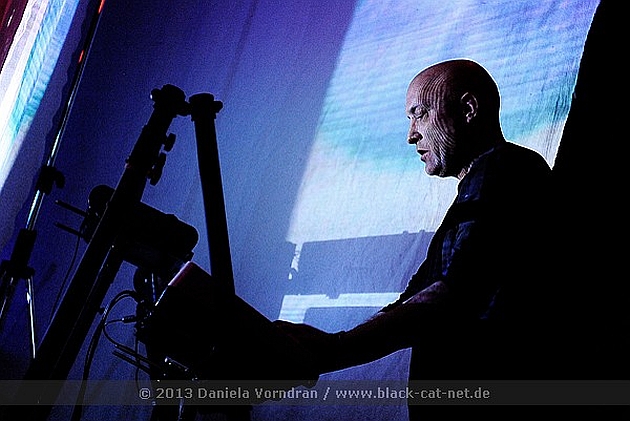 RoD
: Not even released on tape?
JL DM
:
No. Some tracks are based on drafts of the time and were finalized recently.
RoD
: For example: 'Atomic Tears'?
JL DM
:
It is a track that existed, music and vocals. We just changed the title and some vocal melodies.
RoD
: It allows me, Jean-Luc, to evoke the theme of the lyrics. In the songs, we find the typical dystopian, science-fiction universe and sociological topics that are, in my opinion, your trademark.
JL DM
:
Except that here, the themes are wider. There are no limits, no specific topics. It's the beginning of our career, so creativity is bubbling, there is no censorship, no restriction. That's what makes the charm of this project.
RoD
: This is research, as you said earlier, which, by the way, is in line with the name of the project: UNDERVIEWER.
JL DM
:
Yes, an "Underviewer" is a mines inspector, someone who will delve into the underground to search for things with curiosity and interest; it is a good definition of our artistic approach, I think.
PC
:
Speaking of vocals, constraints in 1980 were much higher because the music was more rigid. So Jean-Luc had to invent a new "style" for vocals, which he then reused in FRONT 242. At that time, it was difficult to find a singer who could sing on electronic music that was very basic, with "white noises" and a very limited "musicality". It's an exercise in which Jean-Luc has always been very strong.
RoD
: What were your influences back in 1979-80? KRAFTWERK, OMD,...?
PC
:
For me, the reason I wanted to play keyboards was industrial music, THROBBING GRISTLE, CABARET VOLTAIRE and this kind of projects. Artists who did not need to be musicians to embark on a musical adventure. I was also a big fan of krautrock, of KRAFTWERK, of course, but also of HUMAN LEAGUE, OMD, THE NORMAL... There were already a few "electro" productions at that time. Brian Eno too, especially for the concept albums, the idea of developing albums with a well-defined structure. But as the technology was very difficult -the first synths were a pain in the ass to use-, we had to find our way, our own style.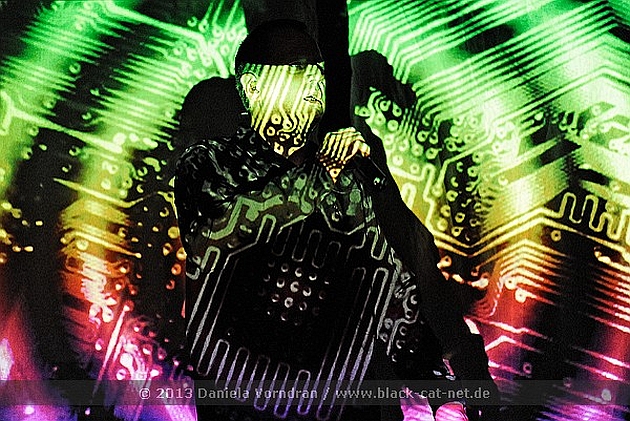 RoD
: And for you, Jean-Luc?
JL DM
:
The same thing: all that came from Germany. And beside this, punk, especially for the energy and the coldness. Bands like WIRE...
RoD
: There was also JOY DIVISION and I find that reference in your song 'Trouble', which has a very nice Factory sound, an atmosphere very 'Atmosphere'... (laughs)
PC
:
Well thought of!...
RoD
: There is the slow rhythm, the solemn aspect, the chords, the stripped arrangement,...
PC
:
It's impossible not to mention the PLAN K period. I saw JOY DIVISION and CABARET VOLTAIRE there...
RoD
: With William Burroughs doing a reading on the first floor!
PC
:
Yes! It's the kind of evening that changes your life. And it is true that the Factory sound was fascinating.
RoD
: To return to the beginning of FRONT 242: how would you describe the contribution that you both brought when joining the project?
PC
:
First a little more sound research and also the capacity to create songs with a song format. If you listen carefully, 'Body To Body' is pretty much influenced by D.A.F., with the drums and the bass lines. When we arrived, we brought experimental, weird sounds but also the ability to create songs, thanks to Jean-Luc's compositions and to the structures that I was able to put in place.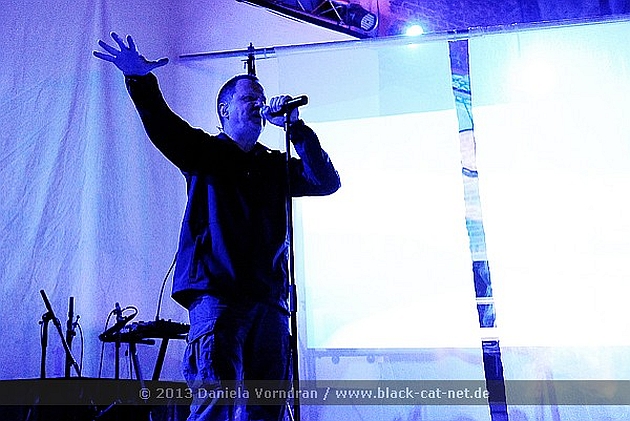 RoD
: The new sounds you mentioned were industrial sounds, I suppose?
PC
:
Yes, "white noises", that kind of sounds. I was not a musician at the time so I was bringing sounds that do not correspond to the range of classic notes. They were sort of dissonant, "out of tune", which gave a special colour to our tracks.
JL DM
:
As to the vocals, Daniel let us hear his demo of 'U-Men' and the song came very quickly. It immediately gave me ideas. With me it's all or nothing. There are tracks I've been working on for 10 years and nothing is coming... (laughs)
PC
:
Daniel's strength is that he used to be a drummer, so he creates great sequences with drums and a bass line. At the time he told us: "I'm looking for people to go further and build songs". Because you cannot redo 20 times 'Body To Body' to make an album. This is where we all worked together to create 'Geography', which was the start of everything.
RoD
: And if you had to choose a FRONT 242 track, like a forgotten gem, a track that nobody plays, what would it be?
PC
:
I've always liked 'Sample D.', an instrumental that was on 'Endless Riddance', the 12-inch which also has 'Take One' on it.
JL DM
:
For me, it would also be an instrumental: 'Geography II', a very simple and very powerful track. Originally, it came from an error in programming and we said: "It's great: let's keep that!".
PC
:
There's also 'Kampfbereit': this song was originally an UNDERVIEWER song and it was later credited to FRONT 242 on 'Geography'. It's a perfect link between the two projects.
RoD
: At the time, the term "Electronic Body Music" was created by FRONT 242, but other actors have also claimed to have coined it.
JL DM
:
We're not claiming anything but I think we were the first to use the term, on the album 'No Comment' in 1983. If others have evidence, they can send it to me. I am a historian by training: I need evidence! (laughs)
PC
:
On Wikipedia, it says that KRAFTWERK cited the term in an interview...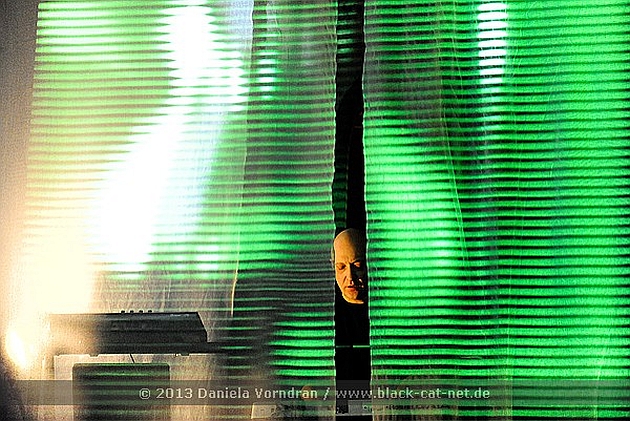 RoD
: There is also D.A.F., who used the term "Körpermusik" ("Body Music").
PC
:
We chose the EBM label even before 1983 because people were saying everything and anything to describe our music. They said it was between Tina Turner and THROBBING GRISTLE... (laughs) It was too vague, we wanted to clarify it and therefore found this EBM tag.
RoD
: We previously spoke of sounds and synths, I read that you, Patrick, had bought an Emulator synth thanks to the lottery?
PC
:
Yes, in fact, it was my father who won the lottery and he offered to give me a car. I remember I was in the centre of Brussels and saw all the cars lined up and I said, "If I buy a car, I'll be like everyone else." So I said, "I want a synth".
RoD
: On which album did you use it first?
PC
:
Every album of FRONT 242 has a sound related to the type of technology and synths used. 'Geography' and 'No Comment', for example, are analogue oriented; 'Official Version' is already the beginnings of sampling; on 'Front By Front', it's algorithmic, based on Yamaha's DX7. Then, there was digital, virtual acoustic. Very often, the instruments dictated the sound of an album and the working method.
RoD
: There is also the MINISTRY episode and the US tour. I read that MINISTRY changed their music because of or thanks to FRONT 242?
PC
:
I think that's certainly true. At that time, MINISTRY were playing pop/ synth pop music. We were opening for them. Every evening, Al Jourgensen was watching us from the side of the stage. Result: he wanted to toughen his music so when he went up on stage, he asked his musicians to play harder, with distortion. And at the end of the tour, MINISTRY's sound was more and more like our sound. Then he released 'Twitch' and went 100% "dark".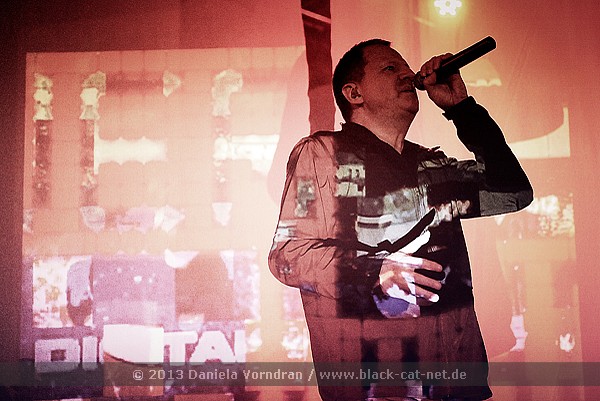 RoD
: To conclude the interview, I cannot resist asking the usual question on future FRONT 242 productions. I understand that you are now focusing on concerts and that they won't be any news studio productions?
PC
:
I think we won't create new tracks together. We still get along very well but tastes have changed. The only interest would be to make "vintage" music like in the 80's. Because that's what people are asking. They don't want a new 'Pulse' or a new musical direction. It would be a way to close the loop. But at this stage I don't think it will happen.
JL DM
:
I agree: it will not happen.
To listen to the full interview in audio version and to discover some tracks from the new album, listen to the
WAVES radio show on Mixcloud
! To order 'Wonders & Monsters', the new UNDERVIEWER album, go to
www.alfa-matrix-store.com
Tracklist of 'Wonders & Monsters'

01. Was soll ich tun
02. A Minor Detail
03. Litany
04. Nobody but you
05. I am the rain
06. Trouble*
07. Wonders & Monsters°
08. What do you see
09. Gone
10. Atomic Tears
11. Syncussion*
12. I Remember*
13. A September Morning
14. These Days
* Already published on the 2004 reissue of 'Geography'
° already appeared on the Alfa Matrix compilation 'Re:Connected [1.0]'
'Wonders & Monsters', the new UNDERVIEWER album, is not available yet. Go to
www.alfa-matrix-store.com
or follow Alfa Matrix on the social networks to be informed about the release date.
All Pictures by Daniela Vorndran (
http://www.vorndranphotography.com
/
http://www.facebook.com/blackcatnet
)