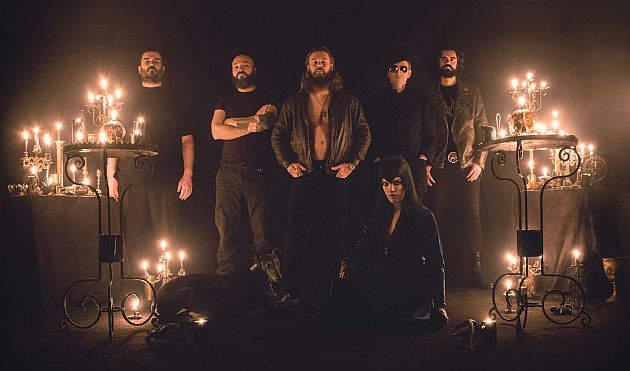 Interview with
Wolvennest

WOLVENNEST or WLVNNST is a band from Brussels, Belgium on the way to a huge international success. Why? It delivers a unique blend of Black Metal, Psychedelia and Dark Ambient music, mixed with a tribal, even shamanic dimension. Compositions include guitar loops, repetitive beats, synthesizers keys mixed to darkened hypnotic vocals.
The band is the fruit of a collaboration between four experienced musicians: Michel Kirby (LA MUERTE, LENGTH OF TIME, ARKANGEL), Marc De Backer (MONGOLITO, ex-DOG EAT DOG, ex-10000 WOMEN MAN), Corvus Von Burtle (CULT OF ERINYES) and Shazzula (ex-AQUA NEBULA OSCILLATOR). In the studio, the quartet is complemented by DéHà on drums, keyboards and production and, on stage, by John Marx (TEMPLE OF NOTHING) on bass and Bram Moerenhout on drums.
Following a first album featuring DER BLUTHARSCH and THE INFINITE CHURCH OF THE LEADING HAND members Albin Julius and Marthynna as guests and co-writers, the band has just released its second album, 'V.O.I.D.', on the German label Ván Records. It was composed solely by the band members and Shazzula is singing most vocal parts. Guest vocalists include this time Ismaïl Khalidi and Alexander von Meilenwald (THE RUINS OF BEVERAST). The album was recorded in the band's home studio, Forbidden Frequencies, with the help of their producer, DéHà.
Our journalist Phil Blackmarquis met the band in Brussels, just before the concert they gave to celebrate the release of their new album.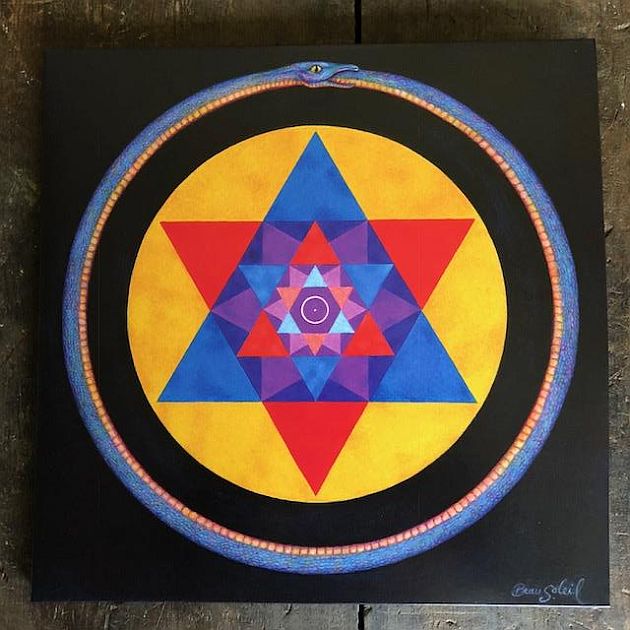 Reflections of Darkness [RoD]
: Can you, first of all, introduce yourself and mention which projects you belong to?
Michel Kirby [MK]
:
In addition to WOLVENNEST, I also play in ARKANGEL, LENGTH OF TIME and LA MUERTE. And next to that, I run my record store, Elektrocution, in Brussels.
Marc DeBacker [MDB]
:
I have a project called MONGOLITO but before that, I participated in many projects and bands, including DOG EAT DOG and 10000 WOMEN MAN.
MK
:
In fact, Marc and I have known each other for over 30 years. We shared a band together at the beginning: MENTAL DISTURBANCE, a project of Hardcore, kind of Crossover.
Corvus Von Burtle [CVB]
:
I started playing in 2005, doing Hardcore. Today, I have several projects in addition to this one: mainly CULT OF ERINYES, which does Black Metal, and will release an album in the autumn. There is also MONADS, a band doing Funeral Doom and LVTHN, doing Violent Black Metal, plus other projects that I participate in anonymously, to keep the mystery...
Shazzula
:
I was in AQUA NEBULA OSCILLATOR between 2006 and 2011, then I played with WHITE HILLS, KADAVAR and I participated in other productions. Now, I mainly make movies and videos. I'm directing a 16mm film, 'The Essor', which deals with parallel universes and shamanism. My big project is 'The Spirit Trilogy', a triptych video installation that includes three films. At the same time, I am also interested in techno-industrial music. By the way, I'll be performing my first live Techno-Indus solo set tomorrow in Zurich at Rhizom Fest.
RoD
: To describe WOLVENNEST, we could say that it is a crossover between Black Metal, Ambient and Psychedelic?
CVB
:
There is a lot of Black Metal. Most riffs come from Black Metal but are played more slowly...
Shazzula
:
...and hypnotically
.
MDB
:
It's a crossover between several people who have different tastes. I'm not so much in Black Metal, but rather in Dark Ambient and psychedelic music.
MK
:
Everyone has contributed to create WOLVENNEST. We started Marc, Corvus and me and then Shazzula arrived. She also has a very specific profile with particular her own influences and contacts. We integrate all that and in the end, the four of us find in the music something that belongs to him or her.
RoD
: And the name, WOLVENNEST, where does it come from?
MK
:
It comes from a Bed & Breakfast, in the Netherlands, called "t Wolvennest"', which means "the nest of wolves". We were looking for a name for quite some time and when I saw the B & B, I thought that "Wolvennest" represents perfectly the crossover side, the different influences that we try to mix.
RoD
: The new album, 'V.O.I.D.', is the second. It was signed by German label Ván Records...
MK
:
It's the most representative label in the kind of music we do. On their rooster, they have URFAUST, THE DEVIL'S BLOOD, THE RUINS OF BEVERAST and many more.
MDB
:
They also have KING DUDE...
MK
:
We knew Sven (note: Sven Dinninghoff, the boss of Ván Records) via Leslie, who is our visual producer. Sven is a passionate guy. He listened to our first album, which was released on WeMe, a Belgian label, and he had a crush on it. He contacted WeMe and took over the license to reissue the first album and now he is releasing the second.
RoD
: Of course, let's not forget your producer, Déhà?
MK
:
He is the 8th member of the band, next to the six musicians and Leslie. He is the producer in our home studio. He mixes the tracks...
MDB
:
And he also has an important creative role, bringing sounds...
MK
:
He also created all the drums on the album.
CVB
:
Previously, Déhà lived in Bulgaria but now he is based in Belgium, so he was present permanently with us in our home studio, which allowed us to get exactly the sound we had in mind.
RoD
: On the first album, it was Marthynna, the singer of Der Blutharsch and THE INIFINITE CHURCH OF THE LEADING HAND, who did the vocals but on 'V.O.I.D.' it's you, Shazzula, who did all the female vocals?
Shazzula
:
Yes, I sing on the title track, on 'Ritual Lovers' and 'The Gates'. But on stage, I take over all the other female voices, for example, on 'Unreal', from the first album. By the way, I'd like to add that the cover artwork of 'V.O.I.D.' is based on a visual by Bobby Beausoleil. I did a clip for him recently and we will probably collaborate more in the future.
RoD
: How did you evolve between the first and the second album?
CVB
:
I think the 2nd album benefits from all the concerts we did in the meantime. It sounds more "rock", more "live". The first was very minimalist while here, we managed to create a more lively sound in the studio. And the production is much better. The instruments have found their place. It has more keyboards, sometimes there are five or six keyboard tracks at the same time.
RoD
: There are also two guest singers?
MK
:
There is Alexander von Meilenwald, of THE RUINS OF BEVERAST, who sings on 'L'Heure Noire' and Ismaïl Khalidi on 'The Gates'. Ismaïl is a friend. I met him when he posted an ad to find a band. When we met, he was on cloud nine because we belonged to all his favourite bands (laughs). He has a doom-oriented voice, with sludge accents, that works well with our music.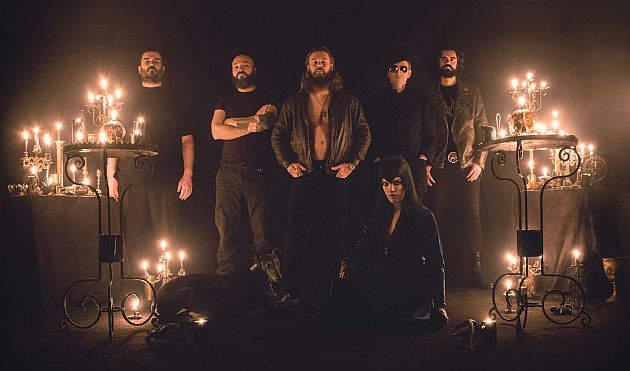 RoD
: Let's review some tracks from the album. What evokes the title track, 'V.O.I.D.'?
MK
:
It gives me the impression that I am at the top of a mountain. A feeling of emptiness, hence the title. Everyone can imagine their own landscapes and their own interpretation, but for me, it's the feeling of freedom that one feels in the mountains. Or in the desert. This is the ideal soundtrack for a trip like the one I did in Morocco, with Ismaïl.
RoD
: Let's talk about the track 'Silure'. It refers to the fish, the catfish that eats pigeons? (laughs)
MDB
:
Exactly. The French word is beautiful; it makes you think of many things, "ciguë" ("hemlock"), or "souillure" ("stain"), it sounds very unhealthy (laughs).
RoD
: As for 'Ritual Lovers', I think it has a special meaning?
CVB
:
Yes, it's a reference to THE DEVIL'S BLOOD, the band that was on our label and no longer exists because the leader put an end to his life.
MK
:
Selim Lemouchi was a close friend of mine and 'Ritual Lovers' is a very important track for me because I wanted to pay homage to the strong complicity between Selim and his sister Farida and everything they did in their project, THE DEVIL'S BLOOD.
CVB
:
In my opinion, they opened the way to the revival of seventies black metal and, in the genre, they were by far the best.
RoD
: In terms of vocals, it's a very melodic piece...
Shazzula
:
Yes, it's an interesting track to sing. I have fun singing it on stage! It's quite progressive and allows me to develop a lot of strength.
RoD
: On stage, you also play Theremin, I believe?
Shazzula
:
Yes, but I also have a Moog Rogue and a lot of effects pedals, including a distortion pedal, to make it a bit more aggressive here and there. But with me, there is always a lot of improvisation; I always work like that.
RoD
: Overall, did you compose the album in the studio?
MDB
:
Yes, most of the songs were born in the studio. It was a natural process, there was a very good feeling...
RoD
: Like an alchemy?
MDB
:
Yes, things happened almost by magic and when I listen to the album now and I look at the cover, there is a real consistency, it's a real success.
MK
:
And later, of course, we worked hard to convert the music into a live performance, to define who does what on stage and to design a "show"...
RoD
: Thanks to your label, you should normally acquire a greater potential at the international level?
MK
:
Yes, the label is doing a great job. But everything will still depends on people's desire. We feel that there is a great interest in our new album. We have received very interesting proposals and it should develop well in the coming weeks.
Listen to the title track of 'V.O.I.D.': https://www.youtube.com/watch?v=_SF9dJ2N5Wc
Buy the new album here: https://www.van-records.de/index.php?manufacturers_id=61&MODsid=97dfcb3ba60731a32784c2bdfb2ed2b2
WOLVENNEST on Facebook: https://www.facebook.com/wolvennestband/
WOLVENNEST will support WOLVES IN THE THRONE ROOM in July. Check the dates: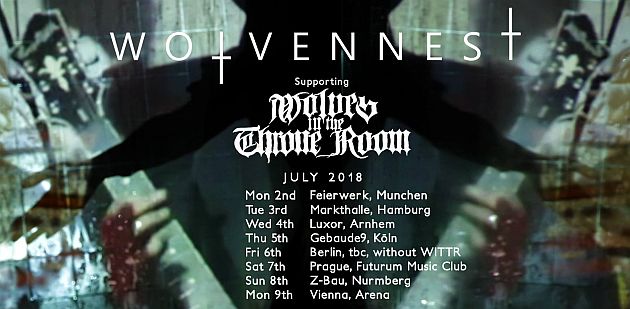 Promo and Live Picture by Burning Moon: https://www.facebook.com/burningmoon666/