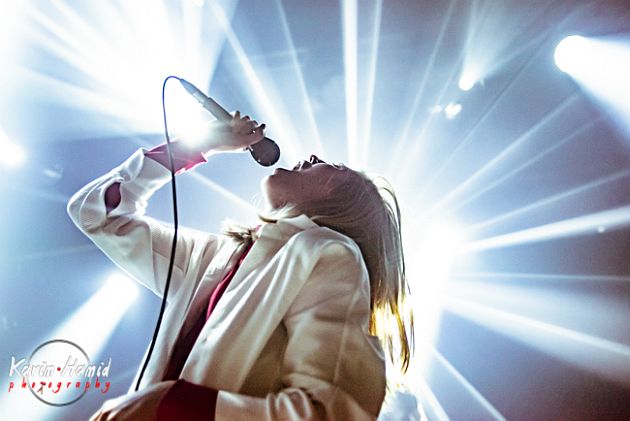 Interview with
Fenne Kuppens (vocals / lyrics) and Kobe Lijnen (guitar / composition) from Whispering Sons

"A blonde girl exorcising her demons on Post-Punk music" - October 30th, 2018 – Brussels
The fall of 2018 is undoubtedly a turning point for WHISPERING SONS. This young Belgian band is indeed releasing their first "long playing" album, entitled 'Image'. Originally from Limburg, Houthalen-Helchteren, to be precise, and now established in Brussels, they have already to their credit an EP, 'Endless Party', published three years ago by Wool-e-Tapes and Minimal Maximal, then two singles, 'White Noise' and 'Performance', released by Weyrd Son Records. The style is Post-Punk tinged with Shoegaze and Indie Rock influences. 'Image' is released in the Benelux on the prestigious PiaS label. A dazzling career debut for this band, described as "the next big thing" on the "dark oriented" Indie scene. Our editor Phil Blackmarquis met Fenne Kuppens, the singer / lyricist, and Kobe Lijnen, the guitarist / composer, in Brussels to talk about all this...
Reflections of Darkness [RoD]
: Fenne and Kobe, this first album is very important for you and the good thing is that it is distributed internationally...
Fenne
:
Yes, the album is signed by PiaS for the Benelux, SMILE for the rest of Europe and Cleopatra Records for the United States. So it's almost a global distribution, which we are very proud of.
RoD
: Do you see an evolution between 'Image' and your previous releases?
Fenne
:
The big difference is that we recorded the album in a professional studio, the GAM studio in Waismes, in the Belgian Ardennes. It was a 10-day retreat in nature in the middle of January. It was snowing a lot so we stayed confined in this limited space from morning till night. This is also why the album sounds so consistent. We wanted to present something strong, with a homogeneous "image".
RoD
: In any case, there is a progression in the scope. The range of action has expanded, the musical technique has progressed especially on two compositions, 'Waste' and 'No Image', which open new perspectives.
Kobe
:
That's right. Previously, we recorded tracks that had been developed on stage whereas here, we took the time to elaborate the songs in studio. For example, 'No Image' was originally a "traditional" composition, with a rhythm on drums and we realized that it was too much, so we deconstructed the song and got something completely different in comparison with the rest of the album.
Fenne
:
Yes, we had the time and the will to devote ourselves to the sound, that's why we chose to work with a producer. We made sure to structure the layers of sounds so that the whole would sound perfectly.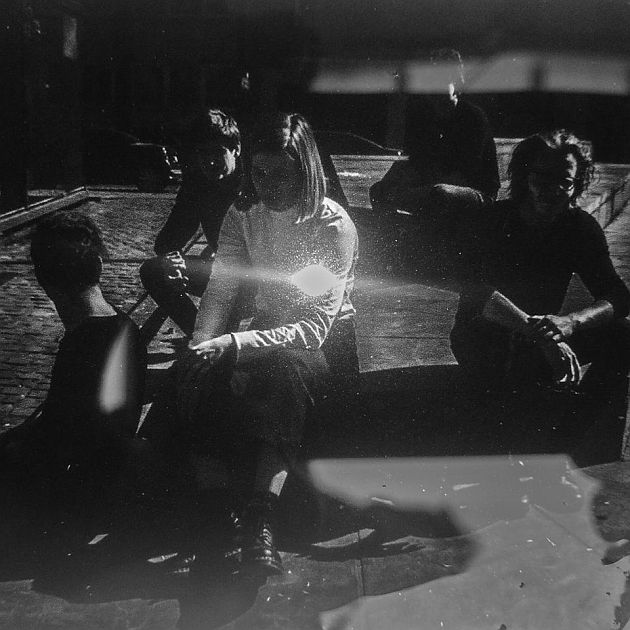 RoD
: Two years ago, you defined your group as "a blond girl exorcising her demons on Post-Punk music." Fenne, are you still exorcising your demons today?
Fenne
:
Yes, and in fact it's only getting worse!
(Laughter)
RoD
: 'Waste' is one of your flagship titles. During the release concert in Brussels, he caused an incredible ovation from the audience.
Fenne
:
Yes, at the end of the song, it was crazy. We felt a huge wave of shouting and applause, which lasted several minutes. We looked at each other, bewildered, saying "what's going on"? The show as a whole was very intense. Everything was set up perfectly from the beginning to the end: a perfect moment.
RoD
: Let's talk about your voice, Fenne. References to Nico, Siouxsie, Larissa from LEBANON HANOVER are often mentioned, but after seeing the concert, I thought of someone else. For the voice but also for the attitude, the fact that you alternate calm moments and moments of total madness, and also for the lyrics, I thought of Patti Smith. When you see Patti Smith go crazy on stage on 'Rock'n Roll Nigger' and literally scream her heart out, it's the kind of thing you do too, in your own way.
Fenne
:
Oh thank you! I love everything Patti Smith does. It's a very nice compliment. That said, I never set myself the goal of singing like anyone else. It came naturally in the writing process and throughout the concerts.
RoD
: Because, in fact, you are a very shy person...
Fenne
:
Yes, that's probably why I have to go on stage to get it all out.
RoD
: Kobe, in 'Skin', your guitar is reminiscent of THE CHAMELEONS. How would you describe your style?
Kobe
:
I developed my style by borrowing a little from guitarists I like, like John Mc Geogh. I like his work with SIOUXSIE and MAGAZINE, but also in THE ARMORY SHOW, especially on the album 'Waiting for the floods'.
RoD
: Your style is also very melodic. In your compositions, there are in general two melodies, that of the voice and that of the guitar.
Kobe
:
Maybe I want to compensate for the fact that I do not know how to sing well, so when I compose, in a way, I sing with my guitar.
RoD
: The job of Sander Hermans on keyboards is very discreet but his soundscapes and sequences are an essential part of your sound, don't you think?
Fenne
:
Keyboards are like "the glue", the cement of our sound. When we do a sound check without keyboards, it's as if the atmosphere, the foundations were missing.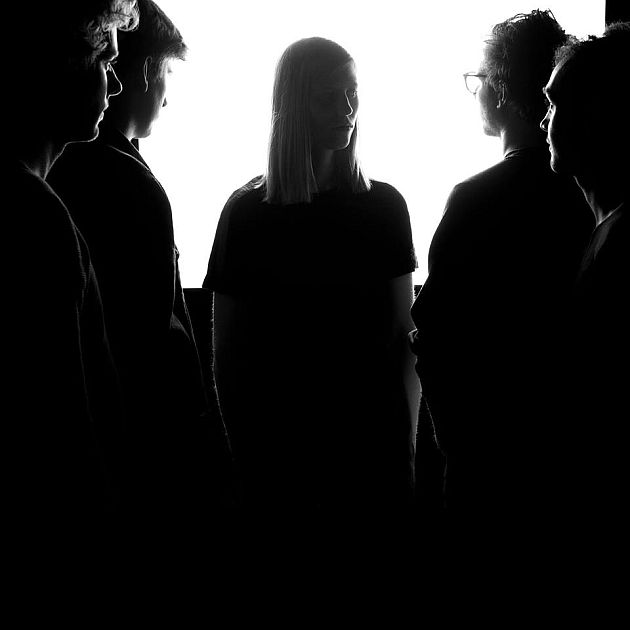 RoD
: Let's also mention Sander Pelsmaeker on drums, who is also amazing, especially because he plays standing and does the bass drum with his left hand on a tom, which is very difficult.
Kobe
:
He started with a drum pad, which is played standing up, and now he has swapped the pad for real drums, which gives a lot more possibilities in the studio.
Fenne
:
On stage, it also gives more dynamic variations and it's also better visually.
RoD
: What is the theme of the lyrics of 'No Image'?
Fenne
:
It's about the image that people have of us, and project on us and with which we must live when in fact it does not correspond to our true personality.
RoD
: 'No Time' is a good example of a more complex composition in terms of structure and rhythm.
Kobe
:
Yes. The other members of the band, especially the drummer and the bass player, were also a little angry at me because the rhythmic parts are quite difficult to play.
RoD
: This allows us to congratulate also Tuur Vanderborne, the bassist, the last to arrive in the band.
Kobe
:
Tuur quickly filled the void and took his place in the group. In 'No Time', the rhythm section does something different compared to the rest of the band and, in addition, what they do is sometimes in the beat and sometimes "off beat". It was the most "challenging" song on the album.
Fenne
:
Kobe has a tendency to put the band in front of challenges but hey, we manage
(laughs).
RoD
: I suggest that you choose one or two tracks outside your catalogue, favourites or crushes. Two years ago, you chose THE CHAMELEONS' 'Second Skin', MORAL's 'Whispering Sons' and THE SOFT MOON's 'Insides'. You mentioned THE SOFT MOON (Luis Vasquez) as a good example to follow as he does his thing without compromise and is very successful. Two years later, do you think you followed this example?
Fenne
:
We did not compromise but we still have to work a lot before reaching the level of THE SOFT MOON. We have to promote the album, do a lot of gigs and maybe after two or three years, we will say: that's it, we got there. Luis is an artist we love a lot. We did the supporting act of THE SOFT MOON some time ago.
RoD
: So, your selections for this time?
Kobe
:
I would choose 'Superior State', from the French band RENDEZ-VOUS, from their latest album.
Fenne
:
And me, a track from BEAK>, Geoff Barrow's project, of PORTISHEAD, it's 'Brean Down'.
To listen to the full audio interview, check mixcloud page of the WAVES radio show: https://www.mixcloud.com/wavesenglish/waves-210-en-whispering-sons-interview-by-blackmarquis-111118/
A big thank you to the band, Eric Didden, their manager, Amandine, at Pias, musiczine and the first labels that supported the band: Dimitri at Wool-e-tapes, Dirk Ivens at Minimal Maximal and Michael Thiel at Weyrd Son Records.
Pictures by Karim Hamid (https://www.facebook.com/karimhamid2), Flor Maesen and Annick Geenen