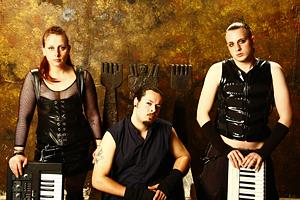 Interview with
XMH


The success of their debut release 'Time to Play' opened a lot of doors for the young project. Now a new album is in the pipeline for a release in this year and we took that as an opportunity to have the band fill us in on some details regarding the new release and a few other things.


Reflections of Darkness (RoD):
Hi guys. First of all thanks for taking the time to answer us some questions. Can you first give us a short introduction of yourselves for the ones that don't know XMH as of yet?
XMH:
XMH is a dark electro act from the Netherlands founded by singer/songwriter Benjamin Samson in 2005. It began as a one man project, but to put on a good live performance Benjamin recruited Pieter Sperling (keyboards, programming) and Isa Garcia (vocals, keyboards).In 2006 we released our debut EP "Life", which sold out really fast and managed to stay in the Dutch Underground Charts (DUC) for more than 6 months. In 2007 we released our first full length album 'Time To Play' and this CD was received even better by fans and media and really put us on the map. It reached #2 in the Dutch Underground Charts and the song "Rape your god (V2)" became #1 in the singles charts. The aim of XMH is to put on a great and energetic show on stage that grabs you by the throat and doesn't let go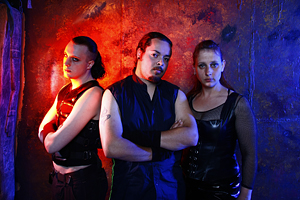 RoD:
What have you been up to since your debut full-length 'Time to Play' has been released in 2007?
XMH:
After the release things started to get going really well for us, and we've been very busy. We played at the most important festivals of the Netherlands: Summer Darkness and Terra Gotha. We did a club-tour in Holland and we also started doing our first shows in U.K., Germany, Belgium and Spain. We played with major acts like Covenant, Combichrist, The Birthday Massacre and so on. The shows went extremely well and it was a wonderful experience to play in these countries. We got to # 5 in the Sonic Seducer's Battle Of The Bands competition. The readers could vote for their favourite unsigned band and we are very happy with this result, it shows we're getting more and more popular in Germany.We've also shot a video for the song 'WasteD', directed by Belgian director Sven Togni. The video (shot in HD) will also appear on the new CD as a little extra for the fans, and of course it will be published on all the internet channels. We did have some setback in 2008 when Charlot Wever left the band as she decided to spend more time to her studies and personal life. She was replaced by Emélie Nicolaï, but we had to put her out of the band after 5 months because it was impossible to combine the busy XMH touring/recording schedule with the activities in her own band. She was then replaced by singer Isa Garcia, and she seemed to be a golden catch for XMH.
Isa joined just 2 weeks before our European tour but she quickly learned to play and sing the songs and she's also a great performer. Also (very important!) we have lots of fun with her as you can see at the photos on our Myspace http://www.myspace.com/xmh. And in between touring we've been writing and recording a lot of new material, exploring new sounds and musical directions. And we've written some songs which will have female vocals only
.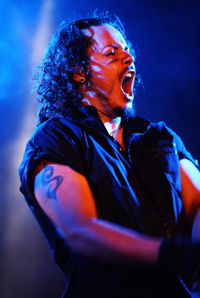 RoD:
The working title of your upcoming new album is 'WasteD'. Will there be any changes to the title on the final version and if so, how's the album title?
XMH:
The original idea was to release an EP in December 2008 called 'WasteD' which would contain 5 new songs (WasteD, Abuse, Neon Venus, 10 Miles Away and Truth) added with some remixes made by different bands we all know and love. But we dropped the idea very quickly because we noticed that when looking at other bands releases not many people seem to be interested anymore into listening to 10 versions of a song which aren't any different from the original. We are thinking of releasing an online remix album later this year which our fans can download for free from our website http://www.xmh-music.nl. But first we need to focus on the new CD. There is still no title for the new XMH album yet. We will be returning to the Implant Studio in May, June and July to record the last couple of songs which will all be produced by Len Lemeire (Implant, 32Crash), and hope to release the new album this summer. We are also looking for a label because with our busy schedule it's almost impossible to do everything ourselves anymore.
RoD:
Have you been drawing on new musical influences in the process of making the new album?
XMH:
When we started XMH the main focus was to play harsh-/dark electro like Hocico, Suicide Commando, etc. But we quickly dropped the distorted vocals because Benjamin vocals are so powerful he doesn't need to hide behind effects. Nowadays we also draw on rock and contemporary dance. We needed to look for new influences to make this a good album without doing the same old thing over and over again. We are also doing a lot more with the female vocals and that needed a slightly different approach than we were used to do.
RoD:
Is it going to be a concept album or will each song tell its own story?
XMH:
Each song will tell its own story but they will all fit into the main theme. Mainly, everything that is wrong in society. There are tracks about war, violence, perversion, hypocrisy, etc. But also very personal songs like 'Tears In Rain'.
RoD:
Any details you can reveal about the artwork already?
XMH:
For the new XMH album we wanted everything to be perfect. So for the artwork we contacted several professional artists whose work we all liked, and we found a German artist named Olivier Haecker from Bastart-Worx. He has done artwork for such bands as: Wumpscut:, Dein Fleisch, etc. We contacted him and we told him a little about XMH, the music and the lyrics. Within a week Olivier came up with a few ideas which we all liked immediately. We loved his artwork so much we asked him to make a huge backdrop for us as well, which we are now using onstage during our shows.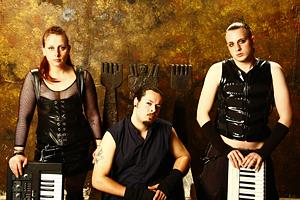 RoD:
Have you collaborated with any musical colleagues on the new album?
XMH:
We were planning on having some remixes on the CD but we decided to save those for a separate release. However, the album is being produced by Len Lemeire from Implant, and he also comes up with ideas. But also our manager Wim de Nooyer (from Terra Gotha) comes up with ideas, he wrote the lyrics for the songs 'Neon Venus' and 'Cryogenic Fire'. And for the first time we will also have guitars on one of our songs 'Tears In Rain', played by one of our friends.
RoD:
I suppose you'll tour as much as you can after the release of the new album. Any surprises you've planned for the live shows?
XMH:
They wouldn't be surprises if we told you now would they... ;)
But expect an uncompromising, straight to your face, dance or die show full of energy.
RoD:
That's it already. The famous last words belong to you.
XMH:
Everybody (fans, friends, DJ's, promoters, bands) thank you for your friendship and support. We hope to seeing you all again on tour. This is just the beginning.
RoD:
Thanks again for the interview
XMH:
You're most welcome.
{jos_sb_discuss:21}