Interview with
Vicky Johnson (vocals) of Winter In Eden
WINTER IN EDEN (
http://www.winterineden.com/
) is a promising newcomer band from the UK which combines Symphonic Metal with Rock but also with Gothic influences. Fans of WITHIN TEMPTATION could be very interested in this British band, and Reflections Of Darkness (RoD) is proud to introduce WINTER IN EDEN with the following interview.
Reflections of Darkness (RoD)
: Would you be so kind to introduce WINTER IN EDEN in your own words (style, band history, band members).
Vicky
:
Hi, we are Winter in Eden, a five piece Symphonic Rock/Metal band from the North East of England. The band is Vicky Johnson (vocals), Steve Johnson (keyboards), Sam Cull (guitars), Ian Heddle (bass) and Wayne McAloon (drums). Vicky and Steve have known each other since they were 12 and have worked together musically since then. Ian and Wayne have also known each other since late teens playing in numerous bands. Vicky, Steve and Sam started to work together about 3 or 4 years ago and met Wayne and Ian approximately 2 years later. "Winter in Eden" was ultimately born about a year ago.
RoD
: Can you tell us something about your lyrics? What are the themes you deal with?
Vicky:
I write what I feel. It may be something I have personally experienced, I see what others have experienced and put myself in their shoes or just generally issues I feel passionately about. I also like to write lyrics that can take you to another world, provoke images and make you think!
Wayne
:
My lyrics tend to be about women/love/relationships, historical events or current political topics. Bit of a mixture!!
RoD
: With which band could you be compared with according to your own opinion? Or don´t you like comparisons in general?
Vicky
:
We personally think that people are too quick to compare without looking at the individuality of the band. If we are compared to other bands we are flattered but we have our own style. We have all come from different musical backgrounds and have been influenced by a wide range of music so the band is a melting pot of ideas therefore it would be difficult to copy one style.
RoD
: During the last few years a lot of female-fronted bands became more and more popular (e.g. WITHIN TEMPTATION, NIGHTWISH, EPICA, XANDRIA, EDENBRIDGE and so on). Is this an advantage or a disadvantage for WINTER IN EDEN (because there is so much concurrence)?
Vicky
:
It can be both. On the one hand it has paved the way for people to open their minds to female singers in the metal genre but on the other hand some people say that there are too many female-fronted bands in the metal or symphonic metal genre. It also seems that some people have a really big issue about female singers being involved in the metal scene at all. No-one seems to make comparisons like this for male fronted bands, they don't say lets not have any new bands because there has been a male fronted band already! We don't like to pigeon hole ourselves into a certain genre it is everyone else that seems to want to do this. We call ourselves a Symphonic Rock / Metal band because people want a label but its not necessarily what we would do given the choice we simply write the music we feel compelled to create. The three songs on myspace (
http://www.myspace.com/winterineden
) are just 3 of our songs. We have written Instrumental songs with some strong Celtic influences so it is a real mix.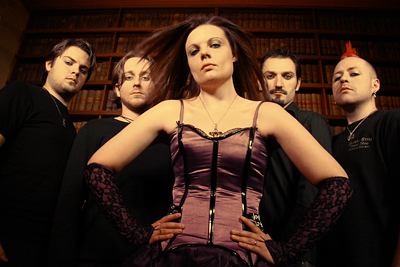 RoD
: How is the situation for Metal bands in the UK? (press, market and so on)
Vicky
:
The main interest in the band has been in the rest of Europe and America although we are getting some interest in the UK. We always expected that would be the case.
RoD
: Do you have a management or do you manage the business side on your own?
Vicky
:
We don't have management and are looking after the business side ourselves at the moment.
RoD
: Are there any plans to come to the Netherlands or to Germany on tour?
Vicky
:
We would love to and this is our ultimate aim. We are concentrating on the UK at the moment but we definitely want to tour in the rest of Europe – soon!
RoD
: What are your aims and wishes for the future?
Vicky
:
Short term: to perform some great shows and record our album late 2009/early 2010. And long term: to find management and a record label that believe in our music.

{jos_sb_discuss:21}