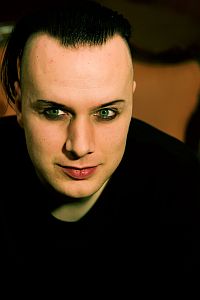 Interview with
Sven Friedrich (vocals) of Zeraphine


A long period of dormancy preceded the release announcement of ZERAPHINE's new album, entitled 'Whiteout'. But the member's activities in that time only make up a little part of the interview we conducted with Sven Friedrich. First and foremost this goes about the new album.
Reflections of Darkness (RoD):
Apart from various live activities, it was more or less silent around ZERAPHINE since 'Still' came out. Have you been working on the new album all the time?
Sven:
No, initially we were pursuing own musical projects. I have released a solo album as SOLAR FAKE; Marcellus and Manuel played in other bands. We wanted to clear our heads for a new ZERAPHINE album first, since we've been in a 1 - 1.5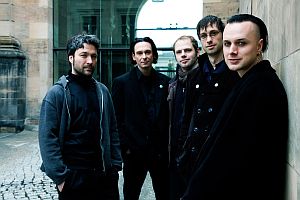 years cycle and you've got to break out of something like that some time. A long break like that wasn't planned though. Since 2008, we've been working on the album and negotiating with several record companies since 2007. Those negotiations extended for various reasons, especially because we were seeking new ways and alternative contract models.
RoD:
I'd have a few ideas for the meaning behind the title 'Whiteout' but it still doesn't add up for me, so what's the title's meaning in context of the album?
Sven:
Well, 'Whiteout' is a phenomenon, where for instance strong incursions of light in a snow landscape blur the contours up to a level where you can't tell a difference between the skies and the earth anymore. I found this was a very fitting picture. If you're putting it in a different context then external circumstances immensely change perception. A lot of my lyrics are about such things, about individual perception which is quite real but not necessarily reflects reality.
RoD:
Is the album following a conceptual approach?
Sven:
No, we never felt the urge to do a concept album. Thematically, all songs can be connected somehow, but that's mostly due to them being created in a contiguous timeframe.
RoD:
Sound-wise the album sounds much better to my ears than the last material. Is that maybe due to a higher budget? Money somehow is always a problem.
Sven:
Yes, unfortunately that's true. We can call ourselves lucky our production budget remained about the same. But I don't think that's the reason. We rather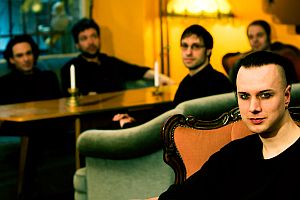 utilized different ways of preparing ourselves for the production since we've rehearsed a lot before entering the studio. We worked on the songs as a band and played and refined the songs countless times. That's why everything sounds much more organic and band-like as we could transform many ideas directly, try them and could cater to each other.
RoD:
On the album cover we can see Sven standing in front of a wall, showing the same cracks his skin has. In which way does that relate to the music on the album?
Sven:
It's standing for something aesthetical but broken. Furthermore it's supposed to depict an urge to tear away certain layers to see what's hidden behind. We found it was a fitting image and we also like the purely visual effect. There are similar pictures of the other band members in the booklet.
RoD:
With whom did you collaborate for the album artwork?
Sven:
Nobody. It's our own creation.
RoD:
On 'Whiteout', the electronic elements are much more prominent than they were on the last record. Did SOLAR FAKE play a certain role here?
Sven:
Actually, we've always used quite a lot electronic elements with our music. This time I believe they're just more equal, that is, have more room in the arrangements. On one hand these elements are sparser than before, but with the space given to them they're clearer. But I don't think it's got something to do with SOLAR FAKE. If it has it wasn't deliberate.
RoD:
'I Will Be There' and 'Louisa' have been played live on many festivals already. Was there any particular reason you chose these two songs?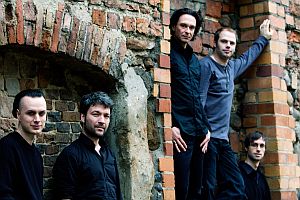 Sven:
Of course, and it's quite a simple one. They were the first to be on a level of completion, where we could use them for a live performance - and we wanted to present at least something after that admittedly long break *g*
RoD:
The opener 'Lieber Allein' sounds quite harsh by its entire build. Is that a result of the lyrical background?
Sven:
Absolutely. Before the lyrics were finished it could've been a "normal" ZERAPHINE song just as well, but with the lyrics and vocal melody done, it quickly became clear that I wanted the vocals to be distorted and that also the arrangement was to go into a similar direction. On each album we have one or two songs; we're doing some experimenting on. This one on 'Whiteout' is one of them.
RoD:
What about your plans for a tour?
Sven:
The tour's already booked and will take place in September and October.
RoD:
Something, you'd like to add?
Sven:
That's always kind of a struggle for me. Well, of course we hope people will find pleasure in the new album; also in the bonus DVD of the fan edition which has been a lot of work. And of course we hope that many people are going to attend the shows of our tour in autumn.
RoD: Then that's it. Thank you for taking the time to answer all the questions
Sven:
You're welcome!

{jos_sb_discuss:21}