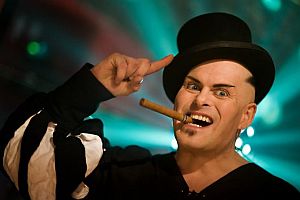 Interview with

Mozart of Umbra Et Imago

There have been a lot of rumours around UMBRA ET IMAGO these days. Rumours of bringing an era to its end, which was really shocking for fans and press in the same way, is Mozart, Mastermind of UMBRA ET IMAGO still considered as one of the most impressive people in Gothic genre and as a really funny guy with a good portion of self-mockery. Well, that's a definite fact: 'Opus Magnus' is going to be the last studio album of Mozart and the guys of UMBRA ET IMAGO. This seems to be a good moment to talk about all the issues around the band.
Reflections of Darkness (RoD)
: At the beginning, could you tell us a little about your actual situation, your activities etc. please?
Mozart
:
Well, the next two days are going to be hard; I have a lot of interviews to do in order to promote our upcoming album. There are yet four interviews today right after our conversation, but we try to divide the parts of duties. While Lutz is more involved in the technical parts as our Sound Engineer and specialist for mixing and such things, my part is the promotion of the album and the contact to all of the magazines and press. The last one and a half year we were busy to produce the new album 'Opus Magnus', now the last fine adjustments were done and now it's time to bid farewell to "our baby" and bring it into being as you can say so.
RoD
: Yeah, there were a lot of rumours due to the point that 'Opus Magnus' is your last regular studio album. Unfortunately, it's not an individual case: GOETHES ERBEN made their decision years ago; Marcus Testory of CHAMBER launched his own platform for upcoming releases… ASP e.g. are producing their albums by themselves and are therefore their own boss... on the other side there are some other acts becoming famous in a very fast way - not that this happened without effort - but it seems a little bit odd in the light of all these "traditional acts". Is your opinion, that one has reached the end of the rope or what is the reason for your decision?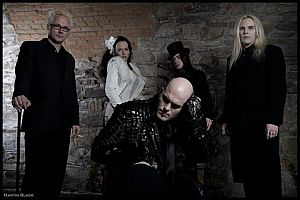 Mozart
:
First of all, we're not going to split up!!! UMBRA ET IMAGO will continue for a lot of years, I hope. There will be a lot of concerts to come and a lot of songs to be written… I suppose, you are referring to UNHEILIG and their signing at Universal? Well, I think that you can obviously hear the aspects that musically changed since a Major Label entered their life. The songs seem to be smoother anyway. For me as a self-made man and owner of his own producing studio it is comfortable to have the possibility to fulfil all of my visions which is really important for me. I cannot imagine that anyone than me (or in case of UMBRA ET IMAGO the band) prevails and dictates my composing. All modifications that are suggested to be made by exterior just to raise sales volume is a compromise, I won't respond to. Don't get me wrong! For sure, it's important to have big sales, but I'm definitely not going to give up my existence as an artist for that. That's when music dies literally and loses its value. But nowadays there's another big problem coming up. In times of globalisation, YouTube and other platforms are both, boon and bane. In my opinion, these platforms cause damages to music business that is not reparable. As a user it's very comfortable being served by these Internet Portals with music and videos and even as a musician it's a good chance to distribute your stuff. The problem is that anonymity lead to insensibility and indifference. There's just one click and you get all the songs that you want regardless of the fact that the artist depends on the disposal. Therefore accrual for further projects and releases is impossible these days. Limited Editions are at least an alternative in order to get a part of the amount for production, but in future music business will be more "selective" and more related to particular songs (download systems, you know…). Honestly, that's a pity… because for my own part, I'm a visual person - I need booklets and things, I can grab… ;)
RoD
: According to the discussed points, now back to your upcoming album 'Opus Magnus'. Can you tell us something about the songs?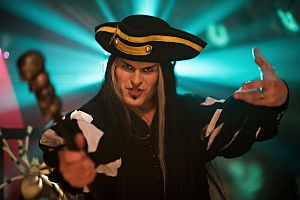 Mozart
:
In my opinion we served our freedom of artistic expression. I'm pretty content with this release. It's fresh and balanced, we kept up our red thread, even if there are songs we were long arguing with ourselves e.g. 'Ode an die Musik' or 'Kokainsong', but they were worth fighting for. All of these songs underlie a subjectivity, of course… but due to the own experience and the living through the situation described in he songs, you get a very own attachment. The single 'Ohne Dich' e.g. is not the typical kind of single, one knows… and it's not the typical piece of music you would predict a career as a club hit, that's for sure. But a lot of people felt related to this song during their first rehearsal and encouraged us to release it as a single - a very good decision, I think.
RoD
: 'Opus Magnus' is without any doubt your most socio-critical album. How did this come about?
Mozart
:
In fact, 'Opus Magnus' has a lot of socio-critical aspects, although its predecessors were critical, too. Nowadays, a lot of music within the gothic scene and its genre, in my opinion is without any statements. The lacking of propositions can be noticed in all parts of society, therefore we have the self-image of a looking glass… or as a mirror, as you can say so. For God's sake, there are some bands that play their role as this looking glass und it's important to take them serious. Consumption without consideration is a big problem nowadays, a lot of songs on 'Opus Magnus' refer to this point of view. Whether it's 'Ode an die Musik', 'Kokainsong' or 'Sonntagsandacht' (a sermon, I really want to deliver!)… Capitalism seems to be a substitutional god. Decadence like in Rome is not unusual anymore - mankind gets more and more greedy - recently ecological accidents like in Mexico are the best example, that we are losing control. I'm not really a conservative person, but in my opinion we should return to values like familial living… family is the lowest unit of cohabitation. We need more societal values, otherwise decay is inevitable.
RoD
: As a student of theology I noticed, that the issue "God" is reminiscent on this release, pretty remarkable in a genre which seems to be more and more atheistic and a-personal. What is the reason for that?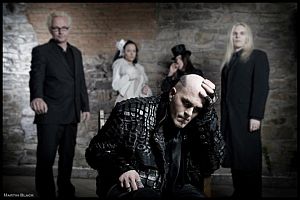 Mozart
:
What a lot of people don't know is that my father is a theologian. I myself am an agnostic. Things are even greater than we are capable to think of, in my eyes. We have to discuss this point under several aspects, I think. Especially Einstein impressed me with his attitude towards god and faith. In his early years he was an atheist, but time after time his attitude changed, because he couldn't still believe, that creation was simply a case of coincidence. There has to be a greater might or whatever you will call it. Due to my father, I carry notions of god within me, but I learned over the years to discuss this in a more philosophical way. Form theology seems to be the last real part of the humanities. Important is, that we don't have to say all these things with a wagging forefinger. I find it very useful to reckon god as entireness. Referring tot he Gothic genre and all the other stuff, it's kind of hilarious, how some people act. All this stuff of Satanism e.g.! Could you tell me, what's the difference between Satanism and believe in God? It's not the postulate of freedom and liberty, that's for sure…
RoD
: In the end, let's have a look into the future: Are there any plans, how prospective material of UMBRA ET IMAGO will be released? What about your personal career, what about DRACUL?
Mozart
:
As already said, there will be a lot of concerts, I hope! We are actually discussing whether it's cost-effective to record every single concerts, so that one can buy the "personal" concert at the end of the show on USB or maybe at home in another format. First of all, the sales now are decisive. Other labels don't have a clue, either, what's the format oft he future. I'm pretty sure, that CD as a format is going vanish in a while. As you can see, our thoughts about UMBRA ET IMAGO are so time-killing, that there's honestly no time for other projects at the moment. DRACUL takes a back seat for now, but the time will come, when we will focus on that, I promise. I myself discovered that audio books are pretty interesting - and honestly, I tasted blood! ;) I can imagine that this is something I'm going in for. Maybe it's an option for me to write something down. I find it kind of fascinating to work with words in a way without fixed structure as a song. We'll see what comes around… ;)
{jos_sb_discuss:21}