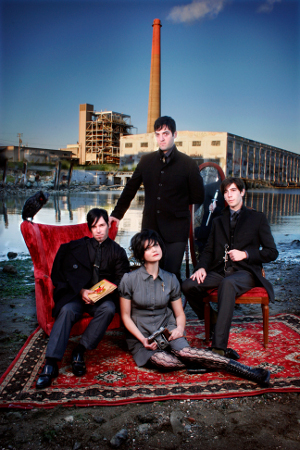 Interview with:

Keven Tecon (Vocals, Guitar) & Amy Rosenoff (Bass) of Veil Veil Vanish

With the release of their debut album 'Change In The Neon Light', San Francisco-based five-piece VEIL VEIL VANISH  have caused quite a stir here in Europe with more than one press representative praising it as a late highlight of 2010. We couldn't edge away from the fascination this album radiates either and gladly took the opportunity to ask some questions to shed a bit of light on the band itself and on the album.


Reflections of Darkness (RoD): What's been the initial spark for you to start making music in the first place?
Keven: We all came about to playing music in different ways and in various points in our lives. Music has played an important part in each of our lives from an early age though.

RoD: Have you been making music before or is Veil Veil Vanish your first band?
Keven: Before Veil Veil Vanish we were in other bands that used to play shows together. Amy played in a band called Astral, Cameron in the band Andalusia, and myself in Jada Morning. These bands were much more shoegaze oriented than Veil Veil Vanish. When the bands dissolved it seemed natural for us to form a band together.

RoD: I suppose that's a question you get to hear quite often, but I'd like to ask anyway what's the origin of the name Veil Veil Vanish?
Keven: It represents the idea of losing identity; either from religion, sex, drugs, nightlife or whatever the case might be.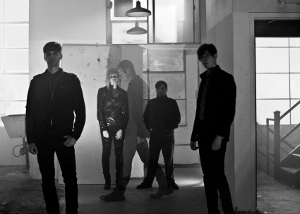 RoD: Who created the artwork to the album?
Keven: The cover model is a friend of ours in Los Angeles named Angelique Hennessy. The photo was taken by Danielle June.  Our keyboardist Justin took the image and altered it to create the cover.

RoD: The album cover is a glamorous depiction of a Hollywood actress, maybe even a former one. But it's shallow in the way that it makes you wonder if she is like so many others in the mainstream media. More of a product than a real person! But I got the feeling long time ago that's just what people want: A product that can easily be replaced with another one. Is that something you wanted to hint at with the visual as well?
Keven: The album cover was inspired by art deco and the Hollywood movie posters of the 30's and 40's. It symbolizes the end of decadence as people's lives begin to deteriorate with the changing world around them. The artwork is set up almost as a book cover with each song a separate chapter. Each song stands on its own but when they are put together in the context of the album they tell a story.

RoD: How did the connection to your eventual album producer?
Amy: It was very exciting to work with Atom. We had actually met him through friends of ours in the band Faculty X from Los Angeles who had previously worked with Atom and Nick Launay. We first worked with Atom to record 'The Upstairs Room' (a Cure cover for the Manimal Vinyl compilation 'Perfect as Cats'). We were both really happy with the results and knew he would do an equally amazing job with our record.

RoD: Has he had any influence on pushing your sound into the direction we can hear on 'Change In The Neon Light' or was that something that happened completely naturally while working on the record?
Keven: I believe that there are two different kinds of producers. Those that take a passive role and simply try to capture that band as it is or a producer that takes a very active role and tries to push the musicians further. Atom is definitely the later. We weren't really expecting him to take that role but I'm glad he did. Sometimes we would get so frustrated with each other that one of us would have to leave the room but it made for a much better album. We spent a lot of time working on sounds as well. Some of the guitar sounds on the album are actually keyboards and some of the keyboard sounds are actually guitar. There are guitar noises used as drum samples, steel drums and lots more experimentation.

RoD: How do you feel about all those very favourable reviews to the album? Did you ever expect people to praise it so much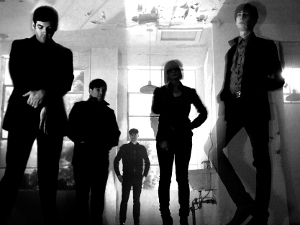 and doesn't that put a lot of pressure on a band for their second album that is planned to be started working on at some point in the future?
Keven: We never really thought about the response we were going to get. We knew the album was much different from our EP and that was what was exciting about it to us. It's wonderful that people have been enjoying the album because we put a lot of work into it. I don't feel any pressure about making a second album. I would like to do something completely different next time and so it will be difficult to compare to "Change in the Neon Light".

RoD: I read that 'Change In The Neon Light' is a concept album, so I was wondering what the background story is that on some level connects the songs?
Keven: "Change in the Neon Light" has a lot to do with our lives in San Francisco and the way that it has been changing. I draw a lot of inspiration from my surroundings and real life events. It has a lot to do with faded decadence, cultural homogenization, decaying social and economic structure etc... But there is also a feeling of elation and freedom as everything falls apart around you.

RoD: What was it that felt so special about the track 'Change In The Neon Light' it became the centre piece for your debut album. Must have been something important, otherwise you could have chosen another one just as well.
Keven: Many of the albums' themes are brought up in a more general sense on "Change in the Neon Light" before they are explored more in depth on other songs on the album. "Change" was also the first song we wrote for the album and a lot of the lyrical ideas stemmed from that song.

RoD: What's the name of that novel, one chapter of which was lending the inspiration to 'Secondhand Daylight' and can you give a brief, general overview of what's it about for those of us who haven't heard of it yet?
Keven: The song has a lot to do with seeing people's lives decay around us. In the book 'Idoru' Gibson describes a city
created solely out of cardboard where everyone who has been left behind by the changing times is able to gather as exiles. I found this to be quite prophetic. Even though this book takes place primarily in Tokyo, it is part of his "Bridge Trilogy" which depicts a decaying post-modern San Francisco.

RoD: Why did you particularly choose 'Wilderness' to close the album and on a related note, I pictured that the track to be about wilderness of every day's life. Is that what you wanted to express or is that one a little far-fetched interpretation of mine?
Keven: I feel that 'Wilderness' gives that album closure. There is an air of acceptance and finality to the song which bring the themes of the album to a resolution. I couldn't imagine the album ending with any other song.

RoD: Will there be a chance to see you live in Europe, maybe even in Germany in the near future?
Keven: Yes, we are hoping to have a Europe tour in spring or summer of next year.

RoD: Is there anything else, you'd like to get off your chest?
Keven: We are really looking forward to seeing everyone on tour next year!

RoD: That's it from me then. Thanks for taking the time to answer the questions
Keven: Thanks so much for the interview!

Pictures by Goutroy & Parker Day