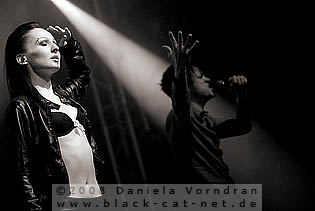 Ashbury Heights member and vocalist Yasmine announces on MySpace that she has left the Swedish duo after their final gig in Hamburg during the Out of Line tour. In her blogpost Yasmine writes:
"Why I am doing this is not because of lack of energy or love for the band. There are no grudges to be held and the air within Ashbury Heights is free from any pollution. You see, this is something I have to do. I need to let go in order to build something of my own. I've been fighting myself in this matter for a long time but I can't change what I truly feel.


I love Ashbury Heights with all my heart. It is a part of me and it always will be. I'm not only leaving my band members in the hands of the future but I'm also letting go of myself. I can't put it in words how acidic this pain is but since I know that this is not the end of my life as a musician I can prevent the pain from taking a stronger hold around my emotions."


The split does not mean the end of the band as remaining member Anders has found a new female recruit, Kari Berg, who also contributed to the latest recordings from the band. Yasmine will continue solo with her band Javelynn Fate signed to Out Of Line.
Source:
Side Line Magazine