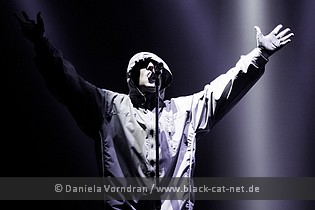 Ethias Arena, Hasselt, Belgium
30th October 2011
Sinner's Day 2011 - Main Stage: KMFDM, The Exploited, The Mission, Patti Smith, The Cult, Front 242

Initiated in 2009, Belgian Sinner's Day festival in Hasselt drew quite some attention. The recipe of setting up a line-up of cult figures and acclaimed artists from the widespread genre of punk and new wave amongst others created a fascination that not many people could resist and which made last year's edition more than a success. 2011 already saw the third incarnation of the festival which this time went without a second club stage but a side stage in the main hall. This means music lovers could watch all shows in full. As mentioned before the recipe is still the same and this year the organizers enlisted even more musical sensations than before. You want some names?


The main stage featured i.e. THE CULT, formed in 1983 and gaining a dedicated following around the 1980s. One of Belgium's pioneering electronic music acts was going to bless Sinner's Day festival with a visit as well. We're talking about FRONT 242 who turned the space in front of the stage into a club floor. But there were even more big names. The shows on the main stage started with KMFDM who played at the spot of JOHN FOXX, who had to cancel Sinner's Day on short notice.


KMFDM

KMFDM are doin' it again and again! In 2010, the self-proclaimed fathers of Industrial Rock released 'WTF?', their 28th album since 1984 when you count in compilations, live albums and remix albums as well! KMFDM was founded in 1984 as an art & performance act which soon evolved into a fully-fledged which combined Techno and EBM with Metal and Rock - back in the eighties a pretty odd combination but in the 1990s it brought KMFDM major success in the US, where KMFDM's founding father Sascha Konietzko lived from 1991 to 2007. KMFDM sold over 2 million records in the USA alone, were spearheads of the American Industrial Rock movement along with MINISTRY and NINE INCH NAILS and played massive shows in the US throughout this decade. Konietzko neglected his home country Germany for quite a while, last but not least as KMFDM were never as successful here as in the Anglo-American countries.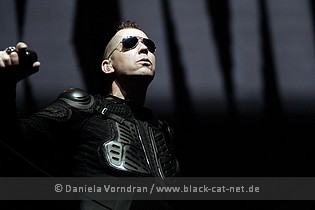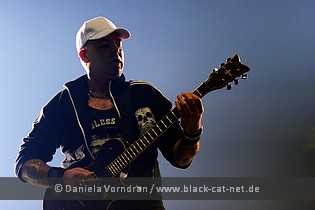 Over the last few years this has changed and KMFDM toured Germany and the rest of Europe a lot, in particular since Konietzko moved to Hamburg with his wife and fellow band member Lucia in 2007. KMFDM live on stage is Sascha Konietzko (vocals / programming), Lucia Cifarelli (vocals, sound manipulation), Jules Hodgson (guitar), Andy Selway (drums), and Steve White (guitars). http://www.kmfdm.net / http://www.myspace.com/officialkmfdm / https://www.facebook.com/pages/KMFDM-BAND/86198310267

Music & Performance
After cancellation of JOHN FOXX, GENE WAS JEZEBEL now played on his spot on the side stage. So, the spot after KMFDM as originally planned was free. So, KMFDM were moved to the later spot in the schedule, but opened the main stage anyway, starting with full power and 'KRANK', the title song of latest album 'WTF?!'. For following 'Amnesia' (also out of 'WTF?!', the vocal duties were taken over by Lucia, who was as always real eye candy. The performance of the whole band was powerful and impressive, and especially Lucia Cifarelli wowed me once again with her great voice and her peppy and dynamic stage presence. Konietzko played Mr. Cool, as usual. The focus of the setlist was on newer albums past 2005. With 'Rebels on Control', another one from the latest album, followed before 'Potz Blitz' and 'Bait & Switch' from 2009 'Blitz' album came up.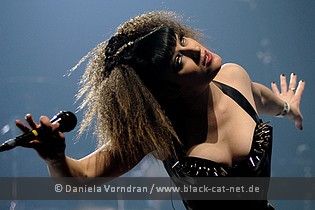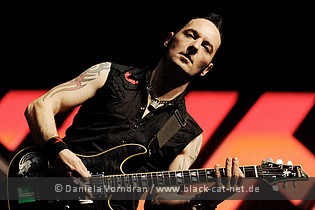 Towards the end, the band had a little surprise for the audience. For 'Spectre', William Wilson of LEGION WITHIN was joining the band on stage supporting them vocally. With the oldest song in the set, 'Hauruck' from 2005, the short but very entertaining show ended. It was just a little sad that classics such as 'Megalomaniac' or 'Godlike' did not make it into the set.

Setlist
01. KRANK
02. Amnesia
03. Tohuvabohu
04. Rebels in Control
05. Potz Blitz
06. Bait & Switch
07. Spectre
08. Hauruck

Rating
Music: 8
Performance: 8
Sound: 8
Light: 9
Total: 8.2 / 10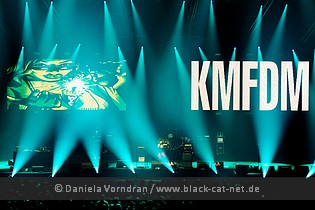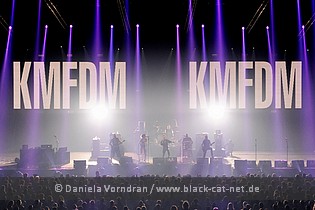 The Exploited

This Scottish Punk band from Edinburgh was formed in 1979. Starting out as a street punk band, they soon were transforming into faster hardcore punk with heavy political influences. Later on, they were even playing crossover thrash. In 1981 they signed to Secret Records and released the debut EP 'Army Life'. The album 'Punks Not Dead' followed in the same year. Despite many lineup changes, the band continued into the 2000s and has developed a worldwide following. The band are currently writing material for a new album. Current line-up consists of Wattie Buchan (vocals), Irish Rob (bass), Wullie Buchan (drums) and Matt McGuire (guitar). http://www.the-exploited.net/ / http://www.myspace.com/officialtheexploited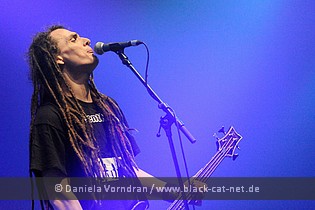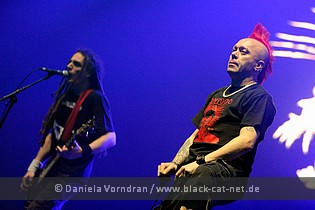 Music & Performance
What followed next on the main stage was a rough, pure and fast punk performance making the audience in front and lots of EXPLOITED fans there totally freak out. The show at Sinner's day was one of their shows celebrating "30 Years of Anarchy and Chaos" proving that Punk is still not dead. The songs were fast, the band was jumping and so did the fans. Anyway, singer Wattie could not convince vocally, but I guess that's not needed when you're a Punk band. Typically Punk was also his behaviour when i.e. snotting and spitting on stage. But people liked the show and celebrated a huge party. For me, this kind of show was not the right one and so, I decided to check out the venue, the photo exhibition and the food marked to get strengthened for the upcoming THE MISSION show I was looking forward a lot.

Rating
Music: 6
Performance: 5
Sound: 8
Light: 8
Total: 6 / 10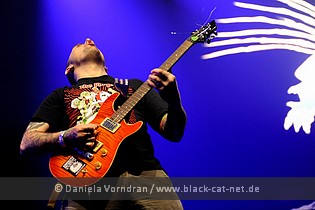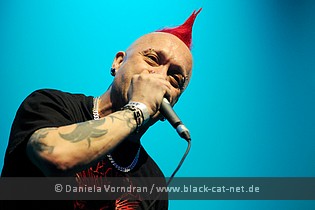 The Mission

The band was founded back in 1985 after Wayne Hussey and Craig Adams had left their previous band THE SISTERS OF MERCY. First wearing the name THE SISTERHOOD they had to rename after protest of Andrew Eldritch. THE MISSION was born and is still very alive today. First criticized as pure copy of THE SISTERS soon it was obvious that the band around Wayne was able to gather their own fans and follow their own path. The band was always able to convince with their mix of mystic and dark sounds. After some line-up changes the success slowed down, there were problems of working together and the records sold badly. After a split in 1996 the band re-united three years later starting a world tour in 2000 with concerts i.e. in Brazil, Chile, USA, South Africa or Greece. 2001, one of the most successful albums, 'AurA', was released occupying number one of German Alternative Charts for several weeks. Extensive tours followed. To celebrate the 20th band anniversary, the DVD box 'Lighting the Candles' was released in 2005 containing the new song 'Breathe me in'. In October 2007, Wayne Hussey announced the "second" end of THE MISSION after 22 years "with a minor interruption". After a farewell tour in February 2008, he started to pursue other projects.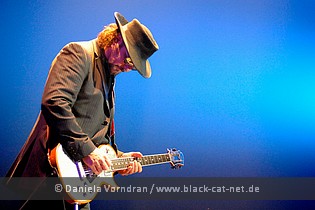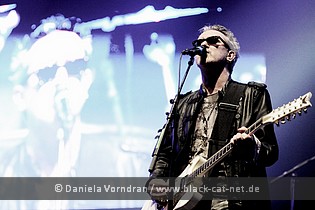 Right in time for the farewell tour, his first solo album 'Bare' was released never intended to be released regularly. Except an April Fool's joke some time ago that met with mixed reaction the silence about THE MISSION remained permanent. But just at the end of last year's SINNER'S DAY it was announced that THE MISSION would be playing a gig there this year, celebrating over 25 years as a band. Besides, in 2010 the album 'Dum Dum Bullet' was released. THE MISSION for their 25th anniversary tour is Wayne Hussey (vocals, guitar), Craig Adams (bass), Simon Hinkler (guitar) and Mike Kelly (drums, i.e. Spear of Destiny, Theatre of Hate) http://www.themissionuk.com / http://www.myspace.com/themissionuk / https://www.facebook.com/themissionuk

Music & Performance
This was one of the shows I was extremely looking forward to. I love THE MISSION for years now but still I have never seen them in the original line-up. But now I got it with Wayne, Simon and Craig playing together on one stage again. Only drummer Mike was a new addition. Playing in several other bands, he already has some experience and did a great job, even though some drum sounds came obviously from backing tape.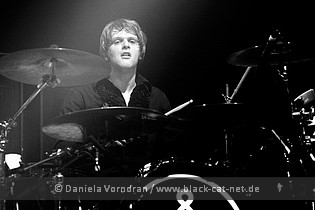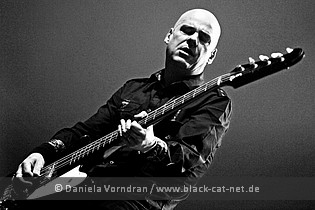 The whole Sinner's Day set was a best-of programme par excellence, firing one hit after another into the audience, starting with 'Beyond the Pale' and 'Hands across the Ocean'. Right from the start, people were singing along and celebrating a huge party. When 'Butterfly on a Wheel' started, Wayne announced the song as "the probably best song they ever did". Right! Always one of my and the fans' favourite. 'Tower of Strength' saw as always people climbing on the shoulders of others, just a traditional ceremony. Like so often, 'Deliverance' ended the set but people did not want to bet farewell without an encore. And since there still was time, galloping '1969' was finally ending the show. Perfect!

Setlist
01. Beyond the Pale
02. Hands across the Ocean
03. Like a Hurricane
04. Severina
05. Butterfly on a Wheel
06. Wasteland
07. Tower of Strength
08. The Crystal Ocean
09. Deliverance
---
10. 1969

Rating
Music: 9
Performance: 10
Sound: 8
Light: 9
Total: 9 / 10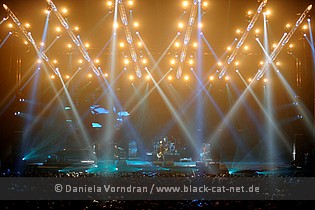 Patti Smith

American singer-songwriter, poet and visual artist Patricia Lee "Patti" Smith became a highly influential component of the New York City punk rock movement with her 1975 debut album 'Horses'. She is also called the "Godmother of Punk" combining rock and poetry within her music. She is well-know for her song 'Because the Night' that was co-written with Bruce Springsteen and made it to number 13 in the Billboard charts. She was a very influential person, being into the Rock and Roll Hall of Fame in 2007 and who has won the National Book Award for her memoir Just Kids. In 2011, she received the Polar Music Prize. The latest album was released in 2007 with 'Twelve'. Besides Patti, her live band consists of Lenny Kaye (guitar), Jay Dee Daugherty (drums), Tony Shanahan (bass, keyboards) and Jackson Smith (guitar). http://www.pattismith.net / http://www.myspace.com/pattismith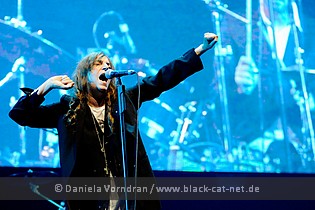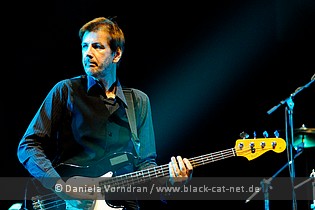 Music & Performance
The "Godmother of Punk" is already over 60 now and many people were eagerly awaiting her entering the stage. The audience was excited from the very beginning celebrating Patti and her band. I was not so excited at all. First, I really did not like her behaviour, also spitting on stage… just does not fit to this woman. Besides I did not like her pseudo social and political words, philosophising about saints and sinners (just taking the festival's name as the point to start from) and the government. Anyway, I am not the only one who was to impress by her show and judging about the fans, they liked when Patti was reading, singing, and vocalising her own literary-musical style. Her set contained all in all more than ten songs and if you were not familiar with her work, you might have at least recognized the last song, 'Rock 'N' Roll Nigger', being presented in the 'Natural Born Killers' movie.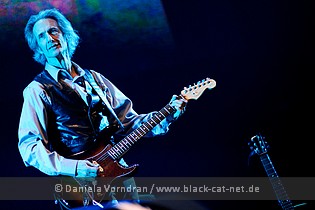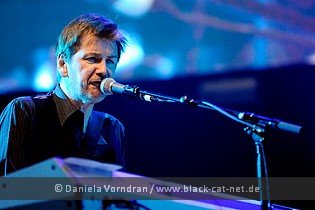 Setlist
01. Gloria
02. Repondo Beach
03. Free Money
04. Ghost Dance
05. My Blakean Year
06. Southern Cross
07. Ain't It Strange
08. Because the Night
09. Pissing In A River
10. People Have The Power
11. Rock 'N' Roll Nigger

Rating
Music: 7
Performance: 5
Sound: 8
Light: 8
Total: 6.5 / 10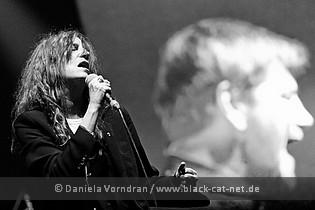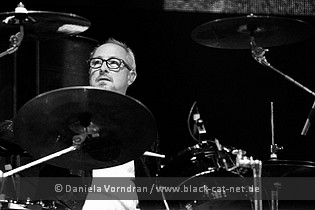 The Cult

Founding as THE DEATH CULT in the early 1980s, a post-punk outfit, the band gained some recognition with their special kind of sound, later on shifting more towards a hard-rock influenced compound, starting with their third album 'Electric' with coinciding international success, mostly cracking into the American market. Amongst others, THE CULT have been touring as support for the likes of BILLY IDOL or THE WHO. Also their music has been used in movies. Tensions led to the band's first break-up in 1995 but they would find back together to bless the world with new music, just as they would do after the second reunion followed by a series of world tours. Now there is a new album in the pipeline and in 2010, the band released new songs through its website. THE CULT is Ian Astbury (vocals), Billy Duffy (guitar), Chris Wyse (bass), John Tempesta (drums) and live musician Mike Dimkich (rhythm guitar). http://www.thecult.us / http://www.facebook.com/officialcult / http://www.myspace.com/thecult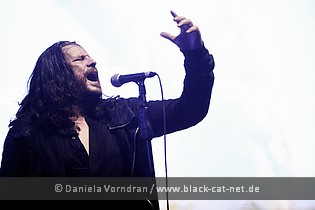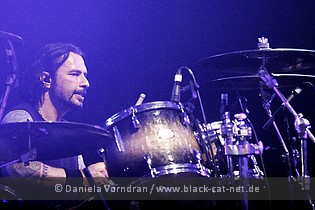 Music & Performance
THE CULT was one of those bands in this year's Sinner's Day line-up I was really looking forward to. But we had to wait quite long for the band to enter the stage. There seemed to be problems with the guitar amps and so, it was about 30 minutes past the scheduled time when the band finally entered the stage to the sounds of 'The Phoenix'. With the second song, 'Spiritwalker', they already played my THE CULT all-time favourite and made some kind of reconciliation for the late beginning. What followed now was about one hour of high-class Rock'n'Roll entertainment. The set contained anything you could with for: anthemic classics like 'Lil' Devil', 'Fire Woman' or 'She Sells Sanctuary', one of the band's greatest hits, but also lesser known older songs like i.e. 'Nirvana'. But there were also some "newer" song like 'Rise' from the 'Beyond Good And Evil' album (2001) or 'Dirty Little Rock Star' from 2007's 'Born Into This'. Even though the band's history is a one of about 30 years, the proved that they are still alive and kicking. The bands loved the gig. There was surely a reason why THE CULT was one of the festival's headliners!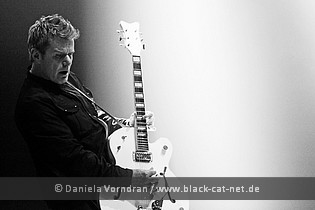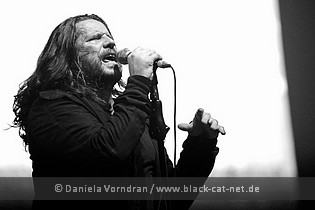 Setlist
01. The Phoenix
02. Spiritwalker
03. Horse Nation
04. Lil' Devil
05. Edie (Ciao Baby)
06. Sweet Soul Sister
07. Embers
08. Nirvana
09. Rain
10. Rise
11. Dirty Little Rock Star
12. Fire Woman
13. Wild Flower
14. Love Removal Machine
15. She Sells Sanctuary

Rating
Music: 8
Performance: 8
Sound: 8
Light: 8
Total: 8 / 10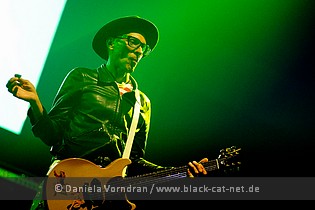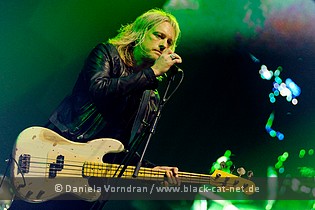 Front 242

Front 242 was initiated in 1981 by Daniel Bressanutti and Dirk Bergen, who wanted to create music and graphic design using emerging electronic tools and in the same year, the first single 'Principles' was released. In 1982, Patrick Codenys and lead singer Jean Luc de Meyer would complement and complete the line-up and in that constellation they recorded and released 'U-Men' and the debut 'Geography', both are named as being influential for the works of many electronic music artists. But it's not before the release of 'No Comment' in 1984 that they'd earn their place in the annals of electronic music history by laying the foundation stone for the Electronic Body Music, a term that came up first with this album. The single 'Headhunter' taken off the accompanying album 'Front by Front' in 1988 should become a widely popular track and now is an absolute classic.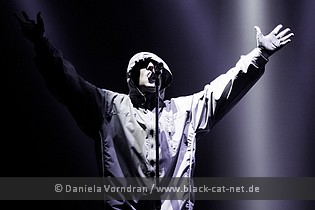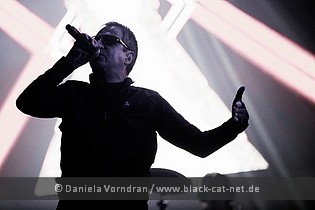 Following releases couldn't remotely relate to the past success and started the slow decay of the band, peaking in Jean-Luc De Meyer's departure in 1995. To the surprise of many, the band comes back together in 1997 but it still takes them another 6 years to release a new album with 'Pulse' which stylistically goes way back to their roots. Their most recent release is called 'Moments in Budapest'. FRONT 242 is Jean-Luc DeMeyer (vocals), Daniel Bressanutti (keyboards, programming, live mixing), Patrick Codenys (keyboards, programming, samplers), Richard "23" Jonckheere (percussion, vocals) and Tim Kroker (drums & guest musician). http://www.front242.com / http://www.myspace.com/front242 / https://www.facebook.com/Front.242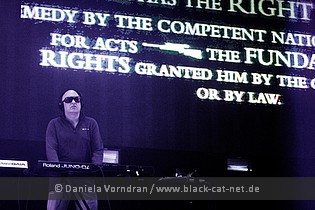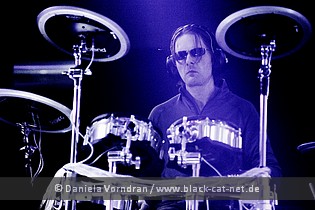 Music & Performance
It was already very late when the local heroes, this time without Daniel Bressanutti, entered the stage. At least, the rebuilding of stage was done in like five minutes, when THE CULT had left the stage. Supported by backing projections on the two screens, first Patrick and Geert Michiels, who replaced Tim on drums for that show, entered the stage. After the intro, Rickard joined them, wearing a rain jacket with a hood and eyes hidden behind sun glasses, starting with 'Shout it loud' and turning the hall into a boiling pot right from the start. When second song, 'Body to Body' started, finally Jean-Luc joined in the show and there was no more holding back and I really was surprised how much energy still was in the audience celebrating the very last band like they were all fresh and awake. The band delivered a lot of classics, like 'Headhunter', 'Welcome to Paradise', 'Circling overland', 'Im Rhythmus bleiben' or 'Funkahdafi', but also some lesser known gems, such as 'Tragedy for You', 'Together' or 'Take on'. FRONT 242's headlining spot was surely well-deserved, not just because the Belgians are musical legends but also because they were playing in their home country. Even all band members aged over the years and the energy level of their shows is not as high as it was during "Front by Front" times, still anything is about rhythm and so, they took care of a nice party at the festival's end.

Rating
Music: 9
Performance: 9
Sound: 8
Light: 9
Total: 8.8 / 10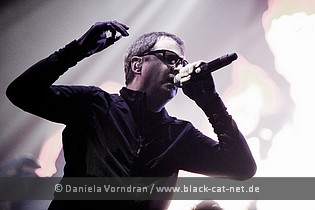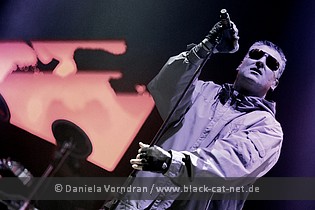 All pictures by Daniela Vorndran (http://www.vorndranphotography.com / http://www.black-cat-net.de/ / http://www.myspace.com/vorndranphotography / http://www.facebook.com/blackcatnet)



See also (all categories):