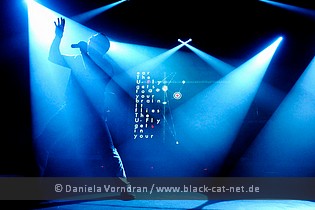 Trix XL, Antwerp, Belgium
16th December 2011
BIM Fest Day 1: Front 242, Severed Heads, The Anti Group, Pankow, A.A.A.K., Container 90

When the time has come to do the last preparations for Christmas, and the anticipation starts getting to unbearable due to the gifts that might be placed under the tree, the time has come for the yearly Belgian Independent Music Fest in Belgium. This year, the festival was celebrating its 10th anniversary. For this occasion, it has been extended to a two-day festival and already the first day had some great names to offer.



Container 90

Ron2-D2 and Rundberg met in January 2004 for the first time in ten years, both already having a past in the EBM scene in the early 90s when they played in different obscure bands. Having a lot of booze in, they gave birth to CONTAINER 90 whereas "Container" stands for its weight and form and "90" stands for the good old days. Idea was to create a new term of Old-school EBM. Sometimes, since this term already existed, they call their style Electro-Punk or Hardcore Electronics. Musically, the Swedish band goes back to the late 80's and early 90's with simple bass drum programming and a lot of punk attitude. http://www.myspace.com/container90/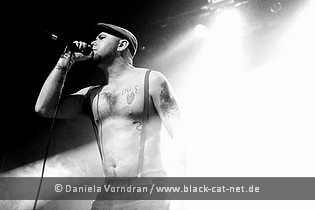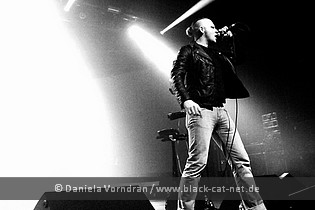 Music & Performance
Swedish CONTAINER 90 were up to open the festival. The duo and its stage setup looked like SPETSNAZ, just with a drummer being a little more portly than Stefan. If I tell you three song names, just tell me, what music this band makes: 'Strength (through EBM)', 'EBM Radio' and '(EBM) United'. Yes, you are right, they make EBM, to be more exact more or less easy dumb-ass EBM. Besides songs from the two fulltime albums 'Scandinavian Masters' (2006) and 'World ChampionShit' (2008) like 'Clean', 'Strength', 'United' or 'Oldschool 84' we got also something really old from the first release, 'Paradox', and something new yet unreleased, 'Straight Jacket' and 'Copy Cat'. With 'Precious Boots' the band left the stage.

Rating
Music: 5
Performance: 7
Sound: 5
Light: 6
Total: 5.5 / 10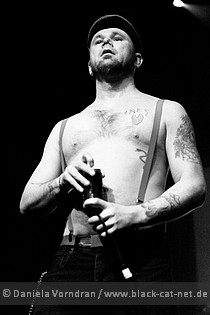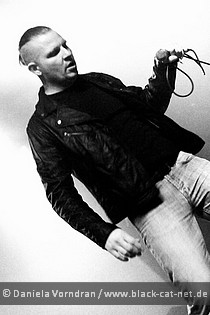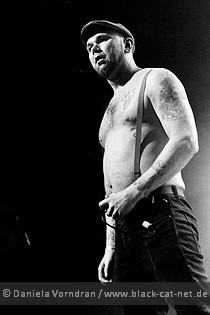 A.A.A.K.

Existing since the mid eighties, A.A.A.K. (As Able As Kane) from Manchester/UK take their influences from Jim Thirwell's FOETUS incarnations and Euro Beat artists such as NITZER EBB and FRONT 242. Early releasing are still using guitars, but their influences became less over the years. In 1989, the band released its first record, 'Buildingscape Beat', including six tracks on Scam records. This debut was followed by 'Big Fist' in 1990, released on Belgian label KK Records. There was a vinyl released as well as a CD, the CD containing three additional songs. In 1992, the band split up while recording a third album. But that wasn't the end. In 2009, A.A.A.K. was back on EBM label Electric Tremor releasing a best-of compilation in June 2010 where most tracks of the first albums were re-recorded and additionally, there was a CD of unreleased material from 1987-1989. Furthermore, a new maxi single was released on Electric Tremor on 16th December. AAAK is Ding (programming / instruments) and Paul R. (vocals). http://www.myspace.com/asableaskane / https://www.facebook.com/pages/AAAK-As-Able-As-Kane/107013535998834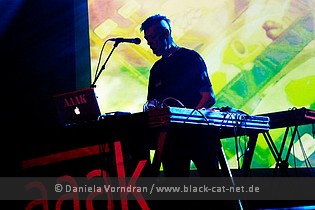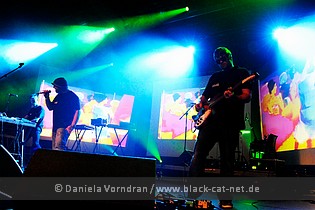 Music & Performance
The second band of the evening presented some more advanced electronic music with a lot of synth layers, sounding all more spherical, and even some Breakbeat influences. Besides the big desk with all the electronic devises, we got also some real guitar sounds being added to the music. Visually, the performance was underlined with a lot of video projections being presented on three big screens in the back. The set being presented contained a lot of tracks from the band's second release 'Big Fist', like 'I will Return', 'Crash' or 'Concrete'. From the first release, 'Time' was included. Since the day of their appearance at BIM Fest also saw the release of a new maxi called 'Out There' on Electric Tremor label, the title song was presented at BIM Fest, perfectly fitting to the band's older output. This single already gave a foretaste of the new album to be released in early 2012.

Setlist
01. I Will Return
02. Get In The Real World
03. Sweet Sweet Kiss
04. Out Here (Neuer Song)
05. Crash
06. We Fall Alone
07. Any Kind Of State
08. Concrete
09. Trigger Finger
10. Time

Rating
Music: 8
Performance: 7
Sound: 7
Light: 8
Total: 7.5 / 10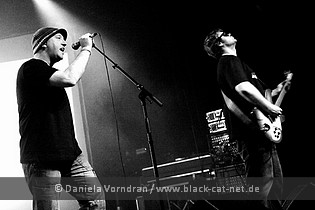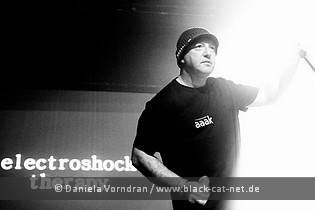 Pankow

Internationally we go on with Italian EBM / Industrial band PANKOW, formed in Florence already back in 1979. Alex Spalck, the band's second singer, has been the composer of all the lyrics from their first release, the EP 'Throw Out Rite' (1983) on cassette, followed by the legendary first "real" EP 'God's Deneuve' on KinderGarten Records (1984). The first album 'Freiheit Fuer Die Sklaven' was released in 1987, produced by Adrian Sherwood. In 1993 the band split up, Spalck went to live in Australia. But in 2003, the band returned, again with Spalck, with 2 new CDs, 'Life Is Offensive And Refuses To Apologise' and 'Great Minds Against Themselves Conspire'. The band is currently active and based in France/Belgium with front man singer Bram Declercq (ex-NTRSN), the head of the band Maurizio Fasolo, Enzo Regi, Paolo Favati and Alessandro Gimignani. www.pankow.co.uk / http://www.myspace.com/pankow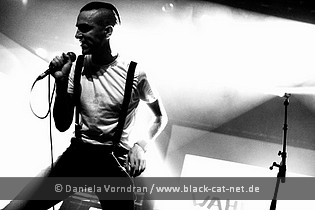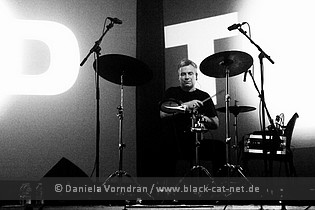 Music & Performance
Italian Electronic band PANKOW did not only have the electronic equipment on stage, furthermore the music was supported by real drums, what gave an extra pinch of salt to the band's performance. Additionally, also PANKOW were using the video screens, showing to real videos but more some words out of the presented songs. Bram with his white short under black suspenders delivered a really powerful and expressive performance. Right with the first song 'I'm Lost, Little Girl', the opener of 1989s album 'Gisela' the band taught the audience the ins and outs. People were dancing and marching right from the start. The meaning for second song 'Das Wodkachaos' was underlined by a big bottle of Vodka. Hit followed after hit, 'Brucia' or 'Me And MY Ding Dong' were welcomed with loud cheers. Crazy 'Kunst Und Wahnsinn' (Art and Madness) ended the set and singer Bram was really acting like a madman during the song. But people did not have enough yet and so, the band returned for an encore. Great show!

Setlist
01. I'm Lost, Little Girl
02. Das Wodkachaos
03. Escape From Beigeland
04. Extreme
05. Brucia Europa Brucia
06. Don't
07. Gimme More
08. Logophobia
09. Me And My Ding Dong
10. Kunst Und Wahnsinn
---
11. Sickness Takin' Over
12. Shutdown (not played due to technical problems with the vocoder)

Rating
Music: 8
Performance: 8
Sound: 8
Light: 8
Total: 8 / 10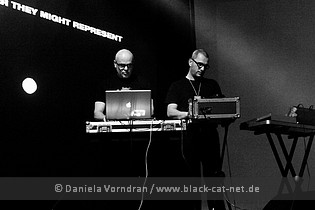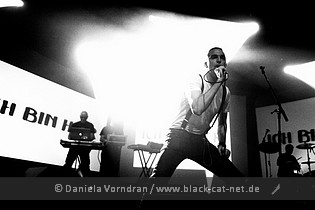 The Anti Group

The Anti Group, also called, The Anti-Group Communications ( or T.A.G.C.) is a side project of CLOCK DVA formed in the early 1980s by Adi Newton (although the idea existed as early as 1978).The idea behind the group was to form an open-membership experimental multimedia collective, focused on audio, visual, and textual research and production, as well as performance art and installations. Recordings of the band were released on Newton's Anterior Research Recordings label. The last official release, 'Audiophile', dates back to 1994, the maxi CD 'Psychoegoautocratical Auditory Physiogomy Delineated' (2005) was released as T.A.G.C. without Adi Newton's involvement or approval. After years of silence, Adi Newton with his creative partner Jane Radion Newton re-activated T.A.G.C. in 2009. THE ANTI GROUP has recently started to return to the arena after a number of years researching and experimenting with different medias and theoretical concepts, currently working on a number of new releases. https://www.facebook.com/pages/The-Anti-Group/406055217628 / http://www.myspace.com/theantigroupcommunications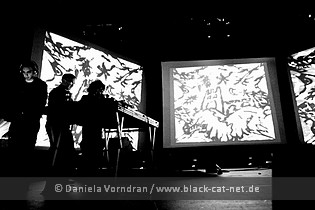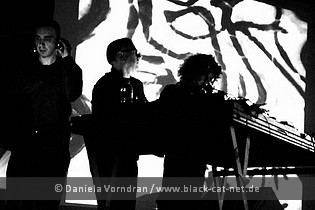 Music & Performance
From a lot of movement on and in front of stage to a much calmer show. What THE ANTI GROUP presented cannot really be called a concert but more a multimedia audio-visual performance. There was not much built up on stage, just a desk with some technical equipment. Behind, the three artists were standing nearly motionless in the dark. Visually, the show was based on the shown video installations only. Musically, you were offered a lot of spherical, experimental stuff not all people could deal with. The EBM hardliners preferred to calm down in the foyer and have some beer. I think T.A.G. should have played not right after such a powerful band as PANKOW. I think a placement at the very end of the day for anyone to chill out and calm down would have been better.

Rating
Music: 7
Performance: 3
Sound: 7
Light: 6
Total: 6 / 10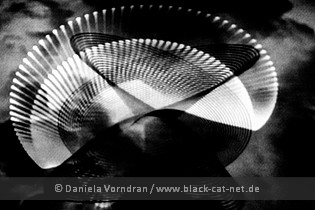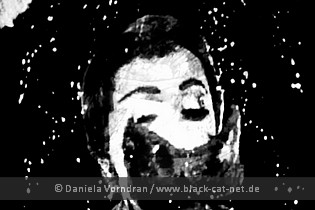 Severed Heads

SEVERED HEADS is an Australian electronic music group based and founded in Sydney in 1979. The original members were Richard Fielding and Andrew Wright, and were soon joined by Tom Ellard. Fielding and Wright eventually left the group, leaving Ellard as a singular talent, the sole continuing member of the group. Over the years, many people played in the band. Early SEVERED HEADS music was characterised by the use of tape loops, noisy arrangements of synthesizers and other dissonant sound sources, putting Severed Heads in the general category of industrial music. Numerous releases followed the fist one, 'Ear Bitten' in 1980, with 'Viva! Heads!' being the latest one in 2006. In early 2008, Ellard announced that SEVERED HEADS was now defunct and that no further creative output would be released under this name. But since that might have been a bit rude, Ellard announced a farewell tour with the gig at BIM Fest being the last one under the SEVERED HEADS name. The gig was performed by Ellard with Stewart Lawler, ex BOXCAR. http://www.sevcom.com/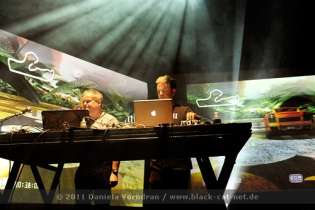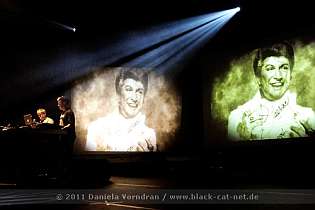 Music & Performance
Pure electronic music we also got presented by SEVERED HEADS, not as experimental as with T.A.G. but calmer and more melodic than with the bands before. Since the Australians were in Antwerp for two exclusive shows at BIM Fest, there of course needed to be some difference between them. After both days, I can say that this first show contained songs with more lyrics than the second one. Also, the light show was brighter. Additional, on both days the band brought extraordinary videos underlining the songs. Besides the videos, the stage looked pretty empty with just a desk and Tom Ellard plus Stewart Lawler standing behind it. But that doesn't mean the show was getting boring. The videos had so much to watch, they were really advanced, with stories to the songs, some a bit simpler and less dazing than others, sometimes the videos were even borderline creepy. The show would not have been worked without the videos, also like with T.A.G., it was a full audio-visual concept. Musically, people in front of stage really enjoyed the electronic music in its very 80s style.

Rating
Music: 8
Performance: 6
Sound: 8
Light: 7
Total: 7.3 / 10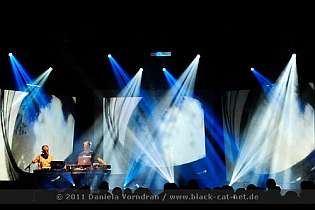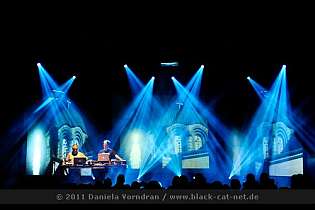 Front 242

Belgian local heroes FRONT 242 were the evening's headliner. Initiated in 1981 by Daniel Bressanutti and Dirk Bergen, the first single 'Principles' was released. In 1982, Patrick Codenys and lead singer Jean Luc de Meyer would complement and complete the line-up and in that constellation they recorded and released 'U-Men' and the debut 'Geography'. But it's not before the release of 'No Comment' in 1984 that they'd earn their place in the annals of electronic music history by laying the foundation stone for the Electronic Body Music, a term that came up first with this album. The single 'Headhunter' taken off the accompanying album 'Front by Front' in 1988 should become a widely popular track and now is an absolute classic. Following releases couldn't remotely relate to the past success and started the slow decay of the band, peaking in Jean-Luc De Meyer's departure in 1995. To the surprise of many, the band came back together in 1997 but it still took them another 6 years to release a new album with 'Pulse'. Their most recent release is called 'Moments in Budapest'. FRONT 242 on the BIM Fest stage was Jean-Luc DeMeyer (vocals), Richard "23" Jonckheere (percussion, vocals), Patrick Codenys (keyboards, programming, samplers) and Geert Michiels (drums & guest musician). http://www.front242.com / http://www.myspace.com/front242 / https://www.facebook.com/Front.242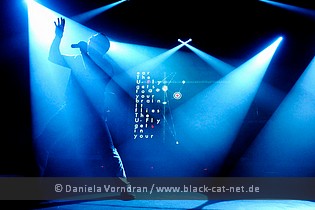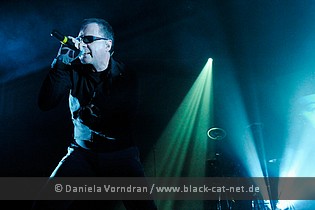 Music & Performance
Just a few weeks ago I witnessed already FRONT 242 in their home country. Compared with the shot at Sinner's Day, today the venue was smaller and you had hardcore fans of the band in front of stage, eagerly awaiting the evening's headliner, willing to dance and shout out loud… and they could do so just to the fist song 'Shout it loud' when Richard stormed the stage supported by Patrick and Geert just after a long intro. Like we know it, the show was supported by lots of video projections, the lights itself were rather fast with a lot of strobe effects. Right from the start, the hall was turned into a boiling pot, no one held back and sometimes it felt like anyone just waited for FRONT 242, the other bands were just a nice addition. Of course, there were lots of classic hits presented, like on of my favourites 'No Shuffle', or 'Master Hit', 'Headhunter', 'Body to Body' and of course 'Im Rhythmus bleiben'. Like already on Sinner's Day, also some lesser known pearls like 'Together', 'Tragedy >For You' or 'Take One' were included. Again FRONT 242 proved that their headliner position, especially in their home country, was well deserved. When they left the stage, there was a huge demand for encores. Anyone stayed in the rhythm and took care of a nice party at the day's end.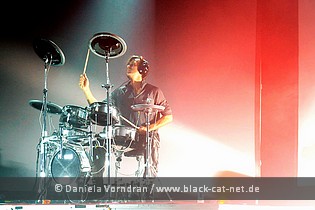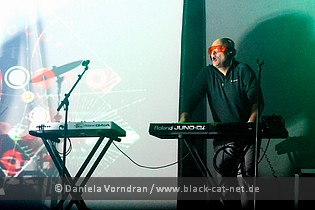 For many, after the show, the party was not over yet. There was a after-show party where well-known names were on the DJ list, like Dirk Ivens or Stefan Nilsson of SPETSNAZ.

Setlist
01. Shout it loud
02. Together
03. Moldavia
04. Tragedy >For You<
05. Master Hit
06. No Shuffle
07. Headhunter
08. Commando Mix
09. Triple X Girlfriend
10. Circling Overland
11. Lovely Day
12. Body to Body
13. Religion
14. Welcome to Paradise
15. Take One
16. Im Rhythmus bleiben
---
17. Quite Unusual (unconfirmed)
18. Punish Your Machine (unconfirmed)

Rating
Music: 8
Performance: 8
Sound: 8
Light: 8
Total: 8.3 / 10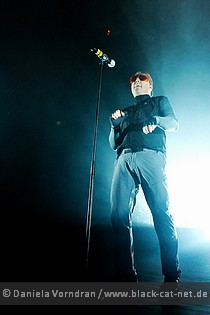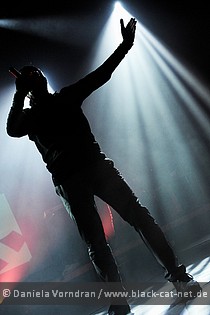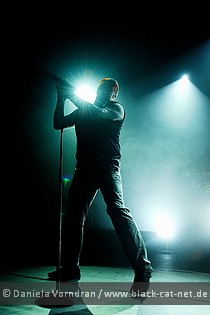 All pictures by Daniela Vorndran (http://www.vorndranphotography.com / http://www.black-cat-net.de/ / http://www.myspace.com/vorndranphotography / http://www.facebook.com/blackcatnet)