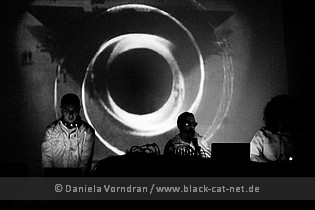 Trix XL, Antwerp, Belgium
17th December 2011
BIM Fest Day 2: Clock DVA, Suicide Commando, Severed Heads, Pouppee Fabrikk, Section 25, Flesh & Fell, Turnbull A.C's, Portrait Bizarre, Definitivos

Also the second day of BIM Fest had a great line-up to offer. Starting up at early afternoon with two Belgian guitar bands, there was more harder electro stuff coming up later with Swedish POUPPEE FABRIKK and local heroes SUICIDE COMMANDO having prepared a special oldschool set. With CLOCK DVA, the promoters once more had a fantastic headliner on the bill.



Definitivos

Belgian alternative cult punk band DEVINITIVOS from Kortrijk is mainly active around since 1980. Founded in the late 70s by guitarists Frank Holvoet and Marnik Den Hert, the band soon was joined by Lucien Callewaert as a singer, Rik Masselis (drums) and completed in 1981 by second guitarist Peter Coppens. Named after a cigarette brand, the band released two albums and two singles on Deaf Records. In 1985, the group split up. With help of Facebook, DEVINITIVOS was revived again in 2009 and released the compilation album 'Courtrai Tonight' in 2010, named after the band's most famous song. Today, the band consists of Frank "Frans" Holvoet (bass guitar), Lucien Callewaert (vocals), Rik Masselis (drums) and Dee Jaywalker (guitar), also known by his arrangement in other bands, like MARKY RAMONE AND THE SPEEDKINGS. http://www.myspace.com/definitivoskortrijk / https://www.facebook.com/pages/Definitivos/111056588928597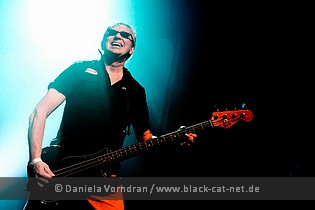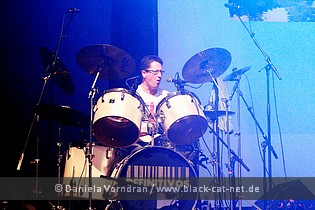 Music & Performance
The second festival day started with some guitar based bands what was a quite nice change compared to the previous day. Opening up at early afternoon were Belgian DEFINITIVOS presenting a mix of Wave and early 80s Punk. Remarkable through all songs were the striking bass lines. Within the set, of course the very first release, 'The Modern Dance', from 1981 could not be missed. Either could be the band's most famous song 'Courtrai Tonight' also giving its name to the recently released compilation whereof several songs were presented during the set. Surely a nice start into the day!

Setlist
01. Hammersmith Palais
02. Mr. C
03. Courtrai Tonight
04. On And On
05. Shadowplay
06. Robin in the Forrest
07. Baby that's allright
08. All I know
09. New Rose
10. Shot by both Sides
11. The Modern Dance
12. TV Eye

Rating
Music: 7
Performance: 6
Sound: 7
Light: 6
Total: 6.5 / 10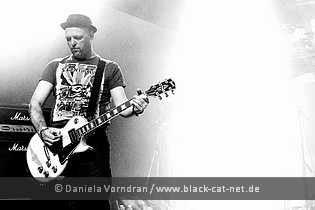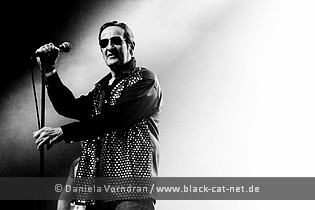 Portrait Bizarre

This Darkwave - Industrial band comes also from Belgium. Founded in 1982 in Maasmechelen, PORTRAIT BIZARRE got their start opening for such acts as LUNA TWIST, THE SCABS or THE NEON JUDGEMENT. 'Friends Could Be Friends' was recorded as a selected song for the 'No Big Business 2' album, produced by Ludo Camberlin. Lots of shows followed. A maxi-single, 'Heat Up One Moment' was recorded and the B-side 'The Invitation' as well as 'Ballad Of The Grave' became classics on the dance-floors of the underground-circuit. But then, numerous line-up changes made the band unstable leading to its end in 1985. But in October 2010, the members of PORTRAIT BIZARRE reunited and have been rehearsing since. Nearly 30 years after its start, the band is back with new songs, presenting its first physical album ever, 'A New Day', on BIM Fest. PORTRAIT BIZARRE is Yannick Camps (vocals), Raymond Szostek (keyboards & programming), Marc Cloostermans (guitars), Herbert Coox (bass) and Marc Haerden (drums). http://www.portraitbizarre.be / https://www.facebook.com/portraitbizarre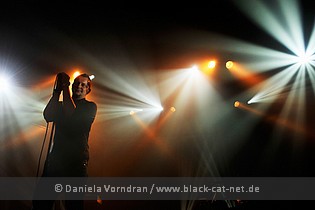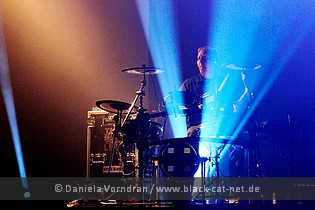 Music & Performance
Even though the band has a quite long history already, the first physical album was just released, containing old songs, new versions of old ones and also some new material. The album contains all in all ten songs, all of them have been played during the BIM Fest show, just in different order than released on the album. Unlike the first band, PORTRAIT BIZARRE were using E-drums, but nevertheless the music sounded organic. Also this band had distinctive bass lines included into their music being a mixture of Wave and modern alternative Rock. In times, the music and especially Yannick's voice reminded me of PLACEBO, and that is definitely meant as a compliment! The songs were rhythmic and danceable, the band seemed to be confident on stage. I really liked their show!

Setlist
01. Intro + The Invitation
02. Need I Say More?
03. Genesis (Good Things come to an End)
04. Story of Fools
05. Another Way to go
06. Ballad of the Grave
07. 'Cause your Soul will break
08. Jesus fell off my Wall (we will leave)
09. State of Mind
10. Friends could be Friends

Rating
Music: 8
Performance: 7
Sound: 7
Light: 7
Total: 7.3 / 10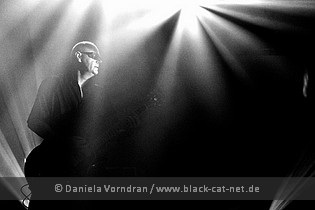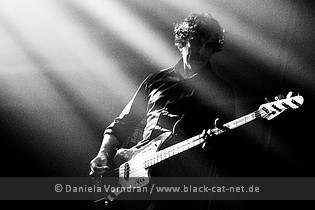 Turnbull A.C's

TURNBULL A.C'S is a side project of Pontus Stålberg of SPETSNAZ fame. The biography of the band is simple and mostly based on alcohol… their official MySpace says "This band was created by two losers from Örebro, Sweden in March 2008 under the influence of shitloads of alcohol. We hope we stay alive long enough to meet you all on stage again. Let..s get pissed!" while their Facebook puts it even shorter: "The Turnbull A.C's are: Pontus Stålberg, Magnuz Nord, Lars Karlsson. Making intoxicated EBM since... well, it's a blur." Their label Out Of Line puts it equally short: Pontus " has teamed up with long-time chum and drinking Lars Karlsson to unleash a bunch of angry, bass-infused Old-School-EBM-tracks onto an unsuspecting public. Turnbull A.C's is the ideal music to let go and is launching a full-frontal attack on the clubs of the world. The good old Electronic Body Music is still going strong!" Well, there is not much more to add. https://www.facebook.com/pages/Turnbull-ACs/147470701952376 / http://www.myspace.com/ebmturnbull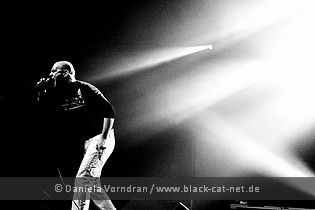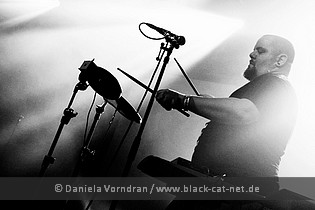 Music & Performance
Consisting in the studio mainly of Pontus and Lars, the BIM fest show presented Pontus together with Magnuz on stage. First thing coming into my mind was: "That looks like SPETSNAZ, just with another drummer, a more corpulent one". And also the music sounded a lot like SPETSNAZ, there were only little differences. The songs were all played from laptop, just a little percussion was added live. Pontus was, like we know it, playing the perfect EBM shouter running from one end of the stage to the other one. Since the band has only released one album so far, most presented songs, like 'Anthem' or 'Man Made Modern Machines' were coming out of it. But we also were introduced to a new song, name unknown to me. The EBM crowd liked the show a lot, dancing wildly in front of stage. I think this was more a copy of stuff already seen, too similar to SPETSNAZ in fact…

Rating
Music: 6
Performance: 6
Sound: 6
Light: 5
Total: 5.8 / 10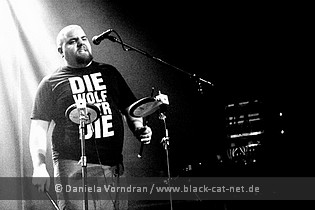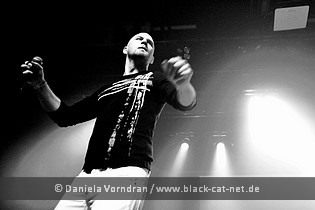 Flesh & Fell

Initially, the band consisted of musician Pierre Goudesone and femme-fatale singer Catherine Vanhoucke. After moving to Brussels, they recorded a first demo - aided by Luc Van Acker - with which they started bombarding the record-firms. Some day, their demo landed in the hands of Jean-Marie Aerts being so impressed with it that he opened some doors for the band resulting in the three-song maxi 'The Hunger / Wind'. Belgian press was full of compliments for the release while UK NME was rather unimpressed. After several live shows at the end of the eighties the band split up by the vocal troubles of Catherine and a few years after, they made some sort of a comeback early '90 on the turntables of the New-Beat-discotheques, in which the heavy beat of F&F somehow fitted. Pierre Goudesone is still very much active as a producer - Priba2000,YEL, STARVING,Hugo Race,etc. - and as a musician he released albums with his Band SPEAKING T and recently with his new solo project GOUDI. FLESH & FELL are nevertheless back on stage in 2011 with a new line-up consisting of original member Pierre Goudesone, Laurence Castelain (vocals) and Laurent Stelleman (guitar). http://www.myspace.com/fleshandfell / https://www.facebook.com/fleshandfell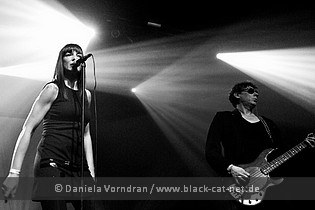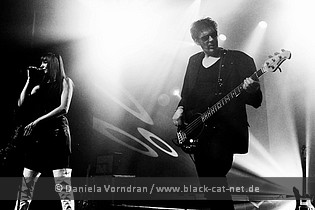 Music & Performance
Also FLESH & FELL had disappeared from the scene for many years and is just back on stage with a new line-up. The base of presented music as well as the drums were coming from tape while guitar, bass and vocals were played live by the three musicians. The need to start each song manually from laptop cause sadly some breaks in-between the songs what destroyed the overall mood of the set for me, a set that contained in fact some promising songs, like the hypnotic 'Hunger' or 'Suicide Hero' where the sound reminded me of BAUHAUS. Madame Castelain reminded vocally a bit of Siouxie Sioux, but her stage presence remained rather awkward and stiff. I think, the new line-up needs some more stage experience, the songs in fact have potential for great live shows.

Setlist
01. Intro
02. Something in Between
03. LSD
04. Hunger
05. Suicide Hero
06. The Wind
07. Tipsy
08. Suspicious
09. Tongue-tied
10. Emma (Hot Chocolate cover)
11. Perfect Companion

Rating
Music: 7
Performance: 6
Sound: 6
Light: 5
Total: 6 / 10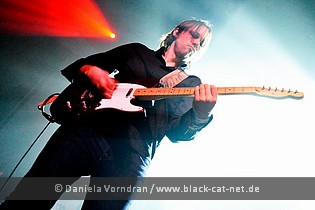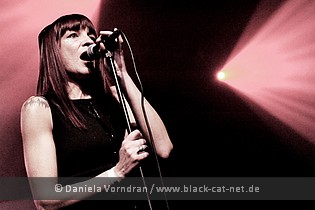 Section 25

UK band SECTION 25 from Blackpool was founded by ) by brothers Larry and Vin Cassidy in 1978. In the beginning, the band released albums on British label Factory Records. The debut album 'Always Now' was released in 1981, mentored by JOY DIVISION and produced by Martin Hannett, Ian Curtis und Rob Gretton. After the 1982 album 'The Key of Dreams', SECTION 25 released their successful album 'From The Hip', produced in 1984 by Bernard Sumner of NEW ORDER presenting now more danceable electronic sounds. It included the hit 'Looking From A Hilltop'. After a decade apart, SECTION 25 released their comeback album 'Part-Primitiv' in 2007 followed by 'Nature + Degree' in 2009. Their most recent album 'Retrofit' was recorded before the untimely death of Larry Cassidy in February 2010. The album finally was released in September 2010. In 2011, SECTION 25 issued their first release without Larry Cassidy, the 'Invicta' EP. Today, the band consists of founder Vin Cassidy (drums), Larry's daughter Bethany Cassidy (vocals, keyboards), Steve Stringer (guitars, computers) and Stuart Hill (bass, computers). http://www.section25.com / https://www.facebook.com/pages/Section-25/111164920242 / http://www.myspace.com/section25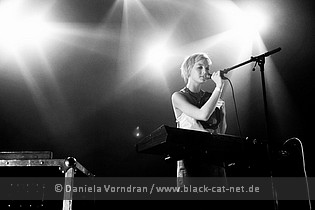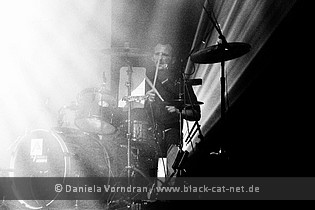 Music & Performance
First of all, this show was one of my festival highlights! When I saw the band back in 2008, Larry was still singer of the band and Peter Hook (JOY DIVISION, NEW ORDER) was playing as guest bassist with them. Now, I was presented a new singer, not male but female, with Larry's young daughter Bethany. She was acting totally different on stage compared to her dad, she was vivid, dancing and hopping around. In fact, she reminded my a lot of Tying Tiffany, not only from her behaviour, also from her movements and her look. And again, I mean this comparison as a compliment. The presented songs were all very energetic, based on electronics and enriched by drums, bass and guitar. Of course, the set contained several classics, starting with 'Beating Heart' and ending with the hit 'Looking From A Hilltop', both from 1984 album 'From The Hip'. But also both songs of the 'Invicta' EP, 'Inner drive' and 'Colour, Movement, Sex And Violence' were included and the were fitting perfectly to the rest of the set. Hope to see more of the band soon!

Setlist
01. Beating Heart
02. Rememberance
03. Wretch
04. The Process
05. Girls don't count
06. Inner drive
07. Dirty Disco
08. Colour, Movement, Sex And Violence
09. Looking From A Hilltop
---
10. Garageland (only planned, but not played)

Rating
Music: 8
Performance: 8
Sound: 8
Light: 6
Total: 7.8 / 10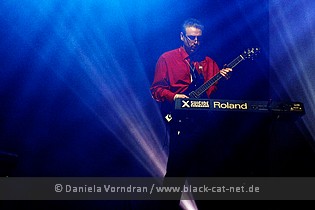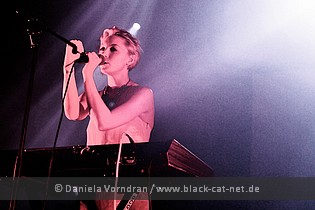 Pouppée Fabrikk

Swedish EBM / Electro-Industrial project POUPPÉE FABRIKK was founded in 1987 by Leif Holm (drums, samples & programming) and his buddy Henrik Stahl (vocals). Some new members joined the band, but only Leif Holm and Henrik Björkk (vocals, lyrics) still were part of the band in 1989. Having same preferences for bands such as DAF, DIE KRUPPS and NITZER EBB, whose music was characterized by impulsive repetitive synth bass sequences, this was common ground for the idea to autonomously make electronic music under the name of POUPPÉE FABRIKK. POUPPÉE FABRIKK is a French/Norwegian combination of words and has no deeper meaning. The same holds true for the band logo. The first album 'Rage' was released in 1990, latest one 'Your Pain - Our Gain' in 1999. But currently, the band is working on new material to be released soon on Belgian Alfa Matrix label. POUPPÉE FABRIKK today consists of Leif Holm (machines), Henrik Björkk (vocals), Christian R (machines) and Jonas Aneheim (machines / guitar). The band was on stage supported by Stefan Nilsson of SPETSNAZ. http://www.pouppee-fabrikk.com / https://www.facebook.com/pages/Pouppée-Fabrikk/100329766260 / http://www.myspace.com/pouppeefabrikk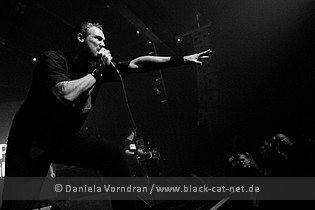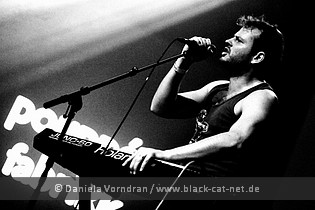 Music & Performance
With five people on stage, it was rather crowded up there now. The show of Swedish POUPPÉE FABRIKK was one I was really curious for, especially since I had never seen them before and they are one of the figureheads of the EBM scene. Promising conditions, by my expectations were rather disappointed. Why? Well, the overall show remained rather dumb and chavvy. You got a singer who was running across stage, putting his shirt off in the course of the show and talking big, jumping on the speakers even though there was written a big "NO!" on them and climbing finally the fence. You got a keyboarder whose keyboard fell down… and it made no difference in the show. You got a Stefan showing his bare belly (not attractive, hm?). And you got a drunken Pontus of SPETSNAZ, finally climbing the stage "performing" a song together with the band. Even though people enjoyed it - maybe most of them were as drunken as several band members? - I rather disliked it. I prefer something more advanced I think. Anyway, the songs itself, like i.e. 'Weak Men', are cool, but what the band made out of the music for this performance was disappointing in my opinion.

Rating
Music: 7
Performance: 6
Sound: 7
Light: 5
Total: 6.5 / 10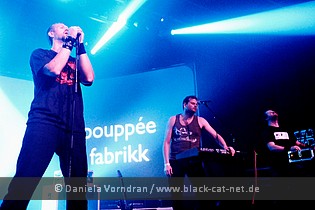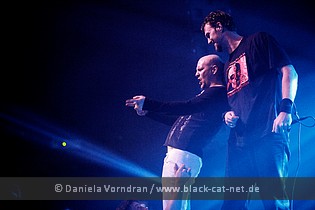 Severed Heads

SEVERED HEADS already played a special set the day before. For detailed information about the band, check the first part of our BIM Fest article. http://www.sevcom.com/

Music & Performance
The second SEVERED HEADS show was really ill-fated. The stage setting with three screens and the desk with technical equipment was the same as at the previous day. But when the show started, the videos wouldn't and the starting picture froze. But that was not the main issue. In the middle of the first song, music stopped and the whole system (btw on a Mac!) crashed. Totally helpless with the crashed computer, the band was not really able to bridge the time until the system was rebooted. Just helpless faces… and silence. After reboot, same situation. No video, just music, what was commented with "ok, then without the fucking video". But in the middle of the song, all crashed again. Reboot, new try. Until the problem was solved, there was music from CD.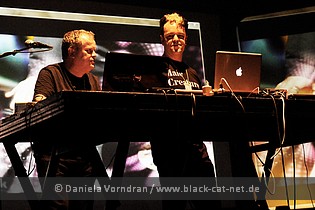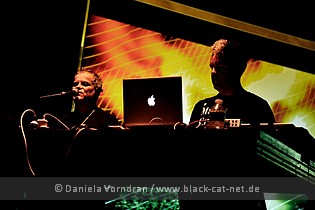 To solve the problem, they finally skipped the first song and from the second one, music and video worked. Luckily, since the show would not have been impressing without the videos, they are an essential part of the multimedia experience. To compare the performance with the previous day… today, we got more instrumental songs with just sparse lyrics. Furthermore, besides the videos there was no additional light used. For me, the songs sounded more experimental and spherical. As is the crashed computer was not enough, one of the video beamers failed during the show as well. Hard to judge how the show might have worked without all those problems…

Rating
Music: 7
Performance: 5
Sound: 7
Light: 5
Total: 6 / 10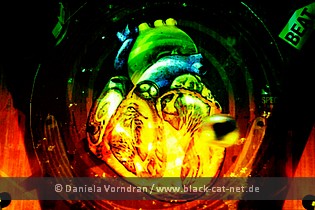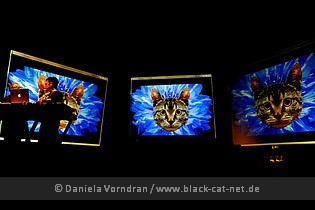 Suicide Commando

One of the veteran projects in the electronic music scene is SUICIDE COMMANDO! A lot of years have passed since Belgian native Johan van Roy founded this project as a mere studio project in 1986. Three years later, he released his first tape under that moniker and made an appearance on the vinyl compilation 'Electronic'. Following years brought more self-released tapes and compilation appearances until in 1994 the first SUICIDE COMMANDO CD 'Critical Stage' got released followed by 'Stored Images' shortly thereafter in 1995.Those two included two of the project's biggest club hits 'Where do we go from here' and even more 'See you in Hell'. In 2006, the album 'Bind, Torture, Kill' saw light of day. Van Roy signed to Out Of Line in 2009 and released 'Implements of Hell' in 2010. SUICIDE COMMANDO live usually is Johan van Roy (vocals), Torben Schmidt (keyboards), Mario Vaerewijck (drums) and Jan L. (keyboards). But since the show at BIM Fest was a special one with an oldschool set, also the stage setting was special. Van Roy was love supported by keyboarder Gert Haelevoet (FRAMES A SECOND), who was playing live with SC in the good old times when also David Kirvel (PIERREPOINT) belonged to the line-up. http://www.suicdecommando.be/ / http://www.myspace.com/suicidecommando / https://www.facebook.com/IIXIII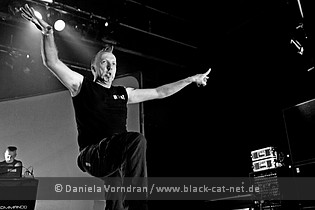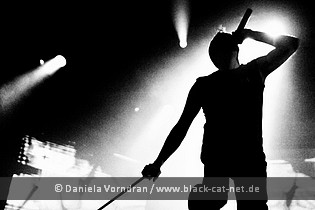 Music & Performance
SUICIDE COMMANDO had prepared something really special for this evening, a vintage set presenting songs from the first demos and CDs only. Also the stage setting was like in the old times with two keyboards in the back, one for Gert and one for Johan for occasional use. Even though the missing drums, one got used to during the last years, first felt a bit odd, the set worked. Supported by the video screens (one of them failed several times during the show), Johan presented a powerful set anyone in the hall just loved. When Johan stormed the stage to first song 'Murder', he threw the microphone stand onto the floor like always, just that there was a big glass bottle of water standing that got smashed. A stage hand had to remove all those glass splinters. Johan himself was rather unimpressed by this little disturbance and went on with 'TV obsession' and 'Traumatize'. The the middle of the show, another surprise was prepared. While Johan was backing out behind his keyboard, Dirk Ivens (THE KLINIK) was rushing onto stage offering a powerful performance of 'Where do we go from here' from 1994s 'Critical Stage' album.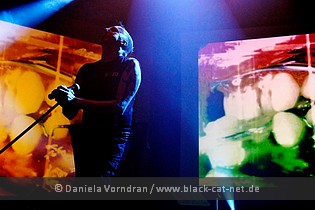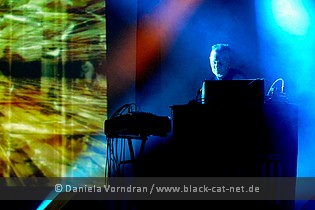 With club stomper 'See you in hell', the unusual set ended. People freaked out, heavily demanding an encore. There was finally time for one more song, 'The Mirror' from 1992 (demo CD 'Black Flowers'). Fantastic show, I liked this one much more than the recent SC shows you are used to nowadays.

Setlist
01. Murder
02. TV obsession
03. Traumatize
04. Sheer horror
05. The ultimate machine
06. Mortal combat
07. Where do we go from here (feat. Dirk Ivens)
08. Never get out
09. Save me
10. Time
11. Necrophilia
12. See you in hell
---
13. The mirror

Rating
Music: 8
Performance: 9
Sound: 8
Light: 6
Total: 8 / 10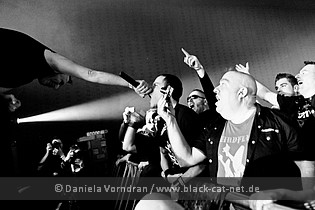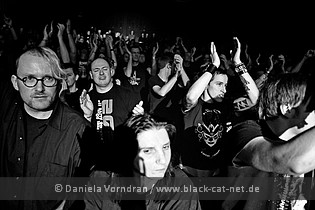 Clock DVA

Industrial music, post-punk and EBM group from Sheffield, England, was founded back in 1978 by Adi Newton and Steven Turner. The band's name was inspired by Anthony Burgess' 'A Clockwork Orange' and the Russian "dva" for "two". Adi had previously worked with members of Cabaret Voltaire in a collective called THE STUDS and with Ian Craig Marsh and Martyn Ware in a band called THE FUTURE. Ian and Martyn went on to found THE HUMAN LEAGUE. The group was originally known for making a form of experimental electronic music involving treated tape loops and synthesisers. CLOCK DVA became associated with industrial music with the 1980 release of their album 'White Souls in Black Suits'. The album Thirst, released on Fetish Records, followed in 1981 to a favourable critical reaction. Without member Steven Turner but with Paul Browse and Dean Dennis, CLOCK DVA released the album 'Advantage' in 1982. Then, the band split up when also Newton left to form THE ANTI GROUP. In 1987, Adi Newton reactivated DVA and invited Dean Dennis and Paul Browse back into the fold to aid Newton's use of computer aided sampling techniques which he had been developing in THE ANTI GROUP.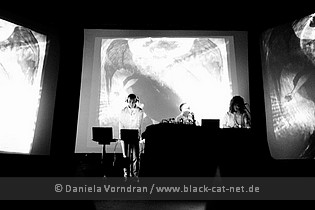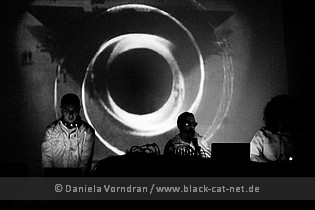 The band went into hiatus after the 1993 album 'Sign' and the so far last release, the retrospective compilation 'Collective'. Finally, Adi Newton reactivated CLOCK DVA along with his creative partner Jane Radion Newton in 2008. In June 2011, the band performed for the first time since 1994, at the WGT in Leipzig. http://www.clockdva.com / http://www.myspace.com/clockdvaauthorized / https://www.facebook.com/pages/Clock-DVA/57909220995

Music & Performance
In June for their WGT show, I missed most of the set. So I was even more curious what we got offered today. Different to the WGT show, where just a big white cube was seen on stage where abstract videos were projected on, today we could see the band, at least almost since it was really dark on stage, just some video art installations shown on the screens on the back. In front of those screens, the desk with a lot of equipments was set up, behind it, the three musicians were standing rather motionless. The songs itself were less experimental than with THE ANTI GROUP the day before, they had more beat making you move. People liked it, songs like 'Fractal 9', 'Phase IV' or 'Sound Mirror' were accompanied with a lot of "Awesome!" cheers. Sadly, the overall experience was once more a little destroyed by the breaks between the songs. All in all a great experience, but not totally fulfilling my high expectations.

Rating
Music: 9
Performance: 6
Sound: 7
Light: 5
Total: 7.5 / 10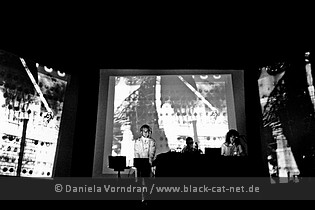 When the last sounds of CLOCK DVA were faded, the after show party started where people were celebrating until morning. BIM Fest promoters once more organised a fantastic festival with a great line-up, offering some bands you rarely see anywhere else.

All pictures by Daniela Vorndran (http://www.vorndranphotography.com / http://www.black-cat-net.de/ / http://www.myspace.com/vorndranphotography / http://www.facebook.com/blackcatnet)