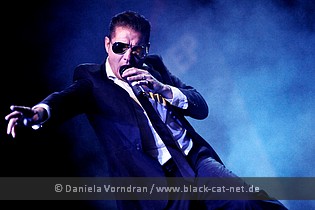 Neue Stadthalle, Langen, Germany
27th December 2011
neuWerk Festival: Nitzer Ebb, Suicide Commando, Diorama, Haujobb, Reaper, X-Divide

Over the years, the neuWerk Festivals have become kind of an institution when it comes to 1-day festivals that pop up everywhere around in Christmas time. Now, after last year's edition saw the festival relocating to the new city hall of Langen, everything's being extended to a little festival tour kicking off in Berlin on 26th December and ending in Hamburg on 29th December 2011.


For the Berlin crowd there was a special treat with VNV NATION headlining the festival presenting lots of material off their widely successful new album 'Automatic'. Langen, Krefeld & Hamburg had NITZER EBB on top of the list and the huge stage presence of Douglas McCarthy Certainly caters for making these a memorable show besides the music. Furthermore, the festivals had SUICIDE COMMANDO on the bill who were bringing a healthy dose of distorted aggression to the stage and the audience that evening. DIORAMA has always been notable for their special brand of live shows. Even though this one was much shorter than fans want it to it was nevertheless as energy-packed as it can get… with a little accident as well. But more to this later. HAUJOBB just released their new album 'New World March' on 25th November were filling in for ROTERSAND due to the continued health issues of singer Rasc. REAPER and X-DIVIDE completed the package with machine beats and melody-laced electro pop. All in all a package that had something for everyone in stock. And now, read about the show in Langen, which was the second show of the small tour.


X-Divide

The name X-DIVIDE spooks around in the scene for a while now. The duo consists of Eric and Jens, both having experiences with the music business already. The band was founded in 2005 and recorded their first song some time in the same year! Following up their first live experiences, a promotional EP was recorded in collaboration with Vasi Vallis of FROZEN PLASMA & REAPER which entered the German Alternative Charts at the time. It supposedly was that fact that roused the attention of Infacted Recordings who went on to sign X-DIVIDE. The band's first release is the EP 'X' and was out on 12th February 2010. Still, the band has not yet released a proper full-length album. X-DIVIDE is Eric (vocals, programming, synths) and Jens (second vocals, synths, lyrics). http://www.x-divide.de / http://www.myspace.com/x-divide / https://www.facebook.com/xdividecologne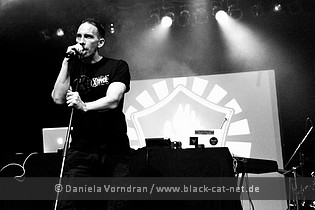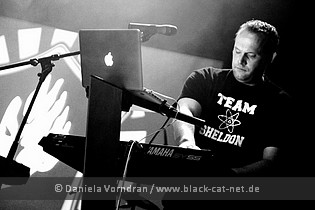 Music & Performance
X-DIVIDE were opening up the evening and their show was star-crossed. Singer Eric was pretty sick, so sick that the band had to cancel the previous day's show in Berlin. And maybe it would have been a good idea to cancel the Langen show too since Eric probably still felt quite bad. But kudos to him for insisting in playing the show. What was noticeable from the very beginning: it was very dark on stage, so dark that the audience hardly could see the artists' faces. And this situation would not change in the course of the day. Need to be said that the light conditions at previous year's edition were much better. The set - that was in fact quite boring due to Eric being quite motionless - was opened with 'Sympathy' in the NAMNAMBULU remix. Since ex-NAMNAMBULU head Vasi Vallis is producing the band, it is nothing surprising that this mix was played. Usually, the band is presenting fine Synth Pop making your feed moving. This time, people remained quite motionless as well and so, the band received rather reserved applause when they left the stage after six songs.

Setlist
01. Sympathy (NamNamBulu remix)
02. My Love is Guaranteed
03. So in Love
04. Sometimes
05. Now or Never
06. Forever

Rating
Music: 7
Performance: 5
Sound: 6
Light: 2
Total: 5.5 / 10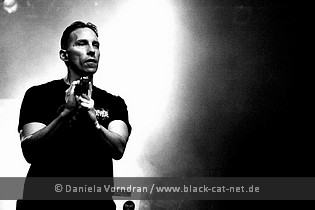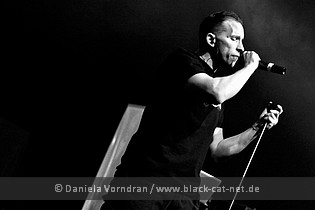 Reaper

Besides his Synth Pop / Future Pop adventures with FROZEN PLASMA and the now defunct NAMNAMBULU, hardworking producer and musician Vasi Vallis also started his Industrial / Techno project REAPER in 2005. While enjoying quite some success with FROZEN PLASMA; Vasi Vallis' side-project REAPER also spawned a few club hits like 'She Is A Devil and A Whore' and 'Robuste Maschine'. Currently, Vallis is working on new REAPER material whereof you got a little insight at the show in Langen. REAPER live on stage at neuWerk Festival was is Vasi Vallis (vocals, keyboards) and Gregor (keyboards). www.reaper-music.de / www.myspace.com/reapermusic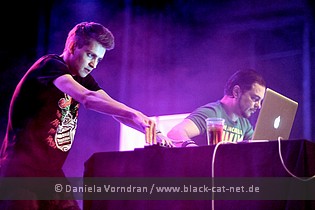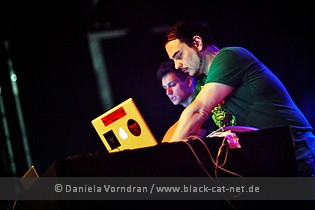 Music & Performance
The REAPER show at neuWerk festival came as a little surprise. Different to previous performances with Vasi usually running across the stage like a madman wearing some face paint, this time there was only a DJ desk on stage. When Vallis and Gregor entered the stage wearing colourful superhero shirts and taking their places behind the desk, it was clear that you got rather a DJ set than a real live concert. The presented set consisted of pure electronic music with lots of Techno influences… without any vocals. What REAPER offered today was definitely a matter of taste and lots of people were disappointed by the unusual performance since they did expect something completely different. Other chose to dance to the stomping electro beats of 'X-Junkie', 'Urnensand' or 'Robuste Maschone' instead. REAPER's show also offered a song by Gregor's own band SKYLA VERTEX called 'Sinnkrieg' and two new, yet untitled, REAPER songs, first of them with e big Trance bridge and second one being rather a real electro stomper. Needless to say that also during the REAPER show, the band was hardly to see. But at least there were some brighter spots every now and then.

Setlist
01. X-Junkie
02. Das Grauen
03. Urnensand
04. Robuste Maschine
05. New Reaper Song (yet untitled)
06. Sinnkrieg (Skyla Vertex song)
07. New Reaper Song (yet untitled)

Rating
Music: 6
Performance: 6
Sound: 6
Light: 3
Total: 5.6 / 10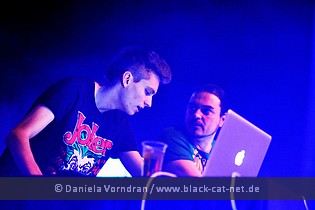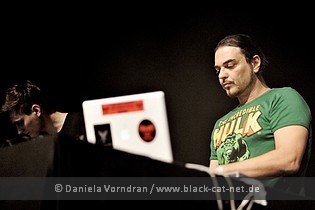 Haujobb

All in all, eight years fans had to wait for a new HAUJOBB album to be released. It's titled 'New World March' and it's a blast to listen to. Founded back in 1993 by Daniel Myer, Dejan Samardzic and Björn Jünemann, the band released its debut album 'Homes & Garden' in the same year. The project can be counted to the most creative and innovative in the electronic music scene; in the early days of the formation has been compared to SKINNY PUPPY; mostly referring to the first album 'Homes & Gardens', but already with the subsequent outputs 'Freeze Frame Reality' and 'Solutions for a Small Planet' the evolution of the sound had so much progressed, that comparisons to other bands neither were suitable nor necessary anymore. The following years saw the releases of two new HAUJOBB outputs; the 'Matrix' Double EP in 1998, the Electronica excursion 'Ninety-nine' as well as first outputs of the side-projects NEWT and CLEEN. A regular new album had to wait until 2001; and 'Polarity' came with a bang. Only eight months later those creative heads returned with a new single 'Penetration' already giving an insight on the forthcoming album 'Vertical Theory' which then was finally released in 2003 and being the last studio album one for a long time.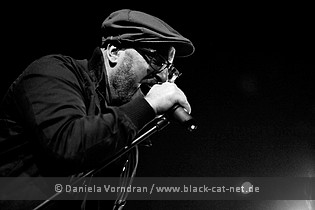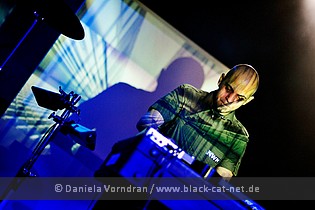 In 2008, the band gave its "farewell concert" at the Amphi festival. But good things need to come back and so did Haujobb. Finally in 2011, the band was back with the 'Dead Market EP' followed by the new album 'New World March' in November 2011 being very well received by press and electronic music lovers. Not only there was a new album, HAUJOBB is also back on stage again! HAUJOBB is Daniel Myer (arrangements, vocals), Dejan Samardzic (arrangements, production) and live member Manuel G. Richter (synths, noises, drums). http://haujobb-music.com/ / https://www.facebook.com/haujobbmusic / http://www.myspace.com/haujobbmusic

Music & Performance
After I saw their "farewell show" back in 2008, this was my personal highlight of the evening. The new album is amazing and I was curious how the new songs would be presented live. Different to the 2008 show, where the band was supported by Achim Färber on drums and Guido Fricke (who was doing the sounds only this time) on guitar, we now got a pure electro set, spiced up with some e-drums. It is not easy to put songs from every single album (all in all 7 studio albums and several EPs and Remix albums) into a 10 song grasping set. Main focus was of course on the latest releases including 2003 'Vertical Theory'. Backed up by three video screens presenting visuals to all songs, the set opened up with 'Letting the Demons sleep' from the 'Dead Market EP'.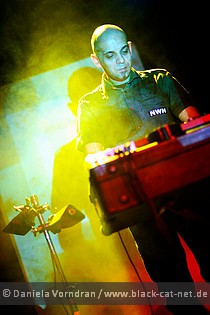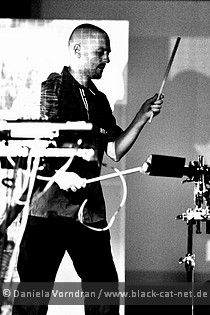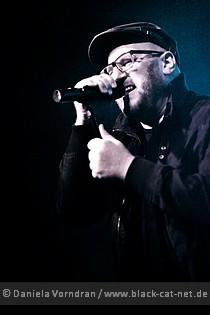 From the beginning you could see that especially the younger audience was not familiar with the band and its history. But old-schoolers like me were amazed. Luckily the videos lightened up the stage a little and you could see what's going on, Dejan and Manuel fiddling with the knobs and devises or hitting the drum pads while Daniel played once more the perfect powerful front man. 'New World March' was presented with three songs, calm and balladry 'Little World', 'Let's drop Bombs' and the final song of the set, 'Dead Market'. Even though I love the new album, still my favourite of the set was 'Dream Aid' from 1995's 'Freeze Frame Reality'. But there were more classics and danceable songs, like 'Renegades of Noize' and 'The Noise Institute', both from 2003's 'Vertical Theory'. The concert of HAUJOBB was like an emotional and sonic whirl by combining lyrical warmth and noisy scream through dynamic and overwhelming sonic matters. You were moved by the mix of speed and uncontrollable changes in atmosphere from wild and neurotic to dangerously pulsating and gloomy! Already looking forward to more HAUJOBB shows in future! Good to see you back on stage!

Setlist
01. Letting the Demons sleep (Dead Market EP)
02. Renegades of Noize (Vertical Theory 2003)
03. Little World (NWM)
04. Let's drop Bombs (NWM)
05. Eye over you (Homes & Gardens 1993)
06. Dream Aid (Freeze Frame Reality 1995)
07. Unseeing (Polarity 2011)
08. Penetration (Penetration EP 2002)
09. The Noise Institute (Vertical Theory 2003)
10. Dead Market (NWM)

Rating
Music: 9
Performance: 9
Sound: 7
Light: 5
Total: 8.1 / 10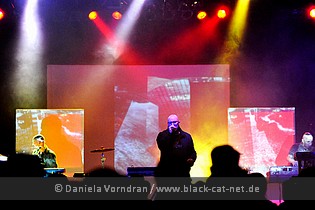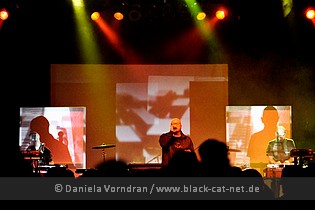 Diorama

DIORAMA was founded by Torben Wendt between 1994 and 1996. His long-time friend Felix Marc soon joined him as a co-producer and keyboard player. Sometime later, bass player Bernard le Sigue and guitarist Sash Fiddler, who were fellow students of Torben and Felix, gradually grew into the line-up and last but not least drummer Marquess became a member of the band. Bernard le Sigue left the Band in October 2006. In 2007, the band released their fifth album 'A Different Life', preceded by the single 'Synthesize me'. The band played some extremely energetic and compelling festival shows to present the album and kept playing various shows in the following time. Eventually in February 2010 the silence was broken with the release of the new single 'Child of Entertainment', being the offspring of the long-awaited album 'Cubed', released in March 2010. Currently, also DIORAMA is working on a new album, no release set by now, but we got a little foretaste during the neuWerk show. DIORAMA is Torben Wendt (words and music, vocals, keys, percussion), Felix Marc (co-production, keys, vocals), Sash Fiddler (guitars) and Marquess (drums). http://www.diorama-music.com / http://www.myspace.com/dioramamusic / https://www.facebook.com/pages/Diorama/20921056622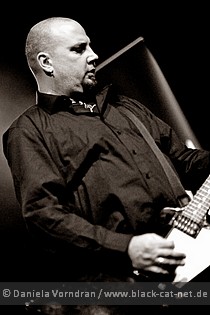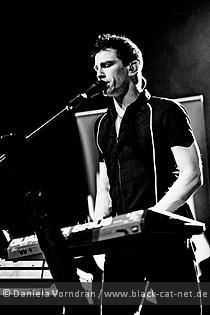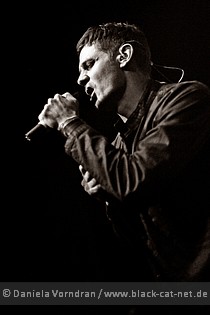 Music & Performance
It is always a pleasure to see DIORAMA. But still, the show in Langen was not the best show of them I had seen so far, and I have seen a lot! That it was a but reluctant by band and audience might have been caused by the overall circumstances… people were rather disappointed by the lighting conditions and the rather bad sound. Besides that, something happened during the show that rained on DIORAMA's parade. But let's start at the beginning, when the band entered the stage during the long intro, Torben taking place behind his keyboard in front of a new backdrop any playing the piano wonderfully. Things seemed to be enthusiastic when the fast songs 'Ignite' from the latest album and fan favourite 'Why' with its stadium choir kicked in. People were singing and dancing. At the end of 'Why', Torben played a few more piano lines and accidentally the keyboard fell down from its stand. Did not promise any good. The stage hand tried to fix anything but soon it was clear that the piano was dead (at least for now). This really pulled Torben down and when you were standing in the front you could hear him saying "shit, fuck…".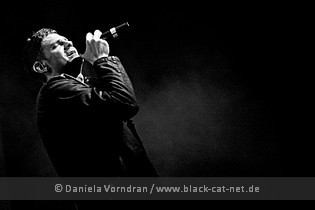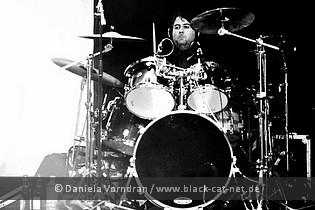 Anyway, the band tried to make the best out of this situation going on with 'Champagne for all' and a very new song called 'Hello, Goodbye' to be included on the upcoming album. A really danceable and catchy one! With 'Child of Entertainment', 'Synthesize me' and 'The Girls', three more fan faves followed and then the set was already over, much too soon. People extensively demanded an encore, but the band did not come back. Later I learned that this was also caused by the damaged keyboard, since a piano piece of Torben was planned as addition.

Setlist
01. Intro
02. Ignite
03. Why
04. Champagne for all
05. Hello, Goodbye (New Song)
06. Child of Entertainment
07. Synthesize me
08. The Girls

Rating
Music: 8
Performance: 7
Sound: 7
Light: 4
Total: 7 / 10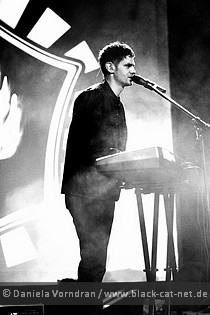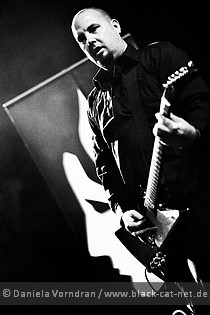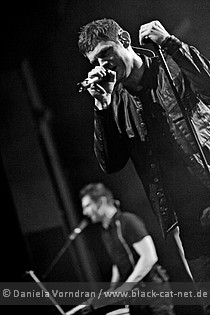 Suicide Commando

One of the veteran projects in the electronic music scene is SUICIDE COMMANDO! A lot of years have passed since Belgian native Johan van Roy founded this project as a mere studio project in 1986. Three years later, he released his first tape under that moniker and made an appearance on the vinyl compilation 'Electronic'. Following years brought more self-released tapes and compilation appearances until in 1994 the first SUICIDE COMMANDO CD 'Critical Stage' got released followed by 'Stored Images' shortly thereafter in 1995.Those two included two of the project's biggest club hits 'Where do we go from here' and even more 'See you in Hell'. In 2006, the album 'Bind, Torture, Kill' saw light of day. Van Roy signed to Out Of Line in 2009 and released 'Implements of Hell' in 2010. SUICIDE COMMANDO live in Langen was Johan van Roy (vocals), Torben Schmidt (keyboards) and Mario Vaerewijck (drums). http://www.suicdecommando.be/ / http://www.myspace.com/suicidecommando / https://www.facebook.com/IIXIII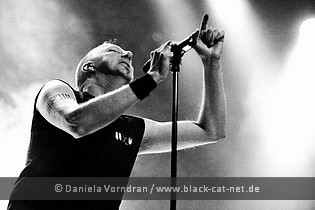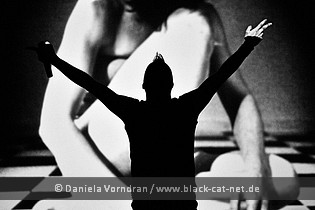 Music & Performance
Having seen SUICIDE COMMANDO just a few days before with a vintage set presenting only very old songs, this was quite a change again… and could not compare with the fantastic oldschool set we had at BIM Fest. And if you think it cannot get any darker on stage, you were proved any better now. Even though the band had its usual videos with them, it remained really dark on stage. Really sad since Johan was posing and making faces as usually at the front of stage. At least people had the chance to be really close to him since he was jumping down into the pit and climbing the fence two times. The set itself, presented by the usual band line-up consisting of Torben on keys and Mario on drums, was one you were quite used to when you saw the band already during the last year. Hits like 'Dein Herz, Meine Gier', 'Death Cures All Pain' or 'Die Motherfucker Die' made people dance. Anyway, a little surprise was included into the show with a cover of the TOMMI STUMPFF classic 'Massaker'. Ending with 'Bind, Torture, Kill' people were excited demanding more.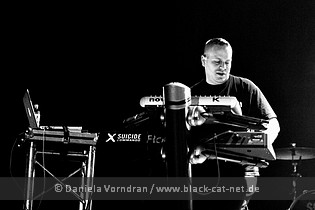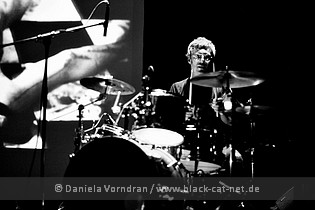 And so, the band was back again with its classic 'See You In Hell', the only song that was also included in the vintage set at BIM Fest. Having spoken with Johan at the evening, there might be a chance to experience this vintage set also in Germany during this year.

Setlist
01. Severed Head
02. Hate Me
03. Death Cures All Pain
04. Raise your God
05. Dein Herz, Meine Gier
06. Cause of Death: Suicide
07. God Is in the Rain
08. Massaker (Tommi Stumpff cover)
09. Love Breeds Suicide
10. Die Motherfucker Die
11. Bind, Torture, Kill
---
12. See You In Hell

Rating
Music: 7
Performance: 7
Sound: 6
Light: 2
Total: 6.1 / 10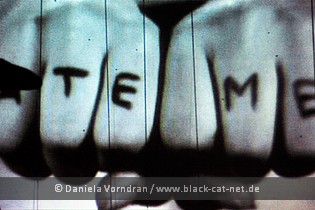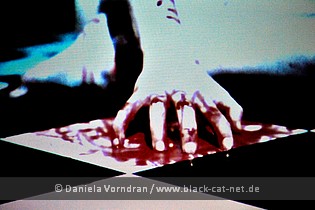 Nitzer Ebb

British music legend NITZER EBB hardly needs an introduction, as their albums like 'That Total Age' (1987), 'Belief' (1989) or 'Ebbhead' (1991) are groundbreaking releases which influenced a plethora of young bands. Despite a 11-year long break from 1995 to 2006 their popularity wasn't dropping a single bit. Quite the contrary, there was even an increase of popularity, last but not least as their singles like 'Let Your Body Learn', 'Control I'm Here' or 'Join In The Chant' have persisted as key tracks in the set lists of the DJs of the EBM underground as well as the Techno scene. In 2010 NITZER EBB released their first new material in 15 years with the album 'Industrial Complex' and embarked on a European tour with their former label mates DEPECHE MODE. This year saw more touring for the band, including a co-headlining concert series with DIE KRUPPS, who are brothers in mind since the two bands worked together on the 'Machineries Of Joy' EP in 1989. After the neuWerk show end of 2011, the band will do a little break, giving time for front man Doug McCarthy's solo project. NITZER EBB is Douglas McCarthy (vocals), Bon Harris (synths, drums, production) and Jason Payne (drums, percussion). http://www.nitzer-ebb.com / http://nitzerebbicp.com / https://www.facebook.com/pages/Nitzer-Ebbcom/53932772951 / http://www.myspace.com/nitzerebbmusic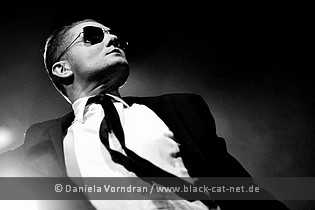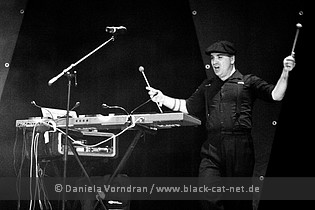 Music & Performance
I had seen many NITZER EBB show, especially since the reunion. Was it getting boring? Not really. And this time, the band had also promised to perform some rather rarely played songs. Once more, singer Douglas was turning the show into a home run… at least for those who still were present. Many people, who were just there for SUICIDE COMMANDO, had already left the venue. But the people being still there were offered a great show once more. Like always, McCarthy was keeping his energy level high during the show. After the intro, the show started with classic smasher 'Getting Closer' having both, Doug and Bon, on microphone. The following set was a mix of iconic classics like 'Let Your Body Learn', 'Lightning Man' or 'Godhead' alternating with highlights out off the recent album 'Industrial Complex', like smasher 'Payroll' or gloomy and dramatic ballad 'I am Undone'. With 'Blood Money' and especially 'One Man's Burden' we got some rare tracks as well. 1986 single 'Murderous', always a winner and one of the "big ones" in NITZER EBB's back catalogue followed. McCarthy as always covered all of the stage, running from one corner to the other, now screaming the key line of the song at the crowd! "Where is the youth?"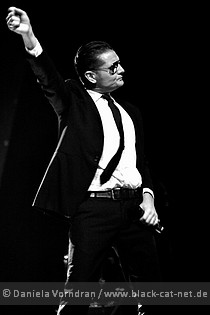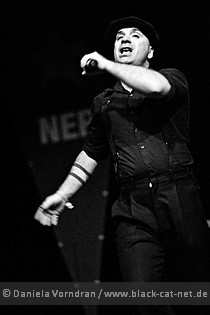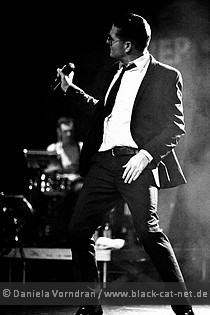 What else you could do but dance? During the subsequent 'Control I'm Here' people were giving their best to sweat. With this track, NITZER EBB concluded their main set but it was crystal-clear that an encore was indispensable. One of the encore songs was a surprise too. Not heard for many, many years, 'Violent Playground' especially pleased the die-hard fans.

Setlist
01. Intro
02. Getting Closer
03. Down On Your Knees
04. Shame
05. Hearts & Minds
06. Let Your Body Learn
07. Once You Say
08. Lightning Man
09. Hit You Back
10. Blood Money
11. Payroll
12. Godhead
13. I Am Undone
14. One Man's Burden
15. Murderous
16. Control I'm Here
---
17. Promises
18. I Give To You
---
19. Violent Playground
20. Join in the Chant

Rating
Music: 8
Performance: 8
Sound: 7
Light: 5
Total: 7.4 / 10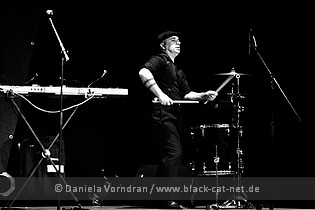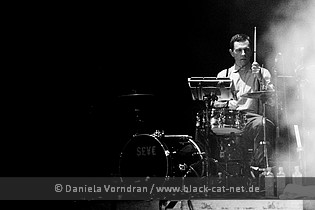 Let me now sum up a few points at the end… Last year, the festival debuted in Langen. There were some issues to criticise, others were already very well done. Now, the promoters had the chance to make it better. But sadly, there were still things to criticise. But let's start with the good points. The venue is pretty well suitable for this kind of event. You have a large foyer with all the merch stands as well as table and chairs to rest a bit, have some beverages and food, time to chat with friends in a calmer area. The hall is not too big with a large stage, some tables, a bar. You could see from every where… if you could see anything besides darkness. What leads us to the lows of the festival. As already mentioned, the stage lighting was terrible. I had spoken with many people all having the same issue. The artists were hardly seen on stage. I don't know what happened, the previous year's festival had so wonderful light shows. This time, also the entrance checks were not done at the venue's doors but at the entrance to the concert hall it self… on a small door where people went in AND out! This led to waiting times at the door. It would have been better to have an entrance PLUS an exit to the hall. Waiting times at the bar were longer every now and then as well, no wonder when you have just two people behind. Maybe that was the reason they only sold big beers? A few more minor things could be improved as well, like non-refillable cups (causing too much waste) and more trash bins. Anyway, what counts most is the music and the line-up was pretty appealing. And as I heard, the overall circumstances during the other three neuWerk festivals were better than in Langen. So, we are already looking forward next year's edition.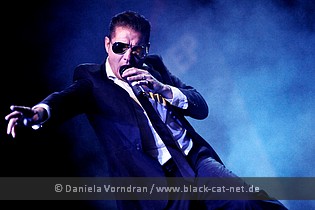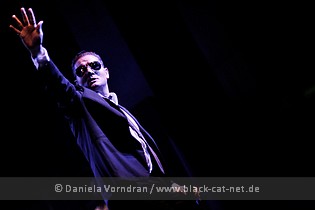 All pictures by Daniela Vorndran (http://www.vorndranphotography.com / http://www.black-cat-net.de/ / http://www.myspace.com/vorndranphotography / http://www.facebook.com/blackcatnet)



See also (all categories):