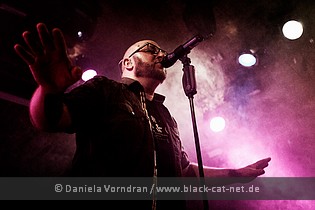 Moritzbastei, Leipzig, Germany
6th January 2012
Planet Myer Day 10: Haujobb, Hecq, Slave Republic, Niveau Zero, Liquid Divine, Architect

For the tenth time already, Planet Myer Day calls fans of electronic music from all corners of the world to Moritzbastei in Leipzig to spend a fun evening with good music. The line-up was be led by Daniel Myer's project HAUJOBB currently celebrating a new album, 'New World March'. Besides HAUJOBB, Myer was on stage with another project, namely ARCHITECT, lately touring a lot with Alan Wilder's RECOIL…



Architect

ARCHITECT is yet another face of Daniel Myer who's most notable being a member and creative force of HAUJOBB, who finally released their new album, and DESTROID. ARCHITECT's tracks remain strictly instrumental - usually! Daniel once described he's working on those tracks like a real architect, putting layer on layer. Since its inception the project released five regular albums with 'Consume.Adapt.Create' being the latest one, released in 2010. A remix collection of the latest album, entitled 'Upload Select Remix' dropped earlier this year on Hymen Records. http://www.architect-music.com/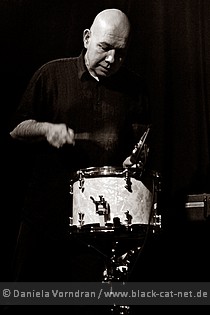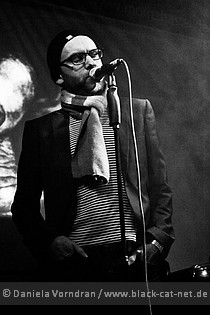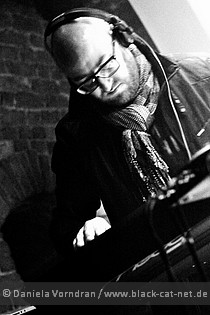 Music & Performance
Some say that it's best to keep the best things for the very end. It does, however, work well the other way around. Putting a sensation to the start whose repercussions would last long. ARCHITECT was just that. Instead of a recurrence of the tech jam session I witnessed a few months back, the project remained in quite straightforward boundaries and untypical organic. Perhaps that is what Daniel meant when talking about a reinvention of ARCHITECT. Usually instrumental only, this time two gues singers were invited. Additionally, Achim Färber (PROJECT PITCHFORK i.e.) was supporting Daniel Myer on percussions. The vocals on the first two of songs were provided by author and singer Sascha Lange who did a neat job. The actual sensation would unfold with the second half of the set and Frank M. Spinath (SEABOUND) entering the stage to first perform a new collaboration with ARCHITECT called 'Pieces Of Me', a poppy, at times spine-tingling song. But it was the last song that struck the crowd like a lightning. A tribute to SEABOUND, a new interpretation of 'Watching Over You'. If you arrived too late to see it you really missed something breath-taking.

Setlist
01. Maureen (vocals Sascha Lange)
02. Skin & Bones (vocals Sascha Lange)
03. Pieces of Me (vocals Frank M. Spinath)
04. Watching over You (Seabound cover - vocals Frank M. Spinath)

Rating
Music: 9
Performance: 9
Sound: 9
Light: 7
Total: 8.8 / 10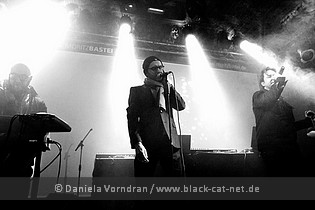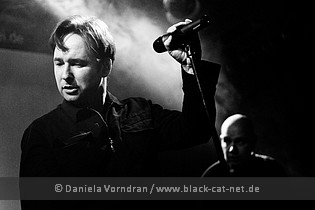 Liquid Divine

In 2000, Guido Stoye and Christian Fritsche started working on a fusion of music and word they would be calling LIQUID DIVINE eventually. But it would take another 5 years before a sonic output would be released with the debut album 'Interface' on Infacted Recordings. Quite frankly, this is an album that's still hard for me to get into. The follow-up 'Black Box' released in 2007, however, would become one of my favourites of the year and fully convinced me. More than 2 years have passed ever since the duo worked pretty hard on their third album 'Autophobia', released in October 2009. LIQUID DIVINE is Guido Stoye (words, vocals, songwriting) and Christian Fritzsche (music, songwriting, arrangement, production) supported by Alexander Stetter on live keyboards. http://liquiddivine.com/ / http://www.myspace.com/liquiddivine / https://www.facebook.com/pages/Liquid-Divine/105991459497316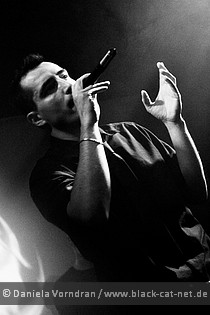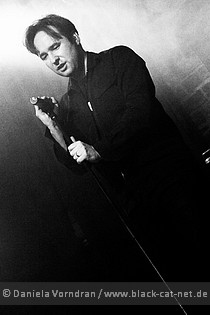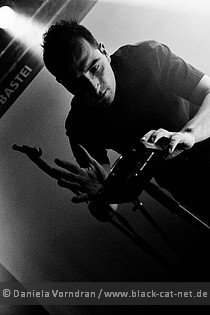 Music & Performance
For me LIQUID DIVINE always were sorely underrated, but then their music still might be too unbounded for the narrow expectations of many people when it comes to music. Anyway, LIQUID DIVINE would prove they're capable of entertaining a crowd in telling intense stories embedded in complex builds of music. 'Fallen Men' and Planet Zoo' were one of the first pieces to listen and experience. Singer Guido over the entire duration was eager to move in order to deliver a visual extension to the music. For 'Want', an metaphoric journey of failure and 'Sojourner', Frank M. Spinath returned onto stage to duet with Guido. Looking around was evidence enough the people liked the LIQUID DIVINE approach to music, and sometimes you could even spot someone dancing. Applause, however, was mandatory and deserved following every song of the little set.

Setlist
01. Fallen Men
02. Planet Zoo
03. Die to meet you
04. Frontend
05. Want (additional vocals by Frank M. Spinath)
06. Sojourner (club edit - additional vocals by Frank M. Spinath)

Rating
Music: 9
Performance: 8
Sound: 8
Light: 7
Total: 8.3 / 10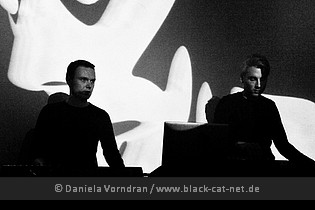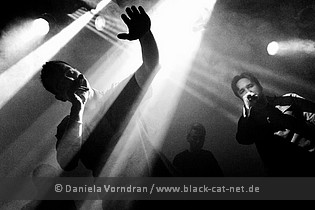 Niveau Zero

NIVEAU ZERO is the solo project of Frederic Garcia from France who actually started as bass player for various hardcore bands. After winning n award at Printemps De Bourges festival in 2008 he's had several releases put out on different platforms and imprints. The most recent release being 'In_Sect' from 2010. http://www.facebook.com/niveauzero / http://www.myspace.com/niveau0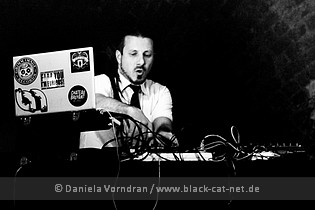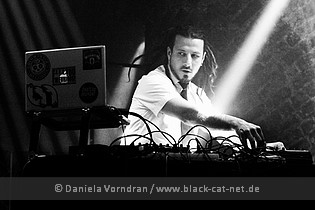 Music & Performance
French project NIVEAU ZERO hardly was more than a name for me until now. As much as I like listening to instrumental music, in some cases I'm still questioning the necessity of performing it live. NIVEAU ZERO was one of those unfortunately. Not that I would want to doubt the musical capabilities of its creator here. But in a long run it was just to exhausting to listen to it being performed live. The basic rhythm, a bass-laden monster of a mid-tempo beat got overlaid with a plethora of effects and sounds to keep up a certain level of variety. Only temporarily it vanished to be replaced by another one. Frédéric Garcia behind his machine tower was enjoying himself pretty much the whole time and so did a lot of people around me.

Rating
Music: 6
Performance: 6
Sound: 8
Light: 7
Total: 6.5 / 10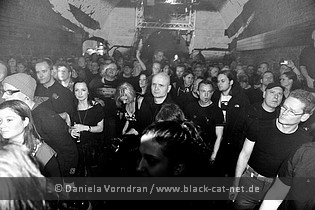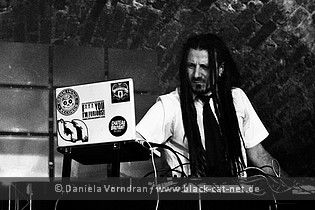 Slave Republic

The seeds of what would be growing up to the duo SLAVE REPUBLIC in the end have been sown many years ago as a four-piece centring on New Wave music. The next thing heard is that the quarter has become a duo and now is focusing on what they're calling Alternative Pop. This is a stylistic description obviously making some people at the Accession Records office prick up their ears. The end of the story we now have with SLAVE REPUBLIC being the newest signing to the label and that they released the duo's debut album 'Electric One' on 12th March 2010. Currently, the band consisting of Alec Fu & Alex Alice is working on a new album. http://www.slave-republic.com/ / http://www.myspace.com/slaverepublic / https://www.facebook.com/pages/Slave-Republic/172505577077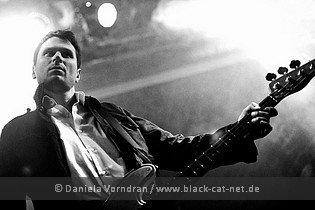 Music & Performance
Want some poppier stuff now? There you go. SLAVE REPUBLIC have found the balance between pop, electronic minimalism and a slice of Indie rock. It's really just a slice! The duo opted for starting with a well-known track called 'The Driver', keeping it rather slow, before 'Primärreiz' gave a taste of the forthcoming album. Afterwards it got a little 'Electric'. Actually one of my favourites from the debut. The chorus is the kind that sticks in your ear all day once you've heard it in the morning. The crowd was mostly going with the flow of the songs. With 'Menage a Trois' the next teaser for the new album was performed. A somewhat sexually charged track with vocals that still need some practicing in my opinion. Some notes were missed here in my ears.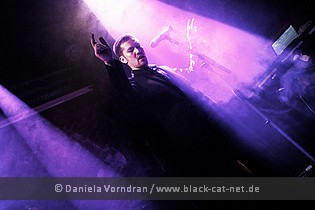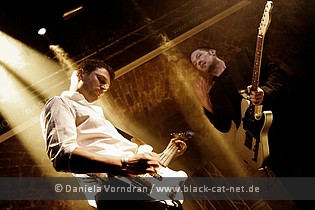 If you were in for something calmer you surely appreciated 'Less Of Me'. I for one was happier with the following 'Hadron Collider'. After another new track, Lashes Kiss' and 'Truth or Dare', 'My Maker' ended the little set and bestowed the duo with applause.

Setlist
01. The Driver
02. Primärreiz (New)
03. Electric
04. Menage a Trois (New)
05. Less of me
06. Hadron Collider
07. Lashes Kiss (New)
08. Truth Or Dare
09. My Maker

Rating
Music: 7
Performance: 7
Sound: 7
Light: 7
Total: 7 / 10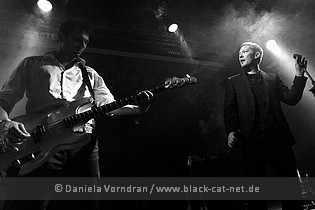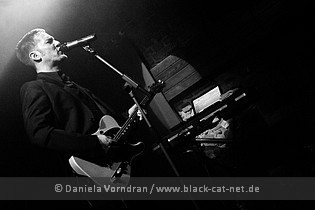 Hecq

Since his first release 'A Dried Youth' back in 2004, it was clear that no ordinary artist was controlling the machines and with every new album that appeared he evolved in his way of dealing with music technology and that he's not willing to sound like anyone else. Many people will also know him from his 'Hecq Destruxxions' he did for the last two albums of IN STRICT CONFIDENCE and the last PSYCHOBITCH album. After releasing '0000' in 2007, 'Nightfalls' marked a turning point with its orchestral direction. Two more would follow to the present day, the latest one being 'Avenger', released last year. http://www.facebook.com/Hecquaters / http://www.hecq.de/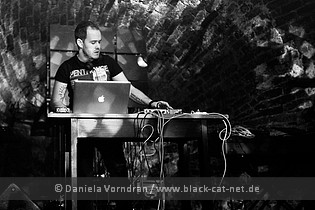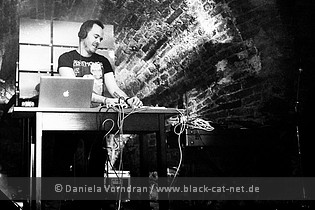 Music & Performance
Well, how do I start this one? Being a fan of HECQ's work for a while now I was quite anxious to see him performing live, even though I knew there wouldn't be too much happing up on stage. But I wondered what selection of songs Ben would choose to play for us. Turns out it was mostly beat-driven stuff. The effects on it were stellar and I loved the texture layers but the beat was unnerving after about 10 minutes into the set to be honest. With an arsenal of great carrying sings under his belt it's beyond me why he opted for sticking strictly to the technoid stuff. I wasn't the only one feeling that way by the way. As you can guess already, I was a little disappointed with the performance and the choice of songs

Rating
Music: 5
Performance: 5
Sound: 9
Light: 7
Total: 5.9 / 10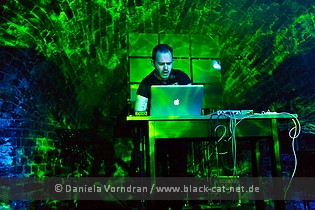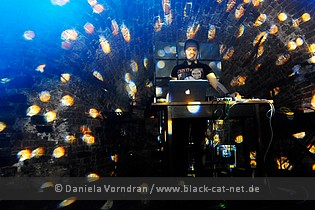 Haujobb

All in all, eight years fans had to wait for a new HAUJOBB album to be released. It's titled 'New World March' and it's a blast to listen to. Founded back in 1993 by Daniel Myer, Dejan Samardzic and Björn Jünemann, the band released its debut album 'Homes & Garden' in the same year. The project can be counted to the most creative and innovative in the electronic music scene; in the early days. the formation has been compared to SKINNY PUPPY; mostly referring to the first album 'Homes & Gardens', but already with the subsequent outputs 'Freeze Frame Reality' and 'Solutions for a Small Planet' the evolution of the sound had so much progressed that comparisons to other bands neither were suitable nor necessary anymore. The following years saw the releases of a variety of HAUJOBB discs, peaking in 2003s 'Vertical Theory', the last album for a long time. In fact, 8 years would pass before the dup would resurface with 'New World March' in 2011. HAUJOBB is Daniel Myer (arrangements, vocals), Dejan Samardzic (arrangements, production) and live member Manuel G. Richter (synths, noises, drums). http://haujobb-music.com / https://www.facebook.com/haujobbmusic / http://www.myspace.com/haujobbmusic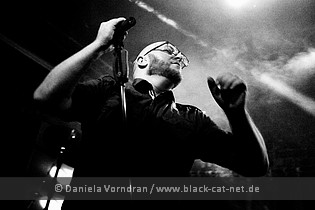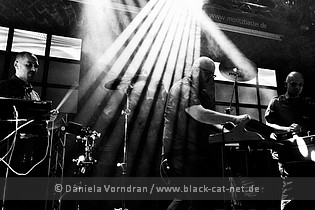 Music & Performance
It was a few minutes after midnight when everything was set for the HAUJOBB show to take off. Hell, I've never had the chance to see these guys live and I was "mildly" excited about it. 'Letting The Demons Sleep' set everything in motion. The song is equally strong as 'Dead Market' and the highly emotional performance did it full justice. Rewind to the album 'Polarity' with 'Subsonic', almost entirely covered in textures backed by a softly pushing beat. At this point the crowd already ate from their hands. For the next few minutes we were dancing to the beat to the downfall on the edgy 'Soul Reader', including sudden changes from clean singing to violent bursts. A trademark HAUJOBB track was up next with 'Renegades of Noize' which at the same time is the project's nickname. A lullaby for the numbed came up with 'Little World', such a beautiful track that invited to dream away and think at the same time.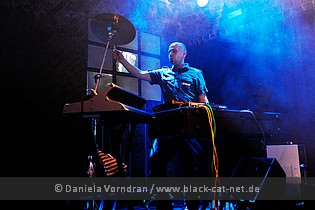 'Dream Aid' jumped right back to 'Freeze Frame Reality'. At Planet Myer Day we heard an updated mix that preserved the charm of the original and made people dancing. Like a rollercoaster we're now pushed forward to 'Let's Drop Bombs' before an uber-hit of HAUJOBB came up with 'Eye Over You', a slow but not necessarily calm track that raised screams with the old fans around and got some to mosh. A tableau of interlocking sounds put them in rapture on 'Boom Operator'. I just realized I hadn't listened to the record much too long already. That certain track everyone was waiting for and which marked the impressive comeback of HAUJOBB placed right at the end of the main set as a last dance on the brink of a system's folding with 'Dead Market'. The audience became a big surging mass in seconds. Riled up like that it was unthinkable stopping this right here, so three additional tracks got thrown in, ending in a tracking shot along a foreign shore sometime in the not too distant future when the world as we know it vanishes.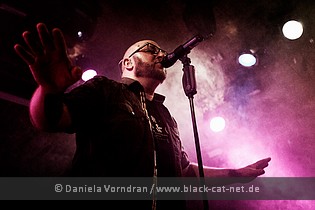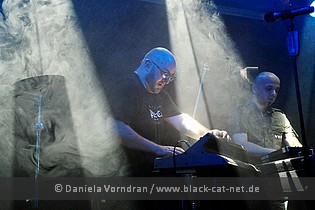 Aside from minor flaws I must say the anniversary program was a round thing peaking with the fantastic HAUJOBB show and beginning with a beautiful surprise. We decided that after a little chatting we'd be headed towards our hotel for a good night's sleep. Was a long day and another one was ahead.

Setlist
01. Letting The Demons Sleep
02. Subsonic
03. Soul Reader
04. Renegades Of Noize
05. Crossfire
06. Little World
07. Dream Aid
08. Let's Drop Bombs
09. Eye Over You
10. Boom Operator
11. Unseeing
12. Penetration
13. Anti/Matter
14. Dead Market
---
15. Machine Drum
16. The Noise Institute
17. New World March

Rating
Music: 9
Performance: 9
Sound: 9
Light: 9
Total: 9 / 10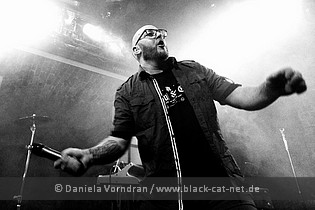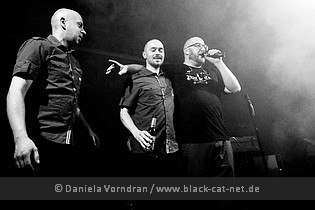 All pictures by Daniela Vorndran (http://www.vorndranphotography.com / http://www.black-cat-net.de/ / http://www.myspace.com/vorndranphotography / http://www.facebook.com/blackcatnet)