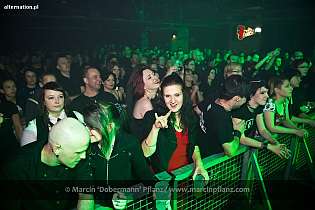 Fritz Club Postbahnhof, Berlin, Germany
26th December 2011
neuWerk Festival: VNV Nation, Suicide Commando, Diorama, Haujobb, Reaper, X-Divide

How to spend a Christmas Eve? A quiet supper with family, cookies and Christmas carols? No thanks. Better a loud Christmas party with the accompaniment of such bands as DIORAMA, HAUJOBB, SUICIDE COMMANDO and VNV NATION, which took place in Fritz Club at Postbahnhof on 26th December 2011. Here you won't have to listen to songs like 'Last Christmas' which could be nice if wouldn't be as banal and played everywhere all the time.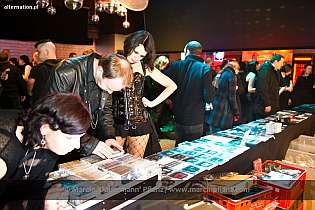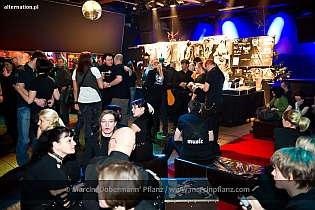 NeuWerk Festival 2011 started in Berlin with VNV NATION as headliners, performed just in this city and passed on the baton to NITZER EBB. X-DIVIDE, who were supposed to open the festival, unfortunately had to cancel their show due the health condition of the vocalist. REAPER and DIORAMA were going on presenting their material. SUICIDE COMMANDO celebrated the 25th anniversary. And HAUJOBB and VNV NATION presented their brand new and long awaited albums. Yeah, sounds like the best Christmas party ever. So, the evening started with REAPER, presenting a quite techno-ish set having both musicians fiddling around on their laptops, but nevertheless got people warmed up for following DIORAMA.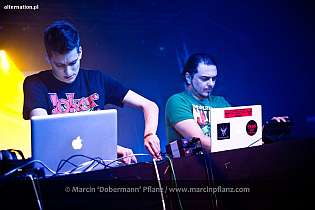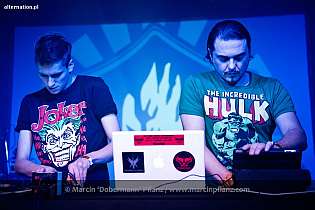 Diorama

DIORAMA was founded back in 1999. Young musician Torben Wendt with his demo 'Leaving Hollywood' was noticed by front man of DIARY OF DREAMS, Adrian Hates, who also owns the label Accession Records. This was a fateful meeting, which determined the future of DIORAMA as well as DIARY OF DREAMS (Torben joined the band as live support and has been always a beloved and welcomed guest). Adrian Hates and Rainer Assmann (Fad Gadget) produced the debut album 'Pale'. In 2000, Torben's friend Felix Marc joined DIORAMA. Today, the band is a quartet: Torben (words and music, vocals, keys, percussion), Felix (co-production, keys, vocals), Sash Fiddler (guitars) and Marquess (drums). By now the band released eight albums. For the last album, 'Cubed', fans had to wait about three years after the release of the previous one, 'A Different Life'. But it was so wanted, that DIORAMA successfully represents it for two years, but doesn't forget to compose new material. http://www.diorama-music.com / http://www.myspace.com/dioramamusic / https://www.facebook.com/pages/Diorama/20921056622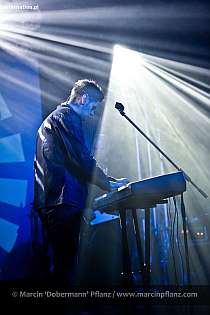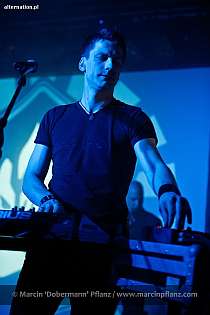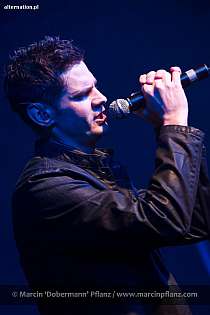 Music & Performance
The stage seemed to be too small for DIORAMA. There was too much energy, too many emotions, too much drive. There was just too much. It was impossible to keep their music stay on this little floor. It grew, swelled and blew up, infecting each guest. But it didn't stay in this room; it went even further, to the next room, a chill out zone. It is everywhere. Intro without lyrics, played by both Torben and Felix, was followed with 'Ignite'. The logo of the band represents a person with burning thoughts. It isn't difficult to guess, that this person could be Torben. And so his thoughts, in form of lyrics and music, burned and set on fire hearts and heads of listeners. For the neuWerk Fest the band had a present - they played their brand new song 'Hello Goodbye'. Public was very excited of the energetic track with kind of Arabic motifs. In the end the band played their hit 'Synthesize Me', which of course called for a lot of emotions and excitement in public. Their show was finished with 'The Girls'.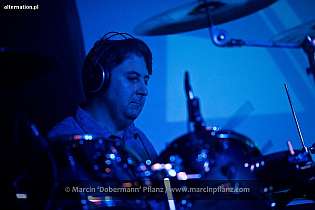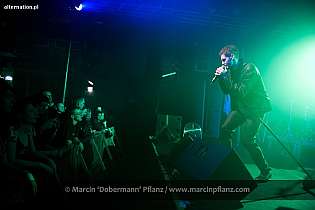 There were two things which disturbed this time. It seems like DIORAMA acted not longer than 40 minutes, which is quite unusual after a couple full-length concerts, I visited. The other thing I noticed earlier and this time too, Torben looked somehow depressed. Torben, don't get down and thanks for the show!

Setlist
01. Intro
02. Ignite
03. Why
04. Champagne for all
05. Hello, Goodbye (New Song)
06. Child of Entertainment
07. Synthesize me
08. The Girls

Rating
Music: 9
Performance: 9
Sound: 9
Light: 8
Total: 9 / 10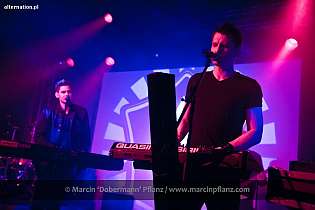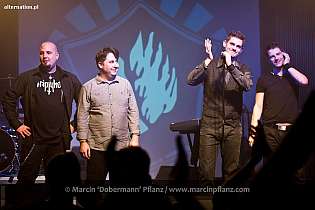 Haujobb

Another (ex- )Accession Records band, HAUJOBB, made all the electronic music fans happy with their triumphal return. The band was formed in 1993 and became one of the main act on industrial scene. The new album 'New World March' was released on a magical day 11.11.11, eight years after their previous one 'Vertical Theory'. As musicians said, they recorded the album right after the release of 'Vertical Theory', but they didn't plan to release it at this time. In the last three years a lot has been changed. The band continued the work on the material, which was actually ready and finally represented it to public. Daniel Myer and Dejan Samardzic, the basic band members, find the album quite good and promise that the next one will be even better. Hopefully, not just better, but sooner as well. http://haujobb-music.com/ / https://www.facebook.com/haujobbmusic / http://www.myspace.com/haujobbmusic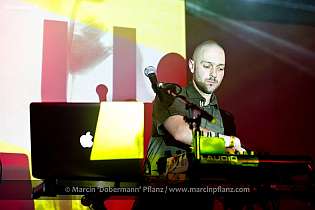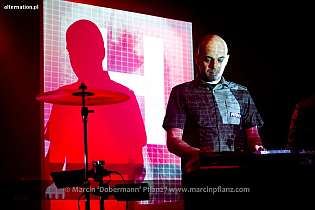 Music & Performance
It was funny to watch the public, migrating from the main hall to chill out room and back in between the shows. As it is clear, the band finished their concert for today hundreds of people are going to the next room, trying to find a free place to sit down, freshening themselves with a drink or two, or watching what kind of merchandise they could buy. Btw. since headliners in Berlin were VNV NATION, and in all the other cities NITZER EBB have been finishing the evenings, in Berlin guests could buy signed CDs of NITZER EBB. So, the very next moment, as you could hear, that HAUJOBB were ready to start, the hall was filled with people again. It was not just a wish to finally see the legendary band in act, but also an interest to hear the new songs. Mise-en-scène was following: Daniel at the front and both, Dejan and the live member Manuel G. Richter, both and in the same shirts, were standing behind at the e-drums. They looked like overgrown pioneers from some dystopia.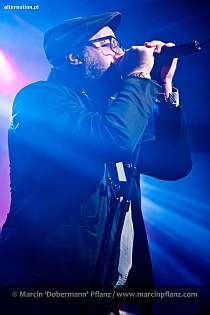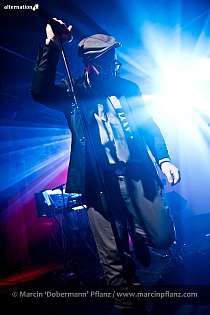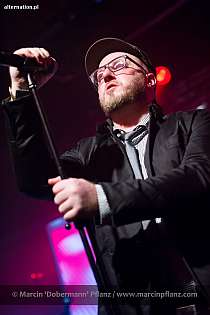 The apocalyptic mood of HAUJOBB conquered the audience. Flashing lights, depressive pictures on the background, attacking Daniel's vocals with the accompaniment of threatening e-drums - that was the pressing atmosphere of the show. Again it was no longer than 40 minutes. It was enough to get drawn in this dark fairy-tail and it was too unexpectedly over.

Setlist
01. Letting the Demons sleep
02. Renegades Of Noize
03. Little World
04. Let's Drop Bombs
05. Eye Over You
06. Dream Aid
07. Unseeing
08. Penetration
09. The Noise Institute
10. Dead Market

Rating
Music: 9
Performance: 7
Sound: 9
Light: 8
Total: 8.3 / 10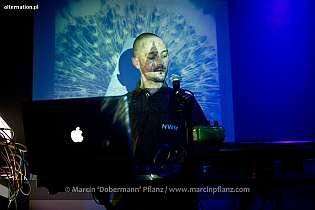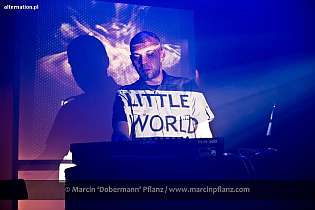 Suicide Commando

SUICIDE COMMANDO is another legendary phenomenon on the electro-industrial scene. Belgian musician called himself SUICIDE COMMANDO and started his experiments already in 1986, but released his first album 'Critical Stage' just in 1994. Since then every year or two Johan Van Roy pleased his fans with the new releases. 1999 Johan co-founded the Dependent record label and the next year released one of his most successful albums 'Mindstrip', supported by such hits, as 'Hellraiser' and 'Love Breeds Suicide'. Later 2000s, Johan became sentimental, as far as it is possible to use this word according to such an act as SUICIDE COMMANDO, and released two limited edition singles, where it was possible to find new remixes and rarities. Each next album hit the charts. 2011, celebrating the 25th anniversary, SUICIDE COMMANDO presented 'The Suicide Sessions', a luxury 6-CD box set, containing the first 3 studio albums and 3 more CDs with rarities and unreleased material. http://www.suicdecommando.be/ / http://www.myspace.com/suicidecommando / https://www.facebook.com/IIXIII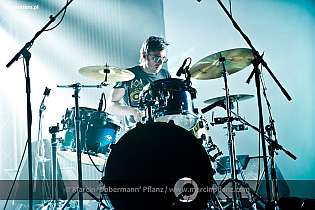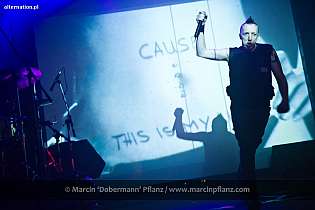 Music & Performance
Johan Van Roy is a unique person. He himself says that in everyday life he's quiet a boring person, and his musical colleges confirm this readily. He has a family, a job and lives a quiet life. But just as he enters the stage he becomes a completely different person. Suddenly the quiet and lean man becomes crazy. He shouts, jumps, runs. He sings about blood, murder and hell. On the background you can see pictures of dead people, of a woman eating heart, of flesh and blood. This is the real Dr. Jekyll and Mr. Hyde. Light was mostly bloody red, filling the stage and the hall, so the musicians as well as public were pretty much in this colour. This dreadful show could get scarier, if you look in the public and see, and you will definitely see it, crazy flashes, dancing in their eyes.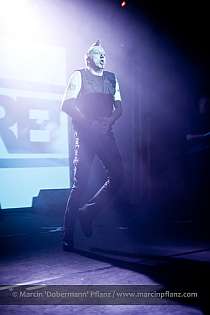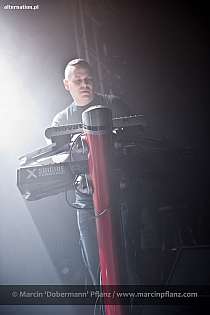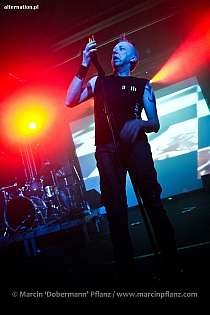 SUICIDE COMMANDO performed a lot of songs from their last album 'Implements of Hell'. But also the old beloved hits as 'Raise your God', 'Love Breeds Suicide' and 'See You in Hell' were played.

Setlist
01. Severed Head
02. Hate Me
03. Death Cures All Pain
04. Raise Your God
05. Dein Herz, Meine Gier
06. Cause of Death: Suicide
07. God Is in the Rain
08. Massaker (Tommi Stumpff cover)
09. Love Breeds Suicide
10. Die Motherfucker Die
11. Bind, Torture, Kill
12. See You In Hell

Rating
Music: 9
Performance: 8
Sound: 8
Light: 7
Total: 8.3 / 10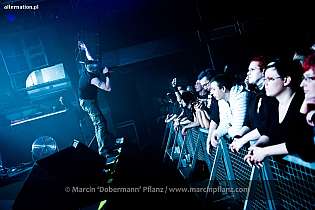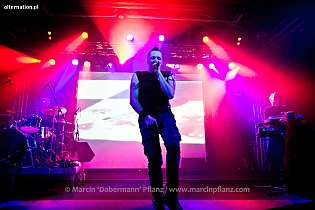 VNV Nation

"One should strive to achieve, not sit in bitter regret," says the motto of the English / Irish band VNV NATION, which as a follower of this motto, is actually a great example, proving it. The duo started to create their unbelievable musical worlds in 1990. Their debut album 'Advance and Follow' was released five years after the band was formed. The third album 'Empires' brought the band their first real success. Since then the band appears all the time in different charts. Combining trance, EBM and Synth Pop they won a huge number of fans all over the world. Their new album 'Automatic', inspired by America of 30s, was one of the most wanted albums of the last year. Right after the release the album got to Nr. 8 in Billboard charts, Nr. 1 in DAC and became the top recommended CD in music stores. www.vnvnation.com / www.myspace.com/vnvnation / www.facebook.com/VNVNation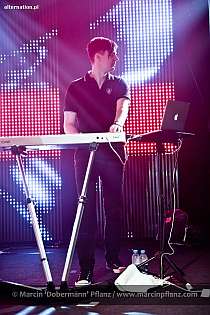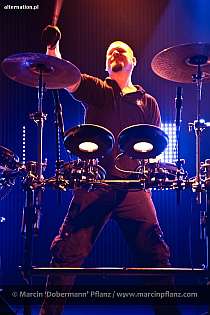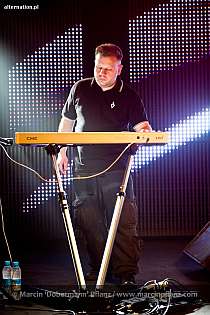 Music & Performance
Public had to wait for the show get started a bit longer, than it was with other bands. Specially for VNV NATION, five big screens were installed. Finally the countdown was shown. The minute was left. The public all at once shouted the numbers, counting the seconds before the headliner's performance. Charismatic Ronan Harris flew to the stage and immediately started to sing. From the first minutes the show was quite energetic, and this dynamic was kept to the very end. Near the five tracks from the new album 'Space & Time', 'Streamline', 'Resolution', 'Control' and 'Nova', the all time hits as 'Illusion', 'Nemesis' and 'Tomorrow Never Comes' were played. The performance was supported by amazing light effects.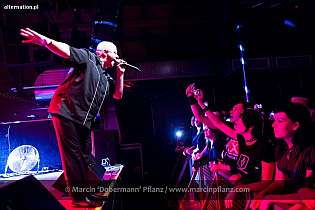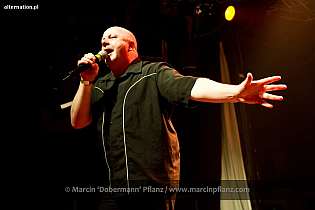 There was so much light, that the stage, which looked very small in the beginning of the evening, doesn't look like that anymore. In between and also while the songs were playing front man communicated with public in perfect German, asking how they've spent Christmas Eve and if they're tired. All the time he reminded people not to forget to "move their fucking asses". Listening to VNV NATION on a CD it is hard to imagine, that Ronan would run over the stage… that much. But he is like turned on, and it is very difficult to keep staying. Everybody in club was dancing. Swimming in fans' adoration, appreciation and ovation, Harris seemed to really enjoy the show. So did everybody.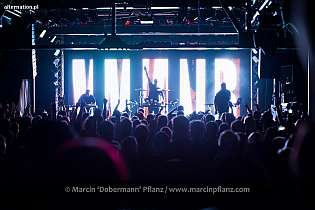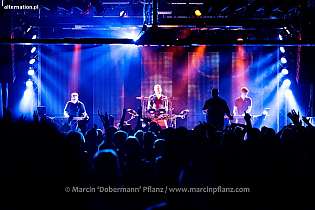 Setlist
01. Intro
02. Chrome
03. Space & Time
04. Tomorrow Never Comes
05. Darkangel
06. Illusion
07. Standing
08. Streamline
09. Honour 2003
10. Nemesis
11. Legion live
12. Epicentre
13. Resolution
14. Control
15. Nova
16. Perpetual

Rating
Music: 8
Performance: 10
Sound: 10
Light: 9
Total: 9 / 10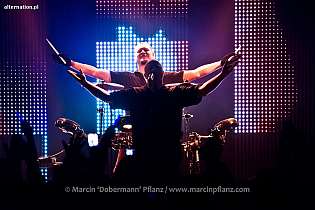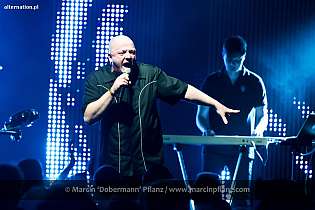 Pictures by Marcin Pflanz (http://alternation.eu)



See also (all categories):