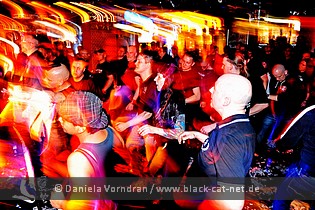 Nachtleben, Frankfurt (Main), Germany
31st March 2012
A Tribute to Zoth Ommog Festival: Godheads, Lights of Euphoria, Orange Sector, Armageddon Dildos

For one it is the good old times, for the others it is a legend. Zoth Ommog was one of the best known and most popular music labels of the EBM scene. For nearly 15 years now, Zoth Ommog is history, but still, memories of fantastic concerts and tours, like the "Ich lauf Ommog" tour, are still in the heads. In remembrance of the legendary label, Electronic Dance Art invited into the Nachtleben in Frankfurt / Main to celebrate the good old times.


Originally, it was planned that five former label bands would perform during the evening. But sadly, AIRCRASH BUREAU could not make it to the festival, and so, GODHEADS, LIGHTS OF EUPHORIA, ORANGE SECTOR and ARMAGEDDON DILDOS had to rock the Nachtleben on their own. Due to the absence of one band, the festival was starting a little later than planned, from what attendees, press and promoter benefited from…. Since there was a big demonstration in the center of Frankfurt announced for that day. Due to that fact, we needed for a 15 minutes way nearly two hours. Most visitors and also the bands occurred the same problems until they finally reached the Nachtleben, a small club directly situated on the main shopping mall (Zeil) in Frankfurt. You have a café in the building and then, in the basement, the club grasping about 200 people. Already in pre-sale, about 150 tickets for the festival were sold, promising a great evening for visitors as well as for the promoters.


Godheads

The band GODHEADS is an old Danish project from LIGHTS OF EUPHORIA front man Jimmy Preuss Machon, where he's concentrating more on the minimalist and harder EBM side of electronic music. Originally consisting of Jimmy Preuss Machon, Tony Petersen and Dennis Jurgensen, for this evening's show, Jimmy was all alone on stage without any drummer or guitarist, even though his music contains a lot of drums and guitar lines. www.myspace.com/godheads / http://www.discogs.com/artist/Godheads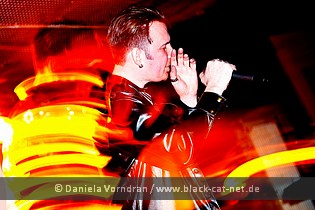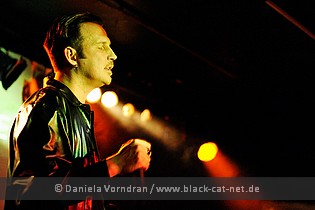 Music & Performance
GODHEADS were opening the evening in a minimalist way. There was not much equipment placed on stage, just a beamer, a microphone and two notebooks, more was not needed to let the speakers vibrate. Music, especially when it comes to the more guitar oriented parts, and vocals were remembering of DIE KRUPS, i.e. during the songs 'Body & Mind' and 'Loaded Gun', both from the album 'Ordinary Swoon'. For all, who did not know the band, it was very welcome that most of the song-titles were projected on the screen, delivering also videos to some of the presented songs. A little surprise in the set was coming up with 'Bloodrush', a song from Jimmy's solo release, containing parts of DEPECHE MODE's 'Work Hard'. As Jimmy told me, he included this song to "spice up the set a bit" since he "felt it was a bit to guitar oriented, and without a guitarist and a drummer" to back him up, he "needed at least something without too much guitar". With 'War of Violence' from the album 'The Rush Inside', the set ended after only six songs and Jimmy left the stage a little hasty, not giving the audience the chance for a proper applause. Otherwise, he was coming up next again with LIGHTS OF EUPHORIA.

Setlist
01. Body & Mind
02. Loaded Gun
03. Disillusion
04. Lord of Disaster
05. Bloodrush (incl. Work Hard by Depeche Mode)
06. War of Violence

Rating
Music: 8
Performance: 6
Sound: 6
Light: 4
Total: 6.5 / 10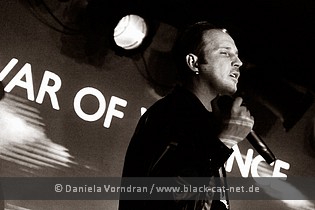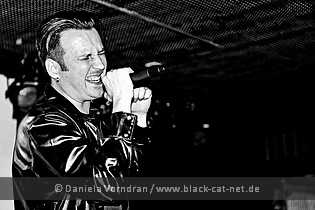 Lights of Euphoria

First started as a single-song project, the band remained together after the success of their first song 'Subjection' (at that time with Claus Larsen of LEAETHER STRIP on vocals). After the release of their first album 'Brainstorm' on Zoth Ommog, LIGHTS OF EUPHORIA (LOE) started to become a real band when Jimmy Machon and Torben Schmidt teamed up together to produce further music together, even though the first releases still presented a lot of guest singers, such as Ronan Harris (VNV NATION), Johan van Roy (SUICIDE COMMANDO) or Kay Härtle (SUPREME COURT). Today, Jimmy is delivering vocals though. After Zoth Ommog was going down, LOE found a new home at Accession Records, where the band released several CDs. Today, LOE are releasing via Torben's own label Infacted Rocordings, where a new album will be released soon. Waiting for new stuff, the band released 'Subjection', a retrospective grasping 15 songs out off the whole band history. LIGHTS of EUPHORIA is Jimmy Machon (vocals, machines, production) and Torben Schmidt (machines, programming, production), live supported by Danish Thomas Gaarn on keyboards and drum pads. www.lightsofeuphoria.dk / www.myspace.com/lightsofeuphoriadk / https://www.facebook.com/pages/Lights-of-Euphoria/167086209986873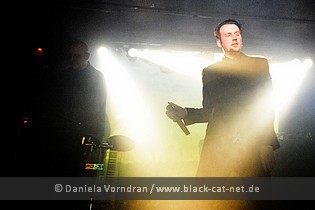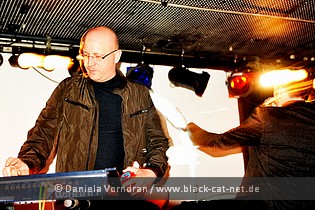 Music & Performance
Very soon, Jimmy Machon entered the stage for a second time during the evening, this time presenting with his band LIGHTS OF EUPHORIA a little "softer" stuff, more pop-oriented if you like. Jimmy - welcoming the audience with the words "So nice to see you again, feels like a hundred years…" - and band mate Torben Schmidt were supported in keys and drum pads by Danish Thomas Gaarn, playing in a Danish electro band called MANIPULATOR, whit that he made stuff in the style of FRONT LINE ASSEMBLY. In the past, Thomas has joined LOE live on stage already for 5 - 6 times, showing his abilities as good musician playing various instruments during the shows. While GODHEADS music was minimalist with lots of EBM and guitar influences, the songs of LOE were more melodic, catchier and more danceable, perfectly fitting to the dance floors. Soon, the audience was infected by the sound, starting to dance. The presented songs gave a good overview over the band's history. 'Sleepwalk' was even enriched by parts of 'Sweet Dreams' by EURYTHMICS. With explosively screamed "Liars!", 'One Nation' ended the set, covering people with a lot of confetti blown out of a little confetti canon.

Setlist
01. Schwarze Sonne
02. White Wall
03. Sleepwalk incl. Sweet Dreams (Eurythmics)
04. The Night
05. True Life
06. Burning Ground
07. Fading Moments
08. Give me You
09. One Nation

Rating
Music: 7
Performance: 7
Sound: 6
Light: 5
Total: 6.8 / 10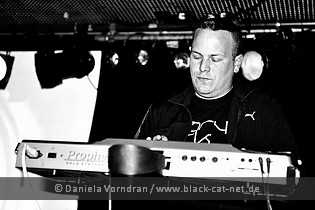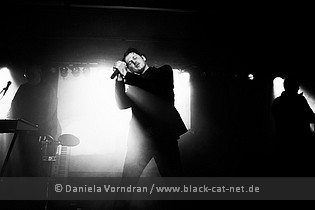 Orange Sector

ORANGE SECTOR emerged in Hannover 1992. The name is word play and describes the area you're residing in during band activities. As they're all big admirers of the band DAF (Deutsch Amerikanische Freundschaft) you might guess which sound they've developed. Their first demo tape was only sent out to Zoth Ommog. Label head Talla2XLC liked the material and passed it on to producer Andre Schmechta and ORANGE SECTOR were just where they wanted to be. The debut 'Faith' came out in 1993 and had a real dance floor smasher 'Kalt wie Stahl' in its track list, just to be followed by the second coup 'Flashback' only one year later which again had some hits on it with 'Götter' and 'Für immer'. Lars left the band after the 'Flashback' tour and continued the project more or less successful but after quite some time, he decided to retreat from the music business. 2004 then saw the revival of ORANGE SECTOR in original line-up on Infacted Recordings and they released a few albums since then with 'Krieg Und Frieden' as the latest studio album and 'The War Comes Home' as part of the Infacted classics series. ORANGE SECTOR is Martin Bodewell (vocals, synths, programming) and Lars Felker (backing vocals, drums, lyrics). http://www.orange-sector.de/ / http://www.myspace.com/orangesector / https://www.facebook.com/pages/Orange-Sector/308616815835017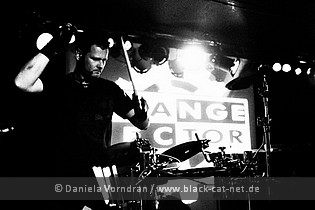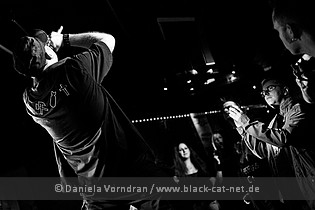 Music & Performance
ORANGE SECTOR - that's a word play meaning the area where you are during band activities. On Saturday night, we saw Martin and Lars in best mood and top form, means in the orange sector, on the small stage of the Nachtleben. Since 1992, the band was exciting the fans with 15 releases, of course some of them on the Zoth Ommog label. On this evening in Frankfurt, the band showed up in well-known formation and strength. Lots of smoke and changing lights set up the right mood accompanying the music. All of a sudden, the audience was no longer restraint. Along with the motto "real electros are not dancing, but marching", the audience was stomping on the floor in fine formation. 'Untergang' was the first strike, but harder stuff was still to come. During 'R.I.P.' also the ladies showed that they are not made of sugar, joining the stomping guys on the dance floor. Lars and Martin could rely on their fans. Loudly, they sang 'Götter', 'Krieg & Frieden', 'Sick.Sick.Sick' and many of the other songs along with the band. ORANGE SECTOR were not here to give you time for taking a breath. Until the end, the excitement was on top level. And so, with 'Bitch' the duo was up for an encore which anyone enjoyed.

Setlist
01. Untertage
02. R.I.P.
03. Endzeit
04. Götter
05. Arbeit ist Not
06. Krieg & Frieden
07. Tanzbefehl
08. Sick.sick.sick
09. I hate you
10. John Kills
11. Die Zukunft
12. Für Immer
13. Kalt wie Stahl
---
14. Dynamit (planned but not played)
15. Bitch

Rating
Music: 7
Performance: 8
Sound: 6
Light: 7
Total: 7 / 10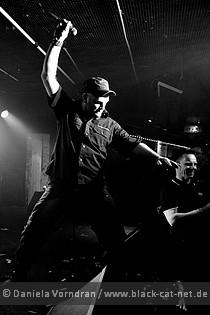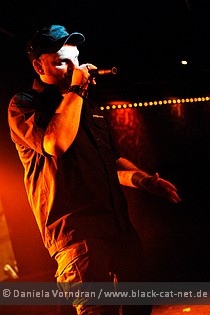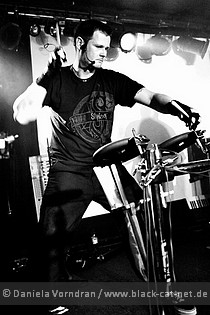 Armageddon Dildos

ARMAGEDDON DILDOS was founded back in 1989 in Kassel by Uew Kanka (vocals) and Dirk Krause (synthesizer). The band's name is a hint to intercontinental ballistic missile armed with atomic warhead. Already in the first months of existence, the band played several shows showing the main focus of the band: steady and sweat-inducing live presence. The debut single 'East West' already became a club hit in the EBM scene in 1990. After only 11 days of production time, the debut album 'That's Armageddon' was released 1991 on Zoth Ommog. With the second album 'Homicidal Dolls', the band already stepped away from its paragons (DAF, Nitzer Ebb) presenting more elaborated and straighter music. In 1999, Dirk Krause left the band due to private reasons. Until 2005, the band released 10 albums before it got silent around the DILDOS. Now signed to Belgium Alfa Matrix label, the band released the latest album 'Untergrund' in February 2011. According new material, Alfa Matrix writes: "Today, ARMAGEDDON DILDOS are preparing their next assault with the new studio album entitled 'Industrial Terrorism' to be released next Autumn on Belgium's electronic label Alfa Matrix. The new material alters songs in both German and English language and offers a boiling cocktail of frontal minimal EBM, muscled melodic hooks, strong carrying vocals and a gritty touch of power." ARMAGEDDON DILDOS is Uwe Kanka (vocals) and Rene "Rector Scanner" Nowotny (keyboard), supported live during this show by one more man supporting them on the machines. Official band member Ulf Häusgen (guitars, vocals) was not present during the show. www.myspace.com/armageddondildos / http://www.armageddondildos.de/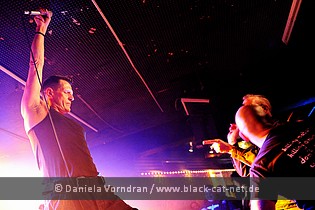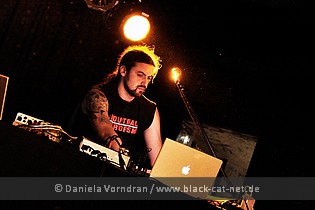 Music & Performance
The evening came to an end with the dinosaurs and heroes of EBM scene, ARMAGEDDON DILDOS. There was no holding back in the club anymore, when the trio was taking over. Like a young deer, not-so-young-anymore Uwe jumped across the stage, and even jumped down several times to sing in-between the audience. The band delivered finest EBM, sweat-inducing, harsh and merciless! Uwe's shouts were powerful and the rhythms contagious. With 'The Hunter', when people shouted loudly "Viva la muerte", and 'Sex For Money', the trio took a trip into the far disco-past. 'Sex For Money' was even enriched by ABBA's 'Money Money Money'. Prior to the statement, that this was ABBA, Uwe already excused for possible mistakes since they did nor rehearse the song and only rarely played it live. 'Stupid Little Squeezer' was commented by Rene, that this was his "nose-break song" where he had broken his nose several years ago. When the last song 'In My Mind' stated, there was no holding back anymore and fans jumped up onto stage to celebrate and sing together with the audience or share the beer with anyone. When the band had left, one of the fans entered the stage to call the band back through the microphone, accompanied by loud cheers and clapping.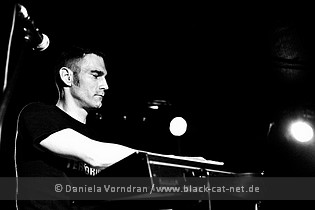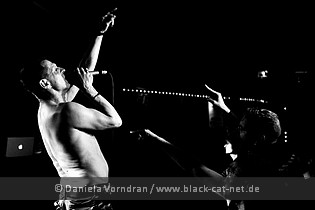 Quickly following the call, the band returned with 'East West' and the statement, that all 5,000 police men outside (you remember the demonstration?) were only showing up because of the present fans, all dressed in black. 'East West' was also the absolute highlight of the set, anyone freaked out, fans screamed into the microphones, anyone was dancing, marching and creaming lungs out. Last song 'Homicidal Maniac' was also not rehearsed and "could go wrong". But no one cared and with a jammed medley of already presented songs, the band finally left for good.

Setlist
01. Infected
02. Lies
03. Unite
04. The Hunter
05. Never mind
06. Sex for Money
07. Everyday is like Sunday
08. Stupid Little Squeezer
09. I Can't Remember
10. Resist
11. In my Mind
---
12. East West
13. Homicidal Maniac with Medley at the end

Rating
Music: 8
Performance: 9
Sound: 8
Light: 7
Total: 8 / 10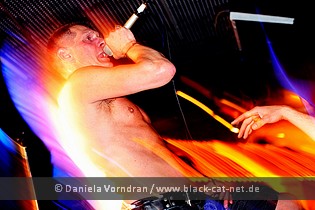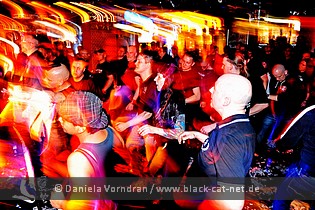 The evening was definitely worth the trip. And after you made your way through thousands of police men and demonstrators, you were finally rewarded with memories of the good old times coming alive at the Nachtleben in Frankfurt making you feel younger again.

All pictures by Daniela Vorndran (http://www.vorndranphotography.com / http://www.black-cat-net.de/ / http://www.myspace.com/vorndranphotography / http://www.facebook.com/blackcatnet)

Written in co-operation with The Spine - Ben Blaschke (http://the-spine.de/)