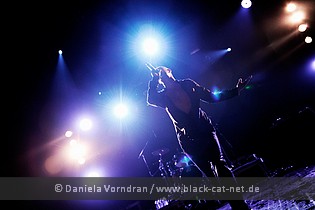 Vooruit, Gent, Belgium
6th & 7th April 2012
Rewind Easter Fest Day 2: DAF, Covenant, The Neon Judgement, Crash Course In Science, Absolute Body Control, Sigue Sigue Sputnik, Radical G, The Juggernauts

Following a very goodnight's sleep in our hotel rooms we dragged ourselves out of our beds to grab some food for lunch and relax a little before the "hard" part of the day was going to start in the afternoon with the second day of Rewind Easter Fest, holding for us band like ABSOLUTE BODY CONTROL, THE NEON JUDGEMENT or COVENANT…



The Juggernauts

JUGGERNAUTS is the creative nexus of ex VOMITO NEGRO member Borg (composer, lyrics, vocals) and RADICAL G's Glenn Keteleer (composer, producer, electronics) who both met at a THE NEON JUDGEMENT concert in late 2010. Just a few days later, the two teamed up at RADICAL G's home studio and only a few hours later their first song 'Phoenix' was already blasting from the studio speakers, featured on popular 'Awake The Machines' compilation in 2011. Works on a full-length album are in progress. http://www.thejuggernauts.be / https://www.facebook.com/TheJuggernauts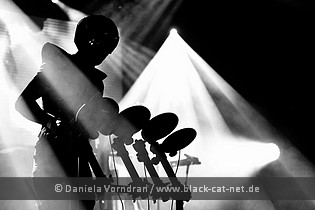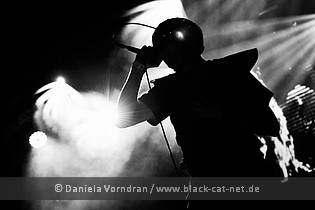 Music & Performance
The second festival day started with electronics presented the old-school way. THE JUGGERNAUTS revealed themselves as two guys with huge helmets. Following the darkly pumping 'The Juggernauts are Coming', there was the first track ever produced by the two with 'Phoenix'. The guys used just little melody to underline their compositions. Instead they were emphasizing rhythms! Cold, precise machine rhythms to get the crowd going. Music was very well produced, even though the performance wasn't particularly what you'd call spectacular or exciting. One guy performing the rough commanding vocals; the other beating the e-drums. Just a few minutes later it seemed, the show was over already and accompanied by a little applause.

Setlist
1. Intro + The Juggernauts are coming
2. Phoenix
3. Damaged illusions
4. Infected
5. Drinking Blood
6. On The Roll

Rating
Music: 6
Performance: 5
Sound: 7
Light: 6
Total: 6 / 10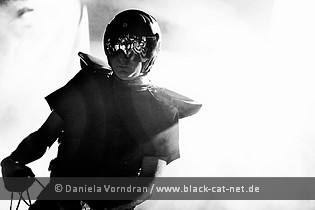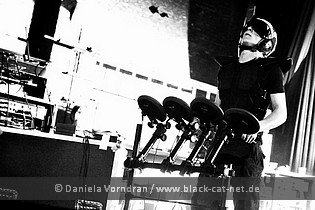 Radical G

RADICAL G is the electronic solo project of Belgian musician Glenn Keteleer. With his project he's been touring South America two times, promoting his work. Apart from that he's a prolific remix artists, working for such as THE NEON JUDGEMENT or PSY AVIAH. The first album 'Unleashed' was released in 2010, followed by the sophomore 'Darkness Falls' in late 2011. http://www.sonicangel.com/artist/radicalg / www.myspace.com/radical_g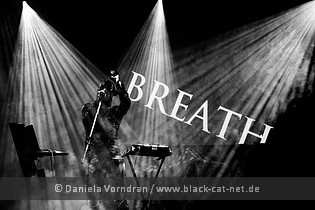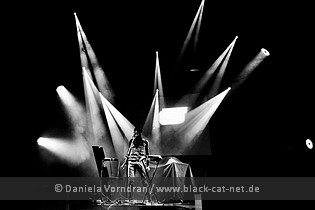 Music & Performance
Glenn Keteleer has already been on stage before with THE JUGGERNAUTS. Now flying solo with RADICAL G he took place behind his machines and the show began. What was most striking about his show was that he used shadows in an effective way, so that you'd only see his shape at times and the devil-ish ears he was wearing. The music itself turned out to be much more melodic at times, which was mostly due to Glenn's vocal parts and not the music itself. A good example was the track 'Lucifer' with the monotonous beating of the drums and the vocal counterparts. Due to a lack of too much movement I couldn't say something about a corresponding performance. Seems like Glenn likes to approach things the visual way. Anyway, while it was visually a cool thing the musical part didn't get me as much as it should have contrary to the rest of the audience.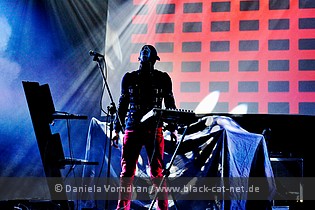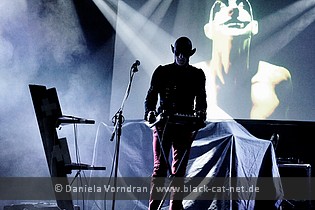 Setlist
01. Guardian
02. Body next to me
03. Slipped Away
04. Lucifer
05. Jump & Shout
06. Dinner with Satan
07. Sputnik
08. Teufelskind

Rating
Music: 6
Performance: 6
Sound: 7
Light: 7
Total: 6.4 / 10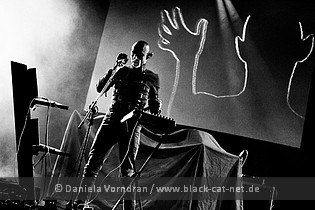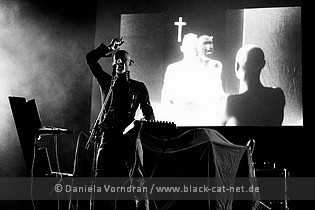 Sigue Sigue Sputnik

The original incarnation of SIGUE SIGUE SPUTNIK started way back in 1983 being founded by Tony James. Their debut album 'Flaunt It' came out in 1986 and became an immediate success, the second single '21st Century Boy' being one to the present day. The original line-up split up right after the release of their second album 'Dress For Excess'. Many years later, Tony James managed to get some of them back together to produce a third album called 'Prate Space', released in 2001. The most recent album to the present day is called 'Ultra Real', however only one member of the original line-up was involved. Martin Degville (vocals) still keeps playing the band's songs, now electronically updated. http://www.sputnik2.com/ / http://www.facebook.com/pages/Sigue-Sigue-Sputnik-Electronic/141302092594741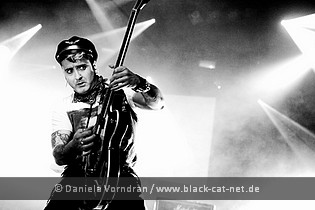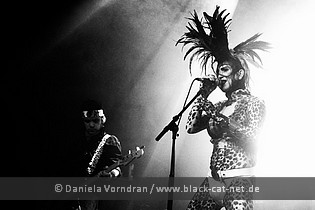 Music & Performance
From the point where SIGUE SIGUE SPUTNIK appeared on stage I must say I was quite baffled. This wasn't particularly due to their music though, since that, strictly speaking, were punk songs transferred to the electronic realms with real drums replaced by drum machines while the guitar and bass remained. The optical part on the other hand was a different thing and harder to take in. I mean, the guys looked like they'd opened their wardrobe, randomly picked out clothing and just put them on, no matter if they fit together or not. Their singer, the epitome of a male showgirl, dragged all the attention to him and added the last bit to the weirdo factor this show had. But one thing you've got hand to them: They knew very, very well how to entertain over their ten songs, which also include the hits '21st Century Boy' and 'Love Missle'.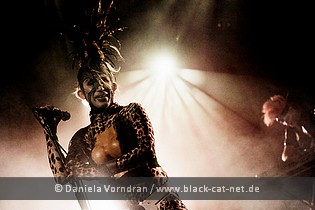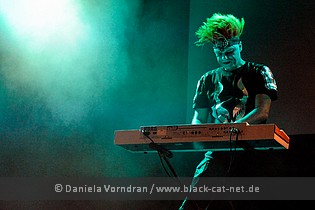 During their set you could just forget everything else around and just have some fun watching the show and rocking to the rapid beats of the songs. There was hardly any time to breathe and before you knew it the show was already over again. Both thumbs up!

Setlist
01. Rockit Miss USA
02. Alien Christ
03. 21st Century Boy
04. Teenage Thunder
05. Sci-Fi Lover
06. Success
07. Gene Genie
09. Jayne Mansfield
10. Love Missile

Rating
Music: 8
Performance: 8
Sound: 5
Light: 8
Total: 7.6 / 10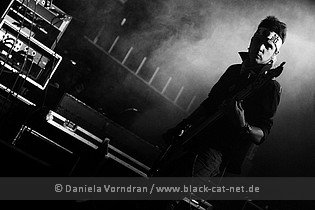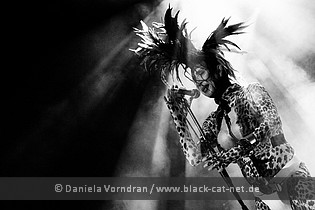 Absolute Body Control

When you just mention the name Dirk Ivens, the one thing that comes to most people's minds is THE KLINIK, but before he became a member of that legendary EBM music project there was ABSOLUTE BODY CONTROL [ABC] which the Belgian founded in early 1980 together with Mark de Jonghe and Veerle de Schepper. While de Jonghe soon left the band after the release of a track on the 'Blitzpop 1' compilation and their first 7" single 'Is there an exit?' in 1981 and was replaced by Eric van Wonterghem who would remain Dirk's musical counterpart for many years to come. ABC appeared on several compilations and tapes before they decided to continue the project as a duo. In 1984 both Dirk and Eric became members of THE KLINIK; the latter one left already after the second album and formed INSEKT. Their last tape 'Tracks' released in 1989 contained all their compilation contributions. The first CD 'Eat this' was released as late as 1993 because of the lasting public interest. After 22 years ABSOLUTE BODY CONTROL finally re-united in 2006 to play some festival shows and released a compilation called 'Wind (re)Wind' containing re-recorded tracks.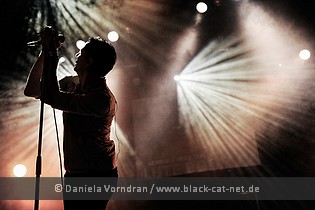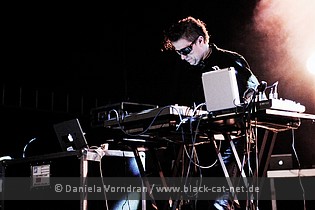 Receiving more attention than ever before, ABSOLUTE BODY CONTROL added more shows and tours and in 2010 they released 'Shattered Illusion' - strictly speaking their first CD album after amazing 30 years, as all the earlier releases before were either singles, tape cassettes or compilation CDs! http://www.dirkivens.com / http://www.myspace.com/absolutebodycontrolbelgium / https://www.facebook.com/pages/Absolute-Body-Control/207252429297941

Music & Performance
An icon on independent Belgian electronic music, the appearance of Dirk Iven's ABSOLUTE BODY CONTROL, was eagerly awaited. After the rebuilding was done then, the show started with 'I Wasn't There'; a surprisingly atmospheric tune. Surprisingly because many other tunes he's created with the project don't use half as much melody as that one. Guess, it's become pretty obvious that I'm a melody fetishist right? The performance remained as minimalist as the music will all its bits and bytes appeared, though with all its minimalism it was still more able to captivate and enthuse an audience than a fully-fledged band with an over-produced sound. Ivens maintained a style of expressionistic dancing coupled with his rough and harsh vocals that wouldn't even need a distortion algorithm to sound terrifying.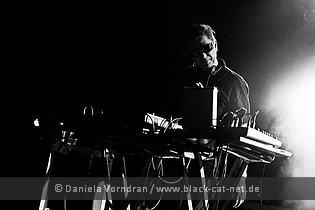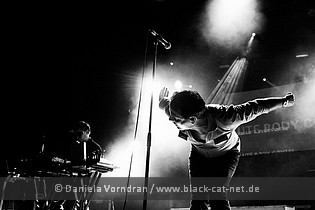 After the last song 'So Obvious' had faded the crowd, obviously, wanted more and received a two piece encore that satisfied everyone.

Setlist
01. I Wasn't There
02. Sorrow
03. Did You Do It?
04. Is There An Exit?
05. Figures
06. So Hard
07. Never Seen
08. Give Me Your Hands
09. Into The Light
10. So Obvious
---
11. Warm Leatherette
12. Surrender No Resistance

Rating
Music: 7
Performance: 7
Sound: 8
Light: 6
Total: 7 / 10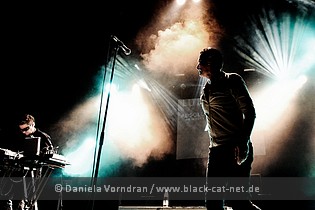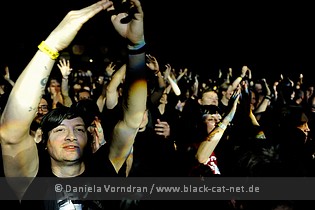 Crash Course In Science

CRASH COURSE IN SCIENCE originally emerged way back in 1979 with the single 'Cakes In The Home', followed by the release of 'Signals From Pier Thirteen' two years later. Their completed debut album wouldn't see the light of day before 2009 in the scopes of a box set, including a live-album and re-pressings of previous singles as well. Ever since, the project has played several live shows, the latest one of which we were to see here in Gent this evening where vocalist Michael Zodorozny was accompanied by original producer John Wicks and Andrea Beeman, "The Enchantress of Bioluminosity". http://crashcourseinscience.com/ / http://www.facebook.com/pages/Crash-Course-in-Science/177747285586892 / www.myspace.com/ccis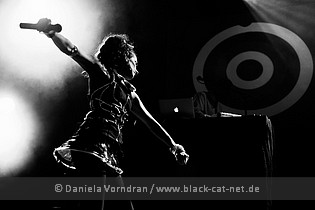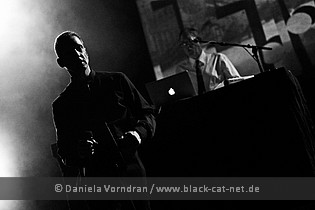 Music & Performance
Now to a band that I had rather heard legends of than actually heard something of. Even though I sort of guessed what was coming I was a little baffled when the show had taken off eventually. At first there was just Michael dancing to the sounds of a minimalist drum beat and shouting. The upcoming minutes however revealed the pioneering spirit of sonic experiments. Noise was one of the easiest things to recognize with other parts and sounds I'm still wondering about. Anyway, it can be said that what was presented was clearly out of the ordinary, which not only includes the music with its engaging under and overtones, but also the stage acting by Andrea was nothing short of quirky to be honest. One time, she would just beat minimal drums on the kit while other times she would lay down some dancing performances in literally swirling colours and one time with a strange mask on, just to switch to doing the vocals alone or in a duet.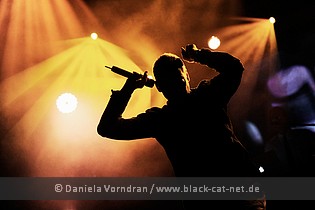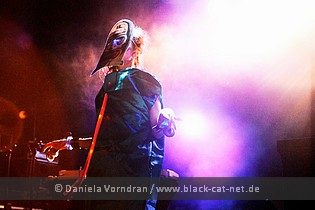 Guess, you can see there's a lot to swallow. I adore the live spirit, as far as live electronic music goes, they brought to the table, and I just couldn't attune myself to the music, really.

Setlist
01. Opening (Intro)
02. Second Glance
03. Cardboard Lamb
04. Pantsed (yet unreleased)
05. No More Hollow Doors
06. It Cost's To Be Austere
07. Someone Reads
08. A lot To Be Desired (yet unreleased)
09. Force The Habit
10. Factory Forehead
11. Flying Turns
12. Jump Over Barrels
13. Closing (Outro)
---
Planned Encore: Pompeii Spared (not played)

Rating
Music: 6
Performance: 8
Sound: 7
Light: 7
Total: 6.9 / 10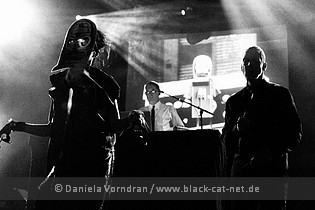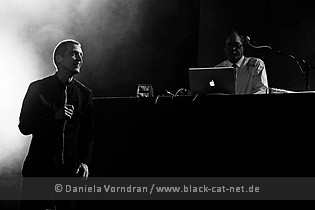 The Neon Judgement

TB Frank (guitarist/ vocalist) and Dirk Da Davo (keyboards/ vocalist) are the creative forces behind THE NEON JUDGEMENT, a Belgian EBM band from the 80s. Always light years ahead of their time, they first gained appreciation outside Belgium with their warm and yet alienating sound. Although evolving over the years, they remain true to their original strive to continuously invent new ways to marry noise and beauty, machine and magic, creating a sound referred to as art terrorism. After a retrospective double CD called Box in the fall of 2005, they just released a new album 'Smack' in 2009. http://www.theneonjudgement.com/ / https://www.facebook.com/pages/The-Neon-Judgement/172624919465385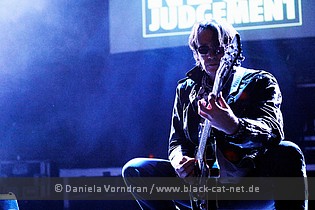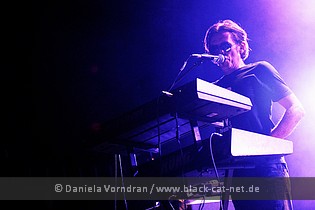 Music & Performance
A real institution was up on the schedule now with THE NEON JUDGEMENT. The setup was rather minimalist, but the effect of what the guys would create with it would in the further course become massive and painful to some extent. 'The Fashion Party' started it all and the crowd took off. It was just what they're waiting for, it seemed. Turns out that was nothing compared to following songs like 'Leash' or 'The Man' where the amount of jumping and moshing got so extreme that several people got really hurt. A shame that some can't contain themselves any longer when it comes to certain forms of music. 'Chinese Black' then recalled to the classic cold wave era with a more organic sounding build of drums and thick textures woven with keys and sustained guitar work. Truly a memorable track! 'One Jump Ahead' turned towards the clubby after and heated things up firmly in the crowd and 'Nion Nion', coming with those relentless beats was going one better even, emphasizing the harsh tones of their music.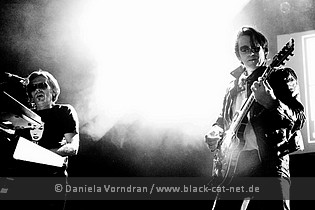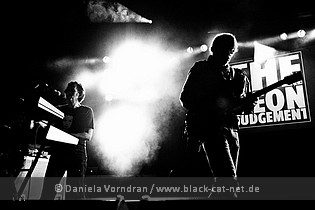 The disquieting 'TV Treated' ended the main set to which an encore could be added that gave the audience literally the rest and everyone else chance to recover for the next show on the plan.

Setlist
01. The Fashion Party
02. Too Cold To Breathe
03. Leash
04. The Man
05. Chinese Black
06. One Jump Ahead
07. Please Release Me
08. Nion Nion
09. Miss Brown
10. Concrete
11. TV Treated
---
12. Tomorrow Papers
13. Factory Walk (planned but not played)

Rating
Music: 8
Performance: 8
Sound: 8
Light: 8
Total: 8 / 10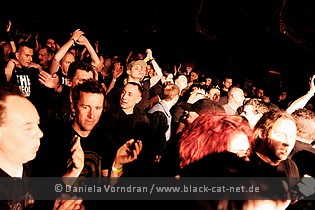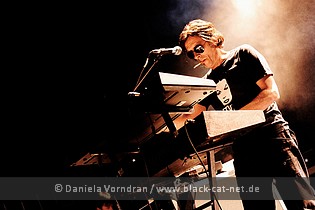 Covenant

Since 1986, Swedish band COVENANT explores the possibilities of synthesized music, and since the late 1990s and with albums like 'Sequencer', 'Europa' or 'United States Of Mind' they are surely one of the figureheads of what was once called Future Pop for lack of a better term. COVENANT simply call it "Pop music with an edge", and their latest album 'Modern Ruin' proves that there are quite a few edges to COVENANT's futuristic, sometimes dystopian Electro sound. 'Modern Ruin' was also the first album which involved German synth wizard Daniel Myer (HAUJOBB, ARCHITECT et al) in the studio, after Myer replaced founding member Clas Nachmanson for the live shows in 2007. In the middle of 2010 another founding member of COVENANT, Joakim Montelius, decided to stop touring for personal reasons and become a studio-only member of COVENANT, and since then he's replaced by Daniel Jonasson of Swedish synth band DUPONT for COVENANT's live appearances. Our Electro-heroes COVENANT are in 2011 Eskil Simonsson, Joakim Montelius (studio only), Daniel Jonasson (live only), and Daniel Myer. http://www.covenant.se / http://www.myspace.com/covenant / http://de-de.facebook.com/pages/Covenant-OFFICIAL/156626197713557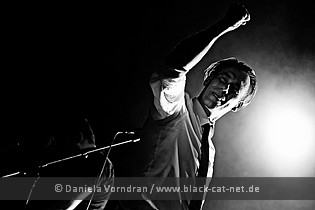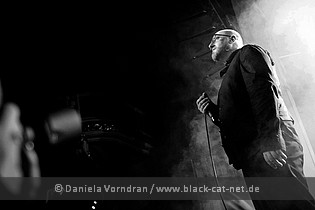 Music & Performance
COVENANT kind of stood out in the festival line-up with no apparent connection to the real old-school as some of their predecessors this day had it. Didn't make them less of a pleasure to look forward to for me and soon the stage was set for the show to begin with a massive introduction in the form o f a classic track of the band off their highly regarded 'Sequencer' album. Track's called 'Feedback' and revokes a dystopian world covered in darkness and destruction. The contrast to the following 'Bullet' couldn't be harsher since it doesn't utilize any industrial elements at all but is one of COVENANT's poppier and easier efforts. Still one of my favourites! If I didn't mention it already I'm doing it now: The band, including Daniel Jonasson of DUPONT again, was in top shape again. Eskil was completely taken away by the moods flying around and expressed this several times during the show. Following it up were the immersive club tune 'Judge Of My Domain' and the somewhat nostalgic and reflective '20Hz'. Going back straight to the very first album 'Dreams Of A Cryotank' we were now with the disturbing 'Shelter' in an updated version. Amazing what mood it creates and how it captivated the audience still. A timeless quality!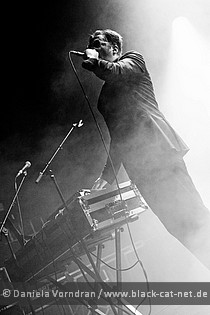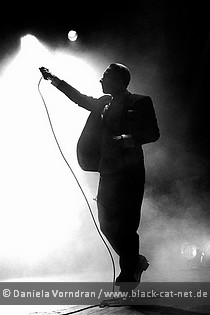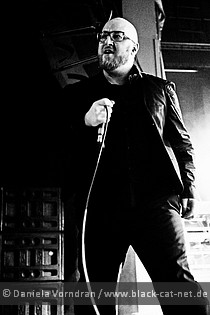 'The Men' lifted the veil of darkness again and brought along a catchy dance along tune until 'Ritual Noise' unleashed the rhythm of time onto the audience, gladly taking it in to make it their guide for the next minutes. A live electronic improvisation preceded the modernized 'Stalker' before a brand new and previously unreleased track was presented with 'The Passion Game' off the yet untitled upcoming album which is being worked on already. Before the guys left they had to 'Call The Ships To Port' again and shook the foundries of the venue with it. AN encore was just mandatory here and it started with 'Lightbringer' and Daniel Myer taking centre stage until the futuristic 'We Stand Alone' put an impressive end to the set.

Setlist
01. Intro/Feedback
02. Bullet
03. Judge of my Domain
04. 20hz
05. Shelter
06. The Men
07. Ritual Noise
---Improv---
08. Stalker
09. The Passion Game
10. Call The Ships To Port
---
11. Lightbringer
12. We Stand Alone

Rating
Music: 9
Performance: 9
Sound: 9
Light: 6
Total: 8.5 / 10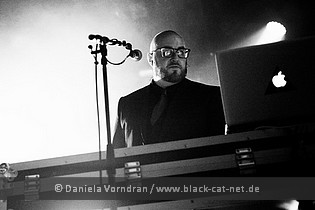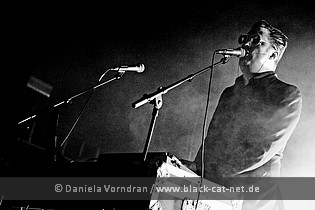 DAF

DEUTSCH-AMERIKANISCHE FREUNDSCHAFT, better known as DAF, is Robert Görl (drums, programming) and Gabi Delgado-Lopez (vocals, programming). DAF is a phenomenon in the German music scene. Founded in 1978 - yes, that's incredible 34 years ago! - as a five-piece avant-garde collective, the line up and the sound of DAF were simultaneously reduced to a minimum soon. In 1980 the band was shrank to the core duo Görl and Delgado-Lopez, and the music was likewise as minimal as it could get. Drums, a swirling synth sequence and Dadaistic slogans were the magic recipe to make the 1980 album 'Die Kleinen und die Bösen' a success. In the early 1980s DAF broke down all boundaries and accepted rules of music with their minimalistic concept. This made sure that they were rejected and disdained by the mainstream and by the press but also embraced by a youth who was craving for something new. It was the era of Post-Punk and Neue Deutsche Welle, and the two following albums 'Alles ist gut' (1981) and 'Für Immer' (1982) marked the major breakthrough of DAF. Some of the songs like 'Der Mussolini', 'Die Götter sind weiß' or 'Ein bisschen Krieg' caused controversies with their provoking lyrics, and quite frequently DAF were accused of playing with Nazi imagery and being fascists. Of course Görl and Delgado-Lopez are anything but fascists or Nazis, as usual it all comes down to breaking rules and taboos when it comes to DAF. When 'Für Immer' was released in 1982, DAF had already called it quits and both members pursued solo activities. However, the four years from 1978 to 1982 were suffice to make DAF a pioneering act who laid the foundation stones for numerous subsequent music genres.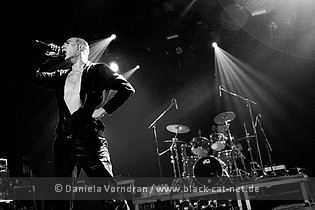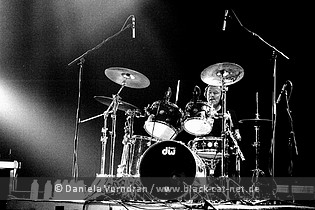 Techno, House, the so called 'Neue Deutsche Härte', EBM and a lot of artists from many other genres draw their inspirations from the minimalistic, repetitive and raw sound of DAF. In 1986 another album called '1st Step to Heaven', the first with English lyrics, was released under the DAF moniker. It was more or less only intended for the US market and should be the only musical sign of that band until 2003 when DAF reunited and released '15 neue DAF Lieder'. After a world tour DAF broke up again in 2005, just to re-unite again in 2008. The single 'Du bist DAF' is the only new material from DAF's latest era, Görl and Delgado-Lopez rather perform selected live events all around the globe. www.deutschamerikanischefreundschaft.de / http://www.myspace.com/officialdaf / https://www.facebook.com/daf.deutschamerikanischefreundschaft

Music & Performance
We had almost reached the end now in more than just one way. DAF would be headlining the festival's last day and we just hoped we would make it out of the venue alive since people tent to lose hesitations when it comes to DAF… An arsenal of water bottles was placed close to the drum kit and we knew they would all be needed, maybe even more. DAF introduced themselves with 'Gewalt' and were diving right in with 'Verschwende deine Jugend'. While some in the crowd were still, surprisingly hesitant, that was soon going to change with 'Der Mussolini' sending its first waves down from stage. It was like saying "Let the battle begin!" Everything became a surging mass of people. On 'Mein Herz Macht Bumm' already a few bottles were gone, some of the water used to cool down the crowd a little before the next hammer would strike down on them with 'Du Bist DAF', 'Sato Sato' and especially 'Alle gegen Alle', another musical call to arms. Gabi once again hardly stopped running back and forth, his mere appearances riling up the crowd.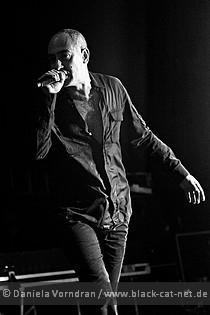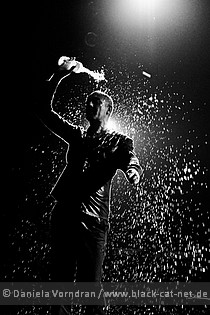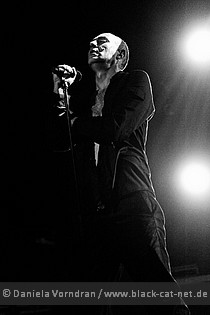 One of their most famous songs in a slow-mo version followed with 'Der Sherriff' before 'Als Wär's Das Letzte Mal' ended a sweat driving show. But wait, there was an encore of course and I somehow knew which songs would be played. If you thought 'Kepabträume' was the last you were going to hear from DAF tonight you were proven wrong soon enough with them returning one more time for a second run of 'Der Mussolini'; draining every last bit of energy of the crowd. We were drained long before and chose to leave the centre of events for a more distant view of things before we said goodbye to the venue to get something for breakfast and afterwards falling into a deep-deep sleep in our hotel rooms.

Setlist
01. Gewalt (Intro)
02. Verschwende deine Jugend
03. Ich und die Wirklichkeit
04. Der Mussolini
05. Ich Will
06. Muskel
07. Die Lippe
08. Mein Herz Macht Bumm
09. Algorithmus
10. Rote Lippen
11. Liebeszimmer (Opium Mix)
12. Du Bist DAF
13. Sato Sato
14. Alle Gegen Alle
15. Nachtarbeit
16. Der Sherriff
17. Die Lüge
18. Als Wär's Das Letzte Mal
---
19. Der Räuber und der Prinz
20. Kebapträume
---
21. Der Mussolini [2nd Run]

Rating
Music: 8
Performance: 8
Sound: 8
Light: 8
Total: 8 / 10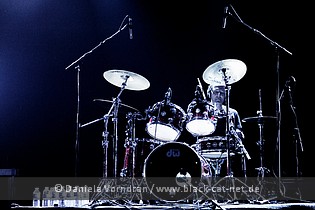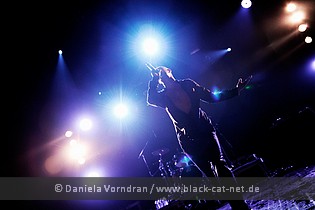 So, what's to be left to say at the end? First of all, congratulation to the promoters for putting up a great festival with fantastic line-up in a great venue. Anything was perfect, just a little thing was missing… providing some food at the venue since 10 hours or even more without food are really too long. Let's hope there will be another edition of the festival, what is very likely to happen in 2013. But until then, there will be the 4th edition of Rewind Mini Fest in October 2012.

All pictures by Daniela Vorndran (http://www.vorndranphotography.com / http://www.black-cat-net.de/ / http://www.myspace.com/vorndranphotography / http://www.facebook.com/blackcatnet)