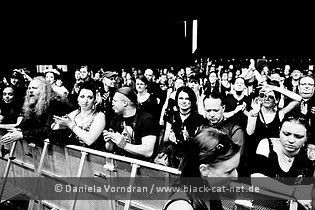 Leipzig, Germany
25th-28th May 2012
21st Wave-Gotik-Treffen Day 1: Todtgelichter, Projekt Mensch, Coma Divine, Blazing Eternity, Project Pitchfork, Lacuna Coil and Eisbrecher

It is the weekend of Whitsun and what to Gothics and all followers of dark music do at that time? Right, they are all making their way towards Leipzig to this year's Wave-Gotik-Treffen (WGT). About 20.000 people mostly dressed in black come to this get-together each year in order to enjoy concerts, theatre performances or operas all over town. Our first day of the WGT started at the Kohlrabizirkus which hold a lot of concert this year again after not being part of the festival last year. Happy about that change, we got into one of the many trams and were looking forward to the first band of the WGT: TODTGELICHTER. Filled with a lot of metal, also PROJECT PITCHFORK made it onto our plan for this day. This day was promised to be good opener for the 21. Wave-Gotik-Treffen 2012.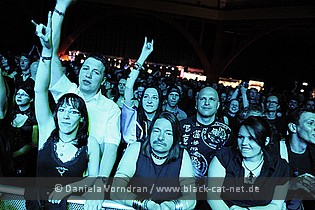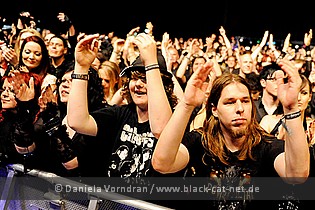 Todtgelichter - Kohlrabizirkus (Florian Schürmann)

TODTGELICHTER was formed in 2002 by Frederic (guitars) and Tentakel P. (drums) with the intention to play emotional, intense and innovative Black Metal. Shortly after Mort (vocals) joined, and with their first demo in 2003 and the addition of Nils (bass) and Felix (guitars) the band quickly managed to secure a record deal with FOLTER REC. The resulting albums 'Was Bleibt...' (2005, with Felix being replaced by Claudio afterwards) and 'Schemen' (2007) sold several thousand copies in various editions and gathered them a loyal, international fan base, new listeners with each release as well as enthusiastic acclaim from the press. Many successful gigs, including headliner- and festival-gigs have been played since then as well. In 2009, Mort left and Nils took over vocals. Their latest record entitled 'Angst' was released on December 3rd, 2010. http://www.todtgelichter.de / http://www.myspace.com/todtgelichter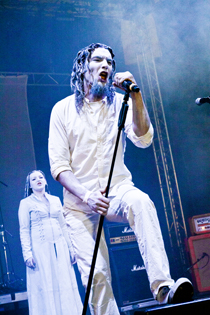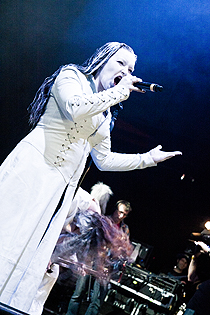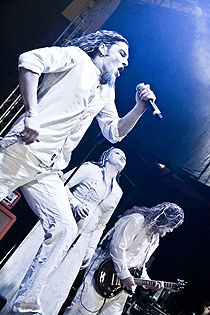 Music & Performance
The first band to open this year's WAVE GOTIK TREFFEN was TODTGELICHTER. If you couldn't catch them on a festival in the last few years, you'll certainly be surprised by their stage appearance: all dressed, painted and dyed in the colour white they literally create a severe contrast to the black metal they play. Furthermore they add their personal (not to apply the over-used term avant-garde) note to the style, not least because of the genre-atypical use of clean female vocals (which even more atypically are not pushed to unreachable octaves) provided by vocalist Marta. That makes them always worth watching and this opening concert was no exception. Exceptional on the other hand was the presence of a camera team on stage, which neither belonged to the band performing nor to the WGT staff. The two elderly, kind of inadequately dressed men were supposedly filming a segment for a German morning magazine whose context is still of question. The atmosphere anyhow suffered a little from the camera men's importunity. Also exceptional was an unfamiliar face on the stage with newly acquired bassist Chris, who took over from Nils, who wanted to focus more on the vocals. The first-time-white did a good job on his instrument and adapted very well to the band structure.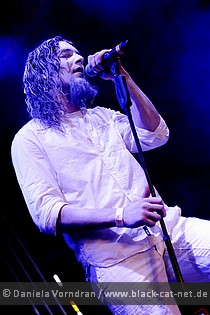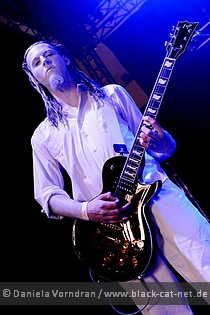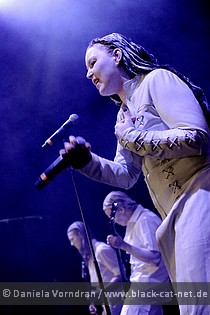 Of course the sound of the first song at a festival gig always entails at least moderately serious issues, but these were mostly corrected by song two. For me the lead guitar could have been a little louder as well as the snare drum but the overall mix was very enjoyable. So was the setlist which almost exclusively consisted of songs from the latest record "Angst" which for me contains the most mature material the band has written so far and the one on which each member could shine. Especially in the vocal department there was a good chemistry between the above mentioned male and female vocalists. The latter however had to pause for the middle part of the gig on the side when she was not handling the sound effects on an inconveniently since prominently placed laptop on stage. Sadly, no new song was played from the upcoming record 'Apnoe' (which will be not released until 2013). With that they kicked the accelerator and presented a great up-tempo black metal piece which raised the anticipation for the final record. TODTGELICHTER finished their great gig with the ambient-ish outro 'allmählich' a few minutes before their time (although they cut one song from their list as far as I remember) and made space for the next band.

Setlist
01. Café of lost dreams
02. Neon
03. Subway
04. Bestie
05. Larva (on setlist, in brackets, but not played)
06. Blutstern
07. Allmählich

Rating
Music: 9
Performance: 9
Sound: 7
Light: 7
Total: 8 / 10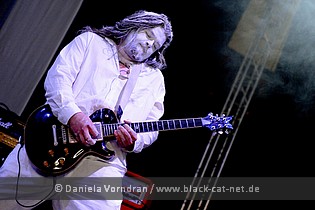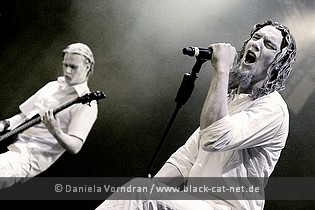 Projekt Mensch - Kohlrabizirkus (Florian Schürmann)

Vocalist Deutscher W. has been a part of music history for more than 30 years. With his band OHL the front man played punk, with DER FLUCH he pioneered in the genre horror punk and now he is back with his new group called PROJEKT MENSCH to play his version of the genre Neue Deutsche Härte or Industrial Rock/Metal. The first record 'Seelenfeuer' was released on October 10th, 2011. http://projekt-mensch.blogspot.de / http://www.facebook.com/pages/PROJEKT-MENSCH/164501300273355

Music & Performance
After writing the previous paragraph I asked myself whether I am allowed to write the passage I am about to. Is someone whose lifetime not even reaches the period of musical activity of someone who is labelled as a "living legend" by so many people? While I leave the question open, I'll gather some thoughts on the gig of PROJEKT MENSCH on this year's WGT, which turned out to be their first one ever. A lot of people apparently didn't want to miss out the opportunity to see the band, since the audience increased by a huge number during change over. The logo of the band had been projected on a white backdrop as the members entered the stage. The terms "band" and "members" are formally correct I guess, but since all of them wore the same simple black outfit and masks with a blank expression on their faces it was clear from the beginning that this is Deutscher W's show, whose look differed.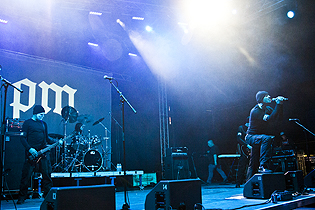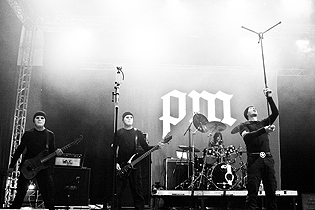 While I listened to a couple of songs in preparation for the show, I found the presented music on 'Seelenfeuer' technically okay but musically irrelevant. During the show however I couldn't find any way to like the sound reaching my ears. The Neue Deutsche Härte genre admittedly isn't known best for its diversity, genre-similar bands like RAMMSTEIN or OOMPH! compensate this circumstance with bombastic and interesting synthesizer structures and great vocals. While the keyboards were present the vocals ruined for me what they might have redeemed. Since I never really had been confronted to a greater extent to the front man's other bands' music, I did not realize how much I despise Deutscher W's style of singing - because he is not singing at all. There would be no problem if he did growls, screams or some other raspy vocals which are common in extreme metal styles and have no key tone at all, but mostly he is just rhythmically speaking while pressing sounds from his chords which are constrained and "breathy" and do have a tone - and very often fail to be in the key of the song. On the recorded songs this isn't as obvious as in this horrendous live performance. Fans of him must have grown immune to this over the years but for me this is a crucial circumstance which would ruin the performance by itself… but there are other issues as well.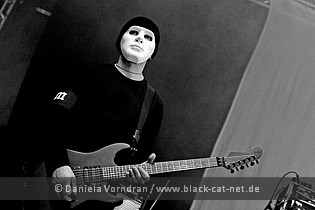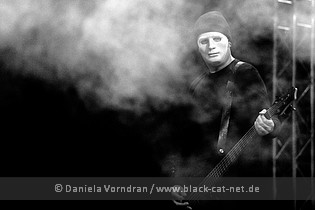 After the opener they played a mid-tempo stomper with the title 'Sünde' which consisted of wide parts of two chords and was everything else but interesting, followed by 'Engel der Angst', a song with one of the most trivial lyrics I have heard or read in a long time. During the latter the vocalist jumped into the photographer's pit seeking contact with the fans, who did not give as much back as he was expecting from what I could see. He even admitted it during the gig: he usually plays for audiences 20 times as much or even bigger ones. His stage act as extra evil and disturbed didn't work – as well as the rest of the performance, at least for me. I am sure there were a lot of people who enjoyed the gig. Since I am the author and the one who has to give his opinion I decided to be daring to write that PROJEKT MENSCH failed on its first attempt.

Setlist
01. Bis es endet
02. Sünde (not on setlist but played)
03. Engel der Angst
04. Dreh dich nicht um
05. Ich verbrenne
06. Dem Fegefeuer so nah
07. Die dunkle Stunde
08. Wilde Rosen

Rating
Music: 3.5
Performance: 5
Sound: 9
Light: 6
Total: 5.5 / 10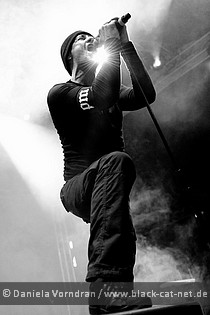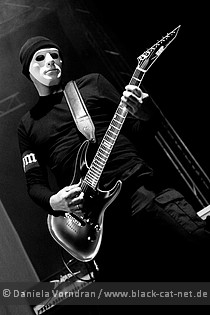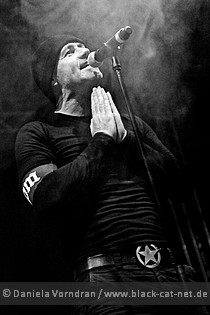 Coma Divine - Kohlrabizirkus (Florian Schürmann)

COMA DIVINE is the new creation of Sonja Kraushofer, well known singer of the bands L'ÂME IMMORTELLE and PERSEPHONE. She found company in Ashley Dayour who is also known from gothic rock-institution WHISPERS IN THE SHADOW, Martin Hoefert (PERSEPHONE & Ex-SOPOR AETERNUS), Franz Heinrich Lirsch and Wolfgang Luckner. Exploring new boundaries and searching for new ways to express themselves you will find metal meeting neo-classical arrangements; melancholic guitars are combined with heavy riffs; expressive songwriting leads into catchy refrains. COMA DIVINE's debut record was released on August 26th, 2011. http://www.coma-divine.com / http://www.myspace.com/bandcomadivine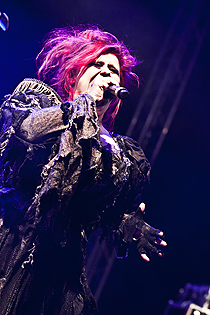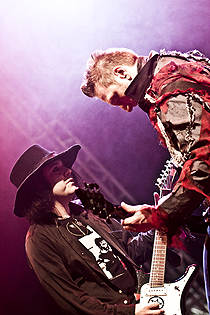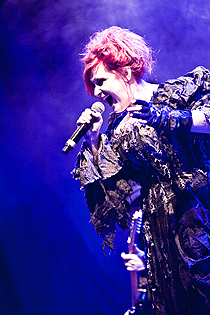 Music & Performance
The next band on stage was COMA DIVINE with their well-known front lady Sonja Kraushofer. If you're familiar with the music she usually lends her vocals to, you wouldn't expect her performing to metal. With that being the appeal probably lots of her fans sought out the opportunity on the upcoming appearance. With only one release so far, unsurprisingly they performed eight out of the eleven songs of their album 'Dead End Circle' as well as the iTunes-only-release 'Everything you want'. Although I knew what to expect I cannot fully wrap my head around the music and my position to it. COMA DIVINE is without doubts a highly professional band with musicians who clearly have expertise in what they are doing. The songs themselves are well-written, thought-out pieces which were performed with a lot of skill, like 'I remember' in which a great presentation on the 5-string bass was shown or the expansive 'Dead end' with its impressively epic guitar runs in the end. In my opinion the songs themselves work well but come across very cerebral and work better after some repeated listening. Then there are of course the vocals which as often are the centre of attention, which for me turned out to be the crux.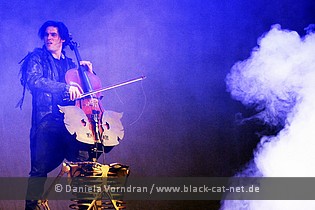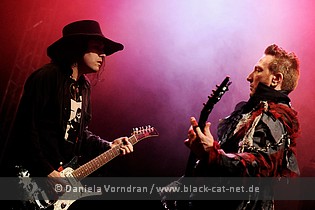 While they were well, even though a little nasally performed, the melodies themselves seem a bit random. Especially when the guitars are playing rhythmic patterns according to my ears Sonja's vocals carry out some hasty jumps lacking structure. Luckily the band structure involves a cello, which backs her up and after it was audible during the second song played, it did a good job doing so. Fans of L'ÂME IMMORTELLE and PERSEPHONE will agree that Sonja's strength is performing the slow, epic songs and with this band there is no difference. These songs, for me, worked the best, the songs where she acted the mad lady the least. However, after the musicians consecutively left the stage with the last song COMA DIVINE left me with mixed feelings but all things considered I enjoyed the show.

Setlist
01. I remember
02. The odd one out
03. Secret lover
04. Everything you want
05. From time to time
06. Praise the fallen
07. Burn, sister
08. About a girl
09. Dead end

Rating
Music: 7
Performance: 9
Sound: 8
Light: 7
Total: 7.8 / 10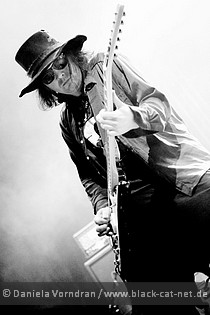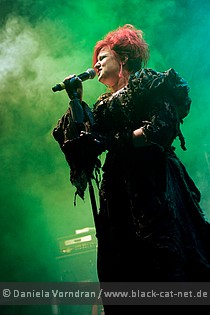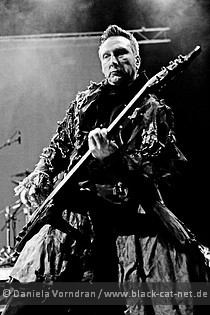 Blazing Eternity - Kohlrabizirkus (Florian Schürmann)

Formed in Copenhagen, Denmark in the mid-1990's, BLAZING ETERNITY consist of vocalist Peter Mesnickow, guitarists Morten Lybecker and Kim Larsen, bassist Anders Kristiansen and drummer Lars Korsholm. Although their initial musical direction (captured in '95s 'Over Sorte Heder' and '97s 'Der Hviler En Nat Under Sorte Vinterböge' demos) placed them squarely in the European heavy metal scene, BLAZING ETERNITY quickly transformed their sound into a less extreme gothic hard rock, which they introduced on 2000's Times and Unknown Waters album. This was followed by 2003's even more accessible 'A world to drown in'. Soon after the release they got into hiatus and just returned for a few concerts. http://www.myspace.com/blazingeternity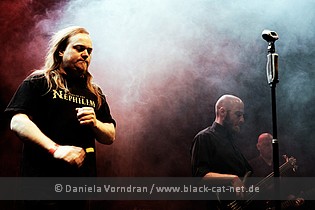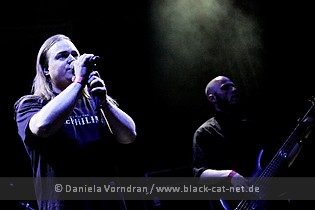 Music & Performance
Usually when bands split-up and reunite there is a come-back tour with at least one new studio record to follow, but in case of BLAZING ETERNITY there will be only a few shows as vital signs. Having played at the WGT in 2001 and 2003 before, luckily they chose this year's WGT as one of the events to appear at. Shamefully these years lay before my first attendance, so to see BLAZING ETERNITY perform was entirely new for me. Being aware of the drastic change in musical style between records I was eager how they pull off both in one concert. The band opened up with songs from the first full-length and their demo records performed by vocalist Nattevogter PTM whose aggressive screams blended well into the clear biting but not rough sound. Like on the record his spoken and kind-of sung parts were dynamically imbalanced and barely audible which flawed the general impression a little. The keyboards which were handled by new live member Jens Hansen, were also a bit too prominent in lead parts, but that aside the sound was well balanced.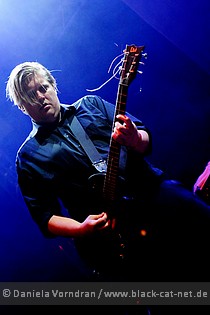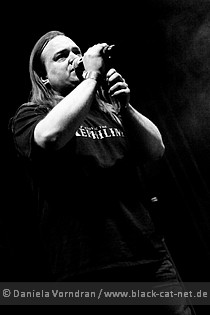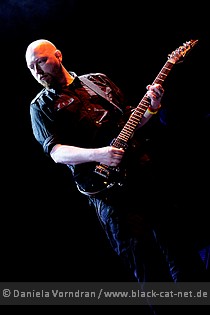 After that Nattevogter PTM retreated because the middle of the set belonged to the guitarist Morten Lybecker performing some melodic gothic metal in the form of four songs from 'A world to drown in'. Again the impression was the same the record conveys: if you liked his performance there you would have enjoyed his live performance which I found very likable. For the last part of the gig they returned to the faster, more extreme melodic doom/death metal they played in 2000, whose atmosphere carried you back in time and really was thrilling but the audience unfortunately made a reserved impression. I however enjoyed each act of the show and recommend everyone to catch one of the few gigs left before they might disappear for good.

Setlist
01. Concluding the dive of centuries
02. Still lost in the autumn of eternity
03. Of times and unknown waters
04. Da Håbet Blev Borte for Altid...
05. (Don't) Tell the World
06. Cover Me With Your Eyes
07. To Meet You In Those Dreams
08. A World To Drown In
09. Over sorte heder
10. Fortabte Horisonter
11. Dead Inside
12. Dark Summernights of Eternal Twilight

Rating
Music: 8
Performance: 7.5
Sound: 7
Light: 7
Total: 7.5 / 10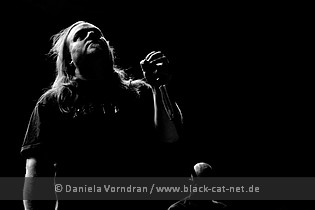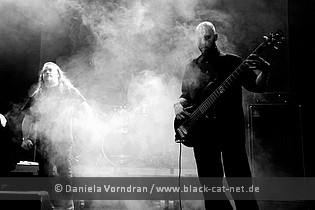 Project Pitchfork - Agra (Anne Kuhfuß)

PROJECT PITCHFORK is one of the spearheads in the alternative electronic music, initially consisting only of Peter Spilles and Dirk Scheuber. Later, Jürgen Jansen and live members Achim Färber and Carsten Klatte joined the line-up. The formation wasn't just known for critically-acclaimed albums, successful tours and appearances on every conceivable festival but also for some prominent support acts like RAMMSTEIN or COVENANT. After some very successful years at the beginning of this millennium, the popularity decreased with the more introverted albums 'Inferno' and 'Kaskade' but nothing has changed in East Germany and in Russia, where a tribute to PROJECT PITCHFORK sampler has been created in 2005. In 2009, they eventually came back with a new full-length, titled 'Dream, Tiresias!', just to let follow the next one, 'Continuum Ride', a year later. Due to illness, Scheuber was not performing at WGT, besides also Klatte was not delivering guitar sounds. Instead, the band was bringing Nook as second drummer besides Achim. http://www.pitchfork.de / http://www.myspace.com/projectpitchfork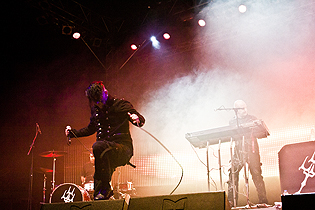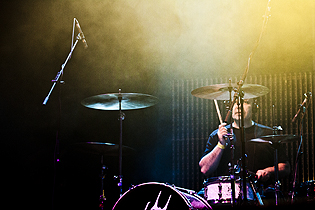 Music & Performance
Peter Spilles and the rest of the band were the first ones for us to see at the Agra this day. A lot of people followed their call and got together in front of the stage. PROJECT PITCHFORK instantly had the audience in their hands with their well-known mixture of hard electro beats combined with Peter's screaming. This day, the band was in a good shape and knew how to get everybody in the audience going. The setlist contained a nice mixture of older but also newer songs in order to treat everyone who made their way to the Agra that night. Especially the song 'Endless infinity' had even the last ones off their feet and dancing. The mood was great and everyone enjoyed the concert. Surprisingly, the sound was not too loud like it usually is in this location. Due to the good sound and great performance of the band, the number of people in the audience did not really decrease during the show which usually happens if the concert is not good in some way. However, there has to be something that was not perfect that night - and that was the light if you ask me. At some time it was just too dark and one was not able to see the band due to the massive amount of fog (which is a usual phenomenon at concerts). Next time, some lighting from the front would be helpful.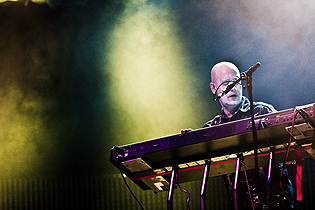 Despite that little thing, there is nothing really bad one can say about this evening's performance. PROJECT PITCHFORK did a really good job this night and everybody left feeling happy after the hour the band had filled with great music.

Setlist
01. Intro
02. Continuum
03. Timekiller
04. Lament
05. Conjure
06. Run for Cover
07. Souls
08. Endless Infinity
09. K.N.K.A.
10. The Queen of Time and Space
11. Souls
12. The Dividing Line
13. Beholder
14. Existence
15. Fire and Ice

Rating
Music: 9
Performance: 9
Sound: 8
Light: 6
Total: 8.5 / 10


Lacuna Coil - Kohlrabizirkus (Florian Schürmann)

On currently five full-length records LACUNA COIL from Milan developed an individual sound between Death Metal, menacing Gothic, modern Nu Metal and just the right pinch of pop music that even makes their music appealing to people outside the scene. The band's 2012 release, Dark Adrenaline, peaked at number 15 on the Billboard 200. As of March 2012, Lacuna Coil has sold over 2 million records. LACUNA COIL is Cristina Scabbia (female vocals), Andrea Ferro (male vocals), Marco Coti Zelati (bass), Cristiano Migliore (lead guitars), Marco Emanuele Biazzi (lead guitars) and Cristiano Mozzati (drums & percussions). www.lacunacoil.it / www.myspace.com/lacunacoil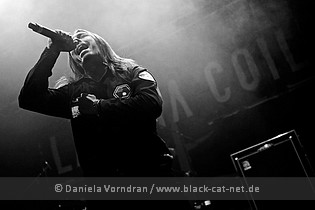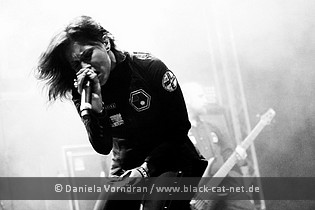 Music & Performance
With their last appearance at the WGT over a decade ago LACUNA COIL's fame has increased enormously, so there is no surprise having them as one of the headlining bands of that first day. After the extended change over in whose course not only the interchanged drum kit but also three spotlights were put through their paces. The band opened up with 'I don't believe in tomorrow' from the recently released sixth studio record. The two vocalists as well as the rest of the musicians made a playful impression and tried to make the people having a good time. Briefly speaking the whole concert was well organized and highly professional. From the first second the sound was full and energetic and atmosphere on the boil. With 6 out of 15 songs they lay the focus of the set on the 'Dark Adrenaline' album but made enough room for their classics - or at least the songs they call classics.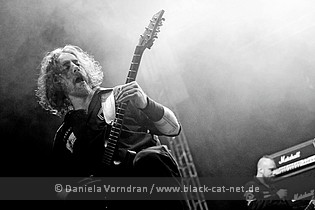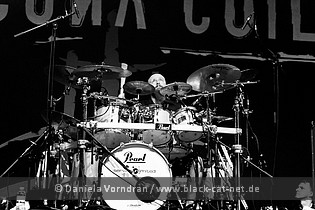 A lot of fans felt alienated by the bands steady diverge from the metal genre to the alternative, tuned down and bass driven nu metal-rock they play today - and I was one of them. Front lady Cristina Scabbia stated during the gig that they just returned from touring the USA and I can imagine how well the resonance was since this kind of music is meant for the American market. I can live with that because tastes are different but what left me befuddled is that they announced songs as 'Heaven's a lie' as classic LACUNA COIL tracks while I would have wished for at least one song from 'Unleashed memories' or 'In a reverie'. However the audience enjoyed each one of the songs played by singing, clapping or dancing. With songs like 'Spellbound' or 'I won't tell you' they definitely had some sweeping pieces on their side, in which the newer ones like 'Kill the lights' (which even I enjoyed) and 'Give me something more' are in no way inferior.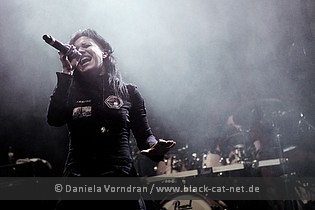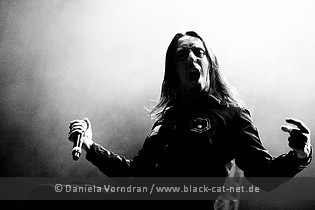 After taking some time they of course came to the stage for an encore with songs from their last four records, LACUNA COIL left me with the feeling that for the songs I'd rather liked being on site in 2001 but the satisfaction having experienced a very enjoyable concert of a very professional band who rightly had the headliner position that night.

Setlist
01. Kill the light
02. Heaven's a lie
03. Entwined
04. Give me something more
05. Spellbound
06. Our truth
07. Upsidedown
08. In visible light
09. To the edge
10. Fragile
---
11. Swamped
12. Trip the darkness
13. My spirit

Rating
Music: 8
Performance: 9.5
Sound: 9.5
Light: 9
Total: 9 / 10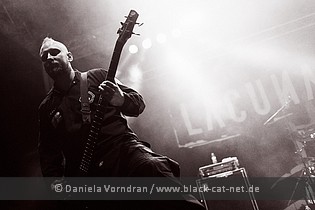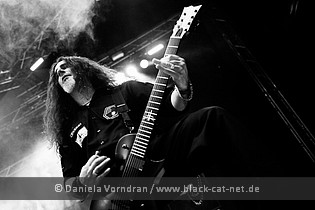 Eisbrecher - Agra (Anne Kuhfuß)

After singer Alex Wesselsky split up with his former band colleagues from MEGAHERZ in 2003 due to artistic differences, he founded EISBRECHER together with another ex-member of MEGAHERZ, Noel Pix. The release of the first and self-titled album in 2004 caused a heavy stir, when the band added to blank CDRs to the release as an incentive to copy the album and as a statement against the criminalization of the end-customer through the music industry. Two years later, in summer 2006, it was finally time for the second album 'Antikörper' to satisfy the hunger of the fans for more material. This album even reached position 85 of the German Album Charts. Album 'Eiszeit' even mate it into the top ten! The fifth studio album 'Die Hölle muss warten' was released on 3rd February 2012 via Sony Music. EISBRECHER is Alexx Wesselsky (vocals), Noel Pix (lead guitar), Jürgen Plangger (rhythm guitar), Dominik Palmer (bass guitar), and Achim Färber (drums and percussion). https://www.facebook.com/eisbrecher / http://www.eis-brecher.com / www.myspace.com/eisbrecherkommando

Music & Performance
EISBRECHER is a band which can be found at many gothic festivals and surely are a great addition to every line-up. Due to this it was not surprising that the Agra was filled with people at Friday night. Alexx (vocals) and his crew were the last ones to perform that night and surely knew how to get everybody in the audience to celebrate the festival for the last time that night. EISBRECHER's hard and driving sound fit perfectly after the electro sound of PROJECT PITCHFORK before. The band opened very strong and highlighted their performance with shreds of paper that were burst into the air and covered the first rows in white. The band has always been a good a life band and lived up to their standards this evening as well.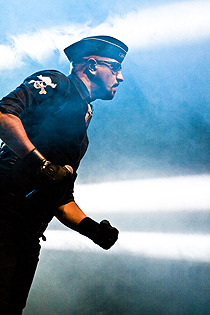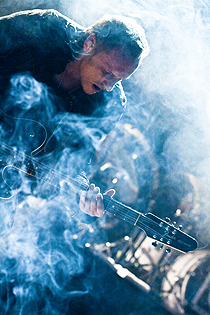 EISBRECHER delivered a solid concert without any special things (except the paper things). The audience seemed to like it and so did I. Alexx is such a charismatic front-man that there is no chance that you can not like him right from the beginning of the concert. In addition to that, the light changed and made him look even nicer. All in all, the band did a nice job on performing in front of so many gothic people who maybe just stayed there after the band before finished their concert. Nicely done, EISBRECHER.

Setlist
01. Intro
02. Exzess Express
03. Willkommen im Nichts
04. Verrückt
05. Leider
06. Herz aus Eis
07. Amok
08. Prototyp
09. Schwarze Witwe
10. Vergissmeinnicht
11. Heilig
12. This is deutsch (SITD Remix featuring Tom of SITD)
13. Miststück (Megaherz cover)
---
14. Kinder der Nacht
15. Die Hölle muss warten

Rating
Music: 8
Performance: 8.5
Sound: 8
Light: 7
Total: 8 / 10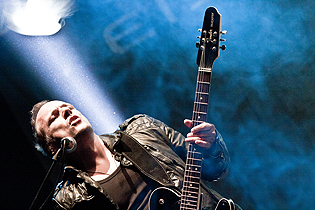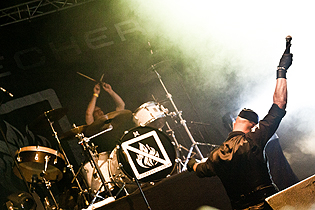 Pictures by Daniela Vorndran (Todtgelichter, Projekt Mensch, Coma Divine, Blazing Eternity, Lacuna Coil - http://www.vorndranphotography.com / http://www.black-cat-net.de/ / www.myspace.com/vorndranphotography / www.facebook.com/blackcatnet) and Anne Kuhfuß (Todtgelichter, Projekt Mensch, Coma Divine, Project Pitchfork, Eisbrecher)


See also (all categories):