Page 1 of 2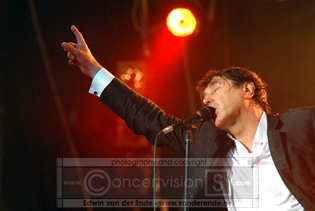 Bospop, Weert, The Netherlands
July 8th and 9th 2006
Simple Minds, The Alan Parsons Live Project, Glenn Hughes, Stream of Passion, Beth Hart, Living Colour, Roxy Music

Sunny times for Bospop this year, a little bit of rain to cool us down some times but that was it; sunglasses and sunscreen all around. Even though there were not as many bands in our genre Bospop had a good line up with some old and new heroes of music. The first evening there were three bands, finishing with Sting who never seems to loose his charm, his talent, or his lust to perform. Many of the bigger bands of the festival only allowed so many photographers in the photopit which was a pity, it will cost them publicity.
The facilities at Bospop are great, there are many toilets and they are clean, there is a wide variety of food, there is even a small festival market and of course a merchandise stand. When the sun was too hot there were wet sponges to cool off the audience. Everybody was in a good mood, there were many different ages and many different kinds of people there but they were all in a good mood and it was peaceful festival.
Living Colour
The most influential black rock band ever, this is how this funkmetal band is announced in the Bospop booklet. In 1995 the band separated but they made their live comeback at Bospop in 2001. This colourful band made their second Bospop appearance this year. With the sun high in the sky and the bright colours on stage it was as if we were on a tropical festival.

Music
This band has many talented members. Each member of the band got their chance to shine, musically; they all got their solo's. There were many instrumental pieces in the songs. Their vocalist has a very strong voice, he can hit both the high and the low notes, at times he almost grunted as well. The guitars seemed to sing at times, you could hardy hear the difference between vocals and guitar. The bass was funky and the music could be happy at one point and hard at the next, never a dull moment.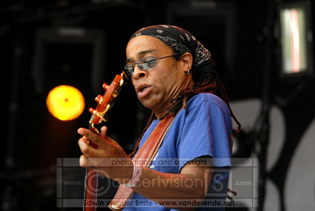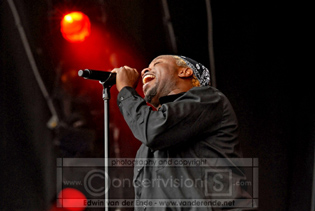 Performance
Living Colour is a probably the most colourfully dressed metal band I have ever seen on stage. Their guitar player had both an orange hat and an orange guitar, the drums (with double bass) were yellow. Their vocalist was wearing black because, as he said so himself "I'm wearing black because it makes me look thin". It seemed as though they had been looking forward to this show because they were very enthusiastic. Their vocalist Corey Glover (their vocalist) was constantly dancing. They got a warm welcome from the audience; heads were bopping all around me, a great band to play with this weather. You could not see the lights as well as you could have during an evening show but it was definitely colourful.

Rating
Music 8
Performance 7
Sound 7
Light 7
Total 7 (7,3)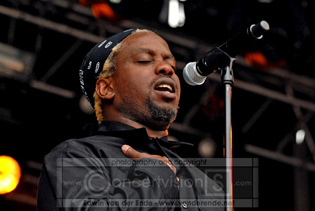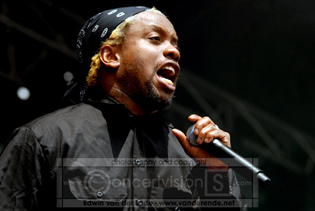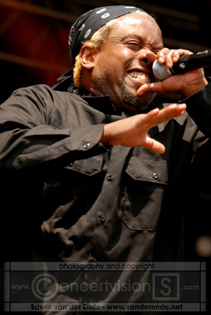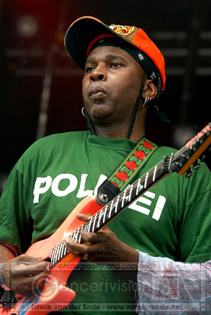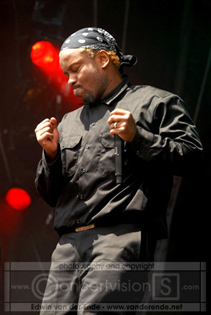 Beth Hart

After giving up drugs and alcohol Beth Hart climbed up the ladder of female rock music with large steps. She almost was accepted as the new singer of Velvet Revolver but luckily for us Scott Weiland came around and took that spot.vIn the past year she has toured in the Netherlands selling out venues all over the country. Today she had gathered quite an audience, which she deserved for she and her band put on a great show.

Music
She started the show behind her own little key board, bare footed. Then she was joined by the acoustic guitar and after that the band took over. It was great to hear her do some a capella parts, she is a brilliant singer. You can hear the emotions in her songs, there is no escape. Some songs were sad and slow, others fierce and funky, blasting off the stage. There was something there for everyone to like. The themes differ from live stories to, hopeful songs to protest songs.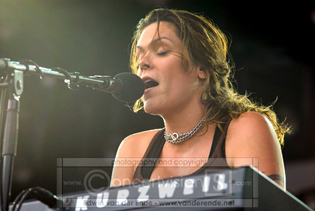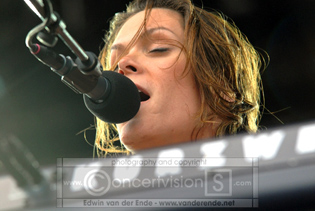 Performance
You can see Beth Hart know what she is singing about, she is lost in every song she sings. Sometimes she dances, throwing out all the energy that is flowing through her body. She addresses the audience, makes them part of the show, shares her feelings. There is no escaping Beth Hart, she will touch you, if you like it or not. She has nice contact with the members of the band and clearly respects them for what they do. She dedicated a few songs to Bush. The first of those was 'Sick', after shouting "Go f**k your mama" she started this funky song, shaking and dancing and telling the audience to "shake that ass". 'Isolation' was dedicated to all the crazy people out there. She has been in therapy and is very glad that there are so many people there to help out her head.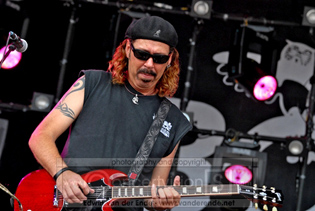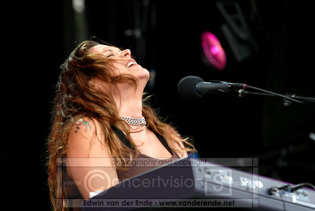 Set list
01. Hiding Under Water
02. World Without You
03. Bottle Of Jesus
04. Lifts You Up
05. Sick
06. Face Forward
07. G.O.P.
08. Isolation
09. Leave The Light On
10. L.A. Song
11. Monkey

Rating
Music 9
Performance 8
Sound 8
Light 7
Total 8 (8,2)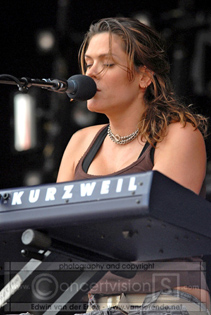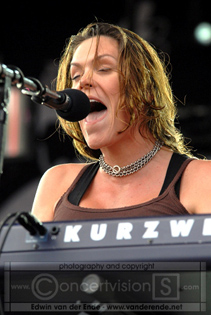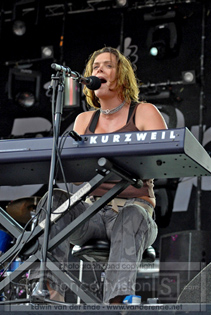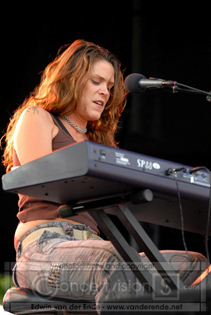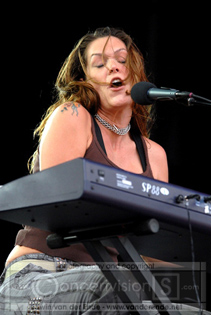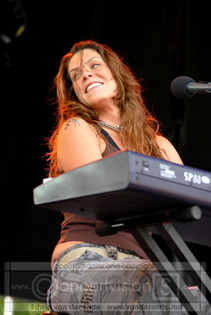 Stream of Passion

After what was supposedly their one and only tour they now did an extra festival tour. They have a large group of fans and conquer new hearts with every performance. A band gathered through the internet by Arjen Lucassen and now a great success. It seems that everything this man starts turns out to be golden.

Music
Steam of Passion always builds up per instrument, 'Spellbound' is a great song for that. The last two to enter the stage are Arjen and Lori (guitars) and then they are off. Besides the songs from the 'Embrace The Storm' album they also play some Aryeon songs. When singing 'Castle Hall' the sisters Bovio make a great duo, just as they do during 'Valley Of The Queens'. Marcela's sister mostly sings the lower part of the vocals but during 'When The Levy Breaks' she appears to be a siren as well, showing us how high she can sing.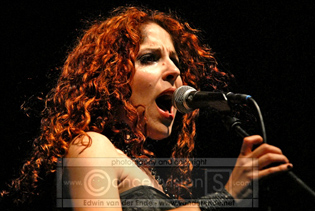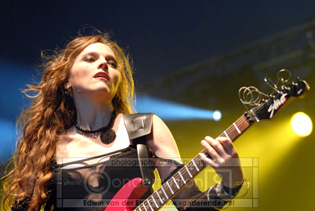 Performance
From the start of the performance there were a lot of people screaming and shouting from the audience. This must have motivated the band even more for they put on a very energetic and fun show. You can see they are a well oiled team by now and together they make the show. Arjen is always running around the stage, making contact with every other band member and also with the audience, he often stands in front of the monitors to get as close as he can. Alejandro (piano) is always standing behind his keys, his seat is just standing there for the three times he touches it during the show. Davy Mickers is constantly biting his lower lip, fully concentrated. It was fun to see Arjen, Lori and Johan (bass) bang their heads together; they all have a different hair colour. At the end of the show Marcela and Arjen both go down on their knees and praise their drummer, great fun to see. When the final song is over Arjen throws his guitar to the side of the stage (luckily it is caught) and the entire band bows for the audience under a loud applause.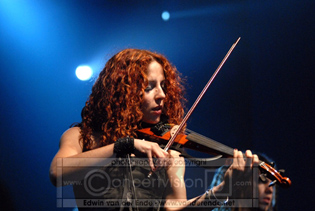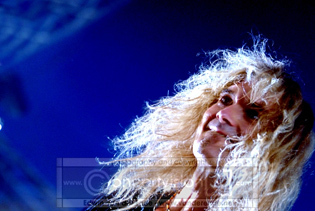 Setlist
01. Spellbound
02. Deciever
03. Wherever You Are
04. Out In The Real World
05. Computer Eyes
06. Castle Hall
07. Haunted
08. Valley Of The Queens
09. Pain
10. When The Levy Breaks

Rating
Music 8
Performance 8
Sound 7
Light 8
Total 8 (7,9)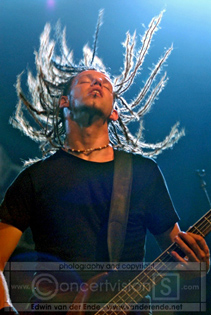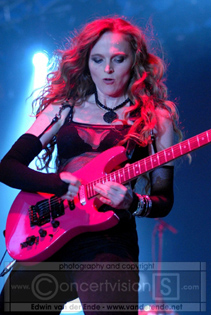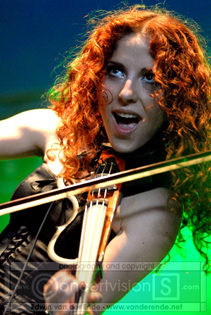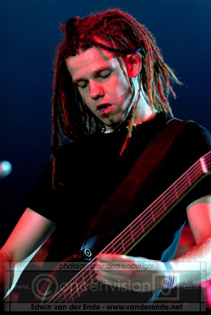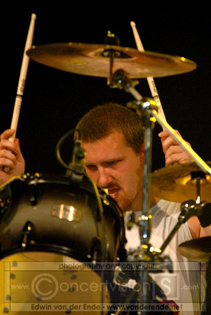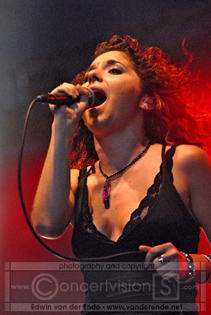 Glenn Hughes

Maybe his name doesn't ring a bell with every one but when you mention ´Deep Purple´ there might ring one. After his career with this band this bass player now has his own band and today he honoured Bospop with a visit promoting his new album ´Music For The Divine´.

Music
When the performance started Hughes sung with a very nasal voice, it seemed like his voice had its best time. Once he had warmed up though and sung for a while it got better, especially when he sung a bit louder his voice sounded much better, nice 'n rough. He can still hit the high notes as well. Hughes is supported by some great guitarists, one of them also play the keys. His new album is called 'Music For The Devine' of which they played several songs but there was also space for some older songs. It was a swinging and rocking performance.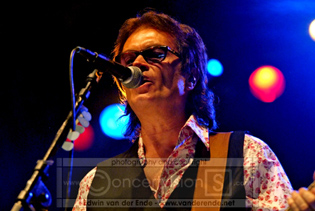 Performance
At first Hughes seemed to expect more response from the audience then he could get. It turned out though both the band and the audience needed to warm up to each other a bit. The band members seemed to be enjoying themselves, especially one of his guitarists who was constantly keeping in touch with the audience. At one point during the show a guitar solo started, then the audience recognised it and started to scream, it was 'Mistreated' of Deep Purple. A lot of people sang along and clap to the beat of the song. Hughes enthusiasm speaks from his words "I wanna feel your love, can you feel my love" and he got a loud applause as answer.

Rating
Music 7
Performance 7
Sound 7
Light 8
Total 7 (7,2)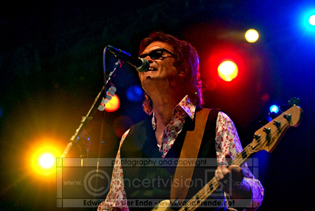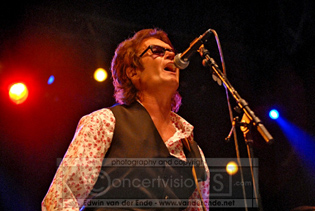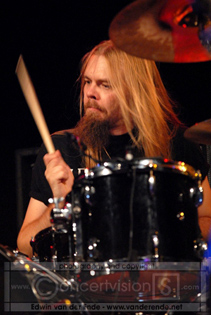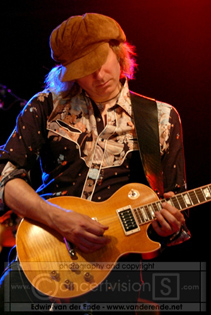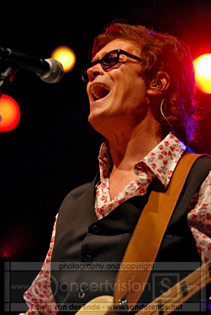 The Alan Parsons Live Project

Maybe this man is not famous to every one but he has been making his symphonic music since 1976 and has been loved my many ever since. He has done solo projects but also worked with a project (like he is this day). Besides making his own music he has worked as producer for albums such as 'Abbey Road' and 'The Dark Side Of The Moon' which are not the least of albums of course.

Music
There was a lot of recognition during this performance. Tunes such as 'Psychobabble' are of course very popular, it rocked and so did the audience. They had quite a young singer with them and as he said so himself "it is an honour to play with these men". He sung with a lot of passion. These musicians know what they are doing and the singer knows what he is singing, which makes it a great show to listen to.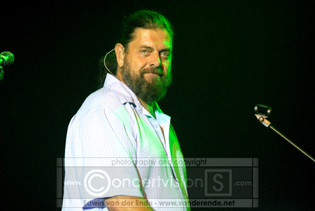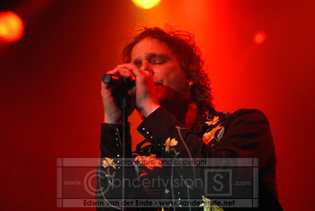 Performance
The show started with only a few lamps and some electronic tunes. The audience started to clap along. Slowly the music builds and the first song was over. The band is still quite popular, the tent was packed. Alan Parsons himself was mostly at the back of the stage, you could hardly see him if you were at the side of the tent, every once in a while he came to the front though. When he clapped the entire audience immediately joined him. There was a very pleasant light show, nice to look at, there were spots for solos which is always a nice way of focussing the audiences attention to that solo. The sound was fine as well, making the entire show a pleasure for both ear and eye.

Rating
Music 8
Performance 7
Sound 7
Light 7
Total 7 (7,3)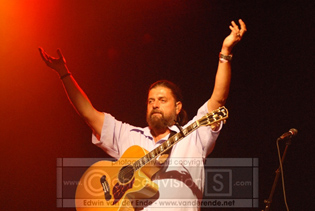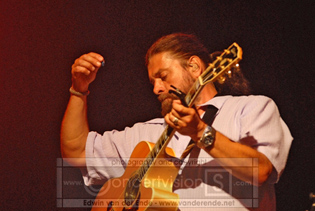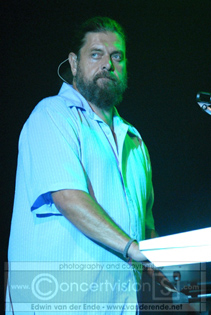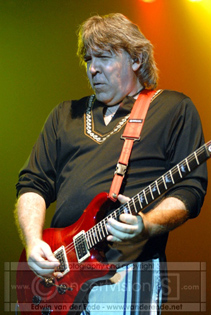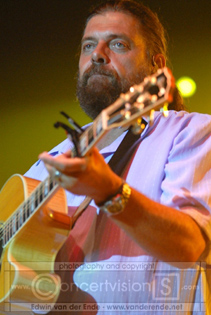 Simple Minds
They might be known to many as one of the greatest bands of the eighties with hits such as ´Don´t You Forget About Me´ and ´Belfast Child´ but they are back. They proved this with their album Black and White from 2005. When they released this they gathered large crowds again and today they did that as well at Bospop. The Simple Minds were the final band of day 2 at Bospop and the entire field was faces towards the stage.
Music
They might have a new album but the songs from the eighties were still the most popular songs of the evening. During 'Don't you' the entire audience was singing the refrain, from front to back people were clapping and singing. They still sound great and the audience noticed that. It was one of the high lights of the show. 'Sanctify' and 'Alive & Kicking' were very popular as well of course.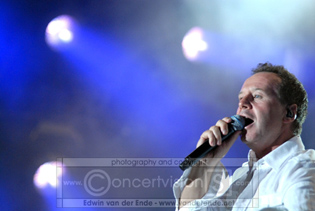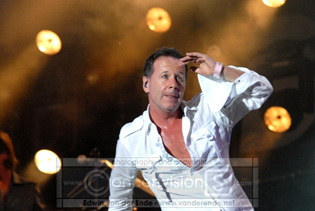 Performance
As the closing act of day 2 the Simple Minds sure made it worth while to stay up late for they made the entire Bospop terrain their party. With Jim Kerr dancing around the stage, at times almost standing in a split and the guitarists each rocking in their own way they performed old and new songs. The stage performance was a bit dull after a while, it didn't change that much. The light show however was fantastic, it was taken care of by 'Flashlight' and it was very well done.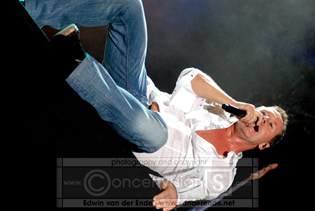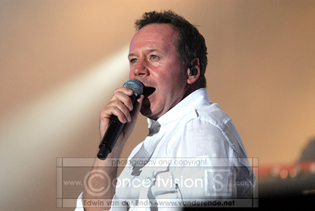 Setlist
01. Stay Visible
02. Home
03. Different World
04. See The Lights
05. Mandela Day
06. Ghostdancing
07. Waterfront
09. Don't You
10. Sanctify
11. Stranger
12. New Cold Dream
13. Alive & Kicking
Rating
Music 8
Performance 8
Sound 7
Light 8
Total 8 (7,9)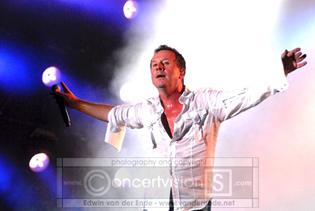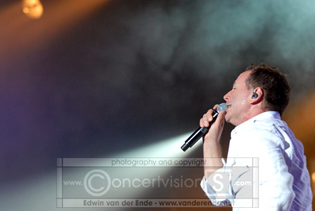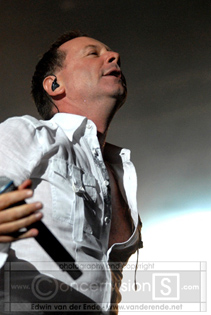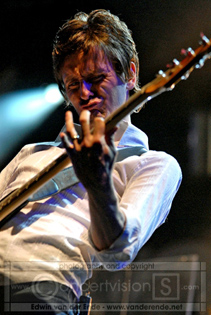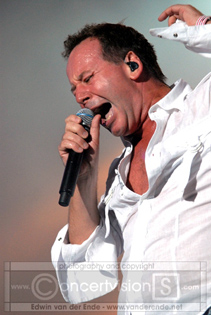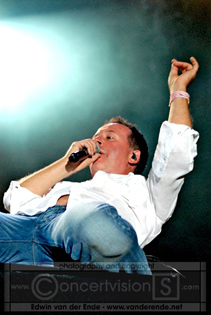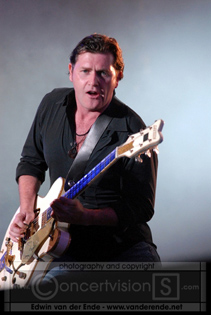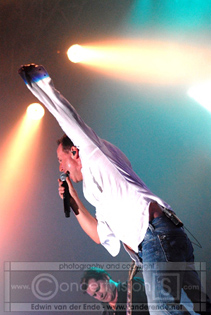 Roxy Music


On the final day of Bospop played the band I was looking forward to the most, wanting to see them live for quite some time today I had my chance. Maybe the name of this band does not sound to familiar to the audience of today but when you hear their songs it turns out everybody knows Roxy Music, if not from the radio then from tv commercials.

Music
At the beginning of the show the sound was not in balance, the vocals of Bryan Ferry were tuned in much too soft, luckily this was adjusted later on during 'More Than This'. In this song guitar and saxophone showed how well they go together. There were several back ground vocalists. When they were doing a solo it sounded fine but when they were performing their back ground vocals it just didn't sound as it was supposed to, their voices were much too sharp. Even those who aren't a fan of Roxy must have had some aha moments. For instance 'Avalon' got a lot of response from the audience and so did 'Both Ends Buring' and 'Let's Stick Together' to which the entire audience sung along.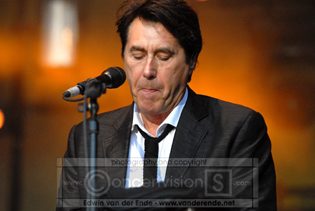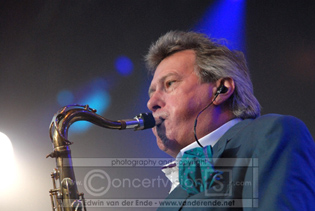 Performance
Roxy Music was one of the only non head lining bands that did bring their own backdrop; a wonderful image of a grand bird. They had brought a large band with them. Still you could recognise the original members for they were dressed in suits, each in their own colour. Bryan Ferry started the show behind his keyboard, though soon he stood up and took his place behind the microphone, at times he did return, showing he is not just a singer. It was a shame it was light during most of the performance because the magic a light show can add was gone now. When Ferry got behind the grand piano only his head was visible, the piano was hardly audible, quite a pity. 'Both Ends Burning' set the show on fire, it was time to swing. You could see the audience started to move and the show became a party. It was good to see that Roxy loosened up during their performance. Ferry started to dance and make the audience clap along, he has his own movement vocabulary which is very recognisable. The show was too short, just when it had turned in to a nice party, time was up. It would have been nice if they had more time and more space to set up a show worthy of Roxy Music.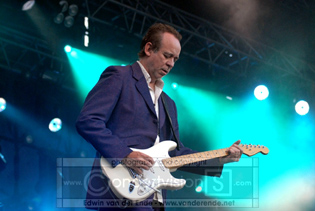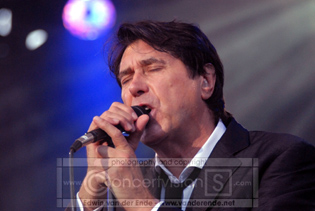 Setlist

01. Re-make/Re-model
02. Pyjamarama
03. More Than This
04. Ladytron
05. While My Heart Is Still Beating
06. Out Of The Blue
07. My Only Love
08. Both Ends Burning
09. Avalon
10. Jealous Guy
11. Editions Of You
12. Do The Strand
13. Love Is The Drug
14. Virginia Plain
15. Let's Stick Together
Rating
Music 8
Performance 7
Sound 7
Light 7
Total 7 (7,3)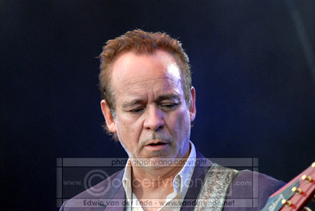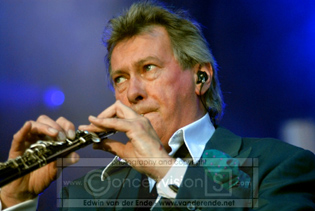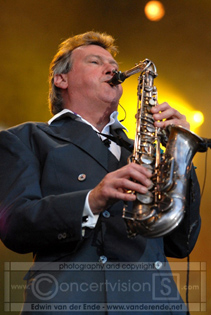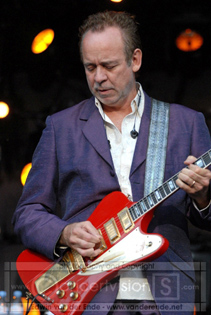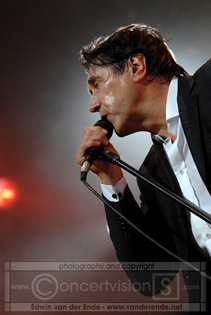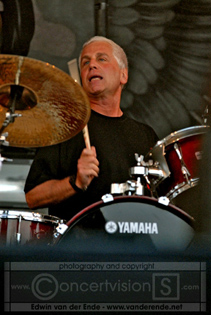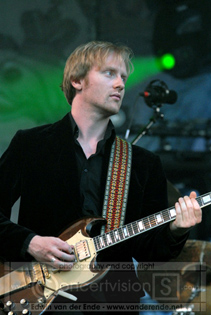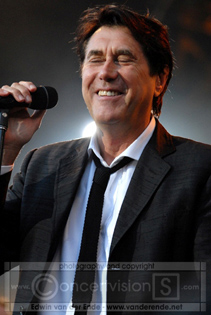 More photos on page 2