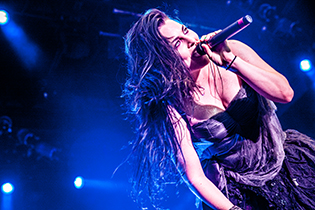 Zitadelle, Berlin, Germany
15th -16th June 2012
Zita Rock Festival Day 1: Lord Of The Lost, Oomph! and Evanescence

More than 7,000 fans of gothic and rock music made their way to the Zita Rock Festival 2012 in order to enjoy a weekend filled with great bands including international stars like THE 69 EYES and EVANESCENCE. The Friday began with opening act LORD OF THE LOST who managed to get everybody going and convinced the audience on all levels. Their signing session was therefore packed with people. Next up were OOMPH! who presented their new live crew and gave a first impression of their upcoming tour. EVANESCENCE closed the first festival day with a high class concert. The band already showed their appreciation via Twitter and then used this positive energy to enchant the audience with their sound and Amy's unique voice.


The next Zita Rock Festival is already set for Saturday, 15th June 2013. It is supposed to be just one day offering high class bands. From now on, fans upon to answer the questionnaire at www.zita-rock.de/umfrage2012.html and give feedback. Do not hesitate to answer the questions; you can win 5x2 tickets for the next Zita Rock Festival. If you do not win, do not be sad, the pre-sale is going to start soon!


Lord Of The Lost

Before starting his own band with LORD OF THE LOST in 2008, initiator Chris Harms has been involved in various musical activities already. He started as vocalist for PHILLIAE, played live guitar for BIG BOY and worked with THE PLEASURES as well. Nearly instantly after its inception, LORD OF THE LOST locked themselves up in the studio, spending most of 2008 working on their debut album. The album's called 'Fears' and has been released in February 2010, followed by the sophomore 'Antagony' in April 2011 via Out of Line. The new release 'Beside & Beyond' was out mid February. LORD OF THE LOST is Chris Harms (vocals, guitar, cello), Bo Six (guitar), Class Grenayde (bass), Gared Dirge (piano, synthesizer, percussion, guitar) and Disco (drums). http://www.lordofthelost.de / https://www.facebook.com/lordofthelost / http://www.myspace.com/lordofthelost

Music & Performance
LORD OF THE LOST played a lot of shows in the recent time due to being the supporting act on EISBRECHER's last tour. The bands are rather similar to each other when it comes to the sound. This might also be the reason why the band was chosen to play at this year's festival. During the last couple of years, EISBRECHER appeared at the festival on a regular basis but was not part of the 2012's line-up.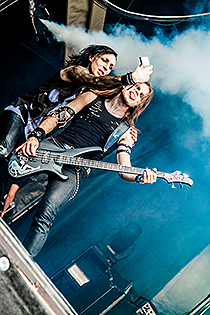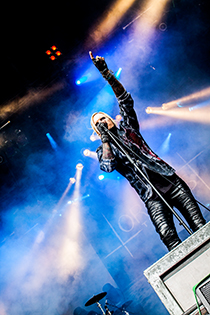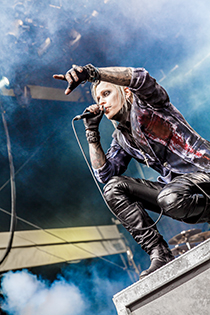 However, the band definitely did a good job in opening the first day of the Zita Rock. Their appearance was probably one factor why the first rows consisted of rather young girls looking up the well-built guys playing their set on stage. Starting out with "Live Today Die Tomorrow", the band instantly the audience's attention. All members moved around on the stage and showed impressive live skills. However, Gared Dirge (piano, synthesizer, percussion, guitar) seemed to be rather redundant because all his actions on stage (except for the couple of moments he stood behind the keyboard) were also covered by other members of the band. This redundancy reached its peak when he brought out a camera and filmed everybody on stage. Also his guitar did not seem to work at one point which makes him even more unnecessary. I guess he is part of the band of his rather good looks that attract even more female fans. Summarizing, one can say that LORD OF THE LOST showed some great live potential and got everybody in the right mood for the upcoming bands.

Setlist
01. Live Today Die tomorrow
02. Black Lolita
03. Heart For Sale
04. Dry The Rain
05. Your Victories
06. Till Death Us Do Part
07. Bad Romance (Lady Gaga cover)
08. Prologue
09. Break Your Heart
10. Son Of The Dawn
11. Blood For Blood
12. Sex On Legs

Rating
Music: 8
Performance: 9
Sound: 8
Light: 9 (+ daylight)
Total: 8.5 / 10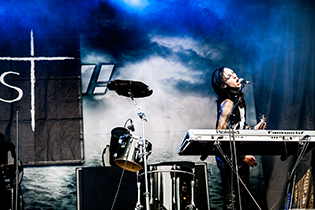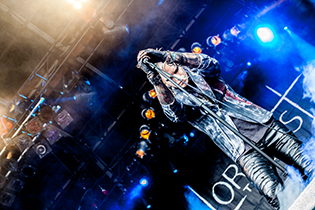 Oomph!

For almost 20 years, this band is a true force in the independent music scene. Albums like 'Defekt' (1995) and the unbelievably successful conceptual album 'Wunschkind' are milestones with their unique fusion of the electronic world with the unrelenting power. Every new album opened another door and critics overthrew themselves in trying to categorize the sound and with their 1999 output 'Plastik' they finally made their breakthrough in catapulting their music into the German Charts. 2003 was the year of change. OOMPH! signed to the Major label GUN Records and in the eyes of many old fans, they sound drifted into a more commercially and mainstream oriented direction from there on with the two albums 'Wahrheit oder Pflicht' or 'GlaubeLiebeTod', but maybe OOMPH! just sound like they want to sound. Whether you like that direction or not this is and stays a matter of personal taste. The current album 'Des Wahnsinns Fette Beute" was released in May 2012. OOMPH! is Dero (vocals, drums), Crap (guitar, keyboards) and Flux (guitar, sampling). For live shows, they are supported by Leo on drums, Hagen on bass and very newly by El Friede on Keyboards and Okusa on percussions. http://www.oomph.de / http://www.myspace.com/oomph / https://www.facebook.com/oomphband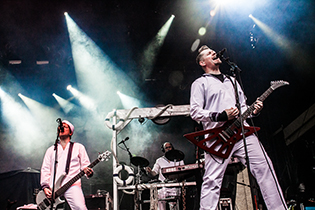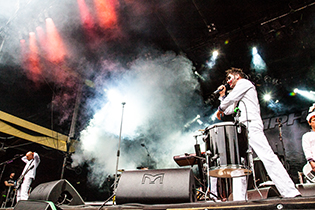 Music & Performance
OOMPH! made a strange appearance by wearing white sailor suits which looked a bit like big romper suits. Those outfits seemed rather funny and completely over the top. To be honest, I still do not know what they wanted to achieve with that, it was surely a hint to the "madness" (Wahnsinn) of the new album and its songs. Dero's make-up also looked more like "Joker make up gone wrong" than convincing. The performance itself was not really thrilling. The songs were pretty boring and not really innovative. Especially the first two songs 'Unzerstörbar' and 'Mein Schatz' could have been replaced by probably every other song the band has to offer. The first rows, however, seemed to like the performance. A lot of people were singing along and enjoying the show. In contrast, a big part of the audience was not really excited about the whole performance and neither was I. A really good mood was not achieved by OOMPH!'s performance if you ask me. Just like LORD OF THE LOST, the band had some members that were rather redundant like the second drummer. There is nothing in the songs that would require a second drummer if the first did a rather good job. Compared to the drummer of ECANESCENCE, there is nothing good one can say about the drumming of OOMPH! All in all I did not understand why there were seven people standing on stage. Considering the type of songs they play, there is no need for so many people.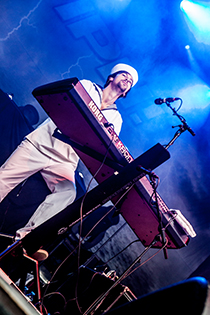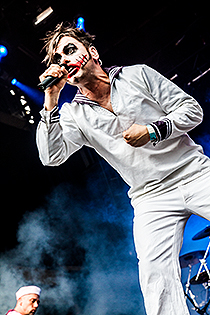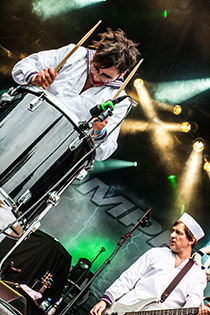 The sound was not really good as well. The whole acoustic was not coherent and seemed a little off. The sound of the guitar was also somewhat less than perfect. Well, it was my first time to see OOMPH! live and I am really sorry that I have to say that the band did not persuade me whatsoever.

Setlist
01. Intro + Unzuerstörbar
02. Labyrinth
03. Mein Schatz
04. Bis der Spiegel zerbricht
05. Niemand
06. Mitten ins Herz
07. Zwei Schritte vor
08. Gott ist ein Popstar
09. Seemannsrose
10. Sandmann
11. Augen auf

Rating
Music: 6
Performance: 8
Sound: 5
Light: 8 (+ daylight)
Total: 6.75 / 10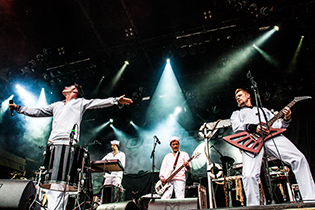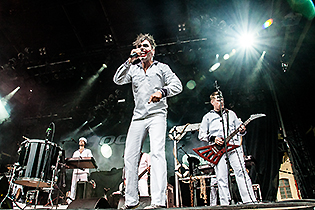 Evanescence

US rock band EVANESCENCE was already founded back in 1995 and even though they exist quite long now, they only released three albums up to now. Official debut album 'Fallen' was released in 2003 and sold more than 17 million copies worldwide. With the single 'Bring me to life' out of it, the band had its international breakthrough. After releasing the live album 'Anywhere but home', next studio album 'The Open Door' hit the stores in 2006 followed finally by 'Evanescence' in October 2011. In the past, the line-up changed several times and today, EVANESCENCE is Amy Lee (lead vocals, keyboards, harp), Terry Balsamo (lead guitar), Troy McLawhorn (rhythm guitar), Tim McCord (bass) and Will Hunt (drums). http://www.evanescence.com / https://www.facebook.com/Evanescence / http://www.myspace.com/evanescence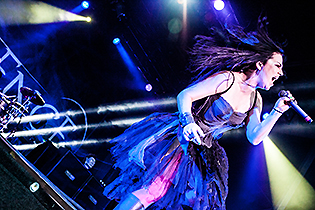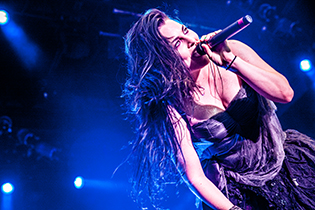 Music & Performance
EVANESCENCE was probably the band that attracted the majority of the people. Therefore, the expectations were high. Amy Lee (vocals) and the rest of the band entered the stage about 10 minutes late which led to loud screams coming from the first rows which consisted of mostly young female visitors. It was the first time for me to see this band live and there is nothing else I can say than "Great job!". The band instantly had the audience in their hands with the opener 'What you want'. The sound was really good so that every song could be enjoyed up to its last seconds. I guess, the band had their own audio technician who made sure that everything was great. Amy Lee's voice definitely found everyone's approval although her pronunciation was not really the best. She tends to clip the beginning and endings of words. If you did not know the words you would have never heard what she was singing in particular. The band chose a mixture of older songs including 'Going under' but also newer ones like 'The Other Side' and 'Weight Of The World'. During the slower songs, a big piano was put on stage and Amy Lee showed everyone her skills which were quite impressive. The mix of sensitive piano sound combined with the rock sound especially contributed the songs 'Lost In Paradise' and 'My Heart Is Broken'.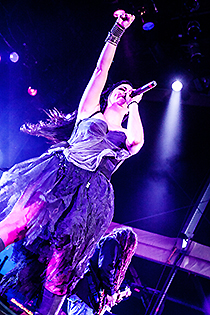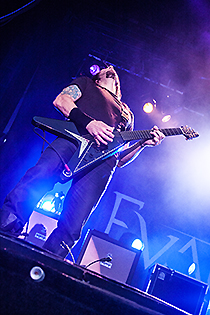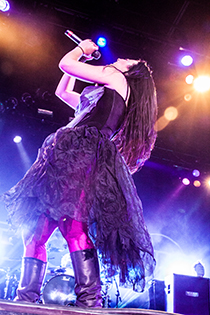 Amy Lee being the only band member left from original line up, the rest of the band were more part of the background except for drummer Will Hunt who, at some times, was even more present than singer Amy. All in all, one can say that the setlist was well balanced with both up tempo and rather quiet songs. I think everyone at the Zitadelle Spandau enjoyed the show and were happy about the outcome of the first festival day. The concert was great and ending it with the probably most famous track 'My Immortal' was a wise choice by EVANESCENCE. Thank you for this first day!

Setlist
01. What you want
02. Going under
03. The Other Side
04. Weight Of The World
05. Made Of Stone
06. Lithium
07. Lost in Paradise
08. My Heart Is Broken
09. Sick (Long Intro)
10. The Change
11. Whisper
12. Sober
13. Imaginary
14. Bring Me To Life
---
15. Swimming Home
16. Your Star
17. My Immortal

Rating
Music: 10
Performance: 10
Sound: 9
Light: 9
Total: 9.5 / 10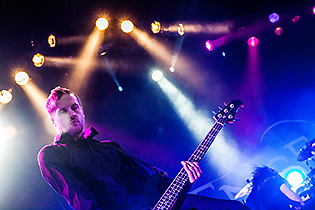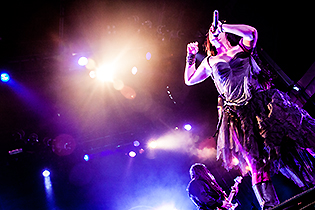 We all have to give a special thanks to all the artists, agencies, sponsors, retailers, the festival crew, all the staff of the Zitadelle Spandau. Of course, a big "thank you" also has to be sent to the great audience!

All pictures by Anne Kuhfuß